Features
Best Fall Guys Crossover Skins for the Game
Forget the Fall Guys cactus and Scout skins. There are quite a few other crossover skins we'd love to see in the game!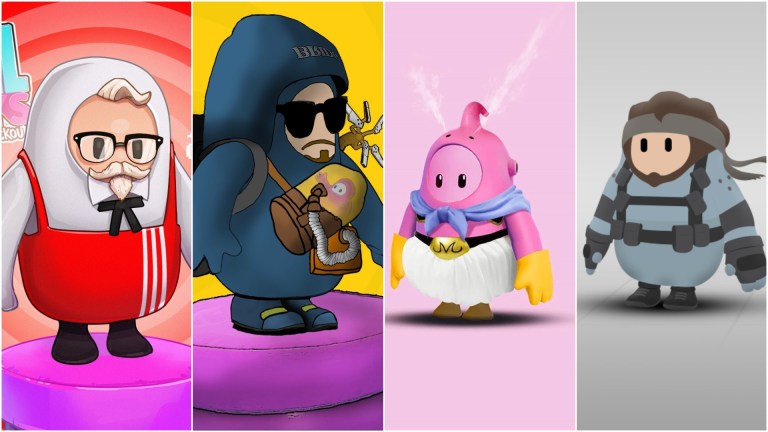 Fall Guys developer Mediatonic knows the world loves its new party game and is wasting no time in using the indie title as a platform for good. The studio has announced a contest to benefit UK charity Special Effect, which works to provide games, consoles, and modded peripherals to those with disabilities.
The contest is open to game studios and other brands looking to promote their products in Fall Guys, which is currently the most-watched game on Twitch and the third most-played game on Steam behind only Valve's own CS:GO and Dota 2. To enter, brands can bid on how much they'd be willing to donate to Special Effect. The highest bidder wins.
"The thirst from brands has been unreal, so we're turning it into something positive!" the Fall Guys Twitter handle announced. "Prize: Your brand inside Fall Guys as a costume! To enter: Reply to this tweet with the highest amount of money you would be willing to donate to Special Effect."
The contest is open for the next two weeks. After the highest bidder makes its donation, Mediatonic will incorporate the pitched skin into the game.
Even before Mediatonic announced the contest, there were many brands trying to seize on the game's viral energy, pitching their own Fall Guys skins for fun, so you can imagine how much fiercer the pitches are getting now that the crossover skin opportunities are official. Quite a few studios have made bids to have their games appear as Fall Guys skins.
Here are a few of the best Fall Guys skins that could potentially make it into the game:
Unofficial Fall Guys Crossover Skins
First up is Rivals of Aether, the indie fighting game, with a $10,000 bid. It took an early lead in the competition.
Rivals of Aether was joined by the popular free-to-play loot shooter title, Warframe, which also offered up a $10,000 donation. We really like the Lotus skin!
Then the bidet company Tushy got to the bottom of things with a $40,000 bid…
But then esports brand G2 Esports completely bulldozed over the competition with a $130,003 offer. The samurai skin is a nod to the brand's logo:
But esports organization Beast Coast did not stand idly by, pitching its own skin with a bid of $133,769 attached:
You didn't expect the bidding war to stop there, right? Popular Fortnite streamer Ninja has entered the race, pitching his own skin with a $200,000 bid. Ninja is currently in the lead!
As you can imagine, fans of the game have joined in on the fun, pitching their own skins on behalf of other brands. This Cyberpunk 2077 skin is particularly great, but will CD Projekt Red jump in?
Another fan is trying to convince Funimation to pitch a Majin Buu skin as an ode to Dragon Ball Z. We are here for it:
This Fallout Vault Dweller skin is also the best:
Before the contest got underway, several other studios pitched joke ideas for Fall Guys skins. While they were designed to spark conversation on Twitter, some of these crossover skins are actually stellar and we hope Mediatonic considers including them in the game:
Just imagine if every time you fell of that cursed seesaw level you could shriek, "SNAAAAAAAAAAAAAAAAAKE!" Konami wants your Metal Gear Solid x Fall Guys dreams to come true.
The Colonel wants in, too…
And if Fall Guys isn't the game where a kid can be a kid, we don't know what is:
One fan also pitched a Death Stranding skin on behalf of Kojima Productions that this writer desperately wants in Fall Guys:
Ditto this Ghost of Tsushima skin:
Of course, Fall Guys players shouldn't hold their breath when it comes to seeing all of these skins in the game, but so far, most of these are on our wishlist and we hope more of them start being incorporated into the game at some point.
Confirmed Fall Guys Crossover Skins
The developer has already added a few crossover skins. Check them out below:
Gordon Freeman from Half-Life was the first crossover skin introduced to the game as a pre-order bonus:
A Hotline Miami skin followed. Fall Guys seems a little tame for the violent fever dream that is the top-down indie shooter but we'll take it:
Team Fortress 2 fans can also get a Scout skin in the game!
We'll keep you posted as new contenders join Mediatonic's contest and new crossover skins are unveiled.