Reviews
Fall Guys Review: An Excellent Mix of Party Game and Battle Royale
Fall Guys is a delightful new party game you won't want to put down. Here is our review!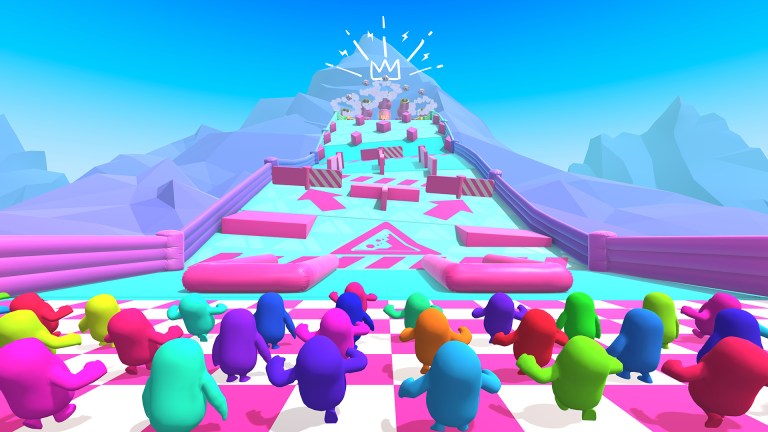 If you'd told me at the beginning of lockdown that the perfect way to lift my spirits would be an online game made in the mold of TV shows like Takeshi's Castle, Gladiators, and Total Wipeout, I wouldn't have believed you. And yet, here I am, risking it all in the final stage of Fall Guys: Ultimate Knockout, praying that a giant spinning hammer doesn't smack me off this platform and keep me from the crown. Someone dressed as a pigeon may have just pipped me to the post, but that still hasn't deterred me from diving back in.
Battle royales are so often about being patient, long, drawn-out matches, and thinking strategically. Fall Guys pleasantly forgoes almost all of that, instead choosing to focus on short, anarchy-filled bursts of play in which 60 players scramble over one another to be the last person standing. There are 24 colorful mini-games to take part in overall, with most offering a decent challenge. And while some are better than others, it's hard to imagine Fall Guys not becoming your next party game addiction – especially since PS4 players get it free on PS Plus this month.
A lot of what makes Fall Guys a delight is just how charming the whole thing comes across. Each player is gifted their own Minion-esque character to personalize and make their own, which harkens back to the days when actual contestants of these TV shows would dress ridiculously in the hopes of getting noticed. New outfits are unlocked either through Kudos, in-game currency you accrue in stages, or any crowns you win. Pulling you back in is the cosmetics refresh every couple of hours. There is the ability to outright purchase costumes, patterns, and emotes from the in-game store, yet it's entirely optional and is in no way invasive.
Combine this customization with an eye-popping color scheme that drenches everything in vibrant pink, blue, and yellow hues, and you can't help but smile even when you get knocked out early. The beauty of failing in Fall Guys compared to other battle royales is that games never take longer than 3-5 rounds, and servers are so busy right now that it's incredibly easy to jump back into another match within seconds. Such rampant popularity has unfortunately led to some server issues that saw me booted from a session a couple of times, but once you're in a game, Fall Guys mostly runs buttery smooth.
If part of what turns you off about Fortnite and Apex Legends is that they're difficult, Fall Guys has your back. Don't get me wrong, you will fail and get frustrated when you've fallen off that one platform for the 100th time, yet the difference here is that everybody is in the same boat. Being successful in most of the mini-games always lies somewhere between being smart and lucky.
Release Date: Aug. 4, 2020
Platforms: PS4 (reviewed), PC
Developer: Mediatonic
Publisher: Devolver Digital
Genre: Party Game
Speaking of which, while slamming up against 59 other players is fun, all of it would mean nothing without the 24 featured mini-games playable at launch. Split into four distinct categories — Race, Survive, Team, and Final round — most are inspired in some way by the campy TV shows Fall Guys takes cues from. Door Dash, for example, is a dead ringer for the fan-favorite round from Takeshi's Castle, where reams of players must make their way from one end of the course to other, doing their best to avoid fake doors and bashing through real ones to the finish line.
Another game I enjoyed quite a lot was Fruit Chute, which is another Race type, only now you must run up a travellator as fast as possible while dodging oversized fruit being lobbed your way. You'd think that constantly being knocked off the racecourse would feel demoralizing, but the truth is that respawn times are so quick you're already back in the action before you have a chance to complain. You'll no doubt favor some mini-games over others, and the number of strategies available in each does play a part in that, yet it's hard to complain when players are all on a level playing field.
In a competitive game like this, where movement and positioning can make or break your success, it's important to maintain good control over your character. And though it would have been easy for developer Mediatonic to try and heighten Fall Guys' potential comedy by making the handling purposefully awkward, the act of maneuvering your fall guy feels fair for the most part. Your basic three actions involve a simple jump, dive, and grab, the latter of which is only really needed in Team-based mini-games where you must gather more eggs than the opposing squad or be one of the last few players with a tail attached to your back.
Fall Guys seems purposefully built to forever dominate Twitch streams, YouTube Let's Plays, and social media, mainly because it offers up enough calamitous humor and joy that it's even fun to watch other players bumble their way towards the finish. The massive interest in the game may have led to a few glitches and bugs on the server side of things at launch, but in almost every other aspect Fall Guys absolutely delivers on its "party game meets battle royale premise." I'm still yet to win a highly coveted crow at the time of writing, but I'm grinning from ear to ear trying.