Features
WWE: The History of Women in the Royal Rumble
WWE has given the women's division their own Royal Rumble, but there's a precedent for women in the Rumble that goes back decades.
On Sunday, January 26, WWE Royal Rumble 2020 will showcase the third ever all-women Royal Rumble. Ever since NXT proved that talented, female in-ring performers deserved better than forgettable matches, WWE has been gradually trying to clean up their treatment of their women's division. It started with NXT TakeOver being main-evented by Sasha Banks vs. Bayley and soon we started to see women in the main event of Raw, the main event of PPVs, and the first female versions of such matches as Hell in a Cell, Money in the Bank, and TLC. 2018 even gave us Evolution, an all-women PPV that was a rousing success.
Now, while it took until 2018 for there to be an all-woman Royal Rumble, it was far from the first time we've seen women take part in the much-beloved free-for-all.

16-BIT LUNA VACHON (1994)
Before I get to the flesh-and-blood history, I want to first mention WWF Raw, the LJN game made for SNES, Genesis, 32X, and Game Gear. Even though her only intergender match up to this point was taking on a tiny clown man at WrestleMania X, Luna Vachon was interesting enough of a character that they decided to make her playable for Raw. That meant that for the first time, even if it was virtual, we got to see a woman compete in the Royal Rumble.
It wasn't the weirdest thing in retrospect. Due to the weak WWF roster at the time, it wasn't like she was really stealing a spot from anyone major. After all, Kwang was the 32X version's secret boss character. Fighting games were starting to become a big deal and if Chun-Li and Cammy can fight Ryu and Zangief, then Luna Vachon can strangle Lex Luger.
Intergender battling was fine in WWF/WWE games for a while in the late-90s-to-mid-00s, but these days, the only time you can see such a thing is in that Mortal Kombat knockoff phone game.
CHYNA (1999)
The rise of the Attitude Era came with Chyna, the jacked bodyguard for Shawn Michaels and Triple H, who was so imposing that she could stand up to most men and nobody would bat an eye if it wasn't for gender norms. In the beginning of 1999, she was a member of the face version of D-Generation X and was tangled up in an embarrassing storyline with Mark Henry.
While the Chyna/Henry would-be romance crumbled before it could begin as WWF's attempt to humiliate Henry into quitting, the main angle in the company was Steve Austin and Vince McMahon being entered into the upcoming Royal Rumble as #1 and #2 respectively. McMahon's Corporation was feuding with DX and he decided to use that to his advantage.
On one edition of Raw, Vince put together the Corporate Royal Rumble. The idea was that the only entrants were members of the Corporation and D-Generation X. Whoever won would get the #30 spot in the actual Royal Rumble. His big swerve was that he would be the final entrant and would win, thereby protecting himself from a fresh and pissed off Steve Austin.
read more: The Top 100 Royal Rumble Moments
The plan seemed to work, but DX had another ace up their sleeve. Chyna appeared as the true final entrant and, thanks to an assist from Steve Austin, she came out of it the winner. Not only was she going to be the first woman in a Royal Rumble match, but Chyna was guaranteed the final entry! Sure, that meant she was totally not going to win, but the #30 spot usually goes to someone who is respected as a force to be reckoned with.
Unfortunately, the 1999 edition of the Rumble was filled with creative issues and Chyna didn't come out of it well. Chyna made a beeline for Mark Henry and quickly threw him out of the ring. She then turned around and saw Steve Austin waiting for her. A clothesline knocked her to the outside and Henry practically no-sold his loss by laughing at Chyna's misfortune.
Their rivalry was forgotten about immediately, as Chyna turned heel on Triple H the day after.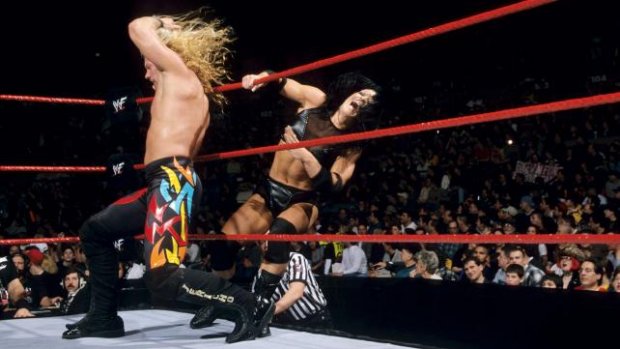 CHYNA (2000)
Even though her Rumble debut didn't do her any favors, Chyna stepped up as an accepted part of the male-dominated roster by defeating Jeff Jarrett for the Intercontinental Championship. She moved on to a feud with then-newcomer Chris Jericho, where they ended up being co-champions due to a shabby match ending. At Royal Rumble 2000, they had a triple threat match with Hardcore Holly rounding it out. Jericho ended up winning and becoming the sole champion.
read more: Ranking Every Royal Rumble
That year, some members of the undercard got to return for the Rumble match itself, which set up Kaientai repeatedly eating shit by attempting to enter the match regardless, as well as having the Mean Street Posse cost both of the Acolytes the match. Chyna appeared at #17 and spent the next half a minute fighting Jericho. She ended up suplexing him out of the ring, which looked pretty impressive, but then Big Boss Man nudged her off the apron and onto the floor.
With her two appearances combined, Chyna was in the Royal Rumble for just over a minute.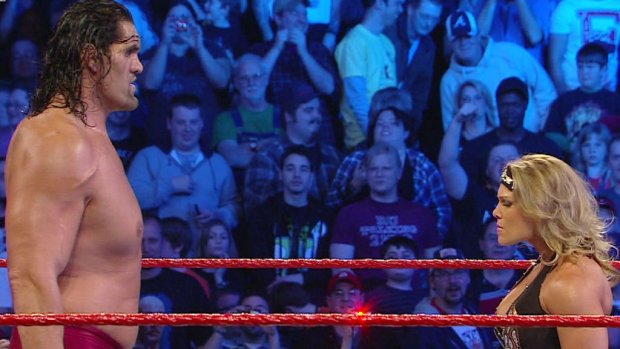 BETH PHOENIX (2010)
To really show how much of a big deal the women's Royal Rumble match is to wrestling, I have to go back and talk about 2009's WrestleMania 25 and its Divas Battle Royal. Featuring not only the women's division at the time, but Divas of WWE past, over twenty women battled it out for the title of Ms. WrestleMania. Then again, some big names from the past like Lita turned down the offer after hearing about how the match was going to end.
The battle royal was bungled from the beginning. The entrances happened all together at the end of a ten-minute Kid Rock medley. This meant that guest entrants like Molly Holly and Sunny (who was wrestling her first and only WWE match) were ignored and only noticed in elimination. The whole match took about seven and a half minutes and its winner was none other than Santino Marella in drag as his "sister" Santina Marella.
Santina was eventually fired from WWE by Raw GM Donald Trump, which is probably his most uniting decision ever as a leader.
In the 2010 Royal Rumble, Beth Phoenix appeared at #6. The opening minutes were about CM Punk constantly clearing the ring and then cutting promos about being the drug-free savior. #5 was the Great Khali, who clobbered Punk with a chop to the skull. Phoenix followed, surprising many, and stood up to Khali, ready to fight.
read more: The 30 Best Wrestlers to Never Win the Royal Rumble
Khali chose to pick up Phoenix, placed her on the apron, and gestured for her to leave. Phoenix grabbed the giant, kissed him, and pulled him back enough that he flipped out of the ring. After that, she went after Punk and got some licks in until he turned it around and knocked her out with the Go to Sleep. He easily threw her out of the ring as Zack Ryder ran out next, but she at least lasted longer than both Chyna appearances combined.
There was never any follow-up to Beth Phoenix's appearance in the match.
KHARMA (2012)
Kharma is an odd case to say the least. Formerly known as Awesome Kong, she left TNA for WWE as a potential game-changer. They hyped her up with creepy vignettes that showed her breaking Barbie dolls and laughing psychotically. After all this build, when it came time to get to the fireworks factory, Kharma was surrounded in the ring by practically the entire Divas division. Kharma suddenly fell to her knees and started crying. It turned out she was actually pregnant and she needed to be written off TV ASAP. Makes sense. She'd presumably be off TV for likely a year and then she's come back and they'd try again. Right?
Then came the 2012 Royal Rumble. The company's roster was in such dire straits that they added a gimmick where any WWE personnel were allowed to enter. This meant an influx of guest and joke entries, like all three commentators. When Michael Cole entered at #20 in his trademark orange singlet, he just kind of bounced in place and acted like he was ready to fight anyone.
Kharma arrived at #21 and got a huge ovation for clotheslining Cole. Cole hopped over the top rope and his commentating partners Booker T and Jerry Lawler pulled him to the floor to save him. Kharma proceeded to momentarily lay out Dolph Ziggler with an Implant Buster, glare at Ziggler's then-manager Vickie Guerrero, randomly backdrop Hunico out of the ring, and then get hoisted out by a recovered Ziggler.
Even though Kharma was inserted into two years' worth of WWE video games, her entire in-ring run was a full minute in the Royal Rumble.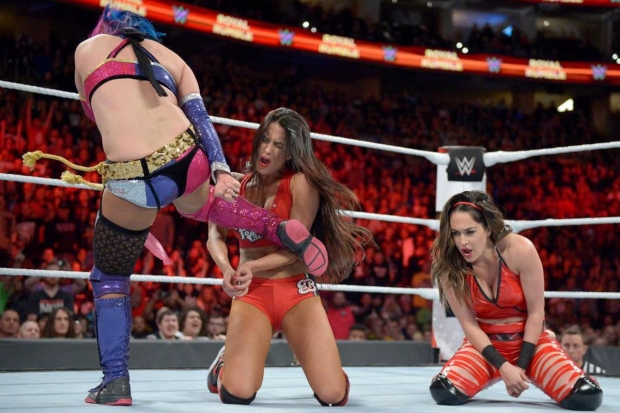 THE FIRST WOMEN'S ROYAL RUMBLE (2018)
During a post-match brawl on Raw featuring a big chunk of the women's division, Stephanie McMahon broke it up to step into the ring and announce that finally, at Royal Rumble 2018, there would be a 30-woman Rumble match. While it was rumored, supposedly the women in the ring weren't aware of the announcement ahead of time and were legit overjoyed.
The women's roster has certainly grown over the years, but 30 women? Not exactly viable, especially with both women's champions sitting this one out for obvious reasons. Luckily, they were able to do the Miss WrestleMania concept right by bringing in a huge chunk of retired wrestlers from yesteryear to make the whole thing feel more special. This time they actually had entrances and recognition! These names from the past included Lita, Torrie Wilson, Molly Holly, Michelle McCool, Vickie Guerrero, Kelly Kelly, Jacqueline, Beth Phoenix, Nikki Bella, Brie Bella, and Trish Stratus.
They also tossed in NXT appearances by Ember Moon and Kairi Sane.
read more: The Wrestlers Who Started the Royal Rumble Match
The match itself was successful, showcasing a whole lot of women's wrestling in an entertaining package while featuring a lot of the major Rumble tropes (ie. everyone ganging up on Nia Jax due to her size). Really, the biggest flaw would be how several of the main roster women were so underdeveloped compared to others. More specifically, how there were two separate stables of heels at the time who were more about being a faction than having individual quirks and personalities.
With Asuka on a roll going into the show, she conquered the Rumble by eliminating Nikki Bella in the end. This led to a major moment where the two women's champions, Charlotte Flair and Alexa Bliss, entered the ring to size Asuka up. Suddenly, "Bad Reputation" started playing and UFC starlet Ronda Rousey stepped out to make her WWE future known by pointing at the WrestleMania sign.
read more: Every Royal Rumble Winner in WWE History Ranked
Not only did Ronda make huge waves with the company, but certain women on the roster stepped up their game to make sure that they weren't left in the dust. Soon Becky Lynch became such a big name that she not only eclipsed Ronda, but all the men on the roster as well.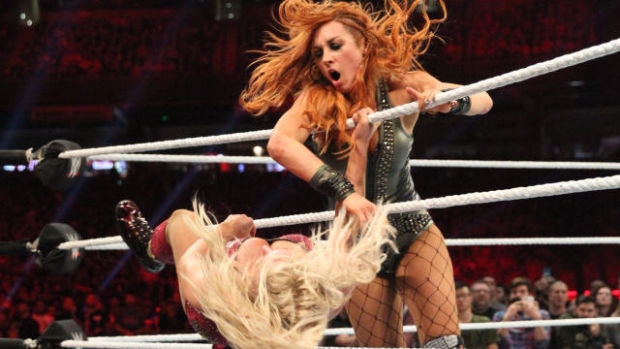 THE SECOND WOMEN'S ROYAL RUMBLE (2019)
The second time around, WWE did away with the nostalgia and pumped the roster up with NXT names like Lacey Evans, Nikki Cross, Xia Li, Kairi Sane, Candice Le Rae, Kacy Catanzaro, Io Shirai, and Rhea Ripley. While not as good as its predecessor, it did land its ending.
Competitor Lana was suffering from a busted ankle and she tried her best to enter the match, but the pain was too much and she could only make it halfway down the ramp. When Nia Jax appeared, she beat Lana unconscious for the hell of it. Moments after Carmella appeared as #30 (winning the spot from being co-winner of the Mixed-Match Challenge with R-Truth), Becky Lynch stormed out. She had already lost a title match against Asuka earlier in the night and being so damn popular, fans were chanting for her to be in the match. If Lana was unable to compete, there should be someone to take her spot. Her pleas were answered and Becky was allowed to take part in the Rumble.
Not only did she win, but she ended up winning the main event of the following WrestleMania. Not bad.
NIA JAX (2019)
Like I mentioned earlier, R-Truth was given the #30 spot in the men's Royal Rumble match due to winning the Mixed-Match Challenge, a round robin tournament of mixed tag matches. As he appeared, he was ambushed by an angry Nia Jax, who was in a rather violent mood based on how Becky eliminated her from the women's Rumble. Treating Becky's behavior with Lana as precedent, Nia entered at #30 instead of R-Truth. Mustafa Ali seemed confused about this and wasn't entirely comfortable with having to wrestle a woman — even one who was larger than him — and it cost him the match.
Nia confronted Randy Orton and teased an alliance with Rey Mysterio, only to turn on him. Orton and Mysterio teamed up against her and eliminated her from the match.
The aftermath of this was short and ended abruptly. Nia antagonized Dean Ambrose the following Raw with hints that the two were going to have a feud. Ambrose made it known that he was leaving the company shortly after WrestleMania and the company couldn't wait to have him go out on his back. The plans for the intergender match fell through immediately, mainly due to how sponsors are too uncomfortable with the concept of man vs. woman violence.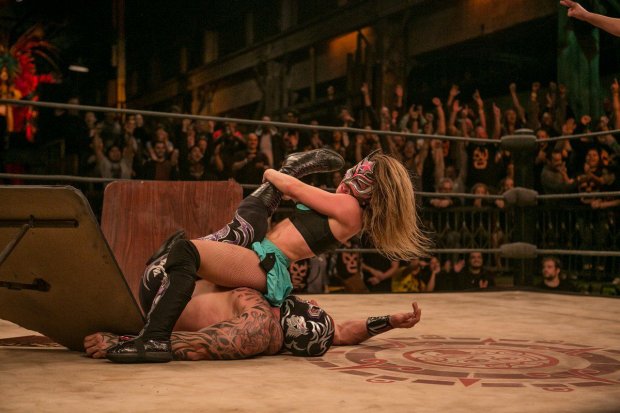 OUTSIDE OF WWE
In Japan and various indies, it isn't so rare to see a woman show up in some kind of Royal Rumble knockoff match. Lucha Underground is probably the most notable non-WWE instance due to the show's attempt to treat intergender wrestling as normal. Their Royal Rumble counterpart is Aztec Warfare, a 20-person match where elimination only occurs via pinfall or submission.
The first Aztec Warfare featured appearances by Ivelisse and Sexy Star. The second version of the match had Taya. Then there was the third, which not only included Sexy Star, Mariposa, and Kobra Moon, but ended with Sexy Star pinning Mil Muertes to become Lucha Underground Champion. It's a pretty big deal, even though Sexy Star was the second choice (intended winner Ivelisse got injured shortly before the match) and lost the title a mere week later. It doesn't help that Sexy Star is known for deliberately and legitimately injuring her opponents, which makes her…not a great example or person.
read more: Royal Rumble: Battles From Outside of WWE
But hey, at least there's also CHIKARA, whose early Royal Rumble knockoffs featured NXT trainer Sara Del Rey and their more recent Infinite Gauntlet matches have featured WWE competitors Abbey Laith and Ruby Riott. Much like Lucha Underground, their third installment was won by a woman on the roster, in this case Solo Darling.
Considering the negative stigma that comes from having male wrestlers rough up female wrestlers in relation to the PG rating, don't count on seeing someone like Asuka winning the male Royal Rumble any time soon. That said, actually giving the women their own Royal Rumble to show their stuff is a huge step in showing that regardless of gender, good in-ring work deserves its due.
Gavin Jasper writes for Den of Geek and remembers the frustrating time he came so close to winning the Royal Rumble in WWF No Mercy, only to be taken out by a bikini-clad Mae Young at #40. Read more of his stuff here and follow him on Twitter @Gavin4L
Read and download the Den of Geek Lost in Space Special Edition Magazine right here!