Features
WWE Royal Rumble: The One-Timers Club
Some wrestlers only get one shot at the big time. Here are the Royal Rumble competitors who made the best of it...and those who didn't.
There's something truly special about the Royal Rumble. It's creative and filled with so many possibilities. Well, not always possibilities. There are certain years where the winner is so set in stone that even a child can find it obvious a month in advance. Yet they still rule because once every year, WWE puts on a wrestling party. A bunch of the roster will take part in one match and we get to see a snapshot of the company.
Older Royal Rumbles are like a class photo or a time capsule that best represent the year or even era and one thing that really magnifies what the Royal Rumble is all about is the one-timer. The kind of wrestler who for one reason or another only showed up in one Royal Rumble and never again. Perhaps they were too busy in other years with undercard matches. Maybe they were rarely important enough to be allotted a spot on the show to begin with. Maybe an injury kept them off TV for a while. For some, they may have only had a couple months in the company before being let go and fading into obscurity. Either way, they help make the Royal Rumble seem like the ultimate who's who of WWE alumni.
So let's take a moment to remember the guys who only had one over-the-top-rope staggered battle royal in them. Keep in mind, Royal Rumble 2000 comes up empty handed.
1988
The original Rumble, despite having only twenty entries and being dull as dirt, had the most unique set of wrestlers until 2018. Half of the roster never shows up again, including the likes of King Harley Race, Jumping Jim Brunzell, Sam Houston, Dangerous Danny Davis, Boris Zhukov, B. Brian Blair, Hillbilly Jim, and Junkyard Dog.
The only one-timers of actual note are "The Rock" Don Muraco, who made it to the final four, and "The Natural" Butch Reed, known for being the very first elimination in Rumble history.
1989
Once they started treating the Rumble as a big match, bigger names started showing up and a whole lot of changeover. The Rumble was won by Big John Studd in his only Rumble appearance, making him one of three wrestlers to ever do that.
Otherwise, the match includes Brainbusters members Arn Anderson and Tully Blanchard, as well as Brutus "The Barber" Beefcake and Rugged Ronnie Garvin. Garvin wouldn't make an impact in the Rumble, but would have one of the better Royal Rumble undercard matches against Greg Valentine a year later.
read more: Every Royal Rumble Winner in WWE History Ranked
1990
The third year of the Rumble had an all-star Hogan Era collection of competitors, which lends itself to the one-timers as well. Shockingly, this is the only appearance for both Dusty Rhodes and Rick Rude. Rude himself would make it to third place before accidentally being eliminated by Mr. Perfect.
1991
The final low-stakes Rumble featured Shane Douglas as a forgettable rookie, years before kickstarting Extreme Championship Wrestling by taking a big dump on the NWA Championship. Hawk made his lone appearance while Animal would go on to appear in the Rumble again many years later. Similarly, Paul Roma was a one-and-done whose partner Hercules had a handful of Rumbles to his name.
Then there's Saba Simba, Tony Atlas' very unfortunate repackaging that didn't last very long at all.
1992
It's rather fitting that the 1992 Rumble was held for the vacant WWF Championship because the three unique entrants held the WWF Championship at one point or another. Colonel Mustafa, otherwise known as the Iron Sheik, showed up for a bit, as did Sergeant Slaughter, who was champion less than a year earlier. Finally, there's the runner-up Sid Justice, who became champion about five years later.
Coincidentally, the only time he was on the roster during a Royal Rumble show was him dropping that title to Shawn Michaels in 1996.
read more: The 30 Best Wrestlers to Never Win the Royal Rumble
1993
Gone was the Hogan Era and begun was the New Generation. That meant a different flavor of bad gimmicks as shown with campy space man Max Moon and the low-rent whackadoo Damien Demento. Then there's legendary wrestler Carlos Colon, who was called a "youngster" by Gorilla Monsoon despite being 45 years-old during the show.
1994
Knowing that this is Great Kabuki's lone appearance makes enough sense, but it's rather surprising to see that this is the only showing for Bam Bam Bigelow. Rick Steiner too, though his insane brother would stop by again in a decade.
Asterisk goes to Bastion Booger, who didn't actually compete, but was a "no-show" due to food poisoning. His lack of showing up was mainly to add drama to the possibility that Bret Hart wasn't going to be able to compete due to injury. That was proven wrong two entries later when Bret hobbled out from the back.
1995
The '95 Rumble was the shortest installment due to the idea of doing one-minute intervals. If there was ever a year to do it, it would probably be the year that gave us the Heavenly Bodies (Jimmy Del Ray and Dr. Tom Prichard), Well-Dunn (Timothy Well and Steven Dunn), Mantaur, and a guest appearance by Dick Murdoch of all people.
Then there's Eli Blu, part of the Harris Twins and their many gimmicks.  As Skull, he was set to show up in the 1998 Rumble, only he got taken out a couple hours earlier by Steve Austin. So he sort of counts?
Also, King Kong Bundy. I guess that'll happen when your original heyday ends right before the Rumble is introduced. He barely even got to do anything despite being the kayfabe odds-on favorite.
1996
This was a weird year because they decided to overdo it with the guest entrants. I mean, I guess I can understand Dory Funk Jr. being there, but they also tossed in "Wild Man From Japan" Takao Omori, Doug Gilbert, Squat Team #1, and Squat Team #2. It's not like those guys had any actual staying power with WWF.
The only members of the company roster involved who make this list are Hakushi and Barry Horowitz. And it really says something about the sad state of 1996 WWF when Barry Horowitz was put into the Royal Rumble.
1997
Being in San Antonio and the roster still being really thin, the '97 Rumble featured a handful of luchadors to fill it up to 30 and give it some extra flavor. From Mexico, we had Pierroth, Cibernetico, Latin Lover, and most famously Mil Mascaras. None of them made much of an impact outside of Mil Mascaras eliminating himself.
Of the actual WWF roster, the two one-timers include Flash Funk (AKA 2 Cold Scorpio) and "Razor Ramon." By that I mean the Rick Bogner laughing stock version of the gimmick. Scott Hall himself has never made a Rumble appearance ever, instead appearing in title matches on the undercard during his entire WWF run.
1998
As the Attitude Era started to really take form, the one-timers were the forgettable kind. Chainz from Disciples of the Apocalypse, Tom Brandi, and Thrasher from the Headbangers acted as footnotes to Austin's rise to the top. Headbanger Mosh at least got to show up a couple more times.
1999
This Rumble is completely front-loaded with entries for this list. Droz, Gillberg, Dan Severn, Tiger Ali Singh, and the Blue Meanie were all clustered together and mostly got wiped out once Mabel showed up.
Then there was Vince McMahon, who came out at #2, left for much of the match, and ended up winning, making him the only other person to be completely undefeated at Royal Rumbles. That is, unless you count the Corporate Royal Rumble that led to this event.
2001
Drew Carey being on this list shouldn't be a surprise to anyone. Raven and Tazz, on the other hand, are a bit more eyebrow-raising. Then again, Tazz made his WWF debut at Royal Rumble 2000 where he became the first person to defeat Kurt Angle. One year later and Tazz was getting eliminated within seconds in the Royal Rumble match. That's quite a drop in status.
read more: Ranking Every Royal Rumble
2002
It was just after the end of the WCW/ECW InVasion and while that was considered a booking misfire, it did stack up the roster something fierce and mostly filled the Rumble with people who had staying power. Unfortunately, WWF couldn't reach its potential with Lance Storm, who got to show up here, but quickly faded into obscurity thanks to a series of demeaning gimmicks.
2003
The first Rumble after the Brand Extension started off with promising rookie Chris Nowinski getting his head smashed in accidentally by Edge, giving him a career-ending injury. Otherwise, Bill DeMott showed up for a second and Rosey appeared as one half of the Three Minute Warning. Rosey's partner Jamal would get more play as Umaga down the line while Rosey's Super Hero In Training gimmick was too low on the radar to get him another Rumble spot.
2004
2004's list of one-timers is an interesting snapshot of the time. WWE was flailing at introducing Matt Morgan as a rookie with plenty of potential (also, he got injured during this very match). Ernest "The Cat" Miller stopped by, which is the only reason anyone remembers his very brief WWE run, what with it being one of the best Royal Rumble moments. Rico was there too and…there's nothing interesting I can add to that.
Despite being very low on the ladder, Nunzio appeared for the sake of eating a spear from Bill Goldberg. Nunzio was supposed to reappear in 2005's match, but Kurt Angle stole his entry via bullying just prior to the match.
Spike Dudley, sadly, never even made it to the ring. Prior to his entrance, the Undertaker chose that time to play mind games with Kane and that didn't end well for Little Spike.
2005
Oof, six guys for this year and it's not a great list. Tough Enough winner Daniel Puder appeared for the sake of having the unbalanced veterans take liberties with him. Kenzo Suzuki and Muhammad Hassan were there, showing off their xenophobic gimmicks while being pretty boring when it came to wrestling. Mark Jindrak, best known for being the Pete Best of Evolution, as well as Luther Reigns, best known for angrily yelling about peas, also showed up. Finally, the exceptional Paul London was in the Rumble just so he could lose in spectacular fashion by selling the hell out of a clothesline.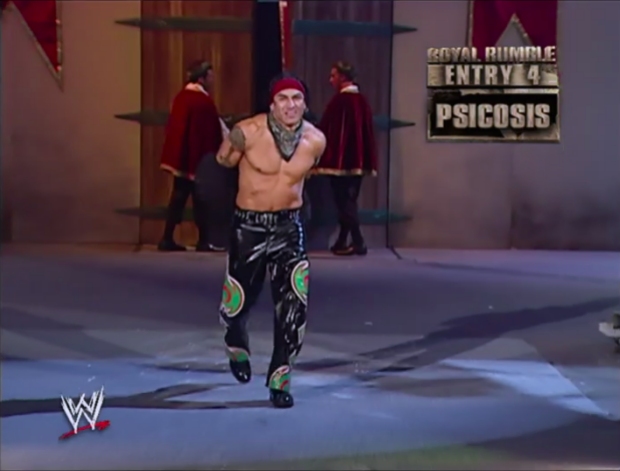 2006
Being that this was the one that Rey Mysterio won, it made plenty of sense that it would be Psychosis' one and only. Others in his company include Sylvan, Trevor Murdoch, Eugene (who was well past his expiration date), and Joey Mercury, who wouldn't make the next year's show due to having an exploded face.
2007
The Spirit Squad had gone to pasture and for a little while, WWE thought that Kenny Dykstra was going to be the breakout star. That didn't happen.
This was the first Rumble after WWE rebooted ECW and with it came Sandman, Sabu, and Kevin Thorn. None of them really did much in the match and Sandman's spot was basically used to humiliate him.
2008
Somehow being in a feud with Chuck Palumbo's biker gimmick was good enough for Jamie Noble to get a Rumble spot, for all the good it did him. The other two names on the list, Mr. Kennedy and Elijah Burke, would come out of their WWE careers empty-handed, leading to them finding something to do in TNA.
2009
The Brian Kendrick didn't last long enough as both a Rumble entrant nor in general until becoming a Cruiserweight mainstay nearly a decade later. Meanwhile, Mike Knox was in the midst of a cool repackaging that sadly went nowhere, where he regularly beat the crap out of Rey Mysterio, acted like he genuinely didn't know why, and had a totally sweet beard.
2010
Despite having a decent stretch as a WWE Superstar, Evan Bourne's one shot at the Rumble had him enter in the very beginning and get tossed out by CM Punk about two minutes later.
2011
The biggest Royal Rumble ever only has two one-timers to mention. Mason Ryan – the Welsh, off-brand Batista – acted as the tank for the New Nexus and looked like a beast until Cena arrived. During the time when the New Nexus ruled the ring, they easily overwhelmed Tyler Reks, who I only really remember for releasing some terrible South Park knockoff cartoons on the internet where he whined about not being pushed.
2012
2012 was one of the more gimmicky Rumbles due to the shoddy roster. It meant that there would be plenty of random entries like Ricardo Rodriguez, Michael Cole, and Kharma. Hell, this was Kharma's one and only WWE match in general!
Epico showed up too and got punked out as an afterthought despite being a tag champ at the time.
2013
Our obscure competitors include Brodus Clay, Darren Young, and Sin Cara. By that I mean the first Sin Cara, as all of his later appearances came after he was replaced with Hunico.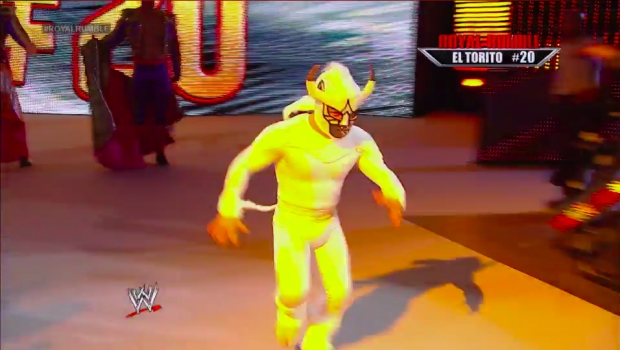 2014
El Torito got the comedy spot, so no surprise there. As for why Jimmy Uso is a one-timer and Jey isn't? For some reason, even though 2012 was a Rumble that filled itself up with guest entrants to make ends meet, only one Uso was allowed to take part. Go figure.
2015
Adam Rose wasn't long for this world and even by the time of his Rumble showing, he was reaching the end of his party gimmick. Bubba Ray Dudley and Boogeyman are more notable because they were surprise entrants who had never taken part in the Rumble during their original time with the company.
That means that D-Von Dudley to this day hasn't been in a Royal Rumble.
2016
Even though this was AJ Styles' big WWE debut, he's yet to return to the Rumble thanks to always being in a title match. That's also why Neville was also a one-timer.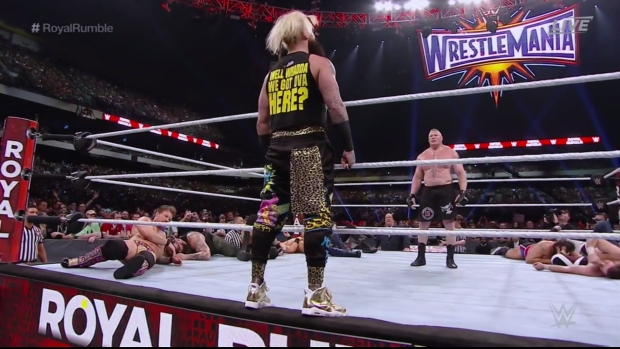 2017
2017 has its fair share of one-and-dones and they're all on the smaller part of the scale. Kalisto was a guy who had been on the roster for a few years, but only here got a spot in the Rumble. Enzo Amore and James Ellsworth were lovable losers at the time who completely ate shit in this match, then would get let go and caught up in scandals sometime after the fact. Jack Gallagher is still around, but the company has long stopped caring about his delightful antics.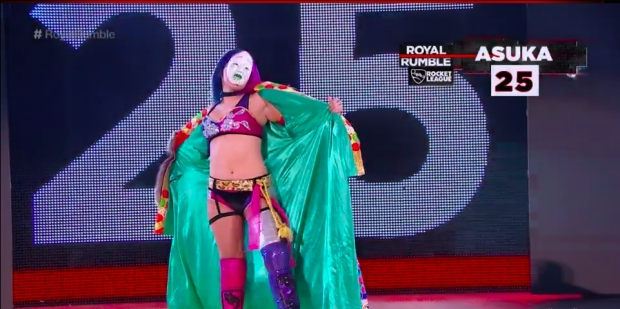 2018
There were three Royal Rumbles over the course of two PPVs in 2018, so it's an interesting entry here.
The regular male Rumble featured a couple NXT appearances, which included Adam Cole. Otherwise, we got Aiden English, who fell into a commentator role once his Rusev Day storyline was over with. There are newcomers who would have been on this list had it not been for the Greatest Royal Rumble a few months later.
But before we get to that, there's the first-ever women's Royal Rumble. I wrote more about the history of women in the Royal Rumble here. For the most part, this was bogged down by nostalgia entries who wouldn't return the following year. This included Lita, Torrie Wilson, Molly Holly, Michelle McCool, Vickie Guerrero, Kelly Kelly, Naomi, Jacqueline, Asuka, Nikki Bella, Brie Bella, and Trish Stratus. As for Sasha Banks and Asuka, they were preoccupied with title matches in 2019 and have yet to have a second go. Lana was entered in the 2019 match, but due to injury, her spot was ultimately given to Becky Lynch instead.
Then WWE did the Greatest Royal Rumble in Saudi Arabia, which featured 50 names. Filling up the roster meant a lot of folks who normally wouldn't get the go-ahead to be in a Rumble match, such as Mike Kanellis, Viktor, Konnor, Dash Wilder, Scott Dawson, Luke Gallows, Karl Anderson, Tony Nese, and Drew Gulak. Bobby Roode and Chad Gable were simply main roster guys who had yet to appear in a Rumble at that point. Tucker Knight, Roderick Strong, Babatunde, and Dan Matha were all NXT guys.
That leaves Hiroki Sumi, the sumo wrestler who was only competing because the guys paying WWE asked for certain wrestlers to show up and on their list was Yokozuna. That was going to prove a little difficult because, um, dude's been dead for 18 years by that point, so they did the best they could.
2019
The women's Rumble featured a few women who were on the roster a year before, but couldn't make it to the inaugural Rumble for one reason or another. This includes Charlotte Flair, Alexa Bliss, Maria Kanellis, and Alicia Fox. With less emphasis on classic wrestlers from yesteryear, they instead filled up the 30 spots with either new members of the main roster or women from the two different versions of NXT. That meant Lacey Evans, Billie Kay, Peyton Royce, Nikki Cross, Xia Li, Candice LeRae, Kacy Catanzaro, Zelina Vega, Io Shirai, and Rhea Ripley.
On the men's side, NXT guys Pete Dunne, Aleister Black, and Johnny Gargano made special appearances. Other one-timers included No Way Jose, Mustafa Ali, and, very surprisingly, Samoa Joe.
Gavin Jasper writes for Den of Geek and would like to remind everyone that the Coach has somehow been in two Royal Rumbles. Read more of his stuff here and follow him on Twitter @Gavin4L
Read and download the Den of Geek Lost in Space Special Edition Magazine right here!