News
WWE Rocked by Creative Shakeup
Paul Heyman has been demoted by the WWE, and Bruce Prichard is now running RAW and SmackDown.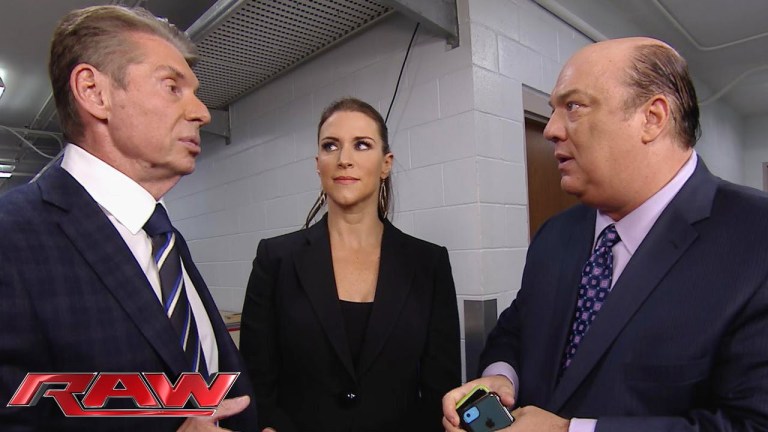 Nearly one year after appointing Paul Heyman as the executive director of RAW, WWE announced on Thursday that he was being removed from the position, and Bruce Prichard will now oversee WWE creative for both RAW and SmackDown.
Heyman was hired to run RAW in June of 2019 along with Eric Bischoff, who was hired to run SmackDown. Bischoff lasted only a few months before Prichard replaced him and now Prichard will add RAW duties to his plate, with Heyman stepping back into just an on-air role, according to WWE.
"In an effort to streamline our creative writing process for television, we have consolidated both teams from RAW and SmackDown into one group, led by Bruce Prichard," WWE said in a statement. "Paul Heyman will concentrate on his role as an in-ring performer."
Reportedly, Vince McMahon has been upset with RAW's ratings. Of course, McMahon has a history of micro-managing the company's creative process, and then blaming his shortcomings on others. This seems like the latest chapter in that ongoing saga.
Over Heyman's time at the helm of RAW, he helped elevate Drew McIntyre to the level of being a world champion. He has also presided over the development of younger stars, such as the Street Profits and Apollo Crews, who both are currently holding championships, and has elevated the status of wrestlers like Buddy Murphy, Austin Theory and he oversaw the transformation of Seth Rollins into a new character as the show's top heel.
Not to mention, ratings have suffered in recent months during the COVID-19 pandemic. McMahon gruffed about the RAW ratings in a recent earnings call, and even said that part of the reason for the decline in ratings had to do with the lack of an audience and the process the brand was going through in order to build new stars (something Heyman has long had a great reputation for). Unfortunately, building new stars needs to be a patient process, and Vince McMahon has proven, over and over again, that he has zero patience.
The elevation of Prichard should be no surprise. He was fired from WWE back in 2011 and then hosted a podcast before returning to the company last year. Even on his podcast, Prichard was reluctant to criticize McMahon. He lasted 20 years in his first run with the company as one of Vince's right-hand men. I'm guessing he didn't last so long by challenging Vince on ideas and decisions. Prichard's longevity is likely due to his ability to navigate Vince's minefield. He knows what he wants to hear, and he feeds it to him.
As for Heyman's on-air career, there's mystery surrounding where even that will stand moving forward. Heyman's primary role was to manage Brock Lesnar, who is not currently on the show. Lesnar's last match was at WrestleMania, when he lost the title to McIntyre. 
Lesnar's contract is also reportedly expiring soon. Which leaves Heyman's future even more in doubt.