Features
Big Show Expects "Amazing Things" From WWE Champion Drew McIntyre
The Big Show opens up about his match with WWE Champion Drew McIntyre in an exclusive interview.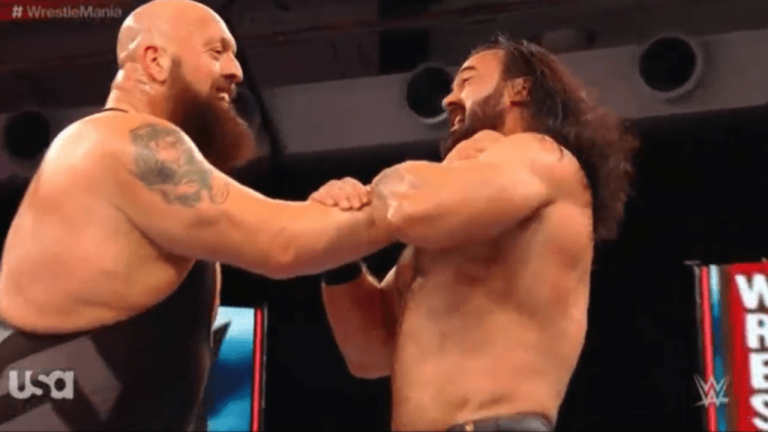 When the Big Show was given the opportunity to help cement the status of new WWE Champion Drew McIntyre, he didn't think twice.
At WrestleMania 36 earlier this month, McIntyre beat Lesnar in the main event and was crowned as champion as the show went off the air. We found out the next night on RAW that about 30 minutes after the match with Lesnar, McIntyre came to the ring with the new plates on the championship belt for what was supposed to be a pre-recorded interview. But that interview was soon interrupted by Big Show, who stars in The Big Show Show, currently on Netflix.
"That was just me proving that Drew was the champion that we need on RAW," Big Show, real name Paul Wight, tells Den of Geek. "I mean, he fought Brock Lesnar, conquered The Beast, slayed The Beast, conquered The Conqueror. What I did was to prove to everyone and put him in the worst possible situation, after a grueling match like that, and he's got an angry giant breathing down his neck."
The win for McIntyre was a crowning achievement. After being dubbed as a future champion by Vince McMahon in 2009, McIntyre was fired and then rebuilt himself on the independent scene before getting rehired by WWE three years ago. After coming back up through NXT, McIntyre was eventually back on the main roster and then won the Royal Rumble this year to set up the match with Lesnar.
"He's worked hard," Big Show says. "He's paid his dues and he's a champion for sure, without a doubt. He's got everything it takes and he's got it all put together, man. I look for some amazing things down the road from him."
The match on RAW received very good ratings, and McIntyre was put over huge for defeating Lesnar and then beating a fresh Big Show just "20 minutes later," as it was framed on the show.
"They didn't show the camera shot," says Big Show, "But after the pin fall, when Drew was leaving, I was holding my teeth trying to put them back in my head but I was smiling because I am a McIntyre fan. I am and he proved on why I should be."

Big Show hasn't been a regular on WWE television for a few years, but reviews are strong on The Big Show Show, a family sitcom about Big Show, a retired wrestler, adjusting to home life with his three daughters. Earlier this week, it was one of the top-streamed shows on Netflix.