Reviews
WWE Raw Results: Ric Flair Gets Emotional, Punted by Randy Orton
Ric Flair cut an incredibly emotional promo, before Randy Orton pulled his Legend Killer card on WWE Monday Night Raw.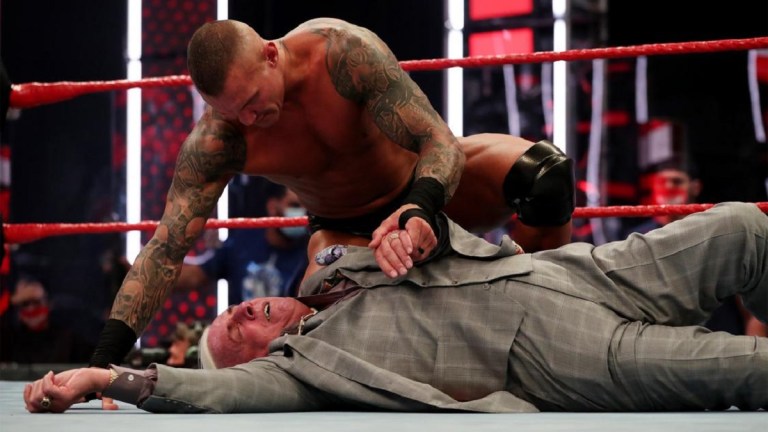 Last month, I wrote how the renewed push — and quite frankly, the reinvention — of Randy Orton's character could be a force that helps stem the tide of WWE's faltering ratings and viewership numbers. That's proven to not be the case, as RAW and SmackDown seem to hit dangerous new lows on a weekly basis. 
But that doesn't mean Orton's push has been a total failure.
Last night we saw another chapter in the return of "the legend killer." After a victory over Kevin Owens in RAW's main event, Orton and Ric Flair, who had been serving as his manager for a few weeks, had an emotional moment in the ring. Orton was upset that Flair's ego forced him to fight Kevin Owens in the first place. Flair cut one of the most emotional promos we've seen on WWE television in some time, nearly coming to tears talking about his illness a few years ago where he slipped into a coma and nearly lost his life. He told Orton that he realizes now that he needed to tell the people he loved that he loved them, every day.
Orton and Flair embraced, but as he turned away to walk to the ropes, Flair was hit by a vicious low blow from Orton.
Then the new Retribution stable, a gang of folks wearing all-black outfits, including black masks, apparently started messing with the lights. Orton lined up for a punt kick and then the lights went out. Viewers heard the smack of Orton's boot hitting something, and when the lights came back on, Flair was unconscious and Orton was staring at him. After a few seconds, Drew McIntyre, who will defend his WWE Championship against Orton at SummerSlam ran to the ring and chased off Orton, tending to Flair as medical personnel came to the ring.
Obviously, this was the perfect way of intertwining a few of RAW's current storylines. Flair, at his age and with his health problems, can't do anything physical in the ring (even the low blow was risky).
Elsewhere on the show, RAW Underground continued to be a thing. There's actually a way that the RAW Underground concept can work. WWE didn't necessarily show that in the first two weeks of the idea.
For the most part, these matches were ending in less than 60 seconds. They were a highlight reel of knockouts, which plays great on UFC's YouTube page, but if you're trying to push this idea as "real" fights, it's a dangerous path.
People compared RAW Underground to the Brawl for All gimmick WWE utilized in the late-'90s, but I think it's more comparable to GCW's Bloodsport shows. Those cards were first presented by Matt Riddle, now a WWE wrestler, and then by Josh Barnett and had almost the same presentation as RAW Underground, even down to using the ropeless pro wrestling ring.
Those Bloodsport matches didn't consist of 30-second knockouts. Barnett and Minoru Suzuki fought for nearly 30 minutes when they clashed.
WWE is going to have to present longer RAW Underground matches for the concept to take hold and work effectively. While it's certainly okay to have some fights end with 30-second knockouts or submissions, these matches should average anywhere from 7-10 minutes.
Here's how I would have started RAW Underground.
The very first fight should have been between two wrestlers who you know can grapple and present a believable grappling match. Grappling can help extend the time, while still making the fight look real and very different from what we see on the rest of RAW.
Matt Riddle would have been my No. 1 choice, going up against either Dolph Ziggler, Shelton Benjamin, or Chad Gable. Riddle gets the win, as he's the new talent on the main roster getting a push, and Riddle against any of those three opponents could have put on an 8-10 minute credible fight. Riddle even has experience in GCW's Bloodsport matches.
Let's say the first match was Riddle beating Ziggler. The second match can be Gable and Benjamin. Then in the main event, if WWE wanted to debut Dabba-Kato in a big way, have Shane McMahon bring him into the ring and debut him with a 30-second knockout over anybody. The powerful 30-second knockout, coming after the two 8-10 minute grappling matches, would have absolutely stood out and made his debut feel bigger than it was.
Plus, you don't set the precedent that every RAW Underground match lasts a minute or less. Why is Dabba-Kato's debut meaningful when someone who is in a tag team, one-half of the Viking Raiders, did the same thing in his fight?
The concept can work and I love that they're trying something new, but like with most things in WWE, it felt rushed to television in response to dwindling viewership. And, it's hard to invest in anything they're doing when Vince McMahon can change his mind on a dime this afternoon, and perhaps we never see RAW Underground again.