Reviews
Is Randy Orton the Solution to WWE Ratings Problems?
WWE's storytelling with Randy Orton is straightforward, yet incredibly effective.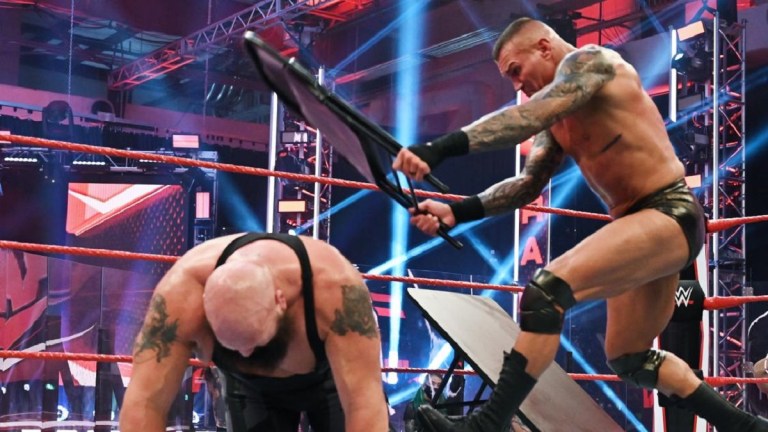 Randy Orton has gone back in Doc Brown's time machine, becoming the "legend killer" for the second time in his career. After taking out Edge and Christian in the last few months, Orton had set his sights on Big Show on last night's episode of RAW. 
The story weaved throughout the episode and had elements of old-school pro wrestling. Orton cut a killer promo where he talked about his motivations and why he's taking out so many WWE legends. Later, just before the main event, Big Show told fans why he came to Orlando, to fight for Edge and Christian. He talked about his history with Orton, and how he felt he went down the wrong path. Big Show was there to set him straight.
Only, it didn't work.
Orton won the unsanctioned match, and afterward, he punted Big Show in the head and knocked him out cold as the show went off the air.
With WWE's ratings and viewership numbers declining on a weekly basis, it's almost as if the company's creative decision makers aren't sure what to do. Orton's run here as a heel has been very good television, but it hasn't brought with it an uptick in viewers.
Sunday night at Extreme Rules, Drew McIntyre defended the Universal Championship against Dolph Ziggler. The show itself was blasted by critics as being one of the worst WWE pay-per-view shows in a while, but the Ziggler-McIntyre match was almost universally praised. While it was definitely time for McIntyre to move on to someone else  — he beat Ziggler in a match where Ziggler picked the stipulation, allowing him to use weapons while McIntyre could not — again it seems WWE isn't sure what to do so they kept McIntyre and Ziggler together, in an effort to build on some momentum.
Smart, but again, they booked themselves into a corner. Ziggler has no real legitimate claim at another championship match, and this future match might help a one-night episode of RAW in the ratings, it won't be a long-term solution to WWE's underlying problem.
That's where Orton might be able to help. He's believable as a heel, and while we haven't seen minute-by-minute television ratings, I firmly believe Orton's approach to his character can have long-term benefits. Former WCW head booker Kevin Sullivan knew how to build heat with heels, and his approach is similar to what WWE is utilizing now with Orton. There is no kink in the armor. He's killing legends, week after week, and right now, it doesn't look like anyone will be able to stop him.
That means, whoever does finally bring down Orton, should benefit largely as a babyface. And for WWE's sake, they may actually have something to build to.