Features
WWE Elimination Chamber: Ranking All The Matches
It's the good, the bad, and the Lashley as we look at the history of one of the most consistently good gimmick matches: Elimination Chamber.
Back in the early 2000s, Triple H was annoyed that Vince McMahon wouldn't bring War Games into WWE, so he did the next best thing. Or maybe even the better thing. He invented a new match type that mixed Hell in a Cell, Royal Rumble, and War Games into one snazzy package. In terms of kayfabe, it was the brainchild of Eric Bischoff in his attempt to be the most successful GM in WWE. Introduced in 2002, the Elimination Chamber became a regular fixture in WWE and even when they tried to quietly get rid of it, it came back less than two years later.
Of all the fixtures in WWE, it has the best hit-or-miss ratio. The Royal Rumble has had many problems in the past several years. Cage matches are completely illogical most of the time. Hell in a Cell is watered down. Other than ladder matches, there aren't too many major match types that still stand strong in modern WWE. Elimination Chamber is one of those match types. I've watched all 22 of them for the sake of ranking them from worst to best and the quality honestly holds up almost entirely across the board.
So join me in this list of matches where wrestlers are constantly shattering "bulletproof" plexiglass with their skulls. Where CM Punk enters four times, each time under a different incarnation of his straight edge persona. Where Triple H puts way too much emphasis on himself, winning four times and getting second place the other two times. Where we get some random pairings that we wouldn't otherwise see like Undertaker vs. John Morrison, CM Punk vs. RVD, and Shawn Michaels vs. Jeff Hardy. Where Paul Heyman's ECW revival is destroyed by some really iffy booking decisions.
From Booker T in 2002 to Bayley in 2018, here's the Elimination Chamber from worst to best.
22. THE INTERCONTINENTAL DISASTER
Elimination Chamber 2015
King Barrett vs. Mark Henry vs. R-Truth vs. Ryback vs. Sheamus vs. Dolph Ziggler for the Intercontinental Championship
The Build: Daniel Bryan won the Intercontinental Championship at WrestleMania and after getting stiffed one too many times by the new, Mohawked version of Sheamus, he had to give up the championship due to health issues that would, in time, mean a full-on retirement. An Elimination Chamber match is announced to fulfill the vacant championship slot.
Rusev is originally meant to be in the match, but he suffers an ankle injury that puts him on the shelf for a little while. His spot is given to Mark Henry.
The Match: So. Originally when I wrote this article, it was to hype up Elimination Chamber 2015. There were only 17 matches at the time and I made a point to say that even the worst Chamber match was still at least good.
It was this very event that broke the streak.
The match is a slog. A total slog. Not only does it drag from the beginning, but it's so awkward that there's a widely-accepted belief that something went horribly wrong and half of the match was them awkwardly trying to improvise from it. Presumably, Barrett accidentally broke Mark Henry's pod door, forcing Henry into the match long before he was supposed to.
read more: Everything You Need to Know About WWE Elimination Chamber 2019
Then there was a thing where Sheamus cheated to keep himself locked into his pod by jamming the door with his cross necklace. The announcers for some reason never picked up on this heelish strategy and decided that the door was broken until Sheamus decided to fix it.
The finale had Sheamus vs. Ryback, which could have had potential in another timeline, but the two continued to work against each other while getting zero response from the crowd until Ryback mercifully won.
The Aftermath: Although not especially well-remembered, Ryback has a fairly good run with the Intercontinental Championship. He feuds with Big Show and Miz and comes out of it victorious. His reign lasts about four months before he drops it to Kevin Owens. This is arguably Ryback's last hurrah in the company before falling into obscurity and splitting.
21. THE TAG TEAM CHAMBER
Elimination Chamber 2015
The Ascension (Konnor and Viktor) vs. Los Matadores (Diego and Fernando) vs. Lucha Dragons (Kalisto and Sin Cara) vs. New Day (Big E, Kofi Kingston, and Xavier Woods) (C) vs. Prime Time Players (Darren Young and Titus O'Neil) vs. Tyson Kidd and Cesaro for the WWE Tag Team Championship
The Build: The New Day are in the middle of their first tag title run and keep using their numbers advantage to hold onto the belts. After they defeat Kidd and Cesaro in a best two-out-of-three bout, they are told that they would have to defend the tag titles in the Chamber.
Shortly before the event, they get on the Authority's good side and Corporate Kane grants them the ability to have all three New Day members in the match.
The Match: You know, this wouldn't be all that bad if they didn't make all three New Day members legal. Having six tag teams in an Elimination Chamber is such a novel and dynamic use of the concept, but it's done in by how utterly pointless the match becomes. The New Day show up last when most of the match is over and win because there's three of them and there's no reason they wouldn't win.
read more: Everything You Need to Know About WrestleMania 35
Granted, there are some high points. This is during the one weekend where WWE treated post-NXT Ascension like anything other than a joke, so it's refreshing to see them being played up as threats. Cesaro and Kidd are able to breathe some life into the match and the Prime Time Players look good.
It's just that even the death-defying spots come off as a little too contrived. El Torito is there just because. Kalisto climbs to the top of the dome and has to wait for everyone to finish doing their energetic wrestling spots so he can take a second and drop down onto them.
It feels like this should be cool, but it never really gets off the ground. The one guy in the front row desperately trying to start a "THIS IS AWESOME!" chant and failing about sums it up.
Anyway, it comes down to two guys making up the Prime Time Players vs. three guys making up the New Day and that says it all.
The Aftermath: Although they come up short at Elimination Chamber, the Prime Time Players defeat New Day for the tag titles shortly after. Then New Day win the belts back and hold onto them for well over a year, breaking the record for longest reign. All the while, Prime Time Players break up and fall into some disastrous singles runs.

20. BELIEVE IN SANTINO
Elimination Chamber 2012
Big Show vs. Cody Rhodes vs. Daniel Bryan (c) vs. Great Khali vs. Santino Marella vs. Wade Barrett for the World Heavyweight Championship
The Build: Daniel Bryan has been able to get past all challengers for his title no matter how big and strong, merely due to his own cunning. As his ego gets out of control, he's placed in an Elimination Chamber match. Two of the biggest threats are Mark Henry and Randy Orton, but each one is taken out in the weeks prior and they're replaced by the Great Khali and battle royal winner Santino. The Big Show especially wants to crush Bryan for stealing his title and being a jerk, but he also wants to shut up Cody Rhodes and Wade Barrett, who have been ragging on him for being a WrestleMania choke artist.
The Match: The thing people remember the most from this match is Santino coming so close to beating Bryan at the end, only to lose. It really is a fantastic moment, especially when he almost powers out of the Yes Lock and the place becomes unglued. It's just that that's the match doesn't have much else going for it. Usually these matches put two of the faster workers at the beginning to keep it exciting, but here we have Big Show. Big Show fending off against Barrett and Rhodes isn't all that entertaining, all things considered. Then you toss in a comedy jobber and Khali. On one hand, Khali is eliminated in about a minute by a Big Show spear, but on the other hand, that means more Big Show.
There is a spot in there that beams with originality where Big Show decides to go straight for Bryan, despite Bryan glaring at him from within his pod. Big Show climbs in from the top and gets in there with Bryan, allowing him to crush the little guy in close quarters. It's just that this takes a while and by the time Big Show's in there, Bryan's pod has 30 seconds before opening. It's all rather pointless and makes Big Show look kind of dumb.
Even when Big Show's gone, the final three of Bryan, Santino, and Barrett never finds its footing until Barrett's defeated.
The Aftermath: After the match, Royal Rumble winner Sheamus appears to lay out Daniel Bryan, suggesting that he will challenge him at WrestleMania. Sheamus would shut Bryan up by pinning him in 18 seconds.

19. THE FALL OF EDGE
No Way Out 2009
Big Show vs. Edge (c) vs. Jeff Hardy vs. Triple H vs. Undertaker vs. Vladimir Kozlov for the WWE Championship
The Build: Triple H, Jeff Hardy, and Vladimir Kozlov have been entwined in a feud for the WWE Championship, culminating in a triple threat match won by…a returning Edge. Thanks, Vickie Guerrero. Edge is forced to defend his belt against those three as well as Big Show and Undertaker. Meanwhile, Triple H has been cheated out of winning the Royal Rumble by Randy Orton. Orton has been antagonizing Triple H's in-laws and it looks like it's about time for him to do something about it.
The Match: The beginning is so wonderful. Edge and Jeff Hardy are the first two to start it off. In three minutes, Jeff rolls up Edge and eliminates him. Edge. The champion. Gone, just like that. He can't believe it and now we're left with knowledge that we're going to get a new champion. Too bad this means we get way too much time watching Big Show and Kozlov try and outdo each other by repeatedly bodyslamming Hardy. It's anything but exciting.
Once Triple H shows up, things start getting good and they get better once Undertaker's in. We get a rare case of Big Show being knocked out completely by a small dude when Hardy hits the Swanton off the top of a pod. The final three is nice, but once it's down to Triple H and Undertaker, something feels off. It's like, even though the match is for the title, it doesn't feel like it. Neither guy has any dramatic momentum going into this, so we're just seeing Triple H and Undertaker having a match with the title feeling almost secondary.
read more: Wrestlemania and the 10 Year Curse
At the same time, I do like the originality of Triple H's path. Usually, one has to win the Royal Rumble to get the title match they want for WrestleMania. With Orton already having won the Rumble, Triple H basically has to become the champion in order to get his hands on him for revenge.
The Aftermath: Triple H goads Orton into going after the WWE Championship at WrestleMania. The two proceed to have a feud where Orton keeps doing amazing heel work, but Triple H ruins everything by constantly getting his revenge in the lead-up. By the time they have the main event match at WrestleMania 25, there's no heat left and Triple H's win is just kind of there.
18. STROWMANIA'S RUNNING WILD
Elimination Chamber 2018
Braun Strowman vs. Elias vs. Finn Balor vs. John Cena vs. The Miz vs. Roman Reigns vs. Seth Rollins for #1 Contender for the Universal Championship
The Build: Since the Royal Rumble winner Shinsuke Nakamura chooses to go after SmackDown's top title, that means they need a challenger for Raw's Universal Champion Brock Lesnar. A series of qualifying matches are put together and things go as you'd expect until a Fatal 5-Way for the final spot ends with both Finn Balor and Seth Rollins getting counted pins at the same time. We're given our first seven-man Chamber match out of the deal.
read more: Roman Reigns, WrestleMania, and the Endless Coronation
Over the weeks of build, Elias earns the ability of entering last while Miz is forced to be one of the three starters. A nearly two-hour gauntlet match happens on Raw with all seven taking part. Even though Braun Strowman wins in the end, Seth Rollins amazes many by lasting over an hour and defeating both Roman Reigns and John Cena consecutively.
The Match: The talent is there and there is indeed some really fun moments, but this Elimination Chamber is centered around WWE's bizarre strategy when it comes to booking Roman Reigns and Braun Strowman.
See, WWE is very adamant about doing Roman vs. Brock at WrestleMania again, but this time they're more aware that the fans aren't into it. They aren't going to change their endgame, but they will loosen up on shoving Roman down everyone's throat. That means Roman is just there to win and nothing else. Even the build itself gives Roman zero emphasis to the point that his only storyline in the weeks leading up to the show is a supporting role in Seth Rollins and Jason Jordan's tag team angle.
Instead, the focus is on Braun Strowman. The man who is capable of doing impressive stuff as long as they don't pull the trigger on him. He can be nigh-unstoppable, but he can't win the big one. He can break the record for most Royal Rumble eliminations, but he's only able to win the unimportant Rumble. He can dominate and win Money in the Bank, but his cash-in is a joke. And for this? He's able to eliminate every single competitor…except Roman.
It's Braun's show until it's Roman's time to win and even then, Braun beats up Roman post-match to send the fans home happy. So they can do a WrestleMania main event that nobody wants.
The Aftermath: Roman vs. Brock ends up being one of WrestleMania's big misfires as it's mainly Roman kicking out of multiple F5s while the fans refuse to care. Brock retains anyway and Roman doesn't get his big win until SummerSlam, which only gets people caring due to having an emphasis on Braun possibly cashing in his Money in the Bank briefcase.

17. GOLDBERG'S WRATH
SummerSlam 2003
Chris Jericho vs. Goldberg vs. Kevin Nash vs. Randy Orton vs. Shawn Michaels vs. Triple H (c) for the World Heavyweight Championship
The Build: Goldberg has been dominant since coming to WWE and Eric Bischoff decides to sign a match between him and Triple H. Fellow authority figure Steve Austin amends it, adding more challengers to the mix in an Elimination Chamber match. This includes Chris Jericho and Kevin Nash, two men who have been involved in a feud where Jericho has cut off Nash's impressive mane. While Randy Orton is under orders to protect Triple H at all costs, he wonders what happens if Triple H loses before Orton can enter the match. Perhaps it'll be time to step up.
The Match: They basically figured out the ending and decided to lazily write the rest of the match around it. The idea is that Goldberg destroys everyone. Other than that, the match is deemed pointless enough that instead of five minute intervals, the wrestlers would come out of their pods every three minutes. The parts of note include Nash getting pinned and then laying waste to everyone in the ring before leaving and a really funny bit where Triple H enters at #5 and is immediately superkicked back into his pod.
We're left with Goldberg singlehandedly taking out Orton, Michaels, and Jericho. Then he moves on to Triple H and they've written themselves into a corner. They can either go too far or not go far enough. They could pull the trigger on Goldberg, meaning that they've given him the whole kingdom by having him go over everyone but Nash and becoming champion in the most decisive way possible. Not the best practice when he's only around for a year and isn't much of a long-term investment. Then you have what actually happens, where Triple H is able to surprise him with a cheap sledgehammer shot and pins him. Such a high-profile match at the end of one of the biggest shows of the year ends in such an anti-climactic way.
read more: The Greatest WrestleMania Storylines
That's really the main flaw of the Elimination Chamber. At the end of the day, they almost always use it as a plot device of the angle instead of the payoff. That's why many of them are good but just not memorable or feel all that important.
That said, Goldberg murdering Jericho is a great time. See, WCW? Having them actually fight isn't that hard.
The Aftermath: Goldberg eventually gets a singles match against Triple H and gets the World Heavyweight Championship. He continues to destroy Triple H for a few months until Triple H is able to finagle his way into a triple threat and gets the belt back that way. Goldberg proceeds to dominate the company otherwise after that until leaving and claiming that they totally misused him.

16. THE SCHEMES OF PUNK
Elimination Chamber 2011
CM Punk vs. John Cena vs. John Morrison vs. R-Truth vs. Randy Orton vs. Sheamus for #1 Contender for the WWE Championship
The Build: While the Miz is the WWE Champion, a seven-man battle royal is put together to figure out who will face him at Elimination Chamber. Jerry Lawler of all people ends up the winner with the other six getting the consolation prize of being in the Elimination Chamber match. For the past few months, CM Punk has become the leader of the New Nexus and it's made him a bit creepy and unhinged.
The Match: In terms of workrate, the match is fine, mostly because it begins with Sheamus vs. John Morrison and those two have always had great chemistry. It's just the main story of the match that confuses me. I'm really not sure how I feel about it. CM Punk is in his New Nexus phase and he's the main heel of the match. Even without his team as backup, he's constantly chomping at the bit for action, taunting everyone in their pods. When his pod finally opens, there's a malfunction and he's stuck in place so that Randy Orton can beat the crap out of him, drag him into the ring for an RKO, and pin him immediately.
Then the Anonymous Raw GM – one of the most annoying of all wrestling angles – chimes in and decides that Punk gets to return to his pod for another go. Normally, this would be a great heel twist, but Punk is completely in the right. He wasn't cowardly or underhanded. He was totally prepared to go kick some ass and was unfairly beaten down by the good guy. This is when Michael Cole is an unbearable heel commentator, so you have him being completely right but being an ass about it while the face announcers can't come up with a good argument and everyone looks bad.
read more: The Worst Moments in WrestleMania History
This at least leads to a great payoff where Punk's the last pod to be opened and Orton waits for him. Cena gets involved and Orton ends up RKO'ing him onto the steel grate outside the ring. He gets up and eats a Brogue Kick from Sheamus, making it all that more easy for Punk to get his revenge and eliminate Orton from the match.
The final three is Cena vs. Punk vs. Morrison (who took out Sheamus in spectacular fashion by climbing to the middle of the ceiling and dropping down onto him) and it's not one of the better Cena vs. Punk showdowns. The three go at it for a while and once Punk finally gets rid of Morrison, Cena immediately finishes off Punk, giving us an ending that lacks any punch.
The Aftermath: John Cena has earned a WrestleMania title shot against the Miz where he loses thanks to the Rock's interference. Cena then destroys Miz in every single rematch to the point of frustration.

15. JBL'S CHAIR DELIVERY SERVICE
No Way Out 2008
Chris Jericho vs. Jeff Hardy vs. JBL vs. Shawn Michaels vs. Triple H vs. Umaga for #1 Contender for the WWE Championship
The Build: John Cena has surprised many by showing up at the 2008 Royal Rumble at #30 and winning the match. His decision to go after Orton should etch that part of WrestleMania in stone, but Cena's so ready for his match that he wants it at No Way Out. That means six challengers are put together to face the champion, whoever he may be, at WrestleMania. That appears to be Orton after getting himself disqualified against Cena for the sake of holding onto the belt.
The Match: The match begins with Michaels vs. Jericho, so we're already off to a good start. Then Umaga shows up and it continues to be great because he's awesome at throwing dudes around like ragdolls while Michaels and Jericho make for prime ragdolls. The two begin to overcome him and do a spot where Jericho puts him in the Walls of Jericho while Michaels does the crossface…much like Jericho and Benoit did to Triple H a couple years earlier. That's where the problem of this specific match comes in. It's a perfectly fine match and all, but there's little actual originality in it. It feels like a "best of" Elimination Chamber when there have only been a handful of Elimination Chambers to take from.
JBL is eliminated when he kills Triple H with a Clothesline from Hell and then walks right into a Codebreaker from Jericho. He responds by pulling a Kevin Nash and destroying everyone in the ring. This is at least notable because he does it by smashing their heads in with chairs. My chronology may be off, but this looks to be the final time they ever had a wrestler completely go to town on someone with chairs to the head. I mean, this is post-Benoit. It's pretty surprising when it happens here.
read more: An Unlucky History of Chris Jericho at WrestleMania
We continue to get the usual tropes. Everyone hits their finishers on Umaga to stop him. Triple H and Michaels fight it out for the millionth time. It ends with Triple H going over yet again. Triple H's final battle with Jeff Hardy is very good and interesting because at first glance, Triple H is in the wrong for not putting over Hardy when he's red hot. A few weeks later, his instincts would prove to be correct when Hardy gets busted with drugs and is pulled from WrestleMania's Money in the Bank match. Whoops!
The Aftermath: Triple H is tossed into a triple threat against John Cena and Randy Orton at WrestleMania. Shockingly, it's in the middle of the card. Orton ends up winning cleanly, but at the following PPV, Backlash, Triple H finally defeats him in a Fatal 4-Way.

14. CM PUNK'S MIDCARD GAUNTLET
Elimination Chamber 2012
Chris Jericho vs. CM Punk (c) vs. Dolph Ziggler vs. Kofi Kingston vs. Miz vs. R-Truth for the WWE Championship
The Build: While trying to play himself off as unbiased, John Laurinaitis really, really hates CM Punk and wants him to lose the WWE Championship. He takes great pleasure in putting him in one hell of a challenge where Punk has to take on five others to keep his title. Among the group is Chris Jericho, who has recently returned after a series of bizarre promos about the end of the world that ultimately lead to nothing. He wins a six-man match to earn the #6 spot.
The Match: This match is a really sad sign of the time. Usually these Elimination Chamber matches have one or two random guys who don't especially belong there, but make for good flavor. Someone like Cody Rhodes, Ted Dibiase, Mike Knox, Kofi Kingston, and so on. You know they aren't going to win, but it's nice to have them in the mix against the big guns like Undertaker and Cena.
CM Punk is WWE Champion, which is considered the top belt at the time, and he has no big guns to face. Miz and R-Truth have recently lost all of their momentum against Cena and the Rock. Kofi Kingston is Kofi Kingston. Ziggler barely rates as a threat. Then there's the freshly-returned Jericho, the only one with credentials, but even he's been cut off at the knees because WWE decided to have Sheamus win the Rumble at the last minute instead. We're left with a match where everyone can go but there's little to no stock in the stakes. After all, most of these guys have battled with each other a thousand times over. Lord knows how many times we've seen Kofi vs. Ziggler.
The moment of interest here is when Jericho defeats Kofi with the Walls of Jericho and keeps smacking him around afterwards. When the door to the Chamber is opened to help Kofi out, Jericho throws him into the aisle. Then he turns around and eats a kick to the skull from Punk. Jericho tumbles out of there and is deemed too unconscious to continue. Not the most exciting way to continue a feud, but sure, whatever.
The final two are Punk and Miz. It's easy to argue Miz as the worst worker in the match, but the dude's mannerisms are fantastic at times. When Punk kicks out of the Skull-Crushing Finale, Miz's reaction is a perfect ten. Punk recovers, defeats Miz with the Go to Sleep and gets some early traction in his very lengthy title reign.
The Aftermath: Jericho would challenge Punk for his title at WrestleMania, trying to use Punk's straight edge lifestyle against him by calling him a hypocrite and trying to force him into alcoholism. It's kind of lame for what should be a strong feud. Punk wins and moves on.

13. THE KNIFE THAT WOUNDED ECW
December to Dismember 2006
Big Show (c) vs. Bobby Lashley vs. CM Punk vs. Hardcore Holly vs. Rob Van Dam vs. Test for the ECW Championship
The Build: The Big Show has been unstoppable as the Extreme Giant, Paul Heyman's pet champion of destruction. Rob Van Dam is set to get a title rematch against him, but Heyman decides to make it an Extreme Elimination Chamber match. In it, each pod will come with a different weapon, such as a chair, table, crowbar, and barbed wire bat. Various wrestlers earn their spots through preliminaries, but Hardcore Holly is simply awarded a spot. Before he can sign his contract, Bobby Lashley roughs him up and signs instead. Holly gets his spot back by showing up the night of the show and putting Sabu out of commission. As it is, we have three fan favorites and three guys working for Heyman.
The Match: I'm sure there are at least a couple people scratching their heads as to why this is rated so high. This match is infamous. It's the main event of one of the all-time worst PPVs. It's the catalyst for dropping Paul Heyman from WWE's ECW revival and turning it into a proto-NXT that used the dead promotion's name and corpse for the sake of farming talent on a C-level show.
For those who don't know, Paul Heyman and Big Show wanted to have CM Punk take out Big Show in the opening minutes and ultimately win, which would have gotten over amongst the ECW fanbase. Instead, Vince McMahon insisted that everyone would love Bobby Lashley and wanted the bland musclehead to come out as champ. Between that, removing Sabu for Hardcore Holly, and the lack of advertisement for a show that was just barely two hours, the Extreme Elimination Chamber deserves to be railed on for what it represents.
read more: Why Hulk Hogan's WrestleMania Matches Mattered
But honestly? It's not a bad match. Remember, even if Heyman didn't get his first choice, it's still his booking and he knows what he's doing. Holly's ECW run is pretty decent and he's a better fit in the Chamber than anyone gives him credit for. The moments of RVD fighting CM Punk make for a great novelty. Granted, the fans turn on the match once those two are taken out early on, but it still tells a decent story and even Test busts his ass to try and make Lashley's ascent look like a good idea.
The ending has Lashley as #5 with only Test in the ring. Heyman's security try to lock him into his pod, hoping that when Big Show arrives at #6, it'll be two-on-one. Lashley, armed with a table, breaks through the pod's roof, climbs out, takes care of Test, and then goes to town on Big Show when it's time as Heyman desperately screams for his giant to fight back from the outside. Lashley may have the personality of a paper bag, but at least there's enough effort to almost make it work.
When you look at it, the Extreme Elimination Chamber is like the prototype for Roman Reigns winning Royal Rumble 2015, only the actual story being told is competent.
The Aftermath: Heyman is fired from the company and Big Show takes time off to recover from injuries (explaining his late appearance in the match and relative lack of action). Lashley dominates ECW, eventually netting himself a feud with Umaga and a completely insane and bald Vince McMahon. Lashley trades the belt back and forth with McMahon (yes, really) until being drafted to Raw and having to forfeit the title.

12. LEGACY CRUMBLES
Elimination Chamber 2010
John Cena vs. Kofi Kingston vs. Randy Orton vs. Sheamus (c) vs. Ted Dibiase vs. Triple H for the WWE Championship
The Build: Sheamus has become WWE Champion and through some stroke of luck, he's yet to have Cena win the belt back from him. Unfortunately for him, he's going to have to face Cena and four others in the Chamber. Everyone earns their spot through qualifying matches, including Cena beating Cody Rhodes. Cody hasn't been on top of his game lately and tempers have been flaring with Legacy. It seems he and Dibiase are ready to turn on Orton at any given moment, though they do recognize all the good he's done for them.
In other news, Cena's gotten on Vince McMahon's bad side lately, but I'm sure that won't factor into the match at all.
The Match: First off, this match has one of the most inexplicable and unintentionally hilarious moments in wrestling history. Sheamus is beating up Kofi Kingston and the first pod to open is Triple H. Triple H gives him a smile that signifies that Sheamus is in trouble, but the way the spotlight shines upon him makes him look like someone took a photo of Triple H and badly graffiti'd him into being Santa Claus via MS Paint. I'm not kidding, check this out.
The match is all well and good and gets better once Ted Dibiase enters the fray. He's been having issues with his mentor Randy Orton, but he offers him a hand and helps him up. The two thrash everyone else together, including a spot where they use the cage's chains to strangle Kofi. Things go sour when Cena valiantly fights them off. Cody Rhodes, the third member of Legacy and regular screw-up during this time, runs to ringside and passes Dibiase a lead pipe. As Cena has Orton up for the Attitude Adjustment, Dibiase accidentally hits Orton with the pipe, hits Cena regardless, and then shrugs and pins Orton. A moment later, he gets rolled up for a pin.
It's one of the few genuinely good moments from the Orton/Legacy breakup feud, which otherwise goes on forever with little actually happening.
Triple H dethrones Sheamus, leaving it Triple H vs. Cena at the end. Cena gets the win via STF and a vindictive McMahon shows up to announce an immediate title defense against Batista. Batista wins with ease and it's really just a retread of Edge's legendary win from 2006, only cheaper and less natural.
The Aftermath: John Cena would get his revenge by making Batista tap at WrestleMania and winning his belt back. The two would continue to feud for the months that follow, leading to Batista leaving the company for four years. It's a shame, since he was doing the best heel work of his career during this time.

11. THE MIDDLE-AGE DREAM COMES TRUE
Survivor Series 2002
Booker T vs. Chris Jericho vs. Kane vs. Rob Van Dam vs. Shawn Michaels vs. Triple H (c) for the World Heavyweight Championship
The Build: Ever since being awarded the World Heavyweight Championship by Eric Bischoff, Triple H has had no shortage of enemies and challengers. He's had to fend off against the likes of Rob Van Dam and Kane while everyone else has been chomping at the bit for a shot at him. Bischoff, desperate to make an impact as Raw GM, comes up with the Elimination Chamber and makes Triple H defend against five challengers. Worst of which for Triple H is Shawn Michaels, his old friend who he had put on the shelf months earlier.
The Match: It took WrestleMania three years to figure out what it was doing. It took the Royal Rumble two. But the very first Elimination Chamber got it right immediately. It may have been improved upon, but the initial contest hits all the right notes and has some great moments of psychology. In the beginning, it's Triple H vs. RVD and RVD rightfully annihilates him for most of the five minutes. Why wouldn't he? He's in an extreme setting and has the better knowhow in using it to his advantage. Triple H spends the rest of the match in shambles based mostly on this great beatdown.
But RVD makes a mistake of his own. The ring has filled up a bit with Jericho and Booker T and RVD decides to do a Five Star Frog Splash off the top of a pod. Sure, it looks cool and it damages Triple H immensely, but the mutually assured destruction route turns out to be really, really stupid when you're in a match with multiple guys. Booker T easily picks the bones of RVD and pins him.
When Kane comes in, he's fairly dominant. It eventually leads to the trio of Michaels, Triple H, and Jericho to work together by hitting all their finishers in succession. Between Kane and Booker T, Jericho pins two guys with his Lionsault, which is actually unheard of! He NEVER wins with that!
Even though Michaels getting his big return title win is a great way to end it, it also means having to deal with half-dead Michaels vs. half-dead Triple H. It's a dance the two of them love to do again and again and it's really not nearly as good as the two of them think.
I should mention that while they do the spot of someone getting shoved through the "unbreakable" glass almost every Elimination Chamber match, it definitely looks the most devastating here. That must have really hurt.
The Aftermath: Half-dead Michaels vs. half-dead Triple H until the end of time. Triple H gets the title back at some point.

10. MICHAELS' REVENGE
Elimination Chamber 2010
Chris Jericho vs. CM Punk vs. John Morrison vs. R-Truth vs. Rey Mysterio vs. Undertaker (c) for the World Heavyweight Championship
The Build: The previous WrestleMania had Undertaker defend his undefeated streak against Shawn Michaels and win. Rather than let it go, Michaels has insisted on wanting a rematch. Undertaker is a bit busy being champ, so that's off the table. Michaels tries for the logical approach of winning the Royal Rumble, but that doesn't work. All he can do is sit back and watch Undertaker blaze through five challengers, knowing that it's out of his hands.
The Match: One of the better points of the Royal Rumble from a few weeks prior was CM Punk constantly clearing the ring and then cutting promos about being a straight-edge savior to the masses. By putting someone as low-ranking as R-Truth in the Elimination Chamber, Punk gets to retread by beating him in about three minutes and being allowed to walk around the ring unopposed with microphone in hand. It's glorious.
Rey Mysterio comes in, meaning we get a preview of their eventual WrestleMania match. It's a wonderful few minutes with Mysterio winning, but with Punk being less than 100%, it makes sense to keep the feud going.
Morrison eventually gets rid of Mysterio and we're left with Morrison vs. Undertaker vs. Jericho. It's an incredibly fresh three-way and totally fun to watch. Undertaker puts Morrison away and is left with only Jericho. This would be a done deal, but when Undertaker appears to have the match won, Shawn Michaels pops out of one of the metal grates and superkicks him down. Jericho picks up the pieces by pinning Undertaker and becomes the new World Heavyweight Champion. It's an ending that works well enough as a plot device to get us to WrestleMania, but also makes you wonder about Michaels' timing. He's really lucky that Undertaker didn't decide to finish Jericho off earlier.
The match is even more impressive when you remember that Undertaker was literally set on fire on his way to the ring by some faulty pyro and spent time in his pod pouring bottled water onto his chest. Dude's tough as hell.
The Aftermath: Jericho becomes a target to his former tag team partner Edge, who won the Royal Rumble a month earlier. Jericho wins and goes on to lose the title to Money in the Bank winner Jack Swagger, leading to one of the company's worst world title runs. Meanwhile, Michaels would get his much-needed rematch against the Undertaker and lose, causing him to retire.

9. FUEL FOR THE YES MOVEMENT
Elimination Chamber 2014
Cesaro vs. Christian vs. Daniel Bryan vs. John Cena vs. Randy Orton (c) vs. Sheamus for the WWE World Heavyweight Championship
The Build: Considered nothing more than a "B+ player," Daniel Bryan has been screwed out of the championship again and again by the Authority due to the belief that Randy Orton is a better candidate to carry the company. The Authority refuse to place Bryan in the Royal Rumble and later come up with the plan of having Cena, Bryan, and Sheamus fight the nigh-unbeatable Shield with the winning team getting three spots in the Chamber. Due to the Wyatt Family interfering, the Shield loses by disqualification. Cesaro and Christian qualify in their own ways. Orton is given a series of singles matches against his challengers and loses all of them, save the one against Christian. This only makes Christian more determined to brutalize his enemies.
The Match: Remember when Cesaro and Sheamus were doing that Best of Seven Series? I was pretty hyped from beginning to end and Elimination Chamber 2014 is to blame. It's the gateway drug into wanting to see those two hoss off.
Everyone in this match is great. There's never a dull moment and it doesn't matter that there are no eliminations until after everyone's entered. When Orton comes out at #6, he notices the target on his back and chooses to go back into his pod and remain in there where it's safe. Sheamus turns away for a second, composes himself, then turns back to Orton and Brogue Kicks the pod open. It's mostly rad.
I say mostly because of the "glass" they use for the pods this year. It's just a stretch of plastic. It looks like something you'd put over your iPhone to prevent scratches. I'm sure it's safer but at no point does it look good.
Still, it's an awesome match. Just about every pairing of opponents works. Christian does a crazy splash onto Sheamus off a pod and pins him. Bryan takes out Christian with the running knee. Cena makes Cesaro tap out. Then things get screwy.
The match winds down by going into WrestleMania setup mode. Cena has Orton ready to tap, but then the Wyatt Family teleports into the ring and helps put down Cena because of Wyatt's ill-explained reasons. Kane shows up to get them out of there and gets involved with the finish where Orton unfairly gets past Bryan for the umpteenth time. Shots of the crowd show less anger and more indifference and annoyance.
The Aftermath: Bryan continues to gain steam from annoyed fans, especially with Batista's role of top face being an utter disaster. WWE finally listens to the fans and goes through with the more logical storyline where Bryan goes through Triple H, Batista, and Randy Orton in one night to become WWE World Heavyweight Champion.

8. HERE COMES A NEW CHALLENGER
New Year's Revolution 2006
Carlito vs. Chris Masters vs. John Cena vs. Kane vs. Kurt Angle vs. Shawn Michaels for the WWE Championship
The Build: John Cena has held onto the WWE Championship for most of the previous year. It seems nobody can stop him. A new Chamber match is announced where the challengers have to compete in preliminary matches. When the dust settles and we have our six men, the young upstarts Carlito and Chris Masters realize that they're both in over their heads.
Oh, and TOTALLY UNRELATED, but Edge is the first ever Money in the Bank winner and has been holding onto his briefcase since WrestleMania. Early in the night, he's defeated by Ric Flair in a singles match.
The Match: We're at the must-watch point of the list.
This is during one of the worst times of Cena's reign on top, where he's unbearable and invincible, but yet is too green in the ring to make up for it. The theme of this match is that it goes against what's expected. You expect Michaels, Angle, and Kane to have the best chances while Masters and Carlito are simply there for the sake of filling up the pods. Not so much, as it turns out.
Angle, the man most fans would have seen winning or would have wanted to win the most, is gone first and is taken out by a superkick out of nowhere. Then Masters and Carlito start to really show their worth by making a pact to make themselves the two finalists and work as a team. It's great stuff because they're total doofs about it, but competent. They'll work on Kane, high-five each other, then freak out when Kane sits back up. Yet they still hold it together long enough to beat him with double-team moves and even a double-pin.
Carlito hits an Overdrive on a bloody Michaels while Masters stands in the background, frantically looking around to make sure nobody can interfere with the pin. Then they work on Cena and their zest for partnership becomes outright adorable. Carlito tells Masters to go for the Masterlock and Masters' facial expression is priceless, like his coach just put him in to win the Super Bowl. That's when the alliance falls apart as Carlito turns on Masters, pins him, then gets rolled up by Cena. They're bad guys for a reason, I guess.
This would be a terrible ending. John Cena is bloody and battered, but he's defeated the odds yet again. That's when Edge shows up to cash in his briefcase. You know what I said about Elimination Chamber getting it right the first time around? Same thing goes for this. Edge easily defeating the usually-unbeatable Cena is a treat and succeeds at being shocking, natural, and earned.
The Aftermath: Cena gets a rematch against Edge at Royal Rumble and wins the WWE Championship back, mainly because Triple H really wants that WrestleMania main event. Cena holds onto the belt until being defeated by the second Money in the Bank winner, Rob Van Dam.
7. THE ASSASSINATION OF BAYLEY BY THE COWARD SASHA BANKS
Elimination Chamber 2018
Alexa Bliss (c) vs. Bayley vs. Mandy Rose vs. Mickie James vs. Sasha Banks vs. Sonya Deville for the WWE Raw Women's Championship
The Build: As Alexa Bliss hasn't defended her Raw Women's Championship all that much in previous months, she is forced to put it on the line in the first-ever women's Elimination Chamber match. With the other entrants involved, it becomes noticeable that there are built-in alliances. Despite some issues, Bayley and Sasha Banks are friends and Mandy Rose and Sonya Deville are members of the stable Absolution. Alexa tries to rekindle her old friendship with Mickie James, purely for the sake of evening the playing field.
The Match: The quasi-team angle going on here is extremely well-handled and leads to one of the best-booked Chamber matches. Bayley and Sasha vs. Absolution turns into a mini WarGames match and ends with the more established team winning. Mickie James gets taken out before Alexa can show up and on paper, the two-on-one setup should spell doom for the champion.
Instead, Sasha shows her true colors by betraying Bayley. It's a shitty thing to do, except it really is every woman for herself. Even then, you'd want to successfully take out the enemy before turning on your biggest ally. It's that decision that ruins Sasha, as Alexa is champion for a reason. The ending stretch goes on a little too long, but Alexa is able to survive the storm and prove herself worthy of being the top name in the division.
The Aftermath: Alexa goes on to feud with Nia Jax, which itself is a mixed bag and doesn't help Alexa's real-life health. In the short-term, the match establishes Alexa enough that Nia beating her at WrestleMania is a big enough deal. Otherwise, the whole Sasha/Bayley angle goes into some bad directions thanks to a lengthy will they/won't they break-up that's then snuffed out for the sake of keeping them as friends just because.
The payoff is supposed to be at the following year's Elimination Chamber, so that gives you an idea of how stretched out it all is.

6. THE CRACKS OF EVOLUTION
New Year's Revolution 2005
Batista vs. Chris Benoit vs. Chris Jericho vs. Edge vs. Randy Orton vs. Triple H (c) for the World Heavyweight Championship (special referee Shawn Michaels)
The Build: After winning the World Heavyweight Championship from Chris Benoit, Randy Orton has been excommunicated from Evolution. Triple H wins the belt from him and continues to rule the company with Batista and Ric Flair at his side. Triple H is later put into a triple threat match against Benoit and Edge where Edge taps to Benoit while getting a three-count on Benoit. The title is deemed vacant and a new Chamber match is put together. Through a Beat the Clock challenge, Batista wins the #6 spot in the match, which irks Triple H. It seems Batista is starting to get too big for his britches.
The Match: The opening opponents are Chris Jericho and Chris Benoit, so you know you're going to get some awesome wrestling for at least five minutes. It's really brilliant how the match is put together. There's three parts to it. Jericho and Benoit are simply there to be believable championship contenders who can totally go. Their job is to wrestle well. Benoit proves this through a beautiful spot where he reverses an RKO into a crossface, sees Triple H taunting Orton, drops his hold to put Triple H in the Sharpshooter, and then eats an RKO from a recovering Orton. They add nothing to the story, but they add everything to the match.
Then you have Edge, who is pretty fresh into his big heel run. He really should be moving up the ladder (and will literally do that a few months down the line), but this isn't his match to win. And so, he accidentally spears referee Shawn Michaels at some point and doesn't act too sorry about it. In return, he gets taken out by a superkick and is pinned. Edge is removed via pinfall, but in a way that doesn't hurt his standing.
That leaves Orton vs. Triple H and Batista. This is the last gasp of air for Orton's failed main event face run. And really, he's the third wheel. This is really about Batista slowly burning into his top face role. Batista remains loyal to Triple H, but he shouldn't be. Especially during a spot towards the end where Orton takes Batista down and during the pin, Triple H lays low in the corner. Is he exhausted or just biding his time so he doesn't have to worry about Batista? It's all but certain to be the latter, but he gets just enough benefit of the doubt to get a pass so Batista doesn't get on his case about it.
Instead, Batista still helps him beat Orton and Triple H wins back the vacated title.
The Aftermath: Batista's star starts to really take off and he wins the Royal Rumble. Triple H tries to do everything he can to convince him to challenge JBL for the WWE Championship, but he accidentally angers Batista and causes betrayal. Batista decimates Triple H at WrestleMania and takes his belt.

5. EDGE'S TWILIGHT
Elimination Chamber 2011
Big Show vs. Drew McIntyre vs. Edge (c) vs. Kane vs. Rey Mysterio vs. Wade Barrett for the World Heavyweight Championship
The Build: By becoming a face, Edge has been at odds with his ex-wife and SmackDown authority figure Vickie Guerrero. That means a rivalry with Vickie's latest squeeze Dolph Ziggler. Eventually, SmackDown GM Teddy Long has had enough of this and puts his foot down. Not only is he not going to take any more of Vickie's garbage, but he's also removing Ziggler from the Elimination Chamber. Instead that spot is going to Big Show. Big Show is stoked, not just because of the title shot, but because he'll be able to get his hands on Wade Barrett without his pesky Corre members interfering.
The Match: This is one of the least memorable Elimination Chamber matches, but it's just so solid that I have to rank it up here. Really, the only thing anyone actually remembers about it is the thirty seconds when Drew McIntyre wrecks shit after being released from his pod. Many wrestlers wreck shit after being released from their pods in these matches, but McIntyre's tenure in WWE was so lacking afterwards that this is the only thing anyone's able to look back on fondly. Not counting the Three Man Band, natch. Oh God, do I miss those guys.
The main reason it's so good is that it begins with Edge vs. Mysterio and it ends with Edge vs. Mysterio. There's a lot of Edge and Mysterio in-between too! Their chemistry is off the charts and by the time we're in the final minutes, they're probably the best final two in Elimination Chamber history. Really, the only pairing that may be better is also Edge vs. Mysterio from another Chamber match.
While minor, it helps that Mysterio is a viable contender. Del Rio has won the Royal Rumble prior to this show, so either winner would make sense as an opponent. Edge gets the win by spearing Mysterio as Mysterio goes for a top-rope splash. Afterwards, Del Rio shows up and puts Edge in an armbar until Christian makes his triumphant return and saves his brother-retconned-into-close-friend.
The Aftermath: Edge and Christian feud with Del Rio leading up to WrestleMania and ultimately destroy his momentum and credibility by having Del Rio lose at every turn. After defeating and humiliating Del Rio at WrestleMania, Edge shows up on a later Raw to announce his sudden need to retire due to his excessive neck damage.

4. SWAGGER TO THE TOP
Elimination Chamber 2013
Chris Jericho vs. Daniel Bryan vs. Jack Swagger vs. Kane vs. Mark Henry vs. Randy Orton for #1 Contender for the World Heavyweight Championship
The Build: For a chance at the #1 contender spot, Daniel Bryan, Kane, Jack Swagger, and Randy Orton each earn their spots in the Chamber. Mark Henry and Chris Jericho then show up, insisting that they too get spots in there. They each prove themselves by winning against their fellow challengers. Jack Swagger is the most interesting of the competitors, mainly because after being silent for a while, he's recently returned with a new attitude as his new manager Zeb Colter rambles on about how much he hates immigrants.
The Match: Full disclosure, Mark Henry's Hall of Pain/All Will Suffer phase is one of my favorite things in the past ten years of pro wrestling, so there's already a ton of bias. Outside of that, there's something refreshing about Elimination Chamber being used as an alternate version of what the Royal Rumble used to be. You don't need to use it as a place for top names to check off another win column. This could be where guys you want to push can prove themselves and get launched up as #1 contenders. The point of this match is to establish Jack Swagger as a threat to Del Rio's title instead of just letting his racist gimmick speak for itself.
The openers are Chris Jericho and Daniel Bryan with Swagger at #3, so you're already guaranteed a good ten minutes. Once Kane steps in, things get hilarious with Bryan convincing his tag partner to help him fight off Swagger and Jericho. They work great together until Bryan gets greedy and does a failed roll-up on  Kane. IMMEDIATELY, he's on his knees going, "Wait!" and tries to talk Kane into hugging it out. Let this be a reminder that despite his success in his "aw shucks" hero to the common man role, Bryan's comedy asskicker persona is the best part of his WWE run.
This is during the time when Orton adds actual personality to his dangerous psychopath role and that makes him way more watchable here and welcome with the other wrestlers. Soon all five competitors are half dead just in time for Mark Henry to step out of his pod. He takes out each member of Team Hell No and throws Orton through one of the pods, leaving him to fight Swagger and Jericho by himself. And it's an even match! Swagger and Jericho only survive because Henry misses a splash and Orton's there to help them with a triple team. Even then, Henry recovers moments after the pin and lays waste to everyone before being told to leave by SmackDown GM Booker T.
Did I mention how much I love super-angry heel monster Mark Henry?
Orton vs. Jericho vs. Swagger is about as good as it should be, maybe better. Mainly the focus of Orton and Jericho, leading to a strong finish where they keep reversing finishers until Jericho falls to the RKO. Then after Jericho's pinned, Swagger rolls up Orton and steals a pin. He gets a cheap win, but it's still clean and he's earned his spot by enduring almost a half hour of violent cage fighting.
The Aftermath: Jack Swagger gets caught driving while under the influence of marijuana and if he was ever planned to win the belt from Del Rio, that gets kyboshed. Not only does he lose at WrestleMania, but after accidentally giving Dolph Ziggler a massive concussion, Swagger's stock goes down. Now you look at this match and think, "Oh, right. They were pushing Swagger for a month, weren't they."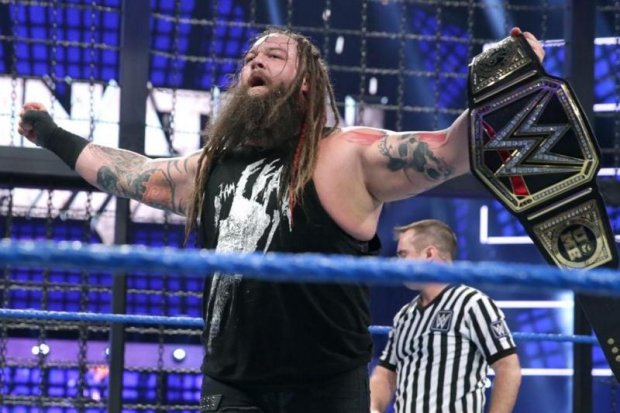 3. SMACKDOWN'S LAST HURRAH
Elimination Chamber 2017
AJ Styles vs. Baron Corbin vs. Bray Wyatt vs. Dean Ambrose vs. John Cena (C) vs. The Miz for the WWE Championship
The Build: After the brand extension is restarted, SmackDown is head and shoulders above Raw in terms of quality. Its smaller roster seems to hit harder thanks to some great booking. Unfortunately, due to Randy Orton winning the Royal Rumble, there is the illusion that we are getting the incredibly tired matchup of Orton vs. Cena at WrestleMania. Fortunately, Cena will be defending his WWE Championship in the Chamber before that can happen.
The Match: John Cena and AJ Styles can have classics in their sleep, so starting it off with the two of them is a treat. Then Dean Ambrose, who has been the other top name in the title picture for the past bunch of months, enters the fray and things continue to flow. By wearily attacking each other in a three-way, they pull off some really cool and complex counters.
Then the other guys earn their keep. Bray Wyatt has been killing it as part of the tag division, Corbin has been earning his spots as a can't-miss prospect, and Miz has started his latest renaissance as the thorn in Daniel Bryan's side. Months later, those three (and Ambrose) would be in worse places, but the stars are totally aligned here.
The match plays to everyone's strengths, shown off in the part where Corbin takes down all comers and waits for Miz's pod to open up. During that build-up, Ambrose sneaks in a roll-up and eliminates Corbin. Corbin then viciously destroys Ambrose to set up a WrestleMania feud and mauls him so badly that Miz is able to pin Ambrose without hitting a single move.
By the end, Bray Wyatt looks like a million bucks by shrugging off much of Cena and AJ's offense to hit his own power moves and down each of them with Sister Abigail. The Phenomenal Forearm into Sister Abigail is especially fun to watch.
The only downfall of the match is the new design of the Chamber itself. I'm not against making the environment safer for the wrestlers, but lingering on shots of the floor padding while JBL is excitedly talking about how harsh the floor grates used to be takes you out of it a little.
The Aftermath: Everything would go downhill after this. Although Wyatt would get to look strong by defeating Cena and AJ in a triple threat, he would then go to war with his protégé Randy Orton in one of the dumbest of all feuds, rendering him a loser and joke for the remainder of the year. Cena and Miz will have a throwaway feud at WrestleMania while Ambrose and Corbin's match doesn't even make the main show.
As for AJ Styles, he ends up feuding with Shane McMahon, which leads to a decent match at WrestleMania, but also helps increase Shane's role on SmackDown and that turns out to be a bad thing. The writing of the show goes down the toilet soon enough and doesn't recover for at least a year.

2. BATISTA VS. UNDERTAKER: THE FINAL BATTLE
No Way Out 2008
Batista vs. Big Daddy V vs. Finlay vs. Great Khali vs. MVP vs. Undertaker for #1 Contender for the World Heavyweight Championship
The Build: There isn't really much to go with here. Edge is World Heavyweight Champion and here are six guys who will be competing for the right to fight him. Pretty basic.
The Match: This match has Great Khali and Big Daddy V in it and I ranked it at #2. That says something about how good it has to be. In fact, Khali being Khali is really the only reason this isn't #1.
I've always felt that Batista was Undertaker's best regular opponent. More than even Michaels. They always brought out the best of each other and there was such a neat dynamic. Batista isn't scared or overpowered when it comes to Undertaker and respects him as an equal. That's incredibly rare to see in an Undertaker feud.
This is the end of their lengthy, year-long rivalry and it begins and ends with the two fighting each other. Big Daddy V and Khali are entrants #3 and #4 respectively and are treated as nothing more than random boss battle distractions. Batista and Undertaker are able to take them each down within minutes through unintentionally working together. That gives us Finlay next, who takes the fight to both of them, unlike the final contestant MVP, who just wants to hide from the violent monsters.
read more: The History of Undertaker at WrestleMania
They always play up how nigh-impossible it is to run and hide in the Elimination Chamber and MVP ends up showing that off better than anyone else. He attempts to escape Undertaker's wrath by climbing up top a pod, only for Undertaker to follow him, grab him by the throat and fling him down to the mat. It's such an awesome spot.
Finlay arms himself with a shillelagh and even that's not enough to stop the Undertaker. Once he's eliminated, we're back to Undertaker vs. Batista. The two guys who deserve to win the most, not just because of stature and in-ring ability but because they both have an axe to grind with current champion Edge. With it still even between the two, the match ends with one of the most original uses of the Chamber's architecture. Batista has Undertaker over his shoulder and slams him into the cage outside of the ring. He bounces back from the impact, they hit the ropes, Undertaker falls to his feet in the ring, and smoothly reverses it so that he's holding Batista in Tombstone position. Boom, Undertaker wins his spot at WrestleMania.
The Aftermath: Undertaker defeats Edge at the main event of WrestleMania and continue their feud for several months. Edge is able to get the best of Undertaker through trickery a couple times and even has him fired for a time, but a vengeful Vickie Guerrero has Edge face Undertaker in a Hell in a Cell match at that year's SummerSlam to end the feud. Undertaker wins and throws Edge down into Hell itself.

1. THE RISE OF EDGE
No Way Out 2009
Chris Jericho vs. John Cena (c) vs. Kane vs. Kofi Kingston vs. Mike Knox vs. Rey Mysterio for the WWE Championship
The Build: John Cena doesn't really have much going on, having just defeated JBL soundly at Royal Rumble. Various wrestlers enter qualifier matches and earn their spots. Coincidentally, remember how there's that match the same night where Edge loses in mere minutes? Yeah, that's actually kind of important…
The Match: As Kofi Kingston goes to enter the cage, he's attacked by a desperate Edge, who locks himself in a pod and insists on taking his place. Since he's romantically involved with one of the rule-makers of WWE, Edge is allowed to get away with this.
One of the better ideas of Elimination Chambers is to have someone like Jericho or Mysterio start, so luckily we have Jericho and Mysterio start. They rock it for five minutes and when Kane and Mike Knox enter, it remains interesting, mainly building on Mysterio's history of being bullied by both big men. Mysterio and Jericho end up working together to put down both monsters and it's time for Edge. The three put on a clinic with Edge standing tall at the end…only to realize that John Cena's about to enter.
This is where things get crazy. Cena has no trouble smacking Edge, Jericho, and Mysterio around because he's Cena and they're all exhausted. Makes sense. Hell, this is PPV. Even if Cena somehow loses, it'll be another 10-15 minutes at least.
read more: The History of the WrestleMania Battle Royal
Cena only lasts for less than three minutes. The other three guys seem to realize that the bit where everyone hits their finishers to take out a big man doesn't actually have to be used on a big man. It can also be used on a nigh-invincible super soldier rapper. They do a level 3 super combo of a Codebreaker, 619, and spear to beat Cena. Edge's reaction to pinning Cena clean in the center of the ring is priceless, going from, "Oh God, what just happened?!" to, "Heh, okay, now we're talking."
Mysterio gets rid of Jericho and we're down to a wonderful Edge vs. Mysterio ender. Mysterio gives Edge everything he's got, but Edge won't be put away. Outside the ring, Edge reverses something into Mysterio being tossed right into a pod and that disorients Mysterio enough that Edge can get him back in the ring and end him with a spear.
I mentioned earlier how the Elimination Chamber in 2005 wasn't Edge's match to win. Now we have a match that is seriously a match Edge isn't supposed to win because he's not supposed to even be in it, but he does it anyway. And it's the best! It's so the best!
The Aftermath: John Cena gets his rematch at WrestleMania, which is turned into a triple threat when Big Show is involved. Cena is able to get his belt back by hitting the Attitude Adjustment on Big Show with Edge laying on top of Big Show.
Do you agree? Disagree? Are you just as surprised that R-Truth has been in so many of these? Sound off in the comments!
Gavin Jasper writes for Den of Geek and is happy that Triple H finally got his WarGames dream to come true. Read his other articles here and follow him on Twitter @Gavin4L