News
BTS Officially Cancels World Tour
BTS, the biggest band in the world, has officially canceled their previously-postponed Map of the Soul Tour.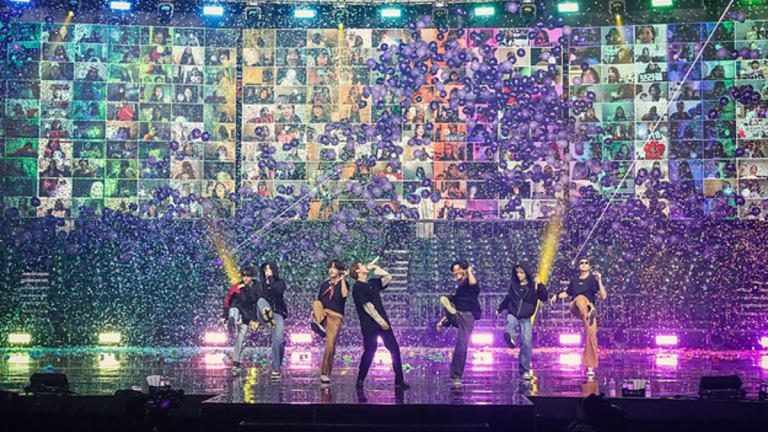 It's been a rough year and a half for the concert industry. The North American concert industry alone lost an estimated $30 billion in 2020 due to the cancellation of pretty much all shows following the outbreak of COVID-19. While many had hoped the development of multiple vaccinations might bring about a 2021 in which live performance became the norm again, the sluggish global vaccine rollout combined with the more contagious Delta variant has dashed such dreams. While some artists have announced rescheduled dates for their previously postponed tours, Korean band BTS has officially announced the cancellation of their Map of the Soul Tour.
BTS' massive Map of the Soul Tour was announced at the beginning of 2020, and was originally planned as 38 concerts across Asia, North America, and Europe. The tour was set to begin in Seoul in April 2020, but all four shows were cancelled. The rest of the tour's schedule has been in "postponed" limbo since early 2020… until today, when Big Hit Music announced via Weverse that the rest of the tour has been officially cancelled.
"Our company has worked hard to resume preparations for the BTS MAP OF THE SOUL TOUR, knowing that all fans have been waiting eagerly and long for the tour," Big Hit said in the statement. "However, due to changing circumstances beyond our control, it has become difficult to resume performances at the same scale and timeline as previously planned. Therefore we must announce the cancellation of the BTS MAP OF THE SOUL TOUR."
COVID cases are on the rise in South Korea, as they are in most places around the world. While the country initially managed to avoid outbreaks due to testing and tracing, Korea's fourth wave has seen continuous spikes in infection, partially due to vaccine shortages. Seoul, where BTS is based, is currently until Level 4 social distancing rules, the highest possible level, which prohibits gatherings of more than two people after 6 p.m.
Big Hit let ticket-holders know that they would receive an email regarding refunds, which is likely a small if understandably necessary comfort for fans who have been holding onto their tickets for more than a year, hoping for a chance to see BTS perform in person again sometime soon. "Once again, please allow us to offer our sincere apology to all fans who have waited for the BTS MAP OF THE SOUL TOUR to resume," wrote Big Hit.
The cancellation comes in the midst of BTS' increasing global popularity. The band's recent single, "Butter," has remained in the top ten of the Billboard main singles chart for 12 straight weeks, finishing in the top slot for nine consecutive weeks. Their latest single, "Permission to Dance," also debuted in the chart's top slot.
While unable to perform in person for more than year, BTS has continued to share content with their fans, known collectively as ARMY. In addition to web series like In the Soop and Run BTS!, BTS broke their own record for most viewers for a music concert livestream on a bespoke platform in June. Their Muster Soowoozoo concert, a two-day online event, brought over 1.3 million paid viewers from 195 countries. The record was previously held by BTS' Map of the Soul ON:E concert in October 2020, and before that by BTS' Bang Bang Con: The Live in June 2020.
Presumably, BTS will continue to fill the void left by their in-person concert experiences in other ways. In their statement, Big Hit said: "We are working to prepare a viable schedule and performance format that can meet your expectations, and we will provide updated notices as soon as possible."
Still, a sad day for ARMY, and for BTS.