Features
Squid Game Competitions, As Played By BTS
Before there was Squid Game, there was Run BTS.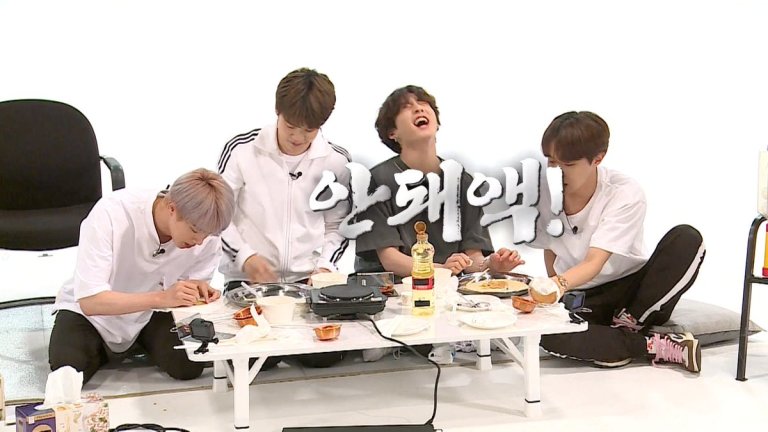 For non-Korean viewers, many of the children's games horrifyingly showcased in Netflix's Squid Game were new. Not to fans of Run BTS, though. The long-running variety show regularly sees the seven members of global sensation BTS partake in a diverse offering of silly games and competitions—as befits any Korean variety show worth its salt. If you're looking for a more light-hearted introduction to the world of Korean children's games or an excuse to rewatch some of the best episodes of Run BTS, then check out these installments in which the members play games also featured in Squid Game…
Episode 40: New Year Red Light, Green Light
In Squid Game, Red Light, Green Light is a fatal affair. In Run BTS, the winning team gets to eat tteokguk, aka rice-cake soup, and the losing team… does not. Part of the show's 2018 Lunar New Year Special, the episode features the group wearing traditional hanbok, playing a variety of silly games, and practicing their calligraphy.
During the episode, the group plays an adapted game of Red Light, Green Light competition in which the "tagger" has to yell out "Happy New Year" instead of "Red Light" and the "runners" have to bow after every step. For professional dancers and performers, BTS' athleticism doesn't always translate into being good at games or sports… but they're pretty great at New Year-edition Red Light, Green Light.
Episode 128: Red Light, Green Light With Cushions
This entire episode of Run BTS, shot during the pandemic and showcasing games you are able to play from the comfort of your own home, is hilarious, but the Red Light, Green Light section starts a little past the 24-minute mark. In an attempt to adapt Red Light, Green Light for home play, the Run BTS producers have the members play while on the floor, with cushions, leading to some… creative solutions. This was when Suga was out recovering from shoulder surgery, so an additional component to this game involved snatching the Suga picture from directly behind the "tagger" and scooting back to the startline before the "tagger" could catch you.
Episode 95: Making Dalgona
Squid Game's second round revolves around dalgona, a Korean honeycomb toffee treat pressed into a disk and imprinted with a mold before it hardens and becomes brittle (and made internationally popular in coffee form during the pandemic). A popular children's game involves trying to eat around the pattern without breaking the shape, often with the help of a pin or toothpick.
Episode 95 of Run BTS actually has a lot in common with Squid Game, in that it features the seven members playing a variety of popular kids games specifically. This includes making dalgona and then trying to break out their shapes—to varying degrees of distress. (Let me say this: it's a good thing making the dalgona wasn't part of the Squid Game competition…) The episode gives some cool cultural context for dalgona, as the members discuss what they called the Korean treat when they were kids, given that different regions have different names for the sugary snack.
Episodes 38: Puzzle Tug o' War
In Episode 38, BTS is asked to participate in "Puzzle Tug-of-War," which is a three-way tug-of-war game in which three members compete to finish a puzzle first while being pulled in opposite directions by one another. Obviously. It's hilarious, and would be even if Suga weren't also dressed up in a Chimmy costume for losing a previous episode of Run BTS. That's just an added bonus.
Episode 24: Zombie Freeze Tag
While BTS has never played the titular Squid Game (apparently, it was populars during the 70s and 80s) during Run BTS, they have played many variations on the game Tag. (I've mentioned that this show is all about BTS playing games, right?) One of the funniest examples came early in Run BTS' run, when the members had to solve a puzzle in a zombie-infested haunted house. Once they've successfully escaped the haunted house, they have to play a game of freeze tag with the zombies in order to escape the theme park.
Squid Game is now available to watch on Netflix. Run BTS can be watched on VLive.