Sponsored
Topps' Fright Flicks Cards: Where Horror and Comedy Collide
We take a look back at Topps' infamous 1988 Fright Flicks card line, which celebrated some of the creepiest horror films ever made.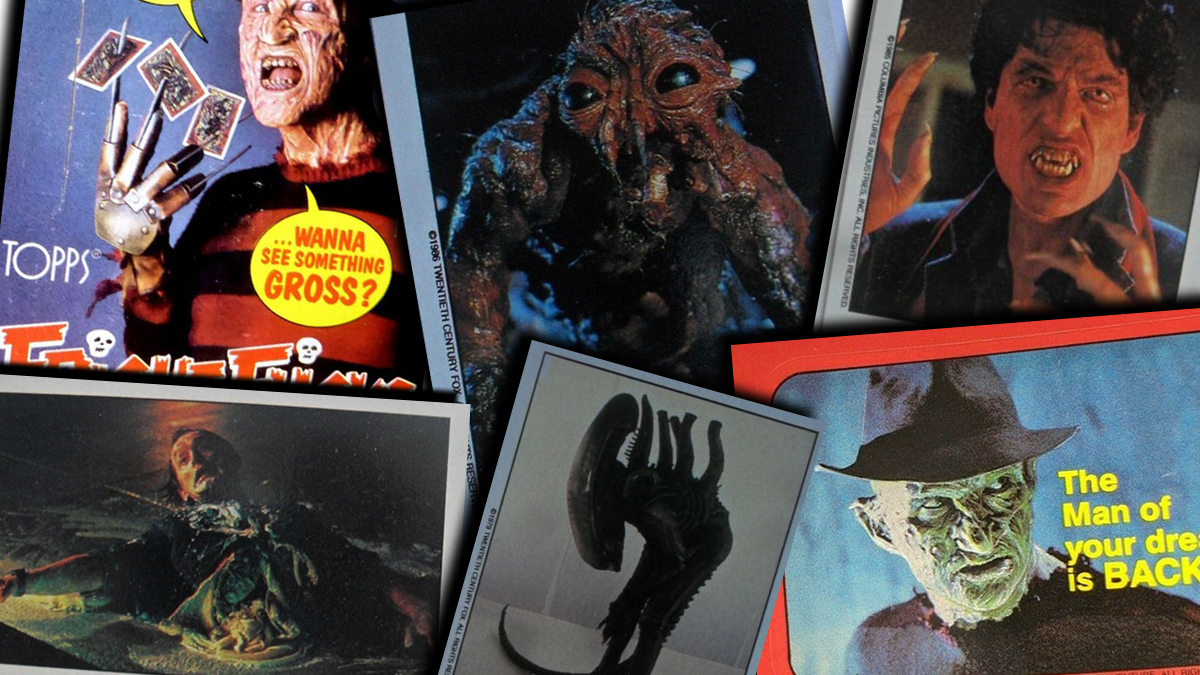 This story is presented by: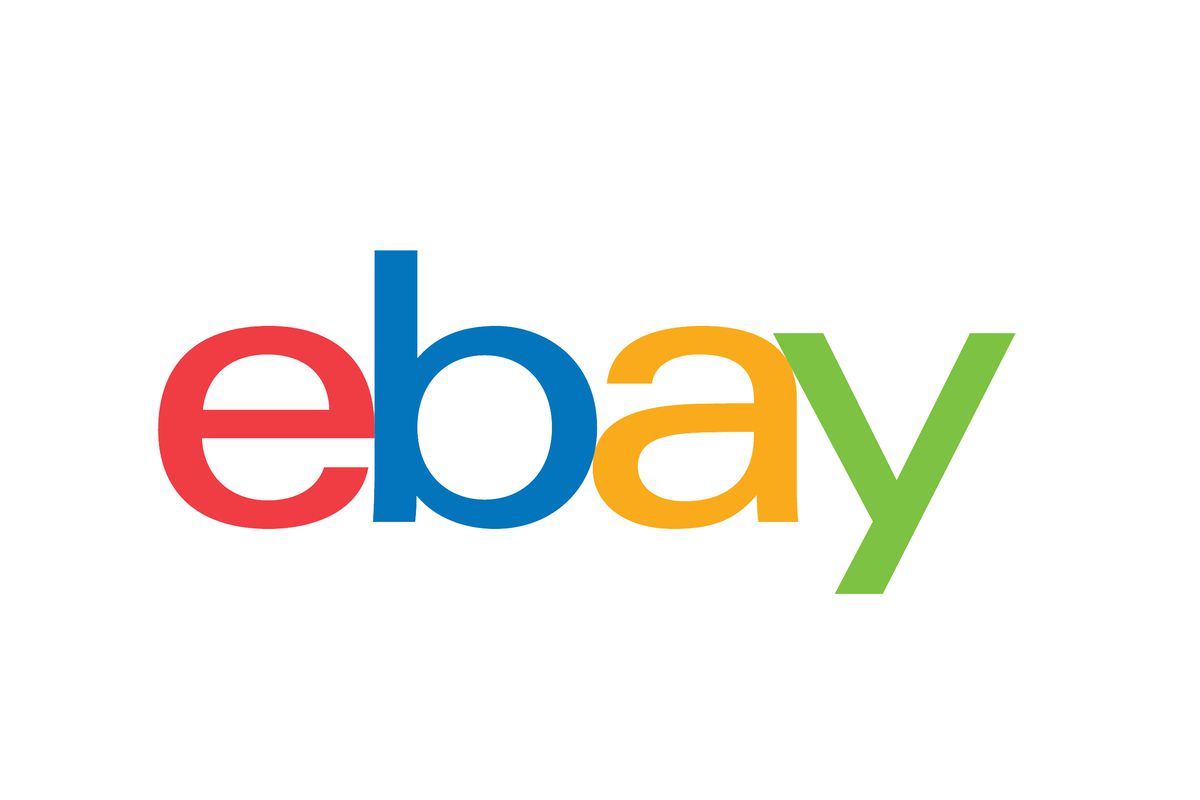 In 1988, the Topps Company – creators of trading cards dedicated to everything from Major League Baseball to Garbage Pail Kids – released one of the most ambitious lines ever to hit the non-sport market: Fright Flicks. Each pack included nine cards that featured images from horror movies like Alien, Aliens, A Nightmare on Elm Street 1-3, An American Werewolf in London, Fright Night, Pumpkinhead, Ghostbusters, Poltergeist and Poltergeist II, The Fly, Predator, and Day of the Dead. Also featured in each pack was one sticker and a piece of the company's infamous bubble gum.
To be clear, Topps had a storied history of creating cards that catered to monster kids, having already released Alien and Jaws 2 lines (and that's not even scratching the surface, garishly illustrated cards were a hallmark of their Wacky Packages, and the company had utilized their artistic MVPs like Norm Saunders and John Pound for their legendary Ugly Stickers in 1965). In 1973, their Creature Feature line showcased black and white images from classic horror films paired with comedic captions to enhance the modern fun. A second line followed in 1980, but it would be nearly a decade until the concept reached its full potential with Fright Flicks.
What made this line so unforgettable was how it utilized a bunch of R-rated films, and the images used were often packed with blood and guts – the exact sort of thing that appealed to kids and grossed out their parents. For less than a dollar, tweens could get their hands on scenes from movies that had been forbidden to see. The offbeat humor of the cards helped to undercut the often disturbing imagery that they were showcasing, diffusing potential nightmares in the process. A cult success during its launch, the line never got a follow up, something that can be attributed to everything from the moral panic of the era to the fact that high schoolers who would have really loved these things had aged out of buying trading cards. At least temporarily.
And so Fright Flicks remain that most intriguing of collectible, a place where horror and humor collide. To celebrate the line, we wanted to present this sort of Fright Flicks 101. Geared towards serious collectors and novices alike, this guide will present you with all the information you need to experience the movie magic of Fright Flicks for yourself.
Fright Flicks Unopened Box
The alpha and the omega of Fright Flicks collecting is to score an unopened box of cards. Featuring incredible box art featuring Freddy Krueger himself and containing 36 packs (which more likely than not guarantees you an entire set), this an easy—if somewhat pricey—way to complete your Fright Flicks fandom at one fell swoop.
Fun fact: If we were eccentric millionaires we would buy up every unopened box of these on eBay and give packs out on Halloween to make us the champions of the neighborhood…at least until the dental bills from kids eating 30-plus-year-old gum started getting sent our way.
Buy the Fright Flicks Unopened Box here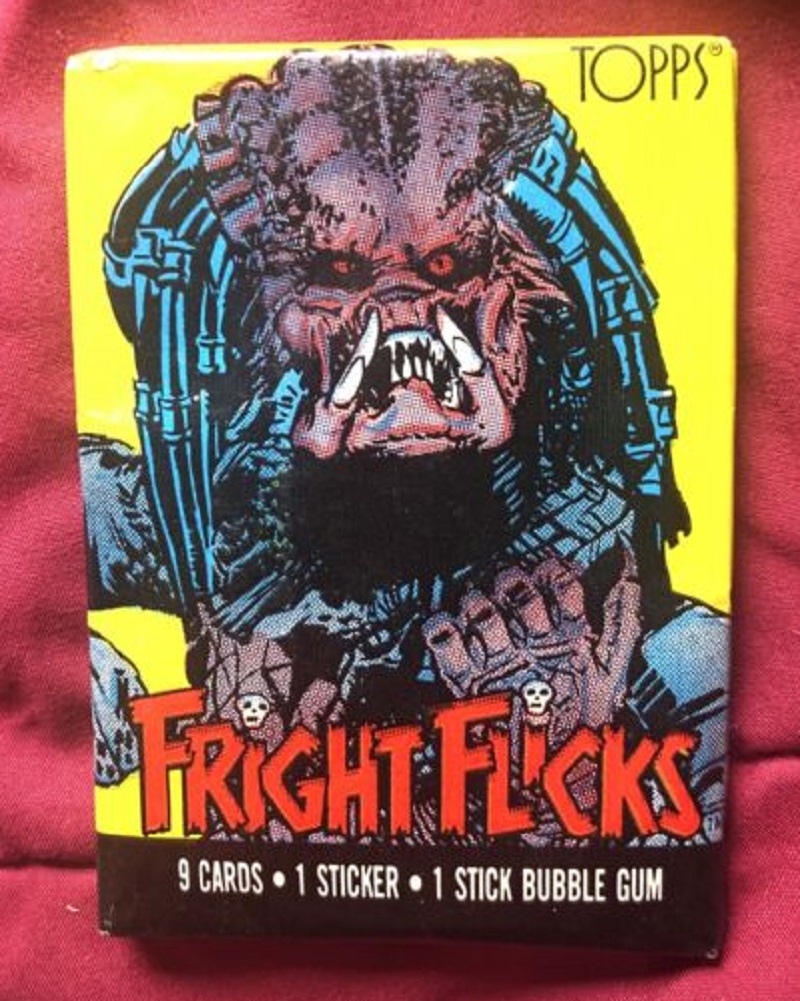 Predator Unopened Wax Pack
Each wax pack of Fright Flicks included eye-catching imagery from either Fright Night, A Nightmare on Elm Street, Pumpkinhead, or Predator. Of these, the best of the lot is the one from Predator. Incredibly illustrated with just the right amount of menace, this pack screams to would-be consumers that they are in for a trading card treat unlike no other.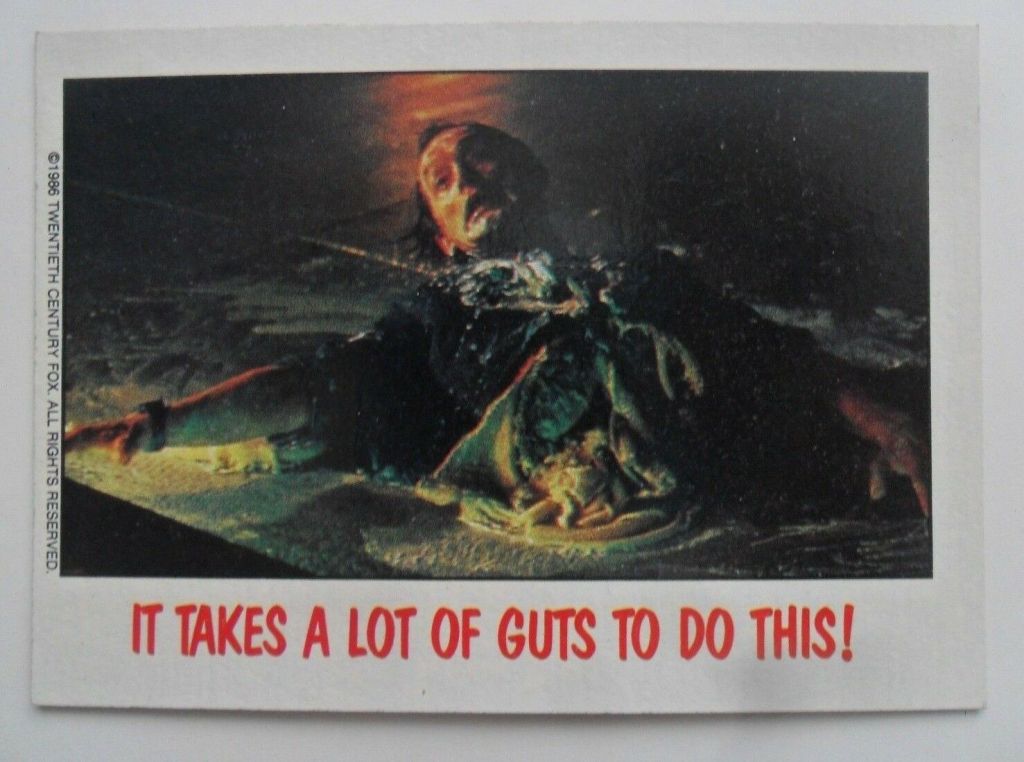 Aliens Bishop Card
For those who don't want to take the plunge and collect the entire set, this list will be featuring a few individual cards that are perfect for displaying on refrigerators or vision boards (hey, he don't judge).
First up, this entry in the line in which a newly eviscerated Bishop, as portrayed by the always-great Lance Henriksen, cracks a joke about getting ripped apart by the Alien Queen. Because if 2020 has taught us one thing its that you've gotta laugh when times get tough.
Buy the Fright Flicks Aliens Bishop Card here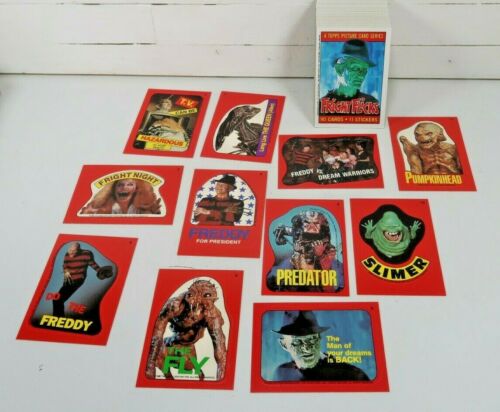 Complete Fright Flicks Cards and Stickers Set
For the practical among you, we suggest searching eBay for the no fuss, no muss Fright Flicks sets that include all 90 of the cards and the stickers without making you deal with doubles or the gum or the wrappers or anything else that you may feel is standing between you and stupendous, sardonic monster movie fun.
Buy the Complete Fright Flicks Cards and Stickers Set here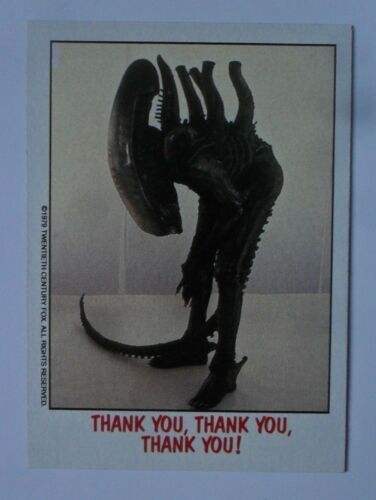 Alien Card
Alien collectibles are super weird by the very nature given how unabashedly adult and terrifying the film is. Not that this stopped Topps from releasing an entire card line based on the flick in 1979.
Rumors abound that post-Star Wars, various companies were racing to snatch up the Alien license with hopes of cashing in on the next sci-fi space spectacular. And really, that sounds too real not to be true.
Regardless, Topps Alien cards were a suitably serious affair that reflected the tone of its source material. But the cards featuring the xenomorph in the Fright Flicks line? Why that's as different as Aliens and Mac and Me are.
And so we have this card in which the Alien appears to be taking a bow, although if you ask us it looks like he's touching his toes. After all, It's important to stay fit if you spend your days chasing people before killing them in the most nightmarishly heinous way possible.
Buy the Fight Flicks Alien Card here
Fright Night Card
The conversation about underrated 1980s horror movies too frequently fails to mention Fright Night. The horror effort from director Tom Holland (not to be confused with the Spider-Man Tom Holland), follows a teen who enlists the help of a washed up horror host to investigate vampires who have invaded his neighborhood.
One of these bloodsuckers is the charismatic-yet-smarmy Jerry Dandridge (seen above). Chris Sarandon delivers a typically great performance as Jerry, who makes being undead look cool years before The Lost Boys did.
Buy the Fright Flicks Fright Night Card Here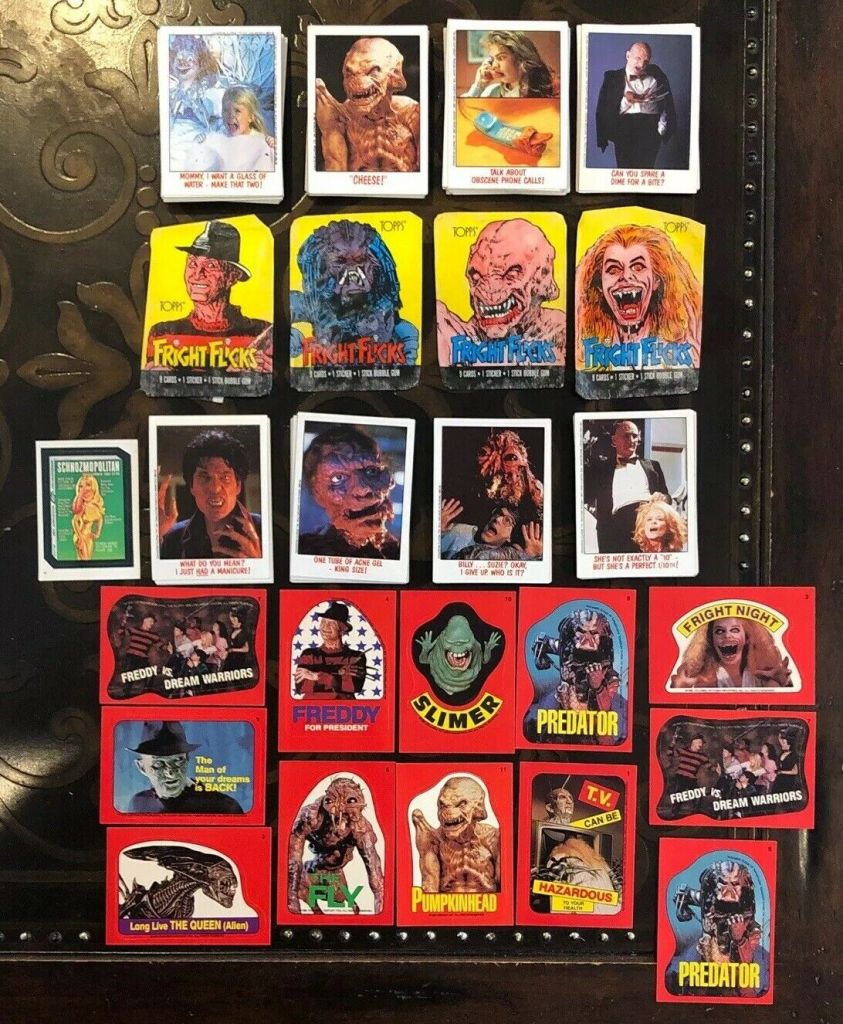 Fright Flicks Sticker Set
Give your laptop, locker, or, hell, laundry room some supernatural sheen with the stickers from the Fright Flicks line. Freddy Krueger was the biggest horror star in the world at the time when these were originally foisted upon the world, and that shows as he dominates the proceedings here.
Looking at the rest of these, what is interesting is how the Slimer sticker seems to be a direct response to the character's expanding popularity from The Real Ghostbusters, and how Pumpkinhead was poised to a much bigger film than it turned out to be. A fickle bunch, horror fans.
Buy the Fright Flicks sticker set here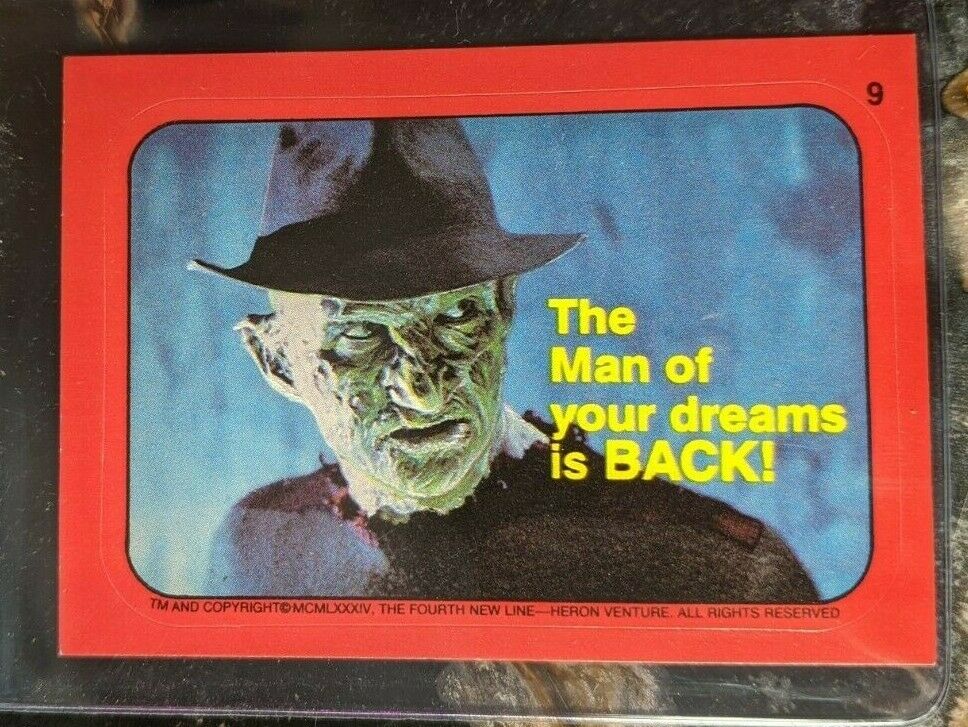 Freddy Krueger Sticker ($2)
"The man of your dreams is back," declares this Freddy Krueger sticker, and who are we to argue?
If you weren't around in the late-80's, you may not realize how ubiquitous everybody's favorite sleep demon was back then. So much so, that Freddy ventured into a self-parodist purgatory from which he never recovered following the release of A Nightmare on Elm Street III: The Dream Warriors (really, you practically expected to see the dude turn up alongside Alf on The Hollywood Squares).
This sticker takes you back to a simpler, pre-Freddy saturation time – one that we long to return to.
Buy the Freddy Krueger sticker here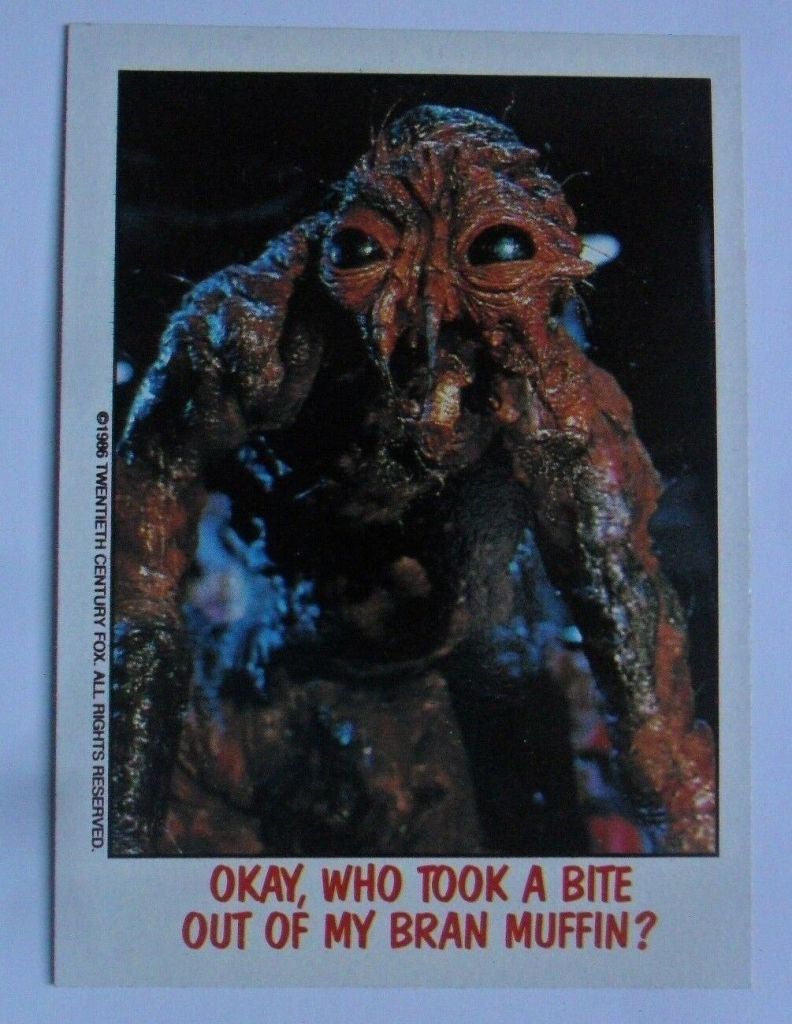 The Fly Card
Before Jeff Goldblum became the all-consuming pop culture god he is today, he starred in David Cronenberg's body horror masterpiece The Fly in 1986. Reworking a campy 1960s sci-fi flick into a haunting metaphor for AIDS, Cronenberg crafted perhaps the strongest remake in film history.
Part of what made the film so affecting was the film's creature designs (by Chris Walas, who also created Gizmo and his evil spawn in Gremlins). This card let movie makeup nerds bask in Walas genius by allowing them to really study the nuance he put into Seth Brundle's deterioration from man into fly.
Buy the Fright Flicks The Fly Card here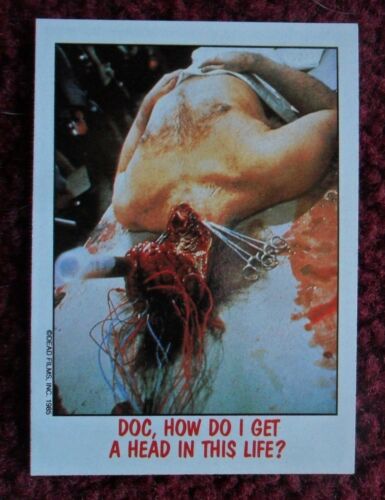 Day of the Dead Card
George Romero's 1985 effort Day of the Dead was a film that was so violent, so gore-packed, so loud in every way that it was released to theaters unrated – a rarity at the time, and a move that impacted its box office severely. Did we mention it was gory? This is a movie in which a character is disemboweled on screen, the camera lovingly fixating on the grotesque ballet happening on screen.
So it feels more than a little bit subversive that any images from this film somehow made its way onto a mainstream pop culture collectible like a Topps card, let alone one packed with disturbing imagery. In 1988, George Romero was still a largely underground phenomenon who had yet to achieve the mainstream adulation that his legacy enjoys today. For horror movie fans of the era, his work being celebrated in such a way as the Fright Flicks cards felt revolutionary.
Buy the Fright Flicks Day of the Dead card here
Eventually the rest of the world would catch up, but Fright Flicks paved the way. And that may very well be the biggest legacy of this fascinating card line.