Sponsored
The Coolest, Most Collectible Skybox Marvel Cards
Skybox's various lines of Marvel trading cards redefined collecting. Join us as we explore a (Marvel) universe of cool card wonders.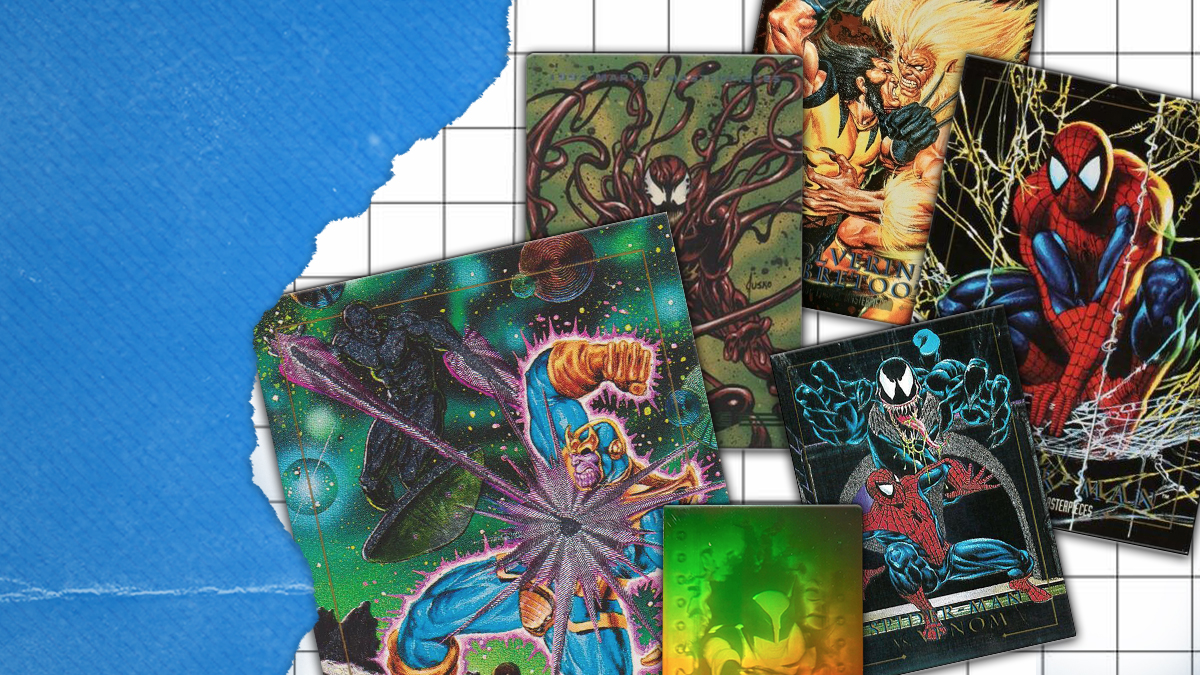 This article is presented by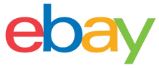 We can't clarify this enough: When the age of Marvel Comics superheroes began in the 1960s, everything changed. Characters like the members of the Fantastic Four, Spider-Man, the X-Men, and on and on felt more grounded in reality than their comic book peers, and readers immediately took notice.
These were relatable figures who balanced real world problems like wanting to fit in with the pressures that come with protecting New York City (then later, the universe) from all manner of unbelievable threats. Due to the unprecedented success of Marvel Comics, the publisher's stable of heroes quickly became a merchandising juggernaut. Everything from toys to coloring books competed for the attention of burgeoning Marvelmaniacs, and it's no surprise that trading cards were quickly thrown into the mix.
Since the early '60s, there have been numerous lines of Marvel-inspired trading cards that have showcased the sillier side of these heroes (Topps' fondly remembered 1976 line of Marvel Super Heroes Stickers) to cards celebrating the company's storied history (Fantasy Trade Card Company's Marvel Superheroes First Issue Cover set). As fun as these memorable sets were, they can't begin to hold a candle to the work that Skybox was doing in the 1990s. Bursting onto the scene in 1992 , the company's various licensed Marvel card sets showcased a mix of well-known and rising characters from Marvel. That they did so by directly tapping into the zeitgeist while pushing the limits of trading card technology is a bit of magic that even Doctor Strange would be impressed by.
During the '90s, Marvel was (Silver?) surfing on a wave of massive success, buoyed by the popularity of Fox's X-Men and Spider-Man cartoons, era-defining — for better or worse — creatives like Rob Liefeld and Todd McFarlane, and seemingly countless videogames and action figures showcasing these comic book greats.
The bottom line? There was an unquenchable desire to collect anything and every Marvel-related, and Skybox entered the marketplace at exactly the right time. Printed on heavy duty card stock, these cards felt substantial in the hands of eager collectors. Chase cards like "holofoil" and "dyna-etching" variants further made the Skybox lines feel like must haves – and so they became a form of de-facto status symbol for collectors. Simply put, if you had these things you had credibility during a time when so-called nerdery was beginning its ascension towards pop culture dominance. Indeed, the Skybox cards gave comics-related collectibles real legitimacy in the eyes of those who previously dismissed such a thing.
From the glory years of 1992 to 1996, Skybox was the best-loved name in the non-sport trading card game. Their legacy can still be seen in cards today, with companies like Topps and Upper Deck still putting out cards who share basic DNA with Skybox's inventive lines.
Unsurprisingly, Skybox collecting is experiencing something of a resurgence thanks to the one-two punch of 1990s nostalgia and the enduring success of the Marvel Cinematic Universe. Because you want in on this collecting action, we've put together the following guide to some of the coolest, most collectible Skybox Marvel releases. A universe of fun awaits you, quite literally.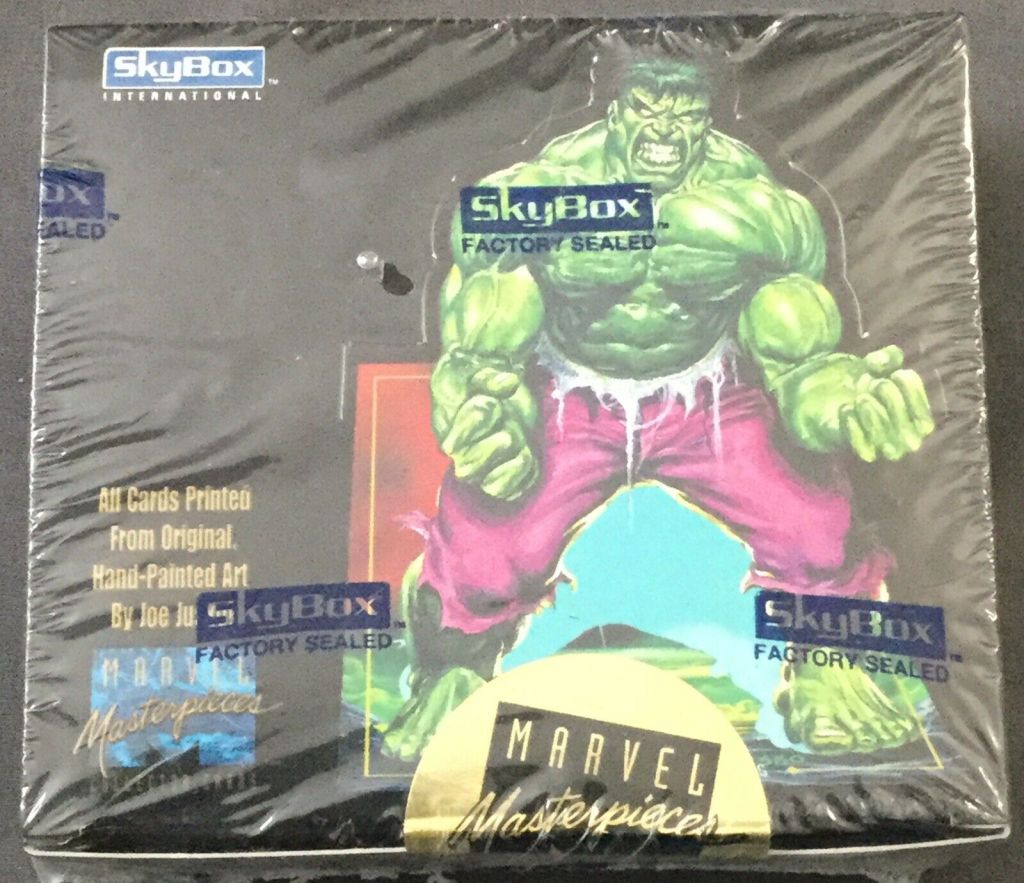 1992 Marvel Masterpieces Unopened Box
Price: $300 – $700
The joys and perils of modern trading card collecting can be directly traced back to the 1992 Marvel Masterpieces line. With stunning paintings from Joe Jusko on the front and detailed information about significant Marvel moments and characters on the back of each card, Skybox hit a nerve with this 100-card game changer. Suddenly, fans who hadn't picked up cards since their elementary schoolyard days of trading baseball or Star Wars cards were back in the game, racing to get each and every entry in the line.
As Impel, Skybox had warmed up fans for the previous two yeasr with their Marvel card sets. But with a name change and a further commitment to artistry they started a trading card revolution by fully realizing their vision. To own a box of these isn't merely to indulge in one's nostalgia, it is to possess an important part of pop culture history.
Buy the 1992 Marvel Masterpieces Unopened Box here
Skybox Marvel Empty Display Boxes
Price: $14.99 – $49.99
With the cards being the main attraction, you'd be forgiven if you took for granted the artistry of the boxes that the various Skybox card lines came packaged in. Since these were designed to grab the consumers' eye, they are emblazoned with compelling action in what Stan Lee himself would refer to as "the Mighty Marvel method." Keeping your cards in Mylar sleeves in binders is definitely the smartest way to ensure that your collectibles remain safe, yet might we suggest you start collecting the originally boxes that housed them too? If nothing else, it will give you bragging rights about your dedication to the Skybox era.
Buy Skybox Marvel Empty Display Boxes here
Spider-Man vs Venom Hologram Card
Price: $29.99 – $59.99
It's difficult to fully articulate how popular Venom was in the early 1990s. Alternately a villain and a terrifying anti-hero, the character's stunning design roped in lapsed fans and newbies alike thanks to the best set of pop culture jaws since Steven Spielberg terrified moviegoers back in 1975. Consequently, Spider-Man and Venom became comicdom's most compelling, forgive us, symbiotic relationship, with this snazzy hologram card from Skybox's 1993 Marvel Universe Series IV line being a memorable souvenir of this crucial time in both characters' history.
Buy the Spider-Man vs. Venom Hologram Card here
Wolverine Hologram Card
Price: $30 – $45
While discussing hologram variants (which are a fascinating collecting subset in their own right), we would be remiss if we didn't mention everyone's favorite cigar-chomping mutant, Wolverine. Thanks to the technology used to create the card – one that we don't fully understand but absolutely appreciate – it appears as if Wolverine has just clawed his way through a steel wall. When the light hits the card in just the right way it appears as if the adamantium-laced icon is reaching towards you, an incredibly cool effect that is priceless in terms of wow value. To be clear, all the cards included in Skybox's second series of X-Men cards are memorable. This one though? It's to be treasured.
Buy the Wolverine Hologram Card here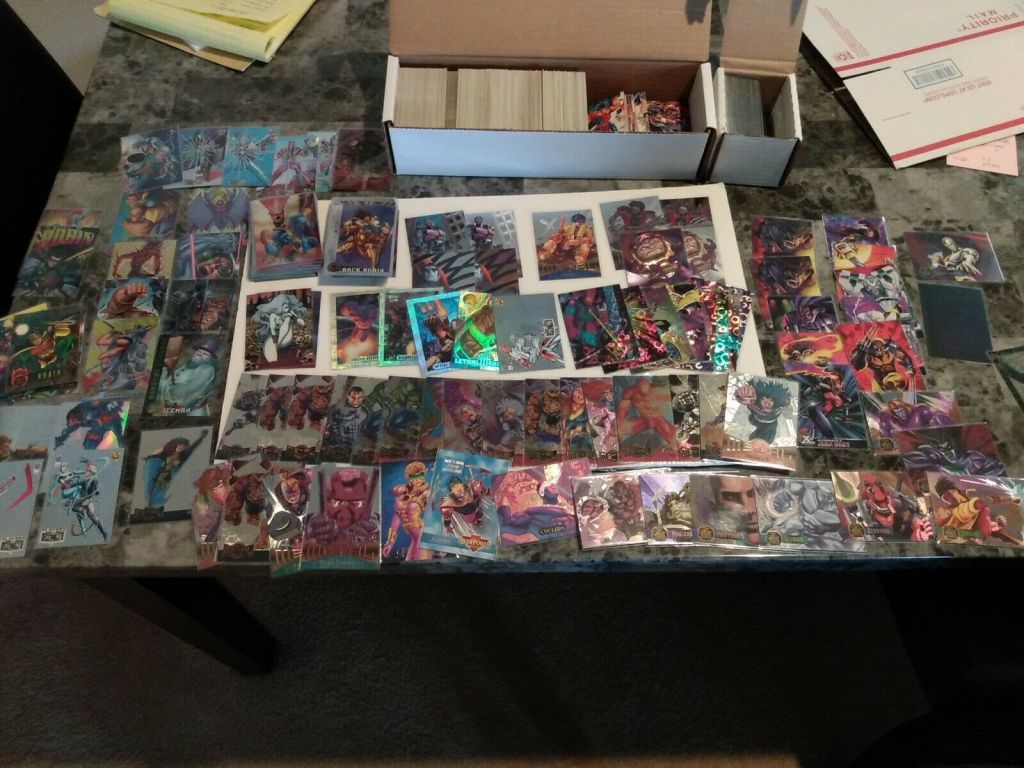 Marvel Skybox Card Lots
Price: $1-$50
As far as we are concerned, casual collectors of anything are as hard to find as Bigfoot and/or D.B. Cooper. Intellectually though, we know they exist. Thus if you consider yourself among their number and want to dip you toes into the Skybox collecting waters we feel compelled to tell you that you can do so by checking out any of the eBay auction listings for Skybox card lots. Often times these are just a grouping of common cards, but with some perseverance you can find auctions for lots that include rare variants. Due to the care with which these cards were produced, there really isn't a downside here. Just know that we are not responsible if they become a gateway drug to getting you fully hooked on Marvel cards.
Buy Marvel Skybox Card Lots here
Price: $10-40
You have to remember that in 1992, the Internet was not the all-encompassing behemoth that it is today. Nor was nerd culture. Back then, word of mouth was crucial to promote any fandom-related product. Enter promo cards. Either distributed in magazines, at trade shows, or in comic shops, these helped notify target audiences that something new and cool was on the way. Because these were trading cards in and of themselves, they were collectibles in their own right – existing outside of the line they were trying to promote while being directly related to its success or failure.
The back of this specific promo card (which, it should be noted, was something of an innovation itself), promised that "this new, super premium line from Skybox takes the Marvel Universe to another dimension." On the flip side was a dynamic Jusko painting of Spidey, then the biggest character in Marvel's lineup. Fans took notice. Sales were made. As a result, trading cards were never the same.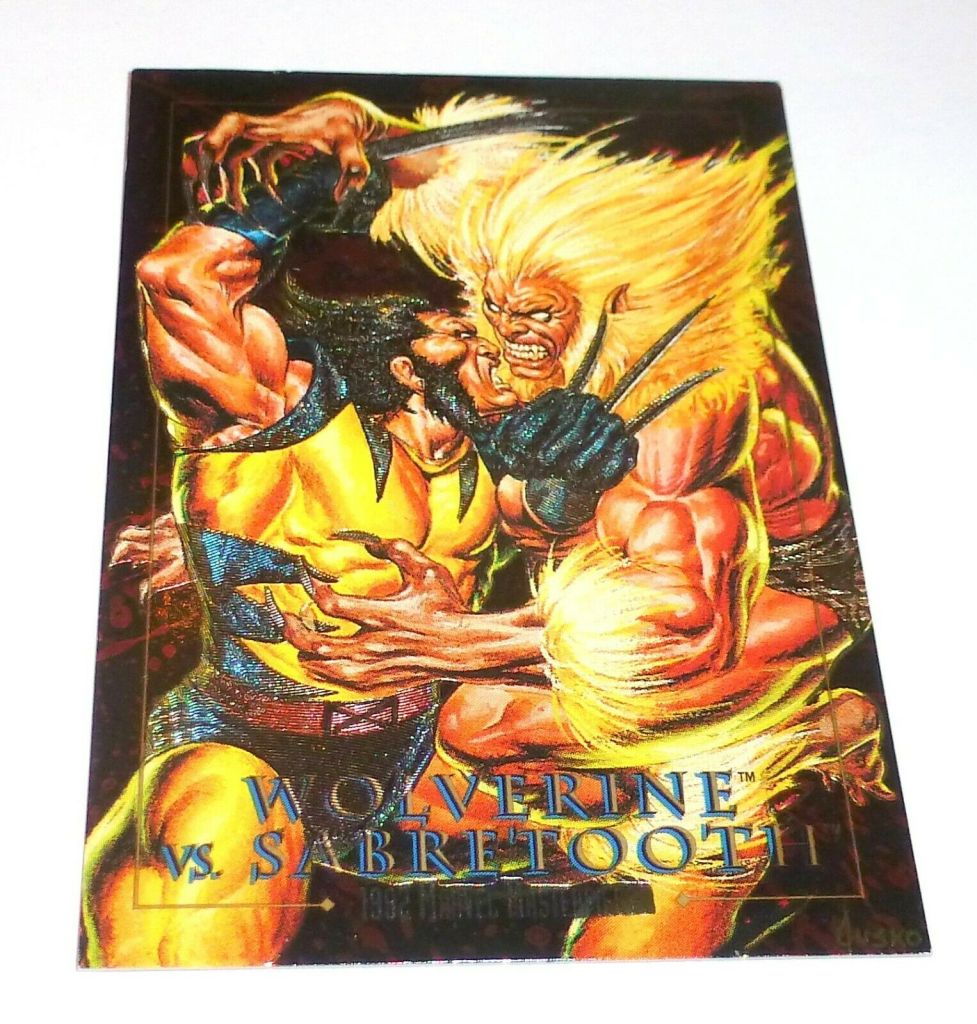 Wolverine vs. Sabertooth 3-D Foil Card
Price: $39.99 – $120.00
Spider-Man vs. The Green Goblin. The Fantastic Four vs. Galactus. Jack Kirby vs. Stan Lee. The Marvel Universe is full of iconic battles. Naturally, the most compelling battles in Marvel history were replicated in the Skybox lines – as you can see in this offering from the 1992 Marvel Masterpieces line that has Wolverine engaging Sabertooth in combat on a card that used art, foil embossing and printing enhancement to bring the action to life in a way that was anything but static and boring.
Buy the Wolverine vs. Sabertooth 3-D Foil Card Here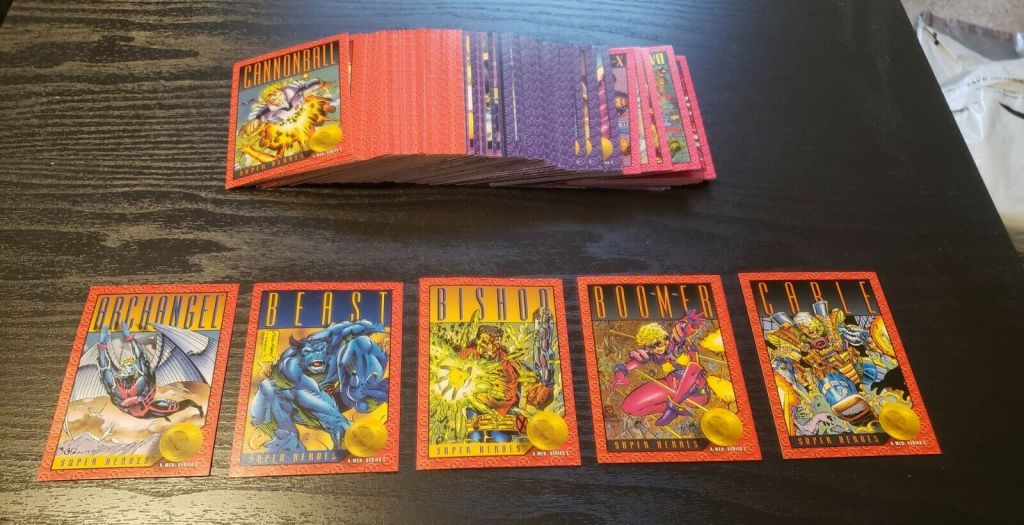 X-Men Series II Complete Base Set
Price: $40 – $60
An enduring fan favorite from Skybox, 1993's X-Men Series II furthered cemented the mutant team's popularity following the premiere of their Fox cartoon a year earlier and some high-profile comic book releases of the era. Over the course of 100 cards, the most notable mutants of the Marvel Universe were showcased in the line. What truly took this specific series to the next level was its pitch perfect combination of character choices and interlinking cards that, when united, created stunning battle scenes. (The X-Men/Magneto/Acolytes triptych is still a jaw-dropper). Available at more than affordable prices, you can make this popular series part of your collection easily. And indeed, you should.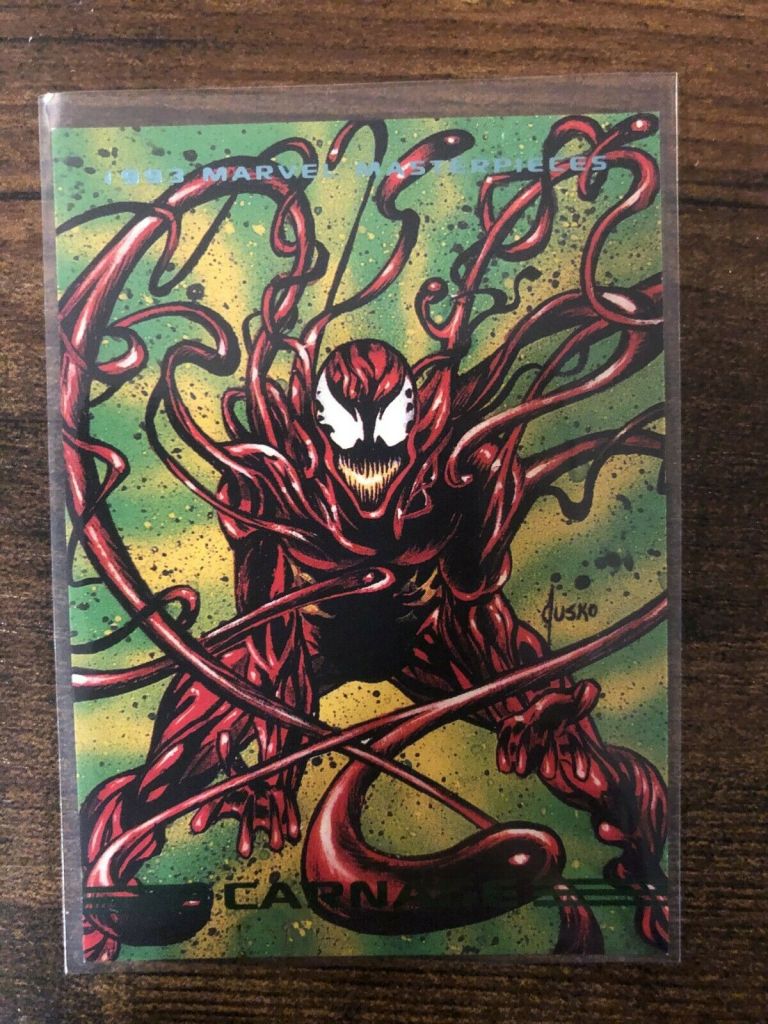 1993 Marvel Masterpieces Carnage Card
Price $1-5
Is there a character who represents the Icarus-type approach that Marvel had to their new creations in the 1990s more than Carnage? Love him or hate him, you definitely had opinions on him back in the day (if not to this very moment). He is featured here though as an example of exactly how tuned into the fan base Skybox was at the height of their powers. They gave consumers cards bursting with life, making unsavory folks like old Cletus here appealing…and highly collectible.
Buy the 1993 Marvel Masterpieces Carnage Card here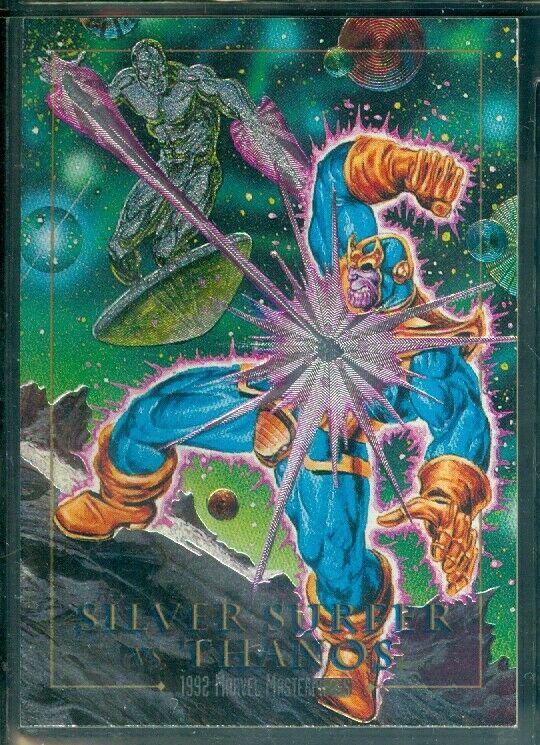 Silver Surfer vs. Thanos Etch Foil Card
Price: $1-$5
Let's wrap things up by stating a fundamental truth that about all of Skybox's Marvel trading cards line: They set the gold standard for non-spot cards in the 1990s due to the sheer care that was put into them. No other line featuring these characters had been done so artistically. Everything was all about fan service in a time when that phrase had yet to have any negative connotations forced upon itself. So to look upon a card like this offering from the 1992 Marvel Masterpieces line in which two titans square off to determine the fate of the universe was a revelation for consumers.
Holding a card like this made it feel as if the Marvel Universe was literally in the palm of your hand. Through a combination of enlisting top-tier talent and incorporating innovations in trading card evolution, Skybox was able to transcend mere collectible. We aren't being grandiose here. To compare the Skybox releases to previous licensed Marvel cards is like pitting the 1960s Spider-Man TV series against Into the Spider-Verse, both have their delights but one is clearly advanced in every way. Skybox cards were a game changer, just as Silver Surfer fighting Thanos would be. And the winner of their battle? Marvel fans everywhere.