Features
SXSW Music Spotlight: An Interview with iLe
At SXSW 2023, there was no missing iLe. Sounds of resistance and resilience meet Caribbean rhythms in her work—so we had to catch up with the much-talked-about talent.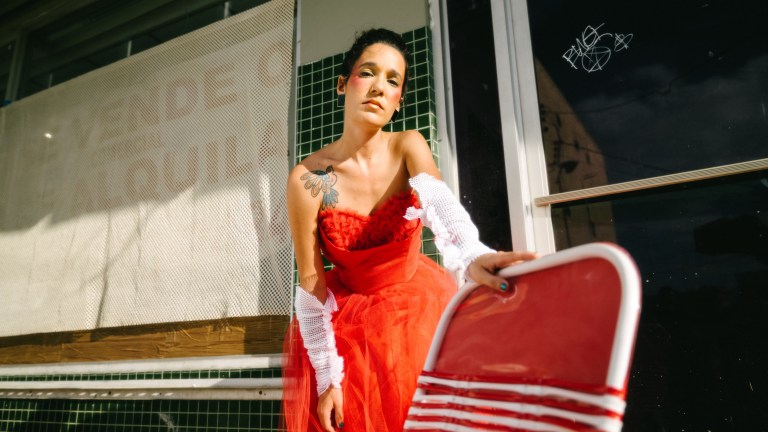 iLe, the moniker of Puerto Rican musician Ileana Cabra Joglar, is both a veteran of the music industry and a rising voice, setting the stage for a new wave of Puerto Rican artistry. You may recognize her from her role as the youngest and only female member of the beloved Boricua hip-hop group Calle 13, where she performed alongside her brother Residente, or from her collaborations with Bad Bunny, or from her Grammy win back in 2017. She's been busy.
Since releasing her debut solo LP iLevitable in 2016, iLe's music has made it a point to weave PR's colonial history, political protest, and fight for independence across genres. Her latest album, 2022's Nacarile (a slang term that loosely translates to "No way in hell!" in English), moves from hip-hop and Caribbean folk to bolero, psychedelia, even reggaeton. Below, Den of Geek speaks with iLe about SXSW, what fans can expect from her performances, and the current state of Puerto Rican representation.
Have you been to SXSW before? What do you make of the festival?
I have. This is my second or third [time.] It's super fun to listen to different types of music, different bands from different countries. I love the energy the festival has, everybody enjoying it together. I like the sense of musical community. And it's nice to reconnect with musician friends you haven't seen in a while and, at the same time, new people. It's a nice dynamic.
That's the best part – how global the music community can be at SXSW. Not to get too heavy too quickly, but it is very much a music business festival in Texas, a Latino place, a state with very complicated, conservative politics. When you play in a place like that, does your music take on a different political meaning?
It is complicated. But at the same time, South by Southwest can feel like an oasis in the middle of so many critical things happening. For me, music is the best life tool to connect and to heal—even if it's just [through] dancing or listening and enjoying being present at a show.
It can also happen with political songs that speak about realities we all go through—like where I come from in Puerto Rico—and relate to that humanity, to be empathetic and find ways to be closer to each other. It's about finding ways to feel solidarity between us, and I feel that in spaces like SXSW, having the chance to play outside of Puerto Rico, it gives me the opportunity to connect.
It seems like Puerto Rico has visibility around the world now more than ever—through amazing talent like your collaborator Bad Bunny, but also through tragedy, like Hurricane Maria. Has that been your experience?
It definitely has changed a lot. I try to express the magnitude because a few years ago, a lot of people didn't know that Puerto Rico existed. I remember talking to some stranger, and I told him that I was from Puerto Rico, and he was like, "What is that?" Now Puerto Rico is a conversation topic. A lot of North Americans that come to the island don't even know that Puerto Rico was a colony. But I love that everyone is acknowledging that Puerto Rico exists and is trying to find more information about our reality and what goes on here, our struggles and our culture.
In The White Lotus, in the last season, they mention something about Puerto Rico being a colony. It's a small moment, but it's something we're not used to. We're used to feeling a little isolated from the rest of the world. It's nice to feel that people know we exist.
And Aubrey Plaza, who is on that show, is Puerto Rican! Let's talk about Nacarile. What were you thinking about while writing, and how does that connect to the island?
My other albums absorb what was going on around me. This album is a pandemic album. Quarantine made it hard to concentrate. It was hard to be outside of myself, to deal with everything that was going on. Not only with COVID, but it was an election year in 2020, the government was mismanaging everything, and women were getting killed in their houses. [Ed.: She's referring to a severe uptick in domestic violence in Puerto Rico during the pandemic.] The uncertainty of all that—being affected by that, trying to understand how I was receiving that, and trying to take care of myself as well…everything felt like a barrier. The album became a challenge of trying to go through that.
Do the songs transform live? Like catharsis—a celebration of getting past all of that, recognizing the pain of the last few years—and finding joy at SXSW, no less.
Definitely. It sounds different with the live instrumentations—you keep finding new ways of experimenting. It's energetic and healing. It's like finally releasing all [the emotions] I had accumulated in the process of making the album and just embracing what we were all going through.