Features
SXSW Music Spotlight: An Interview with Jobber's Kate Meizner
Brooklyn's Jobber pairs muscular riffs and sugary hooks with a piledriving concept that filters labor issues and the pains of being a touring band through the outsized lens of professional wrestling.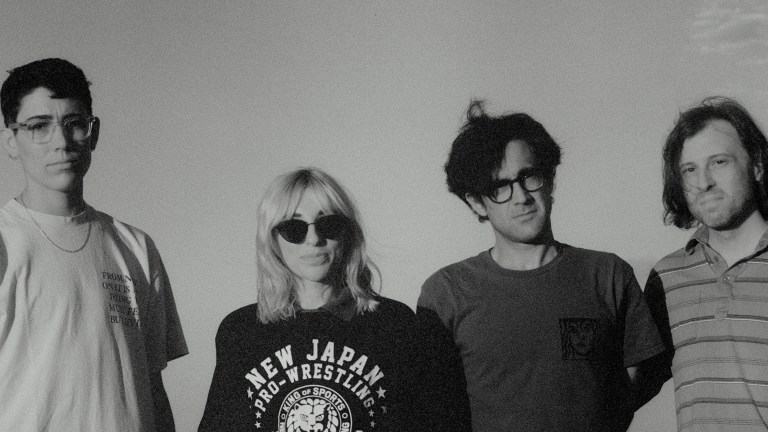 Does your 9-to-5 ever make you feel like a jobber?
In the world of professional wrestling, a jobber is someone who frequently and deliberately loses matches to help push another performer's popularity. Usually, the anonymous jobber isn't just meant to lose but to get absolutely squashed by the bigger name. Being a jobber in the hard-hitting world of professional wrestling isn't all that glamorous, but really, does it sound worse than being a jobber in a normal office setting, where the physical beatings are replaced with spiritual ones?
The parallels of being a bottom-of-the-card wrestler and an underappreciated gig worker sparked something in Kate Meizner, a Brooklyn-based songwriter who has toured as a guitarist with Snail Mail and played in bands such as the Glow, Potty Mouth, and Hellrazor.
"I had a lot of really crappy jobs," Meizner tells Den of Geek. "Even the jobs that are supposed to be good, I still saw a lot of the same bullshit, like people not paying you for your labor. Wage theft. Unfair treatment in the office, especially women and people of color getting treated like garbage. Contract workers being exploited by whoever they're contracting with, without any health insurance. All these things I picked up, just being in the workforce for so long."
With these experiences on her mind, Meizner started her new band Jobber, featuring former Ovlov and Speedy Ortiz drummer Mike Falcone, guitarist Michael Julius, and bassist Maggie Toth. The band's sound pulls from the greatest aspects of '90s alternative, from sugary, synth-fueled hooks reminiscent of The Rentals, to muscular, heavy riffs akin to bands like Hum and Helmet. Conceptually, Jobber uses professional wrestling as a jumping-off point, addressing topics like labor issues and finding parallels between the worlds of touring musicians and sports entertainers.
"Wrestlers started speaking openly about the havoc that the lifestyle was wreaking on their health and their mental health and describing being overnight in a car for six hours, eating Wendy's every night," Meizner explains. "I saw the exact same situation I was in. I was like, 'Holy moly, this is really similar.'"
Meizner had a passing interest in wrestling as a kid, mostly because it was something her parents forbid her from watching. She was reintroduced to the product as an adult when a bandmate from a past project was working as a music supervisor for World Wrestling Entertainment, or the WWE.
"It just hooked me," Meizner says. "I'm really drawn to any form of entertainment that involves a spectacle and is campy, but there's also a lot to unpack about it."
Finding the similarities between her life as a musician and a professional wrestler—the hours on the road, the low pay, the potential of performing for an empty venue or maybe even an openly hostile crowd—isn't the only thing that drew Meizner to exploring wrestling as a metaphor. Meizner earnestly believes that professional wrestling can be a sort of funhouse mirror reflection of life.
"[Wrestling] taps into a lot of the common emotions and motivations that people experience on a day-to-day basis," Meizner says. "So it's really easy to connect to emotionally for me, and I feel like a lot of the things, even in the storylines, can be relatable."
Song titles like "Entrance Theme," "Heel Turn," and "Hell in a Cell," also the title of their 2022 EP, play into the wrestling association hard, but while the lyrics may use some jargon familiar to fans of the squared circle, anyone can relate to themes about exploitation, personal accountability, and frustration. And anyone worried that Jobber will burn through the concept too quickly can rest easy.
"I've already written most of our follow-up full-length," Meizner confirms. "I'm starting to explore other topics still tied into the wrestling realm, but more related to the interpersonal motivations and storylines and sort of extrapolating those into real-life situations. There's a lot of ground to cover."
Even the wrestling agnostic can appreciate a rich metaphor, but diehard wrestling fans should know this isn't a cheap gimmick. Hardcore legend Mick Foley himself kicks off Hell in a Cell with a signature promo against the band, as fine as a cred signifier as any.

While Meizner and Jobber are coming to SXSW as scrappy underdogs still working full-time jobs, it's clear from one listen of Hell in a Cell that this is a band with heavyweight champion aspirations, with the wit and tunes to knock out any doubters.