Features
SXSW Music Spotlight: An Interview with Enumclaw Frontman Aramis Johnson
The Pacific Northwest's Enumclaw are the buzziest band in the burgeoning '90s alternative revival, and they have the ambition (and hooks) to reach headliner heights.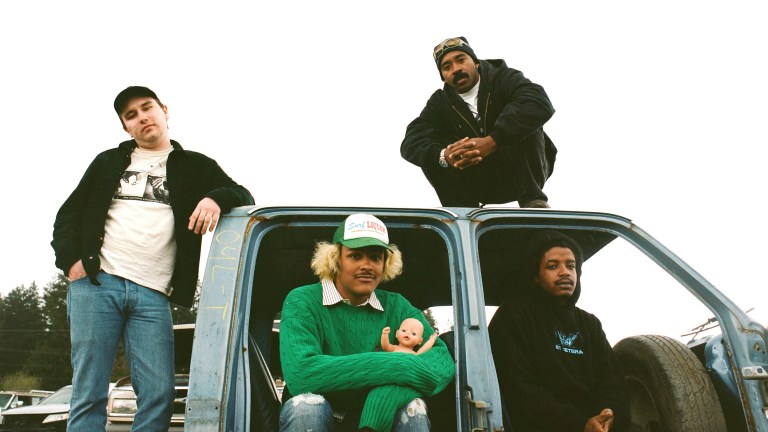 Aramis Johnson is ready for festivals. The Enumclaw frontman and chief songwriter has been noticing the size of the audience growing at his band's shows, where Enumclaw's infectious energy seems to supercharge anyone within close proximity. Still, Johnson is eager to adapt to bigger stages and audiences that may not be familiar with the Northwest's buzziest alternative band.
"I think we still haven't played enough festivals to really grasp it," Johnson says over the phone. "You have to figure out a way to translate what you do to that bigger stage and be able to leave an impression, which in this coming year, I'm excited to have the opportunity to try to get better at."
That being said, Johnson doesn't count South by Southwest as one of those opportunities.
"It's not like a real music festival," Johnson says. "It's just like a big week of showcases. It's not a show. It's just all these industry folks that get to stand around and decide if you're gonna be the cool band or not."
Beyond the band's accessible hooks, anthemic songs, and heartfelt lyricism, quotes like that are exactly why Enumclaw is getting the "cool band" treatment from music journalists; they're refreshingly authentic, unafraid to state their ambitions and say what's on their mind.
The Tacoma, Washington-based band, comprised of Johnson, guitarist Nathan Cornell, drummer LaDaniel Gipson, and bassist Eli Edwards—Johnson's younger brother—immediately earned music blog attention by unabashedly saying that they wanted to be as big as Drake and Oasis, and they cheekily included the phrase "best band since Oasis" on recent merch. The Oasis goalpost is fitting, not just because Johnson and co. have proven adept at delivering Gallagher brother-level pull quotes, but because Enumclaw are trying to create "Wonderwall"-sized smashes.
"There's a lot of artists that come up now that are just, like — they look cool. And their music sounds cool. But there's no song," bemoans Johnson "It's all production and a vibe. The hooks aren't there. There are not big songs like there used to be, that really resonate with people. I want to lead the charge making music that resonates with people."
Enumclaw certainly are resonating with rock fans. Their 2022 debut LP Save the Baby improved upon their jangly, fuzzed-out 2021 "Jimbo Demo" EP with cathartic, simply-structured songs that are immediate yet convey their working-class background and personal struggles. There's an endearing everyman quality to Johnson's tunes, even when he's pulling from specific personal experience, belied by the fact that Johnson only started playing guitar and writing music in 2019.
"I think the band has really helped me be seen in a light that I've always wanted to be seen," Johnson says. "It's helped me get closer to becoming the person I've always wanted to be."
Enumclaw, along with bands like Wednesday, Horsegirl, and Momma, find themselves lumped into a burgeoning "'90s alt-rock revival," but the retro signifier is fine by Johnson.
"I definitely think we're very much influenced by that time period," Johnson says. "But I think we're more concerned with being an alternative rock band. I think if we were in Chicago, doing what we're doing there, it might be different. I think the Pacific Northwest thing is so '90s that any band that sounds anything like that is gonna be called a '90s revivalist band." 
"I'm not mad at it. If that helps people get into it, I'm down for it," Johnson says, pausing before finishing his thought, "I just don't like being called an emo band. Everything else is fair game."
Though Enumclaw have the stadium-sized ambitions of those '90s stalwarts, they still have to live with the realities of being a mid-sized band in 2023. In a post-pandemic world, touring is less lucrative than ever, with many artists going into the red just to reach fans at live gigs. Being able to maintain a life back home while on the road compounds things.
"Just because you're going on the road for six weeks doesn't mean rent isn't going to be due or you don't have to pay car insurance," Johnson says about the realities of touring. "In my experience, that has been the tough part. It's like, we're going on tour, and we're gonna make enough money to break even on the tour. But now, how do I continue to make sure all my bills are paid and taken care of while I'm away?"
There's also more entertainment competing for people's attention than ever, and self-promotion is a necessary evil that can distract from the goal of creating music.
"Kurt Cobain never had to say 'link in my bio,'" Johnson says with a laugh.
Trading in mystique to reach a wider audience is something Johnson thinks about often, longing for the days in which artists could feel larger than life simply due to our limited access to them. Trying to decide how often to interact with social media tools like TikTok can be tricky.
"I could make myself look dumb and make a TikTok every day and overexpose myself for no reason," Johnson starts, "when maybe tomorrow, some kid in Iowa makes a TikTok with one of our songs and absolutely changes everything."
Still, choosing how to promote your buzzy band is a good problem to have. Enumclaw have a slew of U.S. and European shows booked through spring, including stops at London Calling and the U.K.'s Wide Awake Festival, and Johnson is already pulling together the follow-up to Save the Baby. How's it shaping up?
"First and foremost, better songs. Catchier songs. Just turning up the energy a bit more," Johnson says with excitement in his voice.
His candidness, and Enumclaw's confidence, suggest they'll reach supernova status in no time.