News
Spike Lee Concert Film of David Byrne's American Utopia Goes to HBO
After debuting on Broadway, David Byrne's American Utopia is next headed to HBO. And as a concert film directed by Spike Lee, no less!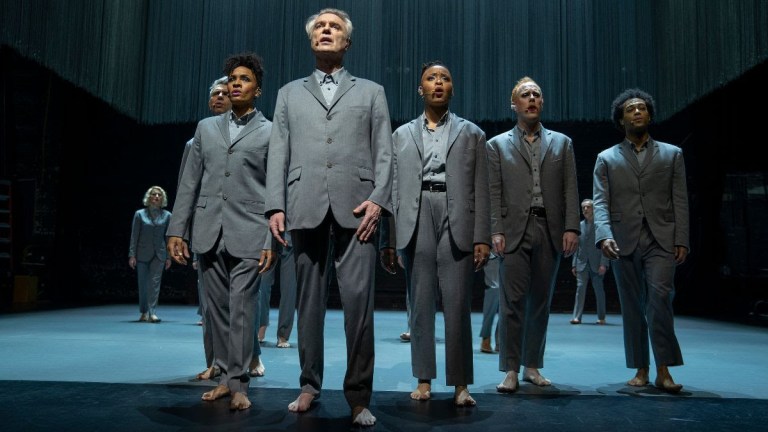 Director Spike Lee aimed his cameras at, and adjusted the visual beats on, David Byrne's American Utopia, the acclaimed Broadway show which previewed at the Hudson Theatre on Oct. 4, 2019 and ran until Feb. 16, 2020. The David Byrne/Spike Lee joint will now light up at HBO later this year.
"It is my honor and privilege that my art brother, Mr. David Byrne, asked me to join him in concert, to invite me into his magnificent world of American Utopia," Spike Lee said in a statement. "And dat's da 'once in a lifetime' truth, Ruth. Ya-dig? Sho-nuff. Peace and love. Be safe."
Lee isn't the first director to see the cinematic potential in Byrne's stage shows. The 1984 concert film Stop Making Sense, was directed by Jonathan Demme. "Spike and I have crossed paths many times over the years, obviously I'm a huge fan and now finally here was an opportunity for us to work together," said Byrne. "I am absolutely thrilled with the result. The Broadway show was a wonderful challenge as well as an opportunity–it was a joy to perform and, well, best to let the quotes speak for themselves. Thrilled that this show and the subjects it addresses will now reach a wider audience."
To paraphrase HBO's own Bill Maher, I don't know if Lee and Byrne bonded because Spike did the movie Do the Right Thing and David did a song called "Doing the Right Thing" on the American Utopia album, but I hope it's true. American Utopia, produced by Byrne, Brian Eno and Rodaidh McDonald, was Byrne's first No. 1 charting album. It was part of a multimedia project called Reasons to Be Cheerful, which showcases specific reasons for being happy in spite of political strife and environmental problems. The title was inspired by the Ian Dury song "Reasons to Be Cheerful, Part 3."
The set list for the Broadway show included all the songs from the album, plus a few Talking Heads songs and a cover of Janelle Monáe's "Hell You Talmbout." During the performance of that song, Byrne and the musicians called out the names of unjustly killed Black Americans. This Broadway show played to sold out, record-breaking audiences during its run. The New York Times was rapturous over it. The Hollywood Reporter was knocked out.
"David Byrne's American Utopia is a uniquely transformative experience and a perfect example of how entertainment can bring us together during these challenging times," said Nina Rosenstein, executive vice president of HBO programming. HBO's Rosenstein said in a statement. "Spike's brilliant direction adds a level of intimacy to this powerful performance, and we're so thrilled to share this groundbreaking show with our audience."
The live show was choreographed by Annie-B Parson, who collaborated with Byrne on the Imelda Marcos musical Here Lies Love, along with Tony-nominated Alex Timbers, who is production consultant on the HBO filmed event. The filmed version was shot by 11 camera operators, inducing directors of photography Declan Quinn (Leaving Las Vegas) and Sam Levy (Lady Bird). The director of photography for the film is Ellen Kuras (Eternal Sunshine of the Spotless Mind).
David Byrne's American Utopia is a "unifying musical celebration that inspires audiences to connect to each other and to the global community," according to the press release. The film is produced by David Byrne's Todomundo and Lee's Forty Acres and a Mule Filmworks production companies, and executive produced by RadicalMedia, Participant, River Road Entertainment and Warner Music Entertainment.
The original American Utopia album, as well as the Broadway cast recording, were released on Warner Music Group's Nonesuch Records.
David Byrne's American Utopia will debut later this year on HBO.