News
Gordon Lightfoot: If You Could Read My Mind Trailer Highlights an Iconic Career
Upcoming documentary Gordon Lightfoot: If You Could Read My Mind shows a prolific artist still creating.
Greenwich Entertainment has released the official trailer for Gordon Lightfoot: If You Could Read My Mind. The upcoming documentary explores the "profound evolution from Christian choirboy to troubled troubadour, international star and beloved Canadian icon with 5 Grammy Nominations and over 10 million albums sold," according to the press statement.
Gordon Lightfoot is a prolific artist. The trailer opens by telling us he's recorded over 200 songs to sell those 10 million records. In the 1980s, SCTV did a K-Tel parody commercial called "Gordon Lightfoot Sings Every Song Ever Written." When it first aired, it seemed like a good excuse to feature Rick Moranis' mimicry skills, but it was not a random choice. It was also not a mockery of the artist. It was a testament to the music and influence of the Canadian musical icon.
The trailer opens with a testament from another Canadian treasure, the band Rush. "He is one of the greatest examples of a timeless singer-songwriter," Geddy Lee says in the trailer. Lightfoot helped develop the folk-pop sound of the late 1960s and 1970s. The trailer includes a quote from longtime fan Bob Dylan enthusing that when he heard a Lightfoot song he wished "it would last forever." (I wonder if this led to Lightfoot's almost seven-minute epic "The Wreck of the Edmund Fitzgerald.") Lightfoot's other number one hits included "If You Could Read My Mind" from 1970, "Sundown" (1974); "Carefree Highway" (1974), "Rainy Day People" (1975).
You can watch the trailer here:
The documentary will also put a spotlight on Lightfoot's humor. The trailer shows a clip where he tells an interviewer how important drinking is to the art of songwriting. The documentary features interviews with Lightfoot's longtime backing band, and generations of his fans, from musicians like Lee, Alex Lifeson, Steve Earle, Sarah McLachlan, Anne Murray, and Greg Graffin of Bad Religion. They also speak with actor Alec Baldwin.
Gordon Lightfoot: If You Could Read My Mind was directed by Martha Kehoe and Joan Tosoni. Produced by Insight Productions, it takes audiences "from high school auditoriums in straight-laced, small town Ontario in the '50s to the coffee houses of Toronto's Yorkville and NYC's Greenwich Village in the '60s, through Gordon's turbulent, substance-fueled arena shows of the '70s, and finally to the artist – older, wiser – in present day," according to the press statement.
Greenwich Entertainment also debuted the Gordon Lightfoot: If You Could Read My Mind poster: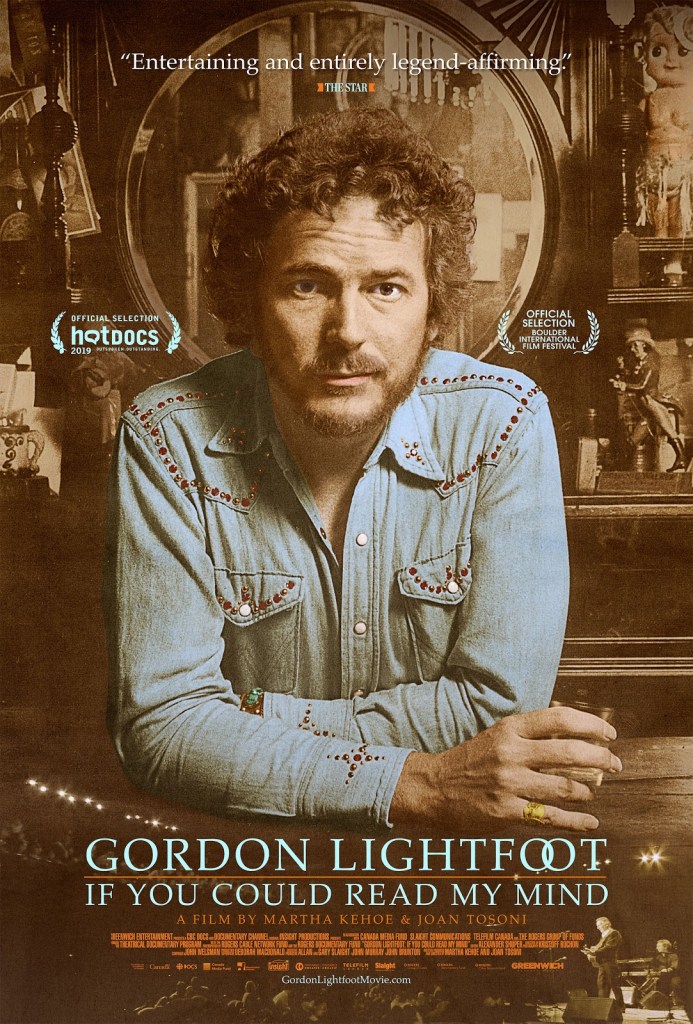 Lightfoot remains prolific at the age of 81. He released a new album, Solo, on March 20. His last studio album of new material was Harmony, which came out in 2004. He was on a tour which ran through February when the Covid-19 pandemic hit, forcing him to cancel the spring dates.
Gordon Lightfoot: If You Could Read My Mind will be released later this summer.