Features
Sesame Street and the History of Rubber Duckie
"Rubber Duckie" is one of the most famous and beloved Sesame Street songs, and it just turned 50 years old.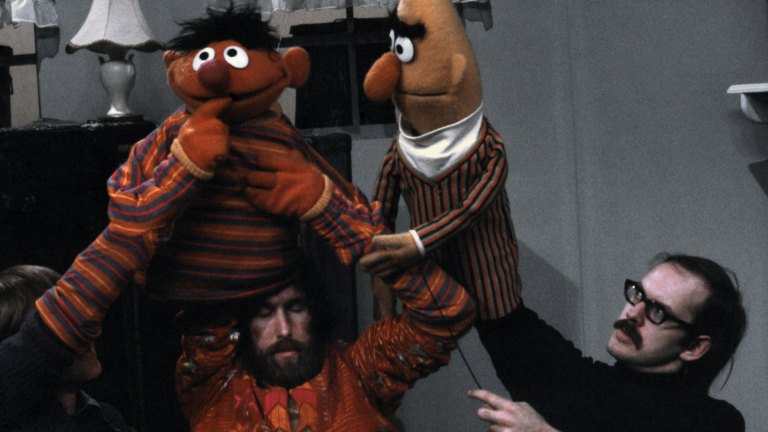 He might not have any ears, but he's got a ticklish tummy and a lathery longevity. Sesame Street's ode to good, clean fun in the tub, "Rubber Duckie," just turned 50. The song debuted on Feb. 25, 1970, in episode 78 during the first season of the upstart TV classroom series. Ernie sang it from the bathroom of the basement apartment he shared with his best friend Bert at 123 Sesame Street.
"Rubber Duckie" is the only original song the educational series managed to land on the Billboard charts. "Mah Nà Mah Nà" and "The People in the Neighborhood," which premiered the year earlier, didn't do it. Neither did "Sing," which the Carpenters covered and got into the top five. Not even the subtly subversively inclusive classic "Bein' Green" hit the charts with Kermit at the mic, and that one has since become an American Standard.
"The arrangement is hysterical, the idea is funny, and the lyrics are funny," Chris Cerf, who wrote such classic educational parodies as "Furry Happy Monsters," "Monster in the Mirror," "Born To Add," "Letter B," "and "Hey Food," tells Den of Geek. "Plus, and this is important, Sesame Street has been on the air for 50 years and they played that song every season over and over again. Everybody knows it, it's a real standard. And I don't know anyone who doesn't like it."
The same is true for Ernie's bathtime friend. "Rubber Duckie is a very important character on our show," Sesame Workshop vice president of education and research Dr. Rosemarie Truglio, who co-edited G is for Growing, tells us. "In this establishing song, children are learning about who Rubber Duckie is. This is Ernie's 'lovey,' in the words of kids, significant items which really take on the role of a friend. This is not an imaginary friend because it's a physical object. Ernie is always with Rubber Duckie. They do things together. In this particular case, take a bath together, that's where the hygiene comes in."
Creating Bert and Ernie
Sesame Street is an institution now, but back in 1970, it was a scruffy production run by an even scruffier bunch of idealist educators who wanted to teach inner city preschoolers their ABCs and 123s. The pilot episode was screen tested in select New York City neighborhoods in July 1969, and the comic duo Bert and Ernie were the breakout stars.
In a possible nod to Frank Faylen's Ernie to Ward Bond's Bert in Frank Capra's 1946 classic It's A Wonderful Life, Sesame Street creator Jim Henson voiced Ernie to co-creator Frank Oz's Bert to personify how people can be good friends no matter how different they are. Ernie is a "Live Hand Muppet" while his roommate is a "Hand-Rod Muppet," but they don't let social labels interfere with their friendship. Oz was a born puppeteer. Originally from England, both his parents made their living with the art. Henson started designing puppets while taking home economics at the University of Maryland.
Ernie's boundless enthusiasm drove Bert nuts over the years, whether learning to play sax in the middle of the night or instigating games he'd lose interest in just as they got fun. Writer Jon Stone said the duo reflected the real life friendship between the two performers, according to the book Street Gang: The Complete History of Sesame Street. "They wanted to create a kind of Mutt and Jeff characters that they could play," Cerf clarifies. "So they're not really like Jim and Frank, they're funny characters that they were brilliant at doing comedy with. Kermit and Miss Piggy are another example of a comic duo that was Jim and Frank." Henson originally played Bert to Oz's Ernie, but they flipped characters after a day of rehearsal. Something good friends do.
"Rubber Duckie" was Ernie's first solo spotlight, and he came prepared. "Music is two-fold on Sesame Street," Truglio says. "We use music as a tool to teach. 'Rubber Ducky' is a lovely song to talk about bath time, to talk about your relationship with a lovey, but it's also a tool to teach any curriculum goal across our whole child's curriculum, which is all about school readiness." When Ernie felt like singing he filled his tub with water and nice fluffy suds, got his soap and washcloth, a nifty scrub brush for his back, and a big fluffy towel to dry himself. He also brought his very best friend.
"When you look at the lyrics, we're establishing the friendship and the emotional connections that Ernie has with Rubber Duckie," Truglio says. "We're talking about love. So it is love and friendship."
Writing and Arranging the Song
"Rubber Duckie" was written by Sesame Street's head writer, Jeff Moss. "Jeff was a wonderful songwriter as well as a script writer, and he was quite a good musician too," says Cerf. "He wrote a lot of wonderful songs like 'People in Your Neighborhood.'" Moss also wrote "I Love Trash" and "Nasty Dan," which Johnny Cash sang to Oscar the Grouch on the show and later put out on The Johnny Cash Children's Album (1975).
Moss started out as a production assistant on Captain Kangaroo after graduating Princeton University in 1963. He eventually won 14 Emmy Awards for his work on Sesame Street, and was nominated for an Oscar for his musical contributions to The Muppets Take Manhattan. Moss also repurposed Henson's puppet "Boogle Eyes" into Cookie Monster.
The song was arranged by Joe Raposo, the original music director for Sesame Street who wrote early classics like "C Is for Cookie," "One of These Things" and Sesame Street's theme song." Raposo also wrote the theme songs for the TV series Three's Company and The Ropers, and Woody Allen's film Play It Again, Sam, as well as music for The Electric Company, Shining Time Station, and three Dr. Seuss TV specials. "Joe wrote music every day and a lot of songs, including some famous ones like 'Bein' Green,'" Cerf says.
Raposo, who died in 1989, was influential far beyond Sesame Street. Frank Sinatra released "Bein' Green" as the flip side to his "Something" single and on the 1971 album Sinatra & Company. He recorded four of Raposo's songs, including the classic "There Used to Be a Ballpark," on his album Ol' Blue Eyes Is Back (1973), but is rumored to have wanted to do a whole album of them. "I have a hunch that Joe Raposo is probably the source of that story," Cerf laughs. "By chance my parents were good friends with Sinatra, so I actually got to see them together some. And I think originally, this is a rumor, Sinatra thought Raposo was Italian and apparently he never told him he was actually Portuguese, but I don't know if that's true or not."
Moss and Raposo "had kind of a funny rivalry," Cerf remembers. "Joe always pointed out to me, and I was responsible for producing a lot of albums, that Jeff was kind of an amateur and he, Joe, was a classically trained musician and that it was his arrangements that made all of Jeff's average songs wonderful. Jeff would always claim he could have done these arrangements too. It was good natured, but it was certainly something I was aware of all the time, they were friendly rivals."
The Sesame Street House Band
Cerf began working on the show "in the first season, but it was after 'Rubber Duckie' had been on the air. The original sessions happened right before I got to Sesame Street."
As producer, Cerf worked with the musicians who were on the recording. Like the famous "Wrecking Crew" musical dream team of studio players, Sesame Street had its own in-house band. Some of this was budgetary. "The musician's union rule said you had to be paid on a per-show basis. So if you had different people playing all the songs, you would have had hundreds of people to pay for every show," Cerf says. "That doesn't mean we didn't want to get the absolutely greatest musicians we could. We did. Joe knew a lot of them, but we got people who played regularly on everything and then they would fill in."
The "basic band" consisted of "Joe [Raposo] playing piano and Bobby McCoy on trumpet. Bobby Cranshaw, one of the great bass players in the country, played on the show for maybe 40 years. He was a regular Saturday Night Live bass player too," Cerf says. "An important element was the music supervisor, a guy named Danny Epstein, who was a brilliant percussionist, but also had an extremely dry, wicked sense of humor. It was hard to get anything by him. I could have done it 24 hours a day my whole life and I tried to be there as much as I could for that reason."
The show's sessions were fun, but "that doesn't mean there weren't tough ones or that people never got angry or anything like that," Cerf remembers. "In general it was just impossible to believe that anyone would pay you to be there. It was hysterical because the musicians were brilliant first of all, but Joe had an amazing sense of humor and the engineers did too."
The Muppet actors also brought their own energies and talents into the studio. "Jerry Nelson [the puppeteer best known for playing Count von Count] and Henson himself were very talented musically," Cerf says. "It was something else working with them. Whenever anything went wrong, they would just start ad-libbing. It was just magic. And everybody was kidding around. Not all the songs were meant to be funny, but a lot of them were. And we had a great time."
Moss played the lead instrument on the "Rubber Duckie" sessions. "Jeff played the duck on it," Cerf says. "He always good-naturedly insisted that no one else could play the duck as well as he could, so he always got to play it later on."
No other duck had that same sound.
The Rubber Duckie Sound
There are only 53 toys in the Toy Hall of Fame. The rubber duck is one. They've been making bath time fun since before the First World War. The first rubber duck was patented by Landon Smart Lawrence of Yonkers, N.Y., on May 8, 1928. Not only did his ducks float, they stood upright in the water while doing it. Sometime between World Wars, rubber gave way to plastic and vinyl.
We don't know who gave Ernie his first rubber duck, but the one that's currently on the show is not the original.
"It's hard to know what the original duck was because we didn't know what a great historical artifact it would become, but I do have a duck that was played on subsequent records," Cerf says. "It got harder and harder to get ducks like that as time went on. One, because there were white ones that looked just like it, but we couldn't find yellow ones. So when it was on TV, they had to dye them yellow…In later years, it became known that you shouldn't put the little squeakers in the duck because they come out and little kids could swallow them. So you had to build the squeaker into the duck if you wanted a squeaky duck. And if it was made of rubber, it just didn't sound as good."
Sesame Street now uses "molds made off of the original duck, because the material doesn't survive the decades," Jason Weber, creative supervisor at the Jim Henson Company, told The New York Times in 2019.
"It became very important to keep the ducks that made the original rubber duckie sound," Cerf says. Of course, this is all sort of tongue in cheek, but we took it seriously enough to try to use an original duck whenever we could."
Rubber Duckie Bounces Up the Charts
The song was issued as a single with the show's theme song as the flip side. "Columbia Records put out the first Sesame Street album and it was quite a sensation," Cerf says. "It was the first season and [Sesame Street] was on the cover of Time, and everybody was talking about it. So they decided to make a big deal of the album at the Record Manufacturers Association convention and arranged for hundreds of rubber duckies to be dropped from the ceiling in one exciting moment. That made a huge impact on the industry and persuaded some disc jockeys to start playing it. There was one out in California who played it a lot and that's how it began to make the charts instead of just being considered a kids' song."
The song hit number #16 on the Billboard Hot 100 on September 26, 1970. "It's an incredibly catchy tune," Cerf says. "It's very memorable. I think it's the only top 20 song that was sung by a puppet and not covered to have the hit. Ernie was actually in one of the books I have on one-hit wonders. They actually listed Ernie."
It was on the album The Sesame Street Book & Record, which won the Best Recording for Children Grammy in 1971, beating the song, which had also been nominated in the category.
The Architect of Rock n' Roll Takes a Bath
Little Richard performed the most recognizable cover of the song, which he played on a 1995 episode and on the Sesame Street album Splish Splash: Bath Time Fun. Cerf doesn't know if Little Richard asked to cover "Rubber Duckie" or if it was suggested to him. "But I know he was very happy playing it and he also on that same day played a song I wrote for him about the character Rosita. I tried to write it so that it was like 'Lucille' because it was a girl's name. And he knew that, but he would flatter me and asked me if I had any hints about how to play it. I idolized Little Richard as a teenager, so I said, 'I can't believe you're asking me how to play this and I won't tell you, you just do it.'"
Putting More Ducks in a Row
Cerf, who also wrote for National Lampoon from its very first issue, was close friends with that magazine's co-founder Henry Beard. During a Caribbean vacation Beard's stepdaughter Astrid Cravens "found out that there was a weird subgenre of reggae called 'rubber duck reggae,' and it was a hit on the island where we were," Cerf recalls. "And she said, 'You should do a rubber duck reggae song for Sesame Street.' So when I got back to New York, I told Norm Stiles, the head writer, about this and he said, 'Let's do it.'" As a result, Cerf wrote "Do de Rubber Duck."
"I don't know if it's really rubber duck reggae," says Cerf. "I'm not sure what differentiates rubber duck reggae from other kinds of reggae. But it was very popular on the show."
Cerf says it's not hard to write a follow-up to a song. "I like to have an idea of something that somebody wants or needs before I start," he says. "If you said to me, go write a song about anything you want, I might just sit there and stare at the piano for an hour and not get any ideas. But if I know I have to write a reggae song about a duck, I know exactly what to do. So I think, for me it's not hard to write up a specific subject, including a follow-up and parodies are always fun for me to do."
Cerf's next dip into his buoyant muse, "Put Down the Duckie" wasn't a follow up by strict definition. "It wasn't like we were trying to redo "Rubber Duckie" all the time," Cerf says. "Almost everything on Sesame Street is research-driven and it's designed to teach something in our curriculum. The research people asked us to write a song about the problem of sometimes if you want to do something you need to put something else aside so that you can concentrate on it."
The song came to life when he and Stiles "we were out to lunch [and] probably had a glass of wine or two by the time that idea came along. I realized that the duck squeaked as well as the saxophone would squeak if you played it wrong, which led to many lyrics and before you know it we had a song."
The Legacy of "Rubber Duckie"
Sesame Street uses "music to teach, we also teach about music," Truglio says. "We also teach about the fundamental components of music. When you think about tempo, and pitch, and dynamics, and literacy too, it's rhyming, and vocabulary words. But we also love music for music's sake. We want to make sure children get exposed to a wide array of music." After finishing up the celebration of its 50th season, "Sesame Street continues to be an experiment. It's constantly changing and evolving based on the media landscape, but more importantly, based on the needs of kids today."
Warner Music Group's Arts Music now has a deep catalog of Sesame Street recordings across digital streaming and download platforms available, along with brand-new compilation titles on CD and vinyl formats.
But all the way back in 1969, Cerf was working at Random House's kids' books division, and knew Moss and Raposo when Sesame Street premiered. "Once I saw it and saw the Muppets, I said, 'I've got to be involved in this, if there's any way," he says. "It turned out they wanted someone to help start their Broken Record division. When I got here, Danny Epstein, the music supervisor, said 'Don't quit your day job, it's TV. Random House will be there for years and we may be just a year.' I think Danny was wrong."