Sponsored
Link Tank: Stream Godzilla, Ghostbusters Doc, Salvage Marines And More For Free on Popcornflix
Exciting titles you can stream on Popcornflix, Andrew Garfield comments on method acting, House of the Dragon breaks records, and more in Link Tank!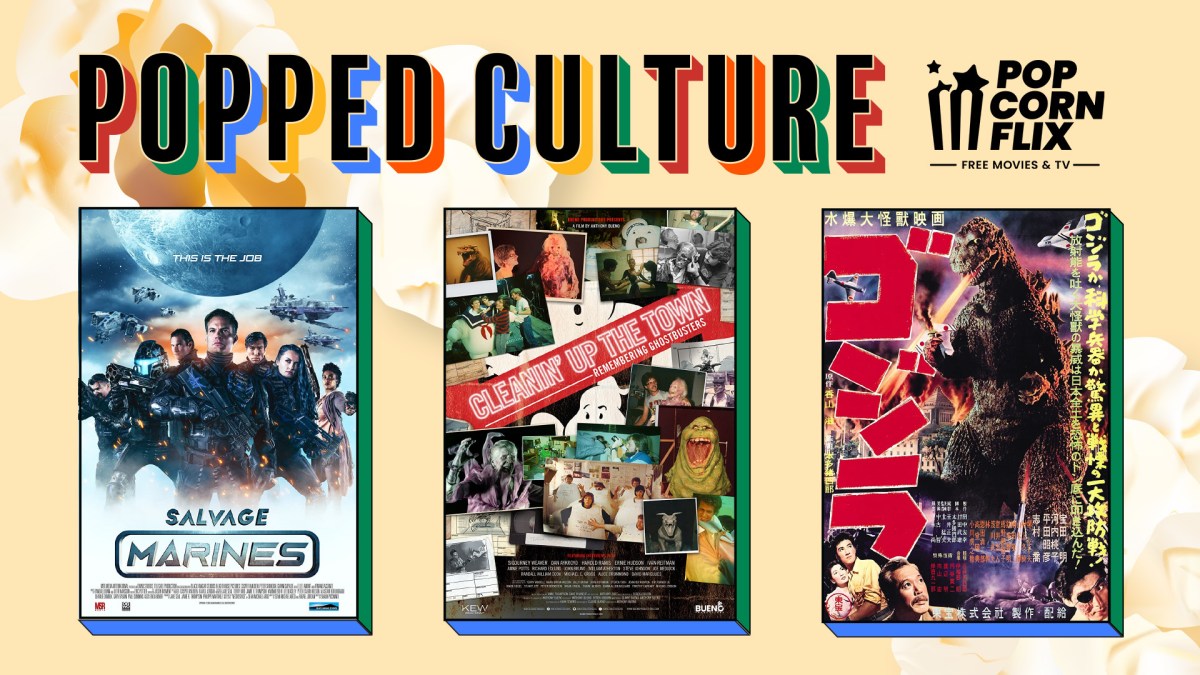 Check out our new series, Popped Culture, in partnership with the free streaming services Popcornflix and Crackle!
In episode 1, Den of Geek host Aaron Sagers chats with Cracke's Chris Woosley about three titles in the "Den of Geek Dozen" tray which lives on Popcornflix this month. Watch the episode below!
Streaming Links:
Spider-Man star Andrew Garfield wants to clear some things up about method acting.
"Method acting has become something of a plague on the acting community, if you will—meaning that it leaves everyone with a bad feeling in the pit of their stomach when they hear the term, and actors are forced to put their opinions on the technique out into the world. Lately, that's been largely thanks to horror stories of Jared Leto's behavior on sets. He's not alone. There are plenty of actors who have given 'Method' acting a bad name, and we've moved far away from the technique's origins and what it actually stands for."
Ahead of the release of the long-awaited sequel, Avatar will be rereleased in theater remastered in 4K.
"Audiences have been waiting so long to see a sequel to James Cameron's Avatar that time has looped back around on itself and the original film is coming out again. After over a decade of prep and production, that sequel, Avatar: The Way of Water, is finally coming out December 16. Despite its predecessor being the highest grossing film in history, at almost $3 billion worldwide, Fox and its new owners Disney feel moviegoers need a refresher (probably a good idea, actually). That's why the original 2009 mega hit is coming back to theaters for two weeks starting September 23 and a new trailer for the old movie is here. Which, normally, we'd ignore but damned if this still isn't a great trailer."
Kenny Loggins, the king of movie soundtracks, recalls his memories working on Top Gun, Footloose, and more.
"Few artists that can challenge Kenny Loggins for the (admittedly unofficial) title of King Of The Movie Soundtrack—in the 1980s, anyway. Loggins delivered chart-topping songs for Caddyshack, Footloose, and Top Gun, and even films that have not aged so well, like Over The Top, and Caddyshack II. Even for the films that have not endured as vividly, songs like 'I'm Alright,' 'Footloose,' 'Playing With The Boys,' and 'Nobody's Fool' have become bona fide standards of the era, immediately evoking memories for moviegoers that linger long far beyond the boundaries of the screen."
House of the Dragon ended up being the largest premiere in the history of HBO Max, bringing in nearly 10 million viewers this past Sunday night.
"After months of anticipation, HBO officially aired the first episode of Game of Thrones spinoff House of the Dragon on Sunday night. Despite some technical issues with fans watching through Amazon Fire Stick, the network reports that the series premiere was its biggest of all time, recording 9.986 million viewers across linear airings and HBO Max streams on opening night in the US alone. HBO notes that the Sunday night viewership numbers typically represent 20 to 40 percent of the gross audience, leaving room for bigger totals to come."
Have you ever wondered what the audition process for Breaking Bad was like? You can now watch the iconic actors' original tapes before getting their beloved roles.
"If the final episodes of the Bob Odenkirk-led Better Call Saul have you feeling nostalgic for its Albuquerque crime-saga predecessor Breaking Bad, it might be time for a rewatch. Both Saul and Breaking Bad have been hailed as some of the best television of any era, with high school chemistry teacher Walter White disappearing into the abyss of New Mexico's meth scene as he tries to provide a financially secure future for his family after being diagnosed with lung cancer."