News
Link Tank: Namor Actor Tenoch Huerta Had to Learn to Swim for Black Panther: Wakanda Forever
The King of Atlantis had to learn how to swim, the key locations in The Rings of Power, Trolli has partnered with Halo for new gummies, and more in Link Tank!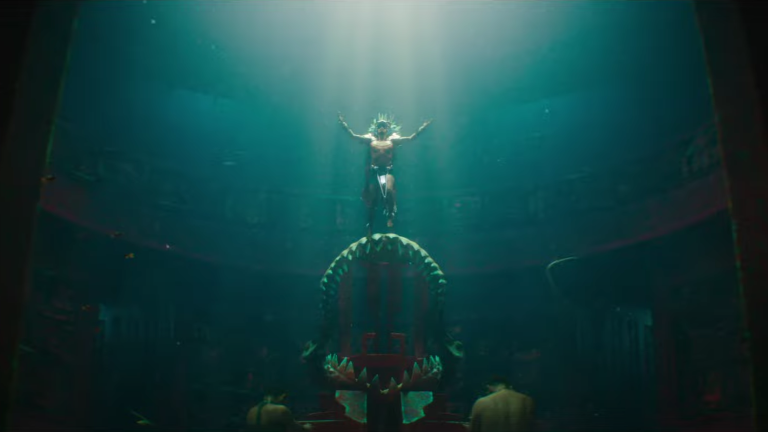 In a strange turn of events, a Marvel artist has publically body-shamed a Black Panther: Wakanda Forever actor in a disgusting online post.
"Marvel artist, Mike Deodato, is being slammed after he publicly body-shamed Black Panther: Wakanda Forever star, Tenoch Huerta, on Twitter. Huerta is best known for starring in Spectre, The Forever Purge, and Narcos: Mexico. During San Diego Comic-Con 2022, it was revealed that Huerta had joined the cast of Black Panther: Wakanda Forever and would be portraying Namor (a.k.a. Sub-Mariner). Often referred to as "Marvel's First Mutant," Namor is a prevalent character in numerous Marvel storylines and has worked with the likes of the Avengers, Illuminati, X-Men, and Fantastic Four over the years.?
Speaking of Namor's actor from Wakanda Forever, Tenoch Huerta admits he didn't even know how to swim before being cast as the King of Atlantis.
"In an excellent new feature interview with Spanish-language publication Life and Style, Tenoch Huerta admits that when Ryan Coogler offered him the part of Namor in Black Panther sequel Wakanda Forever, he didn't know how to swim—a key skill for the ruler of Atlantis. When asked whether or not he could, 'I replied that I had never drowned and went back to my managers.' Regardless of whether or not swimming was a factor, he knew that if he said he didn't know how to swim he might not be given the part. So he just went with it."
Have you ever wanted some Halo-inspired gummies? Well, today's your lucky day, because Trolli has partnered with the video game to bring you some delicious treats!
"On the heels of celebrating Xbox's 20th anniversary, Trolli continues its legacy of amplifying the gaming experience by revealing an epic colab with Halo Infinite, the latest addition to the Halo universe. Trolli, the sour gummi brand known for shining its neon light into the gaming world, and Halo are debuting an exclusive, collectable series of four limited-edition Halo Infinite packs."
Before you start streaming The Lord of the Rings: The Rings of Power, here are some key Middle Earth locations you should familiarize yourself with.
"This week, The Lord Of The Rings: The Rings Of Power will finally take us back to the Second Age, the era before The Lord of the Rings trilogy, and bring with it a new live-action version of the Middle-earth landscape. Though we're talking about the same continent and many of the same creatures, the Middle-earth of the series is, politically and sometimes even geographically, very different from the one fans know from Peter Jackson's films. So, before you dig into the two-part series premiere, we've put together a handy guide to some of the most important locations in Middle-earth (and beyond) during the Second Age, because there's nothing worse than confusing your Eregions and your Rhovanions."
Do you want to own every video game console ever made? Well, you can now, for a pretty penny.
"While many a collector can claim to have any number of rare video games and memorabilia, few, if any, actually own a majority of every console variation manufactured in the last 50 years. But that's exactly what one France-based collector has just put up for auction, some 2,400 different consoles—from standard-issue to special editions to variations never officially for sale—for the cool asking price of €984,000, or around a million U.S. dollars."
From Our Partners
Sneak Energy Drinks are the perfect boost for not just gaming, but also for all your general good life vibes as well. We put together a gamer's guide to the best Sneak Energy products.
"Sneak was founded in 2018 by experienced consumer entrepreneurs Will Peirce and Jonny Teeling and since their launch, the brand has sold over 20 million energy drinks worldwide. Their low-calorie, zero sugar energy drink is available in powdered formula and is packed with vitamins, minerals and amino acids to heighten your reaction times and keep you focused. You'll never get surprised by that enemy camping in the corner of your Call of Duty Map ever again!"