News
Link Tank: LEGO Reveals New Winter-Themed Alpine Cabin
Check out the latest LEGO set in the Winter Village collection and more in Link Tank!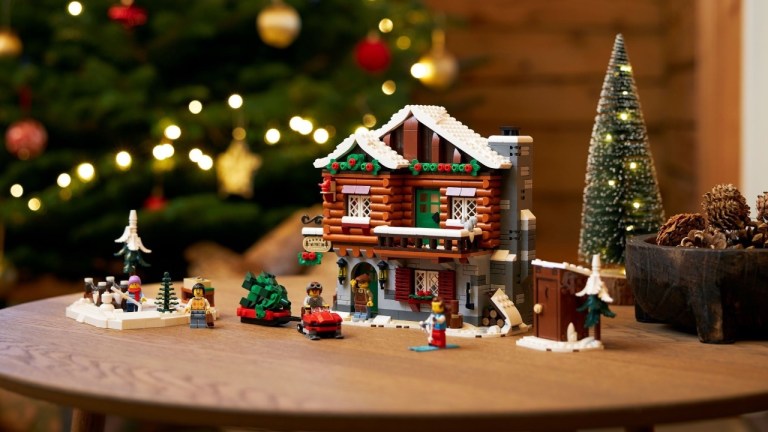 LEGO revealed their annual Winter Village set today, a beautiful Alpine-inspired log cabin inn with fantastic parts usage designed to create a wooden aesthetic.
"Today the LEGO Group reveals the Alpine Lodge set, the perfect display set for the holiday season. A captivating addition to the holiday season that represents the essence of a quaint and whimsical winter wonderland, the Alpine Lodge is the latest addition to the Winter Village Collection. This 1,517-piece set is packed with a host of wonderful features, the main being the snowy lodge with warm interior including a bar offering hot drinks, a cosy seating space in front of the fireplace, and a little Christmas tree."
Rollacrit announces new kickstarter campaign to bring back a classic, fan-favorite bag, new and improved, for your next quest.
"A long time ago, in a previous life, there was the original Bag of Holding which pop culture fans loved and carried to conventions all over the world to hold their swag. However, as time passed, these bags started to be riddled with tape and broken zippers. But gaming lifestyle brand, Rollacrit, (made up of ex-ThinkGeek employees) decided too many years have passed and it was time to bring back a new Bag of Holding for the 2020s – bigger, stronger, customizable and more 'holdier' than any of its predecessors. Now from the minds that brought you the original Bag of Holding, a new Kickstarter campaign launched today, September 5th 2023, adding another exciting chapter in Rollacrit's company history. The bag base tier is $125.00 for those pledging on Kickstarter during its campaign (expected retail is $175)."
Oscar season is upon us, which means it's time to narrow down what films have a legit shot at winning Best Picture.
"Now that the big film festivals in Toronto, Telluride and Venice are all wrapped up, it's time to start getting an early read on race for best picture at the 2024 Academy Awards. The caveat, of course, is that nobody really knows how this year's awards season will play out, given the ongoing strikes by writers and actors. While this has been a difficult year for the industry, that doesn't mean there aren't plenty of worthy films in the mix for this year's Oscars."
Did some of the best-looking Pokémon cards just get revealed?
"For the first time since the switch to the new era of Pokémon TCG, it's all about Charizards again. With next week's release of Obsidian Flames, players and collectors will once again be making a very big fuss about the cuddly orange dragon, with three different 'Zards to collect in the set. But that's not all that's interesting in this poor set that's due to be immediately overshadowed by Pokémon 151 in September—there are some absolute classics in here that can't breathe fire at all."
Did you create a Hulu account for the first time? Here are some of the best shows you can stream right now.
"Although it's packed with plenty of movies, Hulu has built an incredible reputation for showcasing terrific original shows, plus hits you may have missed on FX and other titles you might not have caught elsewhere. Check out this rundown of the best TV shows on Hulu that are currently available for streaming."
Winning Time: The Rise of the Lakers Dynasty has been canceled prematurely on HBO, not letting the story get to seasons beyond 1984.
"HBO has officially cancelled Winning Time: The Rise of the Lakers Dynasty after only two seasons. The news was confirmed just moments after the season two finale aired, with series co-creator Max Borenstein verifying the reports on X. 'Not the ending that we had in mind. But nothing but gratitude and love,' he wrote on the platform. Meanwhile, director Salli Richardson took to Instagram to share a heartfelt thank you, 'When you give it everything you've got, you can have no regrets. I hope you enjoy the last episode of @winningtimehbo I am sure I will do many more hours of TV and hopefully many features in my future, but I can say that at this moment in time I am most proud of the work we did on this masterful show.'"