News
Link Tank: Goose the Cat Will Return in The Marvels
Goose the cat will return, orcs are practical again, exciting Star Trek-inspired Vertical Chess products, and more in Link Tank!
Fans at D23 got an exclusive look at the first footage from The Marvels, featuring a terrified Kamala Khan and the return of Goose the cat.
"Disney's D23 Expo Studio Showcase, which highlighted upcoming Marvel and Lucasfilm projects, gave D23 attendees our first glimpse of July 2023's The Marvels. This sequel to Captain Marvel, which stars Brie Larson as Carol Danvers, Teyonah Parris as Monica Rambeau, and Iman Vellani as Kamala Khan, will revolve around the three superheroes discovering that they can use their powers to switch places with each other."
Star Wars fans saw the return of Obi-Wan Kenobi on Disney+ this summer, and the recent making-of documentary revealed some fascinating facts from behind the scenes.
"Think of all the years fans were waiting for Ewan McGregor to return as Obi-Wan Kenobi. Think of all the thousands of times the actor was asked about it. This year, it finally happened. Obi-Wan Kenobi is now on Disney+ and thanks to a new documentary, fans can see what all those years of anticipation and uncertainty looked like in practice once the cameras started rolling."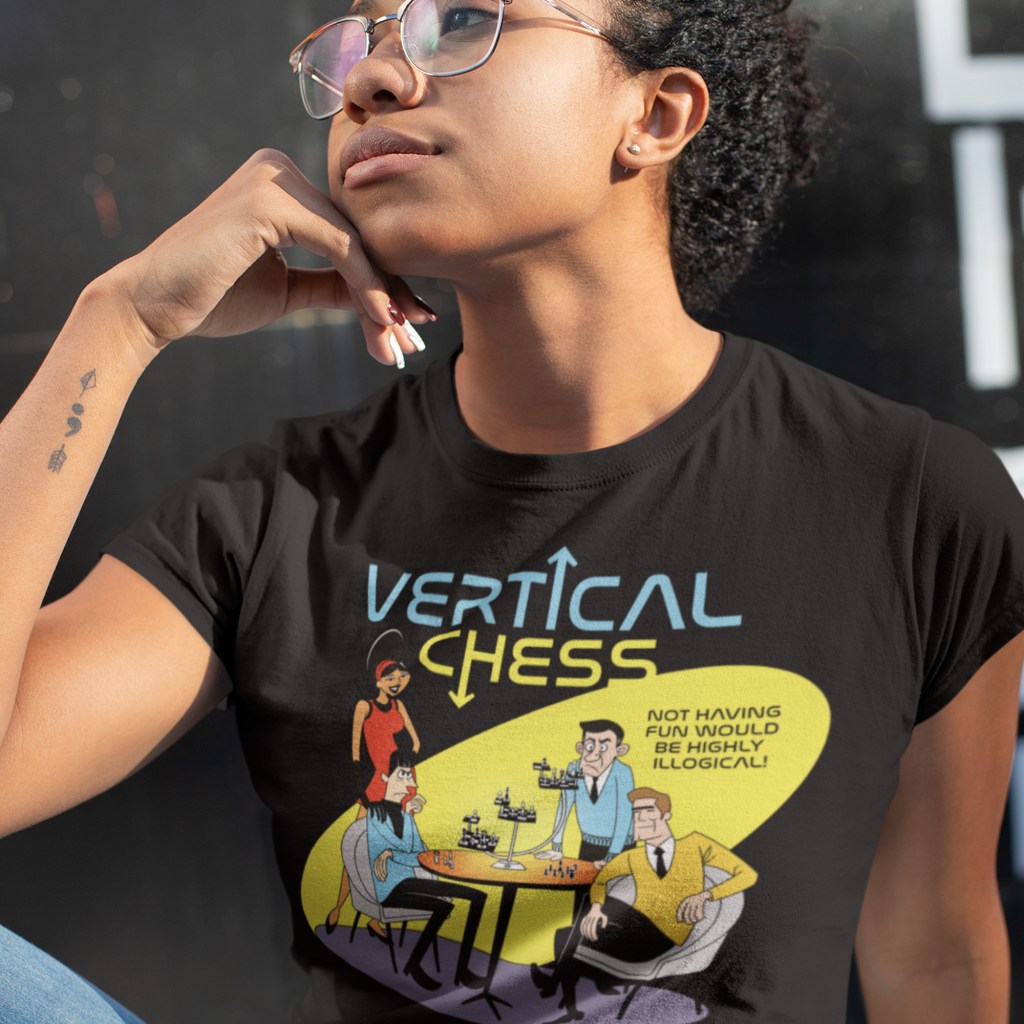 The gaming company Rollacrit is rolling out vintage 60's style artwork of a Trek-inspired Vertical Chess set.
"Chess… the vertical frontier. This is the game so enjoyable that not having fun would be highly illogical. Its weekly mission: to explore new ways of playing chess. To seek out new ways of making friends (and enemies). To boldly play chess in a completely new way! Available as a men's and women's T-shirt, mug and poster."
After settling for iffy CGI orcs in The Hobbit trilogy, The Lord of the Rings: The Rings of Power brings back the practical makeup for the menacing creatures.
Danny DeVito confirmed another season of It's Always Sunny in Philadelphia will begin shooting this winter; however, it is still unknown if this is the show's final run.
"Charlie Day said in an appearance on the Smartless podcast earlier this year that he doesn't think It's Always Sunny In Philadelphia will run for much longer, teasing that season 16—the show had just finished airing its 15th season at the time—could be the show's last. Speaking with The A.V. Club recently, It's Always Sunny's Danny DeVito went a half-step further by teasing not only that a 16th season will happen, but that it will begin filming within a few months."
Longtime Marvel star Don Cheadle confirms his contract with the studio will run out after Armor Wars.
"Don Cheadle joined the MCU back in 2010 when he replaced Terrence Howard as Colonel James Rhodes in Iron Man 2. Since then, he has reprised his character, better known as 'War Machine,' across seven different films and one TV show within the Marvel realm."