News
Link Tank: G Fuel Enters the Spider-Verse With All New Energy Drink Collection
Discover an all-new energy drink from G Fuel that'll get your spidey senses tingling and more in Link Tank!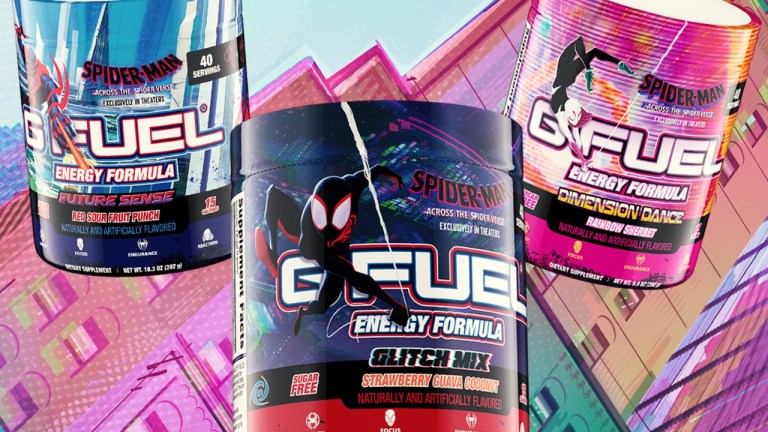 G FUEL's entering the Spider-Verse in a big way this summer with an all-new energy drink collection inspired by Sony Pictures Animation's Spider-Man: Across the Spider-Verse, now in theaters.

"Miles Morales' signature flavor, G FUEL Glitch Mix, is an appropriately artistic blend of strawberry, guava and coconut that any hero in the Spider-Verse is sure to enjoy. Fans can pick up 16 oz cans of Glitch Mix right now at GNC and The Vitamin Shoppe stores – each with retailer-exclusive character artwork! G FUEL Glitch Mix Cans feature 140 mg of caffeine, plant-based ingredients, zero sugar, zero calories, zero artificial colors, plus vitamins and antioxidants to keep you in the swing of things in this or any other universe! It's basically a Cheat Code in a Can!"

Use CODE STANDOM to save 25% off your order for a limited time only
After the grind of making a TV show, Tom Holland announces he'll be taking a break from acting for the next year or so.
"Ahead of the debut of his latest project, The Crowded Room, Tom Holland announced that he will be taking a year-long break from acting. The news may be surprising to some, considering that fans were getting excited to see the actor spread his wings after the end of the Spider-Man trilogy."
Classic Disney fans rejoice! LEGO is making a set from Hocus Pocus to celebrate the 30th anniversary of the spooky flick.
"Today the LEGO Group revealed a set bound to leave you spellbound– the LEGO Ideas Disney Hocus Pocus: The Sanderson Sisters' Cottage set. Based on the iconic cottage from the 1993 hit blockbuster, the bewitching story has come back to life once more, revealing all the magical events that happened in the Sanderson home, now in brick form."
Despite the popularity of her character at an all-time high, Marvel actress Elizabeth Olsen doesn't sound like she'd be too upset if she never appeared in another MCU flick.
"Even if you like the Marvel movies (a perfectly valid opinion, and don't let anyone bully you into thinking otherwise!), it can be a lot of fun when a longtime Marvel actor has finished putting in their time and no longer feels beholden to the Disney machine and can just be a real person who says whatever they want."
For the first time in over 20 years, the original 151 Pokémon will be released all together in a TCG set.
"On June 16, The Pokémon Company in Japan will finally release the enormously anticipated Pokémon Card 151 set of trading cards. The reason people are so excited? Well, in large part it's because this is the first time the original 151 Generation 1 Pokémon will be released together in a set in over two decades. Also, because it's set to feature some absolutely stunning, ridiculously collectible cards."
New images from Zack Snyder's upcoming film Rebel Moon tease a Star Wars-like universe.
"Netflix has officially unveiled the first look images of Zack Snyder's upcoming space epic. Headed to a completely new world, his new film Rebel Moon takes audiences on a journey to a far corner of the galaxy where a peaceful moon colony Veldt is forced to surrender their harvest to the militant Mother World."