Features
Across the Spider-Verse Ignores Spider-Punk's Weird History With Prowler and Spider-Man
The latest Spider-Verse adventure introduced Miles Morales to the Spider-Punk Hobie Brown, but readers of Spider-Man comics know Hobie by a different name.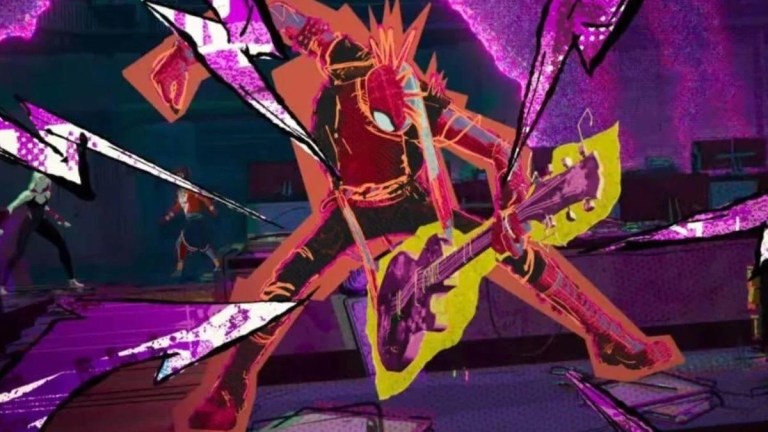 This post contains light spoilers for Spider-Man: Across the Spider-Verse
Among the many pleasures of the Spider-Man: Into the Spider-Verse was its celebration of all things Spider-Man. The 2018 film filled the screen with webheads, letting audiences delight in all of the variations of people and creatures who can do anything a spider can. Into the Spider-Verse made fast fans of Hailee Steinfeld's Gwen Stacy aka Ghost Spider and Nicolas Cage's tough-talking Spider-Man Noir. Across the Spider-Verse continues this tradition with Oscar Isaac as conflicted antagonist Spider-Man 2099, but the real breakout is the movie's loudest, rudest character: Spider-Punk.
Voiced by Daniel Kaluuya (in an accent closer to his native English), Spider-Punk is Hobie Brown, the Spider-Man of Earth-138. Draped in the trash aesthetic of 70s UK punk, Hobie battles against oppression with a commitment to anarchy and disruption. Spider-Verse directors Joaquim Dos Santos, Kemp Powers, and Justin K. Thompson visualize Hobie's world as one of clashing aesthetics, with scratches and spray paint over brutalist buildings and bold newsprint.
Spider-Punk has roots in the Spider-Verse, but in the comics before the movies. Created by Dan Slott and Olivier Coipel, Spider-Punk (or the Anarchic Spider-Man, as he prefers to be called) first appeared in 2014's Amazing Spider-Man #10 as a member of the Superior Spider-Army assembled by the Superior Spider-Man (Doctor Octopus's brain in Peter Parker's body, for those who have forgotten). Spider-Punk's rabble-rousing ways were instrumental to writing up the Spider-Army against the Inheritors, the vampiric race who fed on Spider-People. Later series went on to further develop Hobie's backstory, revealing him as a member of a loose configuration of Leftist heroes, including the flag-smashing Captain Anarchy.
Spider-Punk was an immediate hit from the Spider-Verse comics, standing out within a sea of interesting Spidies. But one of the most unique elements of Spider-Punk is his secret identity, a name very familiar to longtime Spider-Man readers.
Most viewers of Across the Spider-Verse know the Prowler as Aaron Davis, the wayward uncle of Miles Morales. He debuted in 2011's Ultimate Spider-Man #1, written by Brian Michael Bendis and drawn by Sarah Pichelli. In his first storyline, we learn that Uncle Aaron is responsible for his nephew's transformation, as the spider that bit Miles was stolen by the Prowler. Since that first story, Aaron has had a complicated relationship with Miles and the side of good, sometimes helping his nephew and sometimes returning to his criminal ways.
The multiverse-savvy reader may notice that while we've talked about the Hobie Brown of Earth-138 and the Prowler of Earth-1610, we haven't said anything about these characters in Earth-616, the mainline universe of Marvel Comics. And that's because in the 616, Hobie Brown is the Prowler, a character with a rich history of battles and alliances with Spider-Man. Across the Spider-Verse briefly acknowledges a connection between Spider-Punk and Donald Glover's version of Prowler, but only with Hobie saying he was the one to catch him; ignoring the two characters' strange history.
The Prowler first appeared in 1969's The Amazing Spider-Man #78, written by Stan Lee and drawn by John Buscema (an editorial box in the issue thanks the then 13-year-old John Romita Jr. for coming up with the idea, long before he would become a legendary penciler in his own right). A genius inventor who worked as a window washer, Hobie created the Prowler persona after watching Daredevil fight the infamously cheesy villain Stilt-Man. As the Prowler, Hobie committed crimes to fund his ideas, at least until Spider-Man put him on the straight and narrow.
As an ally, Hobie has helped out Peter Parker on a number of occasions, even impersonating Spider-Man when Pete needed to be in the same room as the webhead. But Hobie often found himself dragged back into the less reputable side of things, either as a reluctant criminal or as a member of Silver Sable's mercenary team, the Wild Pack. For a while, a broken back drove Hobie out of the costume game, only getting involved when Peter needed some advice or when a criminal pulled a Scott Lang and stole his suit. But after clone shenanigans (always remember: the Clone Saga walked so the Spider-Verse could run), Hobie returned to full mobility. Currently, Hobie has retired the Prowler identity and taken on the heroic moniker Hornet.
Over the years, Hobie has been a compelling foil for Peter Parker. Both of them oft-overlooked geniuses, both of them given to wall-crawling in kinda scary-looking suits, the two men have a lot in common. But Hobie has somehow had even worse luck than the famously hapless Parker, constantly finding himself haunted by his past. Hobie represents a different type of heroism, one similar and no less inspiring than that of Peter. Despite his many mistakes, Hobie keeps getting back up and fighting the good fight in his own way. Maybe he's not so different from his Earth-138 counterpart after all.