News
Link Tank: The Biggest Funko Announcements from Press & Investors Day
Discover what Funko has in store for the remainder of 2022 and moving into 2023!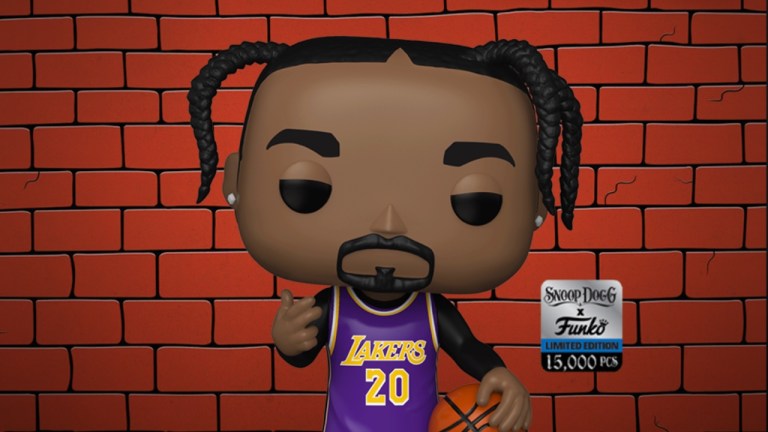 Den of Geek was on hand at Funko's Investor and Press Day on Tuesday in Manhattan. During the event, the collectibles company announced they are tapping into the consumable products business.
"Funky is branching into consumables with Pop! Candy in Q1 of 2023 with a special, see-through Pop! figure filled with colorful candy to hit fan's sweet spot, while also delivering a collectible item. In time for Easter, the first launch will include Freddy Funky and other IP, such as Care Bears."
Funko also announced they will begin producing a line of puzzles as well.
"Funko's first line of puzzles will arrive this holiday season from Funko Games, featuring fan-favorite pop culture characters like Elf (available in October), Avatar: The Last Airbender, and Teenage Mutant Ninja Turtles (November). The 500-piece puzzle will use vibrant quality materials and Pop! styled artwork featuring original illustrations inspired by popular properties."
Funko to enter multi-billion dollar video game market in collaboration with 10:10 games.
"Funko, Inc., a leading pop culture and lifestyle brand, announced its plans to enter the multi-billion dollar video game market during the company's Hall H-Pop! Talk panel on the final day of San Diego Comic-Con. Through Funko's collaboration with developer 10:10 Games, the companies' first co-production will be a AAA Action Platformer in 2023. Led by video game developer and five-time BAFTA award winner Jon Burton, 10:10 Games has gathered some of the industry's best creators to develop it."
In celebration of Funko's 25th Anniversary, the company is embarking on a cross-country tour to offer fans exclusive products and fun-filled experiences.
"Funko announced 'Fun on the Run,' a cross-country, carnival-like fan experience featuring an assortment of exclusive products in celebration of the pop culture company's 25th anniversary. The company is partnering with a major retailer for fun-filled activations by stopping in 25 locations across the country to offer an experience unlike any other for fans, beginning in June 2023."
Funko to open first retail experience in Snoop Dogg's 'Tha Dogg House.
"Funko today announced the anticipated grand opening its latest retail experience in "Tha Dogg House," the company's first co-branded retail experience in collaboration with legendary rapper, songwriter, media personality, actor and entrepreneur Snoop Dogg. 'Tha Dogg House' will be located next to Snoop Dogg's Clothing, a flagship clothing retail store, which is currently open and showcasing clothing, memorabilia and accessories from Snoop Dogg."
Read more about Snoop Dogg's 'Tha Dogg House here
Deeper Dive: What This Means For Funko Going Forward
We spoke with Dave Beré, Funko's Vice President of Brand & Marketing, about several of the company's key initiatives that were revealed during the Investor and Press Day.
Funko's new "Follow Your Fun" marketing campaign kicks off this Fall and Beré says the thought process behind it was to understand their fans from a collecting standpoint.
"This was really centered around understanding the broader pop culture pie and understanding what pop culture means to people. And through all that, we figured out a lot of the brand motivators. What is this connection that they have? Do find this fun? Do they rely on it for escape or nostalgia? So this idea of Follow Your Fund came from that. And it's really a call to action too. That's also something we haven't had that we wanted to be clear with our fans, that it is about you. It is about connecting you with this fun and we get to be a center point and show you the way."
One of the company's stated "pillars" during the presentation was expanding the global reach of Funko.
"It's such a huge opportunity," Beré says, "We've done such a great job in the AMEA market, but outside of that, our number three following on our social channels is Brazil. Our number two is Mexico. We do some marketing, we do some paid marketing down there, but we haven't engaged with them, those territories, like we've done in the U.S. So that's why Brazil is such a big deal for us to show up. We are partnering with our distributor in Brazil for that. But I think as we go forward, we're looking at Mexico, we're looking at Tokyo, we're looking at London and that's going to be a part of our strategy going forward. And what I get most excited about is that in-person piece."
Beré also talked through the customizable Funko POP! figures that are currently only available in their retail locations. Finally, that capability is coming online, which should delight fans.
"It really is the ultimate gift, he says. "Whether you want one for yourself or you can give one away, this idea of customization is something we've never been in and now we are. And I think it's one of the biggest opportunities we have in front of us going forward. It's really exciting."
You can watch the full Press Day presentation video (ft. Snoop Dogg) below!