Sponsored
LEGO: The Best Pop Culture Sets To Buy For Holiday Season 2022
We look at the best LEGO sets featuring Star Wars, Marvel, Avatar, Super Mario and more!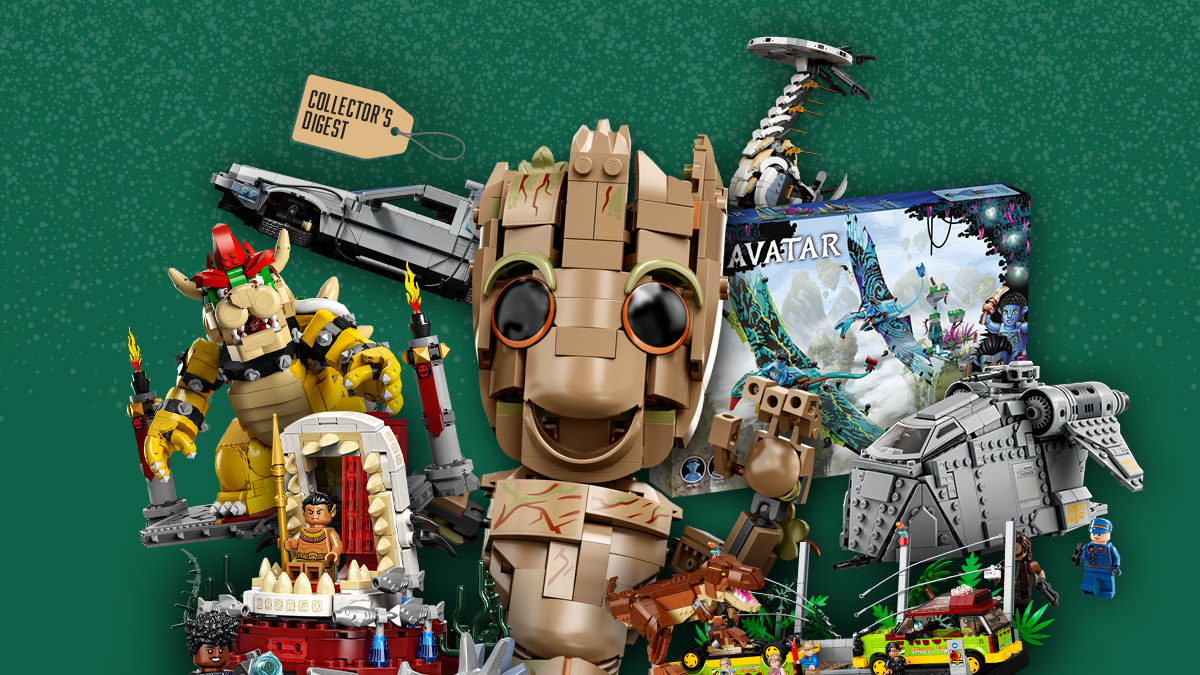 This article is sponsored by eBay. For more holiday gift ideas, visit our Collector's Digest Holiday Guide.
Are you in the mood for some brick-building fun this holiday season? Or are you perhaps searching for a last-second gift for someone based on today's most popular properties? If so, then you're in luck. We're here to break down the best LEGO set gift ideas for 2022, from themes ranging from Star Wars and Marvel to The Office, Back to the Future, and even Horizon that you can find at eBay at this very moment. Without further ado, let's begin!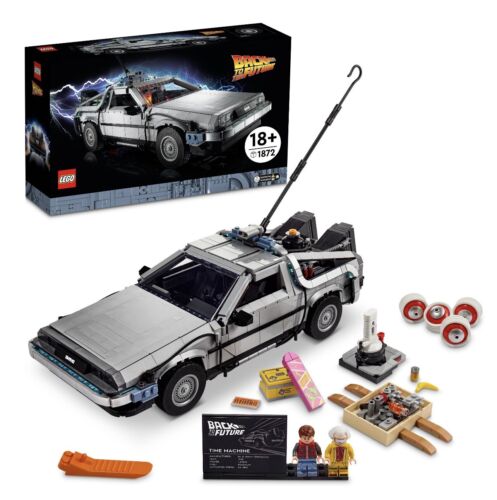 LEGO Back to the Future Time Machine (10300)
You built a (LEGO) time machine? Out of a DeLorean? Nearly ten years ago, LEGO made their first version of the DMC car from 1985's Back to the Future in a set that couldn't stay on shelves if it tried. Time travel almost a decade later, and a new, much more extensive version has been released, and despite the massive jump in piece count and price, LEGO still can't seem to make enough supply of this set to keep up with demand. You might have to pay a premium for this 1872-piece set this Holiday season, but having a piece of cinematic history fly into your LEGO display will be worth it.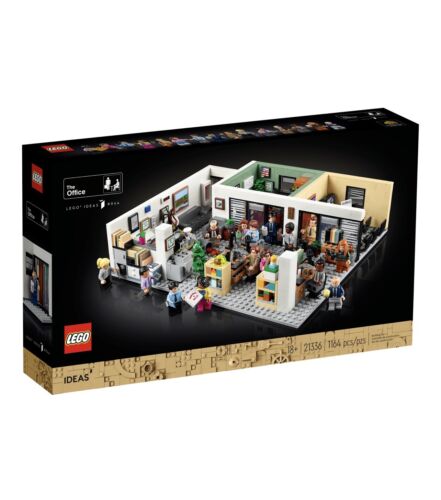 LEGO The Office (21336)
You know the show, you've probably binged it multiple times, and you're likely whistling the theme song while reading this; that's right, LEGO made of a set of the office from The Office. Complete with 15 (!!) minifigures, seven desks, the conference room, Michael Scott's office, and enough Easter eggs to fill a basket, this impeccable replica of the adored sitcom is one of the hottest LEGO sets of the year, and for good reasons.
LEGO Star Wars Ambush on Ferrix (75338)
This fall, Andor has taken the Star Wars universe by storm with its mature themes, grounded approach, and hyper-realism for the usually eccentric galaxy far, far away. With that in mind, you might think it wouldn't lend itself as well to toys, but LEGO has once again delivered another banger Star Wars set. Enter Ambush on Ferrix, capturing the chase scene from Andor episode 3, "Reckoning." The set includes the titular Cassian Andor and exclusive characters Luthen Rael and Syril Karn, battling with a deluxe speeder bike build and a fantastic design for the Mobile Tac-Pod. This compact yet dense Star Wars set should please any fan of the franchise.
Buy LEGO Star Wars Ambush on Ferrix on eBay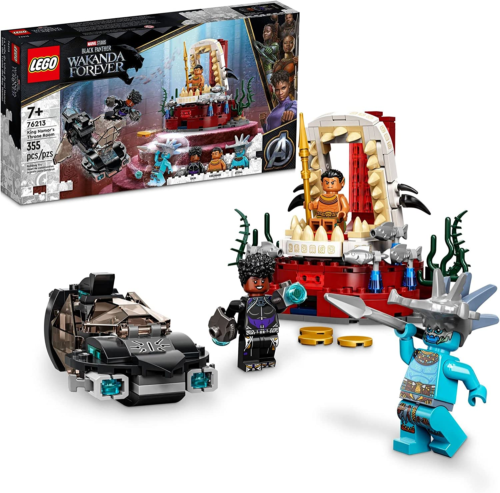 LEGO Black Panther: Wakanda Forever King Namor's Throne (76213)
Marvel Studios Black Panther: Wakanda Forever just hit theaters with fans and critics buzzing about returning to the world of Wakanda. The film also introduces an essential Marvel Comics character, Namor the Submariner, who appears on screen and in LEGO form for the first time. This affordable set includes a build of Namor's epic throne, made out of the jaw of a megalodon shark, and a small submarine built for Shuri, the new protagonist of the Black Panther franchise. If you're searching for a small set to tickle your Marvel fancy this Holiday season, this is the set for you.
Buy LEGO Black Panther: Wakanda Forever King Namor's Throne on eBay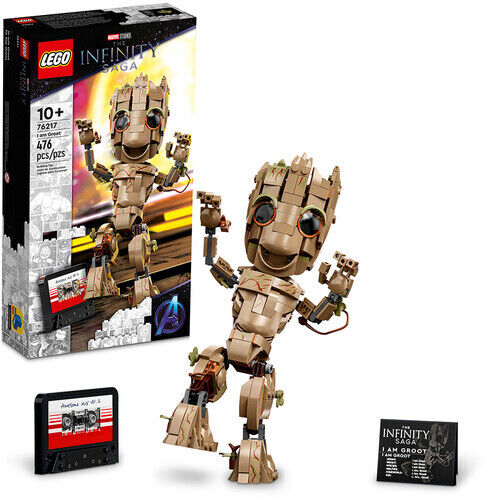 LEGO Marvel I Am Groot (76217)
Everyone's favorite bipedal tree was back in the spotlight this year with his very own series of shorts on Disney+ titled I Am Groot. And with The Guardians of the Galaxy Holiday Special alongside the third installment in the franchise, Vol. 3, on the horizon, Groot-mania might be back and better than ever. To capitalize on this, LEGO created a near 1:1 scale, adorable, 476-piece model of baby Groot himself. Complete with full articulation, immaculate detail, and even an accompanying Awesome Mixtape Vol. 2 for him to jam out to, this little guy will make an irresistible centerpiece for any Marvel collector.
Buy LEGO Marvel I Am Groot on eBay
LEGO Harry Potter The Shrieking Shack & Whomping Willow (76407)
It's been over a decade since the last Harry Potter film was released, but LEGO is still producing massive lines of magical sets from the Wizarding World each year. For the first time since 2004, LEGO made a set based on one of the most iconic locations from Harry Potter and the Prisoner of Azkaban: The Shrieking Shack. Expert-level attention to detail helps to capture the dilapidated aesthetic of the building, while an additional design of the Whomping Willow and even a little glow-in-the-dark moon piece help set the scene. Oh, and an array of minifigures are included as well, with characters such as Remus Lupin, Sirius Black, and Peter Pettigrew joining the fold with their animal counterparts also making an appearance.
Buy LEGO Harry Potter The Shrieking Shack & Whomping Willow on eBay
LEGO Jurassic Park T. rex Breakout (76956)
The Jurassic Park franchise supposedly ended this past summer with Jurassic World Dominion smashing into theaters for another billion dollars at bat. However, the most exciting dinosaur-based LEGO released in 2022 was actually based on the original Jurassic Park movie from 1993 rather than the most recent prehistoric outing. And with the 30th anniversary approaching next year, there's no better time to grab the LEGO T. rex Breakout, which sees one of the most iconic scenes in creature-feature history re-created with over 1,200 LEGO bricks. Also, who doesn't want a minifigure of Jeff Goldblum?
LEGO Super Mario The Mighty Bowser (71411)
Before Jack Black voices him on the big screen this coming April, you can build your own LEGO Bowser with nearly 3,000 pieces! LEGO Super Mario is in its third year, and the partnership of the two beloved brands has yielded some beautiful sets, but none quite as impressive as The Might Bowser. Featuring a fully-detailed shell, puppet-like playability, and even a fireball launcher from his mouth, this depiction of King Koopa is one of the most imposing and satisfying LEGO video game builds yet.
Buy LEGO Super Mario The Might Bowser on eBay
LEGO Horizon Forbidden West Tallneck (76989)
Speaking of LEGO sets based on video games, the group partnered with Sony and PlayStation this summer to make a set from the popular open-world science fiction game Horizon Forbidden West. LEGO constructed an impressive and sizable build of the Tallneck, one of the game's most recognizable creatures. The over 1,200-piece design features a detailed display stand, immaculate characterics of the in-game beast, and a minifigure Aloy, the main protagonist of the post-apocalyptic franchise.
Buy LEGO Horizon Forbidden West Tallneck on eBay
LEGO Avatar Jake & Neytiri's First Banshee Flight (75572)
For the first time in 13 years, audiences will get to return to Pandora on the big screen in the long-awaited sequel, Avatar: The Way of Water. And while LEGO will be producing an exciting line of sets based on the new film, fans will have to wait until January 1, 2023, to get their hands on those. But there's no need to worry! In preparation for the new movie, LEGO made a wave of products inspired by its predecessor, including a re-creation of perhaps the most iconic scene from Avatar, Jake and Neytiri's first flight on the Banshees. This 572-piece LEGO set colorfully captures the magic of that moment and is the perfect gift for anyone looking to begin a LEGO Avatar journey.
Buy LEGO Avatar Jake and Neytiri's First Banshee Flight on eBay