Features
Legendary Pink Floyd Mythology Finally Confirmed in New Documentary
A new documentary about Pink Floyd founder Syd Barrett sheds new light on a legendary moment from the band's history, and one of their biggest hits.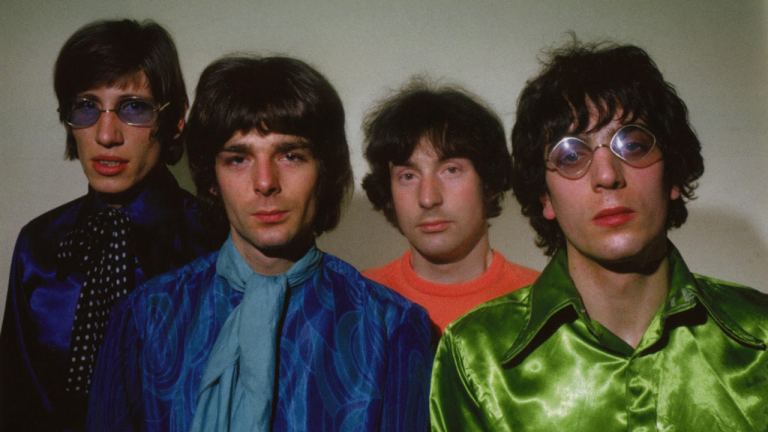 Pink Floyd is best known as the band whose Dark Side of the Moon broke all records as the longest charting album in rock music history. Dozens of their songs are classic rock staples, the feature length film of their rock opera The Wall is a cult classic, and their sound is as instantly recognizable as their enigmatic back story. Have You Got It Yet? The Story of Syd Barrett and Pink Floyd is co-directed by Roddy Bogawa, the filmmaker behind Taken by Storm: The Art of Storm Thorgerson and Hipgnosis, and Storm Thorgerson, a Pink Floyd intimate who started the graphic arts team which illustrated the band's most iconic album covers. But the band's founder and guiding light, Syd Barrett, dimmed in the glare of the spotlight, leaving the group after their second album, long before they achieved the stratospheric success their later work would bring. The feature length documentary attempts to polish the rougher spots. During the filming, Bogawa uncovered a true gem.
Barrett's unannounced June 5, 1975, visit to Abbey Road Studios during the "Shine on You Crazy Diamond" recording session remains a large part of the Pink Floyd mythology. The band was on the tail end of recording their ninth studio album Wish You Were Here, working on the final mix of the song they'd written to the musician history has deemed broken by psychedelic excess. The coincidence seems improbable, but all in a day's work for Pink Floyd. There is, however, photographic evidence which subverts much of the accepted narrative. It can only be seen in Have You Got It Yet?.
"We've got some images of Syd that no one's ever seen, in the film, from that 'Shine on' session," Bogawa tells Den of Geek. "There's only been one or two images that have been around." The exclusive photos found in the film are a stark contrast to the two which leaked from the session.
Available images which capture the band's founder along with Roger Waters, Dave Gilmour, Richard Wright, and Nick Mason appear to show the spent shell of a former genius. Barrett's head and eyebrows are shaved, and he put on weight. "That's the one that's always been reproduced. I didn't use it in the film because I think he's playacting," Bogawa says. "He's sticking his stomach out, turning to emphasize it. When I look at that, I think he's doing it to be funny. One of the things that comes up a lot is that he was more aware of everything around him [than is written]."
Bogawa wanted to debunk and confirm the many misconceptions surrounding Pink Floyd. Some myths persist because audiences are guided by what they hope to be true, others are the perceptions forced on Syd by people who knew fragments of a larger story. The extent of Barrett's mental breakdown is as open to interpretation as the lyrics of his songs.
"It's a big question," Bogawa admits. "One key was a catalog of the things sold from his house when Syd died. He had artist easels and tables where he hammered on extensions to make them taller. One of the stories repeated in every book and film is some neighbor saying 'I would hear him banging his head on the wall in the middle of night and screaming like a dog.' When I saw the pictures from his house, I thought 'hang on, he was building stuff.'"
The singer, songwriter, and guitarist was also a naturally gifted painter known by his given name Roger Barrett. He returned to the visual arts after the combination of mind-expanding chemicals mixed badly with the demands of growing fame. The accepted narrative is Syd was a recluse living in a dingy apartment in Chelsea, West London, for years after Gilmour moved from second guitarist to the group's lone guitarist in 1968. Barrett may have quit Pink Floyd, but hadn't truly abandoned his musical career, and the other members of the band pushed him to keep up a pop artist's pace in his experimental solo work.
"When I look at the timeline, the fact that he did Madcap Laughs and Barrett in the same year, how compressed the amount of music that happened, it's astonishing," Bogawa says. "He made two full LPs in the same year. There's not a lot of bands that do that."
Released on March 1, 1973, Dark Side of the Moon landed Pink Floyd in a new stratosphere. While looking for direction to a follow-up, the musicians revived an earlier conceptual project using unconventional instruments for an album to be called "Household Objects." Beginning in December 1973, the band assembled at Abbey Road Studios only to retain one usable audio snippet after eight weeks of sessions: a sustained note produced by gliding a finger over the edge of a wine glass. It is the first sound we hear on "Shine on You Crazy Diamond." Waters ditched work on "Raving and Drooling" and "You Gotta Be Crazy," and suggested the song open and close the album. He would write new material to fill the empty spaces left by the ever-present absence of Barrett.
In 1974, the former-cult band went back on the road as headliners. Pink Floyd premiered an early version of "Shine On You Crazy Diamond" live in June 1974. The song has never been released as a single, but can easily be mistaken as their biggest hit. It is recognizable and representative of the group as a whole. Broken up into nine parts over 26 minutes, "Shine on You Crazy Diamond" bookends and propels Wish You Were Here.
The "seer of visions, raver, painter, piper, and prisoner" imagery captures the band's collective recollection of the former bandmate. "It's still very strong, this moment of sadness for them that they hadn't seen their friend for so long," Bogawa explains. "That was my idea to have Roger[Waters] recite the lyrics to 'Shine On' in the film. I was a little bit scared to ask him that, but he was great."
Written by Gilmour, Waters, and Wright, "Shine On You Crazy Diamond" is an epic. The overture is cinematic, the instantly recognizable four-note guitar figure is a moving camera. The chord progression digs into blues roots for aural storytelling. Barrett was the group leader who fused little-known blues artists Pink Anderson and Floyd "Dipper Boy" Council into a band name, and led the unit into a prog-rock psychedelic sonic boom. Gilmour's guitar captures ascending aspirations, while Waters' descending bassline mourns unfulfilled promises. The progressions' fourths and sixths transcend genres as much as Wright's Minimoog and string synthesizers bend time. His closing solo floats over a passing wave of Pink Floyd's 1967 single "See Emily Play."
The nod to the early hit may have dissolved into the background whirl of reel-to-reel rewind when Barrett shuffled into Abbey Road studios. The band was assembled in the EMI control booth, putting the final touches on the final mix of the song they'd written about him.
"That is a key emotional touchstone moment for all of them," Bogawa says. "I can't imagine doing the song about your long-lost friend, and he just pops in. Roger says a lot of the details rely on memories which could be false memories. Storm told me Syd said 'can I put some guitar down on the track?' I didn't want to put stuff in the movie that couldn't be confirmed. There's so much hearsay around it."
Legends loom large, and Syd did initially go unrecognized. Waters admittedly openly wept when Barrett left. "Certainly, they were all emotionally affected by that," Bogawa says. "They were shocked for sure."
But do the Polaroid snapshots crystallize a cultural drug casualty or a mosaic of an artist's playful self-deprecating humor? We don't see "black holes in the sky" when looking in Syd's eyes. We glimpse the composer of the song "Bike," a curious and eager visitor to a room full of musical tunes. The image is exclusive to Bogawa's film, but he borrowed it.
"Phil Taylor, who's David Gilmour's guitar tech, was the Pink Floyd tour manager at the time," Bogawa says. "He had been given a camera by the band, and was just learning how to use it. He had all these pictures he had taken that no one had seen. It took a lot of phone calls and emails with Phil. He was very generous in the end. He said, 'Roddy, this is the one. I've been sitting on these images since 1975 thinking I might do something with them.' He gave us four or five pictures. I made a promise I wouldn't use all of them. He's got a few more."
Eyewitnesses may have mixed memories of the return of the guitar experimentalist to the prodigal pop rock mecca, "But the fact that he showed up while they were doing that song, it's just unbelievably uncanny," Bogawa says. "It's amazing. He's there listening to the playback of that. And, like you said, it's a mythology."
Universal Music Group's content studio Mercury Studios will release Have You Got It Yet? The Story Of Syd Barrett And Pink Floyd in theaters on July 14 in New York and in LA on July 21. It will be distributed globally by Abramorama.