Features
King of Trios: The History of CHIKARA's Epic Wrestling Event
As CHIKARA Pro gets ready for King of Trios 2018, we look back at the ridiculous indie wrestling tournament through the years.
Indie wrestling staple CHIKARA Pro Wrestling has been kicking around for sixteen years. Rather than being full-formed, a lot of their big puzzle pieces came gradually over time. While they started in 2002, they didn't introduce their tag titles until 2006 and didn't have their Grand Championship until the end of 2011. Similarly, it wasn't until 2007 that Mike Quackenbush's bizarre wrestleparty let loose with King of Trios, the company's biggest event of the year.
Originally, CHIKARA would do a tag tournament called Tag World Grand Prix, happening in 2003, 2005, and 2006, where they mixed their own talents with guest wrestlers from other promotions and countries. The first installment was finished over the course of several weeks while the other two took place over three days. They even used the 2006 tournament to crown their first tag champs.
But in 2007, the idea would take a step further. While Tag World Grand Prix would continue to show up at CHIKARA shows here and there every now and then, it would never be treated as their premiere event.
CHIKARA has their own streaming service called CHIKARAtopia and when people ask me if it's worth it, all I have to do is cite King of Trios, which always delivers in one way or another.
Here's a look at the three-day tournament throughout the years. I'm going to get into some spoiler territory, but I'm going to try not to spoil tournament winners or even finalists. You know, unlike CHIKARA did for King of Trios 2007. Ahem.
 KING OF TRIOS 2007
February 16-18
The first year of King of Trios came at the very beginning of the CHIKARA 2007 season. CHIKARA bases their storylines around seasons and 2006 ended with the seemingly-unstoppable team of Claudio Castagnoli and Chris Hero losing their tag titles to their protégés FIST (Icarus and Gran Akuma). Hero and FIST beat down Claudio (otherwise known as Cesaro), who was on his way to WWE. Unfortunately, this first attempt to join the WWE roster ended before it could begin and they let him go.
For the first three years, King of Trios was mostly hands-off when it came to storylines due to happening so early in the season. It also took a couple years for them to really figure out the structure of the tournament. In the first year, the sixteen teams of three would be split into two brackets. Night One would feature one bracket's opening bouts and quarterfinals while wrestlers from the other brackets or people unaffiliated with the tournament would have exhibition matches throughout the show. Night Two would feature the same from the opposite bracket.
Then you have Night Three, where you'd have the semifinals and finals. Mixed in with all the random bouts to pad out the show (including a bewildering match where a guy in a bulky Mokujin costume fought a robot mummy to the death) was the Tag Gauntlet, a tradition of King of Trios' third nights. A perfect showcase for all the talent eliminated from the tournament with nothing to do.
THE TEAMS
With King of Trios teams, you get the in-house CHIKARA guys, the CHIKARA semi-regulars, and guests from other indies and countries. Sometimes they'd mix them together, such as how regulars Larry Sweeney and Mitch Ryder joined together with Robbie Ellis, a then-63-year-old man with a chiseled physique who was capable of hitting Shiranuis and satellite headscissors.
2007 was a very eclectic group to the point that Ellis wasn't even their strangest get. That would probably go to Team DDT, which included Danshoku Dino and American Balloon. American Balloon was an incredibly obese man who lost enough weight to be a fairly obese man with gross, stretchy skin, which looked straight-up nasty when he'd hit moonsaults. As for Dino, he was…a gay sexual predator? Yeah, he was NOT really a fit for CHIKARA's family-friendly atmosphere, but hearing the commentary try to spin his attacks as PG was worth a laugh. Unfortunately, their third partner Nobutaka Moribe didn't make the show on time due to traffic and was replaced last-minute by Masamune from Osaka Pro.
In terms of more serious teams, they had Team TNA (Alex Shelley, Chris Sabin, and Sonjay Dutt) back when being from TNA was seen as a plus and not reason for a pat of sympathy. They also had Team Kaientai Dojo, made up of Kudo, Miyawaki, and Yoshiaki Yago, who came off as a team of steamrollers. Team PWG (Chris Bosh, Joey Ryan, and Scott Lost) was a nice inclusion, especially because it meant PWG personality Excalibur got to do some commentary.
The bottom of the barrel team was Team USA, made up of "Kidd USA" Jay Jaillet, USApe (a guy in a gorilla costume), and the Patriot. The Patriot was not Del Wilkes, the one from 90s WCW and WWF, but the even more forgettable Tom Brandi, using the gimmick supposedly without permission. He did very little in his first round match and the moment USApe got pinned, he just quietly walked over to the gimmick table to sell t-shirts.
MEMORABLE MOMENTS
The tournament was a success on the whole and not only had some fantastic matches, but enough oddball spots to give King of Trios an identity as this big celebration of wrestling from all over. Like how to entertain the crowd due to a late start, they had frail man-monster Hydra do his "Hydralock Challenge" to Robbie Ellis, who promptly tapped out, quietly accepted some cash, then complained that it wasn't the amount they agreed on. One of my favorite bits of this show was the "surprise" return of Claudio Castagnoli. Los Ice Creams – CHIKARA's resident loser comedy tag team – had an unknown partner going into the tournament. The clown-like duo of Ice Cream Jr. and El Hijo Del Ice Cream were joined by A Very Mysterious Ice Cream, who wore an Ice Cream Jr. mask and fashion very reminiscent of Claudio's Swiss banker persona. At first, the goofy trio made short work of the Order of the Neo-Solar Temple (UltraMantis Black, Crossbones, and Hydra) in a match that was played up for laughs. In the second round, they took on the team of FIST and Chuck Taylor where Mysterious Ice Cream dashed to the ring to clean house and unmask to reveal he was really a pissed-off Claudio. Only then did the crowd chant, "WELCOME BACK!"

KING OF TRIOS 2008
February 29-March 2
 The first King of Trios was a very long trio of shows due to the format. Then the second year fell into the WrestleMania 2 trap of thinking that bigger means better in any form. Rather than go with 16 trios like all the other installments, 2008 was stacked with 28 teams of three! With four teams getting byes, Night One would feature the opening two rounds of one half of the bracket while Night Two would feature the same for the other half. That's ten matches each show! Then Night Three would feature the quarterfinals, semifinals, finals, the Tag Gauntlet, and three exhibition matches!
2008 was my first live King of Trios and I remember just being so exhausted during the finals that it was hard to cheer or boo. That was the 32nd match in three days, man. Good God…
All in all, 2008 is probably the weakest edition of King of Trios, even if it's such a bizarre collection of wrestlers.
THE TEAMS
So many teams. Various promotions got representation, including F1rst Wrestling, AZW, BSE, DDT, El Dorado, IPW:UK, IWS, ROH (two teams, technically), and Kaiju Big Battel. Yes, the goofball show about guys in rubber monster suits destroying a ring full of buildings got to take part in King of Trios. It led to the reveal that CHIKARA's resident supervillain UltraMantis and Kaiju's big bad Dr. Cube were in fact good buddies and even took part in a selfie in-between maniacal laughter.
One of the more notable teams was Team WWF, featuring One Man Gang and Ax and Smash of Demolition. On one hand, they were very old (Ax was 60 at the time), but the novelty paid off as Larry Sweeney challenged One Man Gang to a strut-off, causing the big man to tap into his Akeem the African Dream persona and boogie down.
MEMORABLE MOMENTS
Once again, Los Ice Creams had a mystery partner. This time, they filled in the spot via CHIKARA's go-to plan of simply picking names from a hat. The gag would usually have two unbelievable names followed by a more believable third choice who would make his entrance. After announcing CHIKARA regular Lance Steel as the third pick, a true anti-climax, the referee found that he wasn't backstage, and so they continued. The next name was none other than WCW oddball Glacier, who stepped out in full armor to assist his fellow chilly grapplers.
To me, the absolute highlight was watching the rise of Da Soul Touchaz, an Illinois trio made up of Acid Jaz, Marshe Rockett, and "The African American Dream" Willie Richardson. In an overwhelming roster, these three unknowns won the hearts of the fans in only two matches and earned a huge, "PLEASE COME BACK!" chant when they were booted from the tournament. The three would show up regularly in CHIKARA in the years that followed.
Similarly, Team IPW:UK (Martin Stone, Sha Samuels, and Terry Frazier) did a fantastic job sticking out as ruthless heels able to hold the fans in the palm of their hands.
KING OF TRIOS 2009
March 27-29
This is the year when King of Trios hit its stride. It went back to being 16 teams and found a better format. This time, all eight first round matches would take place on Night One. Night Two would feature the quarterfinals as well as the first round for Rey de Voladores, a separate tournament CHIKARA does where they have two four-way elimination matches featuring flippy wrestlers. Night Three would have the King of Trios semifinals and finals as well as the Tag Gauntlet and the Rey de Voladores finals.
Plus there would be extra matches tossed into Nights Two and Three. Regardless, the weekend no longer felt overstuffed.
THE TEAMS
No year had a more stacked roster than 2009. From across the wrestling world they brought in the likes of Bryan Danielson, Dave Taylor, El Generico, the Young Bucks, Austin Aries, Kota Ibushi, Johnny Saint, Arik Cannon, and Necro Butcher. Then you toss in the returning Soul Touchaz and probably the best collection of in-house CHIKARA talent.
The only true dud was the Cold Front, originally meant to be Al Snow, Glacier, and Iceberg. Iceberg couldn't make it and was instead replaced by D'Lo Brown. While that team certainly had a level of star power (while looking like someone pressed the random button three times on a video game select screen), their match was a complete slog and killed the momentum of the first night. If anyone were to get the blame, it would be Al Snow, who didn't seem to care despite dragging things out to a half hour. Then he never showed up in CHIKARA again.
Unfortunately, CHIKARA's beloved trio the Colony lost a qualifier against FIST in the lead-up to the show. Not only did they miss out on the tournament, but Icarus gave Colony member Worker Ant a career-ending injury.
MEMORABLE MOMENTS
The first round match between The F1rst Family (Arik Cannon, Darin Corbin, and Ryan Cruz) and Team Epic War (Austin Aries, Ryan Drago, and Tony Kozina) was a bit unique. The idea going into the match was that Aries was supposed to be a face, Drago (future Vaudevillain Simon Gotch) was supposed to be a heel, and Kozina was supposed to be a confused tweener. Aries didn't like that because he was a heel elsewhere. He relented in the most entertainingly and dickish way possible by being the most over-the-top good guy possible as a form of rebellion. Thumbs up, wrestling fans! Yeah!
Team Uppercut (Bryan Danielson, Claudio Castagnoli, and Dave Taylor) vs. The Roughnecks (Brodie Lee, Eddie Kingston, and Grizzly Redwood) was a fantastic comedy match that ended with Claudio doing his Big Swing to the tiny Grizzly as the fans counted to 100. It wasn't 100 revolutions due to the tempo of the chanting staying the same as Claudio slowed down, but it was still impressive to watch. Coincidentally, despite being overall silly, this match would lead to some important developments for the next several years of CHIKARA.
Speaking of matches that would go on to be kind of important, the same could be said for a tag match between Evan Gelistico and Pierre Abernathy vs. Davey Vega and Gary the Barn Owl. This was a showcase for the promotion Lethal Wrestling Alliance and while it wasn't the outright worst match you've ever seen, it was still a dud in a weekend full of top indie talent. Luckily, there would be some good follow-up to that long down the line too.
Luckily, the same night featured a Rey de Voladores opener between El Generico, Jigsaw, Kota Ibushi, and Nick Jackson which many would consider to be one of the all-time best matches to take part in a CHIKARA ring. It's must-watch.
KING OF TRIOS 2010
April 23-25
Taking place a few months into the CHIKARA season, this one differed from the three before it by having a huge focus on CHIKARA's story. 2009's finale ended with the rise of Die Bruderschaft des Kreuzes, a faction led by Claudio Castagnoli and Ares and full of wrestlers who had axes to grind with CHIKARA like Sara Del Rey, Lince Dorado, and Tim Donst. They also had the masked Viking monster Tursas as well as their own heel authority figure allowing them to run roughshod.
Days before this show, they ran into a big snag. There was supposed to be a Team Mexico made up of Turbo, Valiente, and CHIKARA's resident middle-age mentor figure Jorge "Skayde" Rivera. Not only were Turbo and Valiente booked elsewhere that weekend, but Skayde – the guy in charge of bringing them over – tried to hit up CHIKARA for more money and in return they broke ties with him.
THE TEAMS
While the tournament was filled with CHIKARA regulars, the BDK cast a shadow by having two teams in the brackets. Arguably three, but I'll get to that in a second. Some regulars had notable guest partners like Curry Man teaming up with Los Ice Creams or Wrestling Society X's Matt Classic teaming up with the Throwbacks. The Young Bucks even showed up with their less-good third brother Malachi.
There were some strong outsider teams thrown in there like Team Perros del Mal (El Alebrije, El Oriental, and the very tiny Cuije), Team Osaka Pro (Atsushi Kotoge, Daisuke Harada, and Tadasuke) and especially Team Big Japan Wrestling (Daisuke Sekimoto, Kankuro Hoshino, and Yuji Okabayashi). Team Big Japan was simply dominant and Sekimoto's suplexes were a constant treat.
Absolute Intense Wrestling held their own 16-team tournament called the Jack of All Trios where the winner would get a spot in King of Trios. That went to the team of Flip Kendrick, Louis Lyndon, and Johnny Gargano. Gargano would go on to squeeze into a spot on the CHIKARA roster and lead to some interesting stories and fantastic matches.
MEMORABLE MOMENTS
One of the reasons King of Trios 2010 is one of my favorites is because of how great the booking is for the BDK stuff. The BDK A-team (Claudio, Ares, and Tursas) especially had a path that wavered between them being cheaters, bullies, and just plain unstoppable. The start of that came from the lack of Team Mexico. With that no-show, they pulled names from a hat and got Amasis and Ophidian of the Osirian Portal. Before they could pull out a third name, CHIKARA honcho and BDK puppet Dieter VonSteigerwalt brought out his own hat of "random" names.
The Osirian Portal had to team up with BDK member Sara Del Rey against the most powerful members of the BDK. Not only were they already overwhelmed by their opponents, but they had a partner outright trying to sabotage them and would even try to allow herself to get pinned. A fantastic dynamic that squeezed out a couple nice hope spots in a hopeless situation.
As for the second round, massive Tursas vs. the very little Cuije was just as horrifying as you'd imagine. Poor, poor Cuije…
KING OF TRIOS 2011
April 15-17
2011's show was a bit harsh, as it took place days after the death of beloved and troubled CHIKARA mainstay Larry Sweeney. The wrestlers were definitely affected by this and led to a handful of tributes to the Sweet 'n' Sour one.
King of Trios 2011 came in the shadows of the BDK's downfall. They were still around, but no longer the dominant heel faction that they once were. One of the bigger changes going into this show was the new Director of Fun running things, Wink Vavasseur, a doofy parody of Dixie Carter. CHIKARA had been bought by fictional conglomerate World Media Development Corporation and with Wink (the owner's son) running things, the company's situation would get worse over time, but getting rid of VonSteigerwalt seemed like a step up at the time, no matter the consequences.
THE TEAMS
2011 had a good chunk of Japanese imports showing up to mix it up. Team Dragon Gate included Kagetora, Super Shisa, and future Cruiserweight Champion Akira Tozawa. Team Osaka Pro had Atsushi Kotoge, Daisuke Harada, and Ultimate Spider Jr., who had the power of miming Spider-Man web attacks and having them somehow work. Team Michinoku Pro had the legendary trio of Dick Togo, Great Sasuke, and Jinsei Shinzaki. Then Mike Quackenbush and Jigsaw brought in Manami Toyota to round out their team.
There were other non-Japanese guest teams, including the weirdoes from Team Australia, but the biggest inclusion was Team Minnesota. Sure, Arik Cannon and Darin Corbin had been to many of these tournaments, but the same couldn't be said of their partner the 1-2-3 Kid. Not X-Pac, not Syxx, and not just Sean Waltman. The 1-2-3 Kid was coming to CHIKARA!
MEMORABLE MOMENTS
While there are plenty of humorous bits like El Generico doing the Macarena in a dance-off against the Osirian Portal, King of Trios 2011 isn't really defined by its moments. It's more about its performances. It was my first time seeing Tozawa in action and he immediately looked like a star. Even though Sean Waltman would let himself go sometime after, he helped turn 2011 into an amazing trilogy of shows. If anything, his showdown with El Generico was a match of the year candidate.
It was sort of the most generic of King of Trios shows and even had the safest finals, but it was incredibly solid from start to finish.
It would also be the final King of Trios held at the ECW Arena.
KING OF TRIOS 2012
September 14-16
Moving from Philly to Easton, King of Trios 2012 happened during a weird patch in CHIKARA's history. They had just done a story about GEKIDO, a group of invading outsiders who dressed themselves in personas that were essentially evil versions of CHIKARA icons. This included an evil version of the Colony known as the Swarm, made up of assailANT, deviANT, and combatANT. CHIKARA's locker room ended up giving this faction a climactic beatdown, but they continued to stick around long enough to get tangled in another complication.
More on that in a sec.
Now, you might recall the LWA showcase match from 2009 that I talked about getting a rotten reaction. The four men from that match decided to join forces and invade CHIKARA themselves as the Submission Squad. Wink Vavasseur allowed all four of them to compete as a team in King of Trios, but it was a moot point. The night of the first show, their car broke down…immediately outside the arena. Rather than simply walk to the building, they spent hours trying to fix the car to the amusement of passing fans.
This would also be the first King of Trios to take place in the fall instead of the early part of the year.
THE TEAMS
CHIKARA did little in terms of bringing in representatives from other US promotions outside of the Young Bucks and Mike Bennett being Team ROH. More emphasis was put on bringing in teams from Japan like Team Osaka Pro (Ebessan, Kikutaro, and Takoyakida), Team JWP (Command Bolshoi, Kaori Yoneyama, and Tsubasa Kuragaki), Team Sendai Girls (Dash Chisako, Meiko Satomura, and Sendai Sachiko), and another appearance by Manami Toyota. Team JWP and Sendai Girls also meant we got our first all-female trios for the tournament.
Otherwise, they possibly overdid the nostalgia booking. Not only was Tito Santana randomly selected to take the place of the Submission Squad (alongside Mihara and the Mysterious and Handsome Stranger), but there was Team WWF (1-2-3 Kid, Aldo Montoya, and Tatanka), The Extreme Trio (Tommy Dreamer, Jerry Lynn, and Too Cold Scorpio), and the inspired Faces of Pain (Barbarian, Meng, and the Warlord). They even had Demolition and Marty Jannetty show up during the Tag Gauntlet out of nowhere.
With the main roster, the tournament was mucked up by Wink Vavasseur's questionable brainchild "CHIKARAmetrics." Trying to do the Moneyball thing with his own roster, Wink mixed and matched parties in ways that only made sense to him. The serious Gran Akuma got stuck with the goofballs Scott Parker and Shane Matthews. Sugar Dunkerton was no longer allowed to team with his longtime partner Dasher Hatfield and was instead relegated to being the corner man for FIST, who openly hated him.
Craziest of all was Soldier Ant being forced to join the Swarm while assailANT was put in the Colony. That led to Soldier Ant being yelled at by his evil partners while assailANT kept desperately trying to be accepted as a good guy by the fans and his new teammates.
MEMORABLE MOMENTS
The Faces of Pain vs. Team ROH was one of the opening bouts and one thing that will always make me laugh is the memory of Meng standing alone in the ring while Nick and Matt Jackson each slowly and cautiously entered the ring. All the while, the crowd chanted, "IT'S NOT WORTH IT!" and the Young Bucks considered that advice.
Much fun is had with Tsubasa Kuragaki being able to either hold up multiple women for the Torture Rack or one very large Matt Classic.
But really, as awesome as King of Trios 2012 was, the true meat came from the latter half of Night Three. The four matches after intermission were one of the best clusters of matches that CHIKARA has ever had. There was a hilarious eight man tag comedy match that got a "PLEASE DON'T END!" chant, a joshi tag match, a hard-hitting singles bout, and a cathartic tournament finals.
If you're going to watch just one King of Trios, make it this one.
KING OF TRIOS 2014
September 19-21
So you might notice I skipped 2013. There wasn't a King of Trios in 2013. CHIKARA did a storyline where the company was closed down by their evil corporate overlords. Other, lesser, indie promotions popped up around the country, but evil factions from CHIKARA past appeared one-by-one to shut them down in various ways. Then elderly muscleman Robbie Ellis bought CHIKARA, wrestler teamed up to fight off the anti-CHIKARA wrestlers at the National Pro Wrestling Day event, Archibald Peck drove a time-traveling Delorean, and CHIKARA returned about a year after its initial destruction.
The whole thing was a mixed bag, but the biggest drawback was that we were missing out on matches that felt important, as opposed to whatever was going on at the replacement indie shows. For example, there was no King of Trios. Imagine if Vince McMahon was like, "I got this nifty idea for an angle, but it means not having Royal Rumble this year. Believe me, it'll be great!"
When CHIKARA came back, the anti-CHIKARA teams – known collectively as The Flood – revealed their leader, the monstrous Deucalion. Although Deucalion refrained from wrestling for the most part, he still showed up from time to time to MURDER wrestlers. Like, not hospitalize them or end their careers. He'd hit a chokeslam-backbreaker and they would treat it like that wrestler actually died.
THE TEAMS
Since the CHIKARA vs. Flood war was in full effect, much of the tournament was based on that. There were six CHIKARA face teams and six Flood-based teams (a main Flood team, Kizarny's Odditorium, GEKIDO, Colony XTREME Force, the Devastation Corporation, and BDK with Dr. Cube). That left room for CHIKARA heel team the Bloc Party, Team UK (Damian Dunne, Pete Dunne, and Mark Andrews), LAX (Chavo Guerrero Jr., Hernandez, and Homicide), and 3/5 of the Spirit Squad (Johnny, Kenny, and Mikey).
Outside of a couple novelties, it didn't appear to be that interesting of a roster. Luckily, the non-trios matches that weekend featured the likes of Rockstar Spud, Rich Swann, Tigre Uno, Sanada, Yoshi Tatsu, and AR Fox.
MEMORABLE MOMENTS
First off, the whole weekend was a fantastic showing for Devastation Corporation's Max Smashmaster who was massive yet had crazy agility, especially when selling. Dude completely killed it.
Night Three had a surprise battle between Chuck Taylor's Gentleman's Club and the Submission Squad that needs to be seen. So much greatness to it, including Gary the Barn Owl and Swamp Monster choosing to be friends instead of opponents in the name of nature. Then there was a huge photo opportunity out of nowhere and—just watch the match, it's wonderful.
As part of the Flood story, the end of Night Two featured this ridiculous segment where a group of rookies decided to take matters into their own hands and dogpile on Deucalion. In the most over-the-top comic book moment I've ever seen in wrestling, Deucalion's mask came off, revealing black eyes and he proceeded to kill two of the three upstarts for daring to call him a coward.
KING OF TRIOS 2015
September 4-6
So once the Flood business was over and dealt with (Deucalion was taken out by a magical hammer, if you were wondering), CHIKARA needed a new gimmick going into 2015. Something other than "evil wrestlers invade CHIKARA." What we got was Challenge of the Immortals, a season-long double round robin tournament involving ten factions of four wrestlers each. Ten captains drafted their picks and they'd spend months taking on each team twice in different forms (ie. singles, tag, trios, or eight-man tag). The winning team members would each get a special coin that would act as a Money in the Bank briefcase for whichever title they desired.
It was another mixed bag. With such a big round robin tournament, every match was meant to be important, but few truly were. In the end, only a handful of teams had much going on.
THE TEAMS
Even though it had no bearing on their points, all ten Challenge of the Immortals teams would be represented by three of the four members. This ended up being a bit of an issue for the Arcane Horde. UltraMantis Black had loyal trolls Kodama and Obaryon on his side and that was well and good, but he was also stuck with Oleg the Usurper, the well-meaning and bumbling barbarian. Oleg was managed by Sidney Bakabella, who was intent on having his own team of clients, the Wrecking Crew, win. Because of that, Bakabella would regularly wave his contract in front of Oleg's face and force him to stand back while his Arcade Horde partners would try and win their matches.
Logic would dictate to just do UltraMantis, Kodama, and Obaryon, and they did intend to, but UltraMantis had a leg injury that would keep him out of the tournament. He had no choice but to put Oleg in his spot.
That left six teams, which included Kevin Condron Presents Battleborn, made up of the insane survivor of Deucalion's slaughter from a year before and two of Deucalion's former henchmen. One of which blew up a busload of children in Zimbabwe and—actually, don't get me started on Missile Assault Man. That's a whole can of worms.
The Blue World Order made their long-awaited King of Trios appearance, but the big teams announced were Team AAA (Aero Star, Drago, and Fenix) and the Bullet Club (AJ Styles and the Young Bucks).
MEMORABLE MOMENTS
When it comes to memorable moments from this show, I can't not mention Fenix's little misadventure. During Night Two, Team AAA took on the Nightmare Warriors. Fenix was the face in peril and took a bunch of abuse until finally turning the tables on Frightmare. After getting some momentum, Fenix knocked Frightmare into the corner, flipped him off, and loudly screamed an F-bomb into his face.
Any other promotion and that would have brought the house down. In CHIKARA, which is supposed to be family friendly, that was just met with uncomfortable silence and an awkward chant of, "YOU CAN'T SAY THAT!"
After the match, they went to intermission. Fenix's merch was removed from the gimmick table for the time being and within minutes, Kevin Owens – whose behavior once got him banned from CHIKARA years ago – tweeted without context, "Me and Fenix, friends."
But anyway, I've been pretty good at not spoiling too much with these tournaments. That said, the first teams announced were Team AAA and Bullet Club. No way were they going to skip on having three of the raddest dudes from Lucha Underground in the same tournament as one of the best wrestlers in the world and the biggest tag team of the indies.
The show also gave us the payoff to the Oleg/Bakabella storyline at the end of Night Two and the whole thing was outstanding. Bakabella got smashed in the head by Oleg's arm so hard that his hairpiece flew out of the ring.
KING OF TRIOS 2016
September 2-4
It's a good thing that CHIKARA is a creative company because they were really forced to be creative with this installment. The other big indie tournament, PWG's Battle of Los Angeles, was happening the same weekend and if CHIKARA wanted any indie star power, that situation cut them off at the knees.
The top storyline at the time was the rise of the HeXed Men. CHIKARA had a mind-control maguffin as part of its lore since 2009 called the Eye of Tyr. Its continued use led to Hallowicked and Frightmare being awakened into worshippers of a deity called Nazmaldun. Nazmaldun ended up being a wheelchair-bound UltraMantis Black, also affected by the Eye of Tyr. Whether he was a host to Nazmaldun or if it was his hidden nature was never certain.
Regardless, there was a psychic in a wheelchair with a collection of guys calling themselves the HeXed Men. See what they did there?
Speaking of comic book references, CHIKARA brought in Hornswoggle, now known as the Big Deal. Flanked by two beefy bodyguards named Rick Roland and Sloan Caprice, he was essentially the wrestling version of Big Figure from Watchmen. Unfortunately, due to a medical emergency, Big Deal had to skip out on King of Trios.
Joey Styles showed up under short notice and did commentary for the whole weekend. While everything was new to him, his enthusiasm carried him and he was intended to be a regular commentator for the company afterwards…until his big mouth got him kicked out of Evolve and CHIKARA followed suit.
THE TEAMS
For this year, CHIKARA leaned into women's wrestling to fill the roster. Not only were there teams featuring regulars Heidi Lovelace (Ruby Riott) and Princess Kimber Lee (NXT's Abbey Laith), but there were also four woman-only teams mixed in there: Team JWP (Command Bolshoi, Hanako Nakamori, and Manami Katsu), Team Original Divas Revolution (Jazz, Mickie James, and Victoria), Team Sendai Girls (Cassandra Miyagi, Dash Chisako, and Meiko Satomura), and Team Shimmer (Candice LeRae, Crazy Mary Dobson, and Solo Darling). Originally, Madison Eagles was supposed to be on Team Shimmer, but Solo Darling took over due to injury. Worked out well, since Solo is currently a major player on the roster.
Otherwise, Johnny Gargano made his CHIKARA return to team up with Drew Gulak and Cedric Alexander as Team #CWC. They also teamed up CHIKARA's resident wrestlecop Officer Warren Barksdale with Bill Carr and Supercop Dick Justice.
With the HeXed Men, they went into the show keeping the exact trio a mystery outside of the claim that one of them would be a "betrayer." That turned out to be a brainwashed Jigsaw, who hadn't appeared in CHIKARA since 2014's King of Trios. Otherwise, they had a trio of brainwashed Batiri members representing the faction too.
MEMORABLE MOMENTS
First off, this was the first King of Trios to have Vlad Radinov as the announcer and that dude was the absolute tops. No hate towards Gavin Loudspeaker, but Vlad's pre-main event speeches would make ID4 Bill Pullman nod in respect. He hit his apex in the finals on Night Three.
His role in Max Smashmaster's violent and psychotic demand to be reinstated in CHIKARA is maybe not Vlad's finest moment, but it's something worth seeing anyway.
With the exception of Team Police Squad vs. United Nations, the tournament is pretty solid, but there's nothing that stands out outside of the finals, which I won't spoil. Even Colony vs. Submission Squad (Big Deal and bodyguards' replacements) is a good outing.
There were a couple final appearances for CHIKARA at this show, but at least Prakash Sabar (a Middle Eastern Sean Waltman parody who was "Ex-Pakistani") got the payoff he had been working towards for years by finally facing the real Sean Waltman in the Tag Gauntlet.
More importantly, that Tag Gauntlet featured Drew Gulak getting a net thrown on him and not only continuing to wrestle with it, but also being stuck in it during intermission. He signed a personalized 8×10 for someone that said, "I am stuck in a net." Dude's a real professional.
KING OF TRIOS 2017
September 1-3
King of Trios 2017 came at a rather rough patch for the company. There was a huge exodus of talent and the new guys weren't exactly setting the world on fire. This also came during a time when CHIKARA revealed a "secret season" worth of shows that took place in-between the 2016 and 2017 seasons. It was a seriously cool and original idea, but left the 2017 season vague due to the out-of-order nature of the storytelling.
To add to the hurt, the Easton Funplex was under renovations so they decided to move the tournament to Wolverhampton, England. Having it in Europe meant that many CHIKARA wrestlers didn't make the trip and the company appeared to have less emphasis than ever in its own tournament.
Also, they went with a Game of Thrones aesthetic this time around with each team having "House" in its name.
The Teams
There were six pure CHIKARA teams and one team of two CHIKARA guys and an outsider with Dasher Hatfield, Mr. Touchdown, and Simon Grimm (former Vaudevillain Simon Gotch). Outside of the Sendai Girls returning, the rest of the roster was made up of English teams of varying quality. Most of them were new to the CHIKARA ring, but at least there was the familiar trio of Team Strong Style made up of Pete Dunne, Tyler Bate, and Trent Seven. Pretty cool to see them involved despite being under the WWE bubble at the time.
If anything, at least we got a natural feud between Team Bike Cops (Officer Warren Barksdale with bicycle enthusiasts Jasper Tippins and Donald Kluger) against House Attack (Chief Deputy Dunne, Jim Obstruction, and Lee Obstruction) in the battle of fun-loving good police vs. anti-fun bad police.
Coincidentally, Icarus was one of the wrestlers who didn't make the trek, so this was the one and only King of Trios without him.
Memorable Moments
With the weird roster situation, we only got to see one CHIKARA vs. CHIKARA battle in the brackets, but boy was it a doozy. House Furies (Fire Ant, Travis Huckabee, and Solo Darling) faced House Rot (Hallowicked, Frightmare, and Kobald) and its interesting ending, based entirely on Fire Ant getting his hands on Frightmare and giving him a much-deserved beating, had huge ripples in the tournament. Once you see how the finals end, you can point at the Fire Ant/Frightmare situation as the exact moment that decided everything.
There were a lot of great matches in the trilogy of shows, but House Throwbacks vs. House Strong Style not only stands above the rest, but it may be the best CHIKARA match in the last couple years. Fantastic stuff.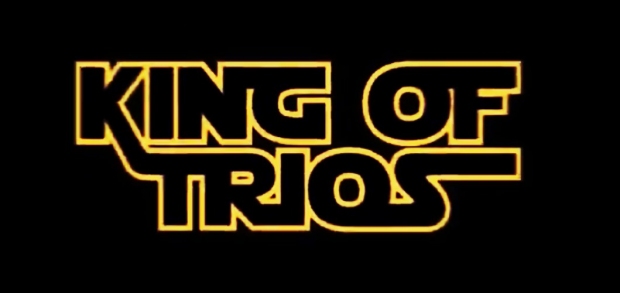 KING OF TRIOS 2018
August 31-September 2
The tournament returns to Easton and CHIKARA's found its stride again. Interestingly enough, Hallowicked misses the tournament for the first time since its inception, though he will be involved in the Tag Gauntlet on Night 3.
Here's a look at the opening matches with a little who's who action for you. There's a Star Wars spin on everything because of course there is.
In 2010, WWE introduced NXT, which at the time was a developmental exercise merged with a game show. The eight Rookies battled it out alongside their established WWE Pros. After Wade Barrett won the competition, the eight Rookies banded together to become the Nexus and spent several months destroying anyone in WWE who got in their way. After they were defeated at SummerSlam 2010, the team started to gradually fall apart. Some members lasted longer than others, but outside of a select few, they all left WWE one way or another.
Now three of them are banding together once again for Trios. Michael Tarver, PJ Black (Justin Gabriel), and Fred Rosser (Darren Young) are dusting off their "N" armbands to prove to Easton, PA that they are one, they are one, they are one, they will stand together.
VERSUS
The Ecuadorian Aristocrat Juan Francisco de Coronado used to lead a team called the United Nations, but their attempts at success repeatedly hit its low ceiling, so he had no qualms kicking his underlings to the curb. It actually worked out great for him because he soon went on to become CHIKARA Grand Champion and remained as such for over a year. Granted, he cheated a lot, but he had his moments of actual valor and skill.
Then you have the Closers, Rick Roland and Sloan Caprice. At first, they acted as hired muscle for The Big Deal, but Roland was sidelined with an injury for a while and by the time the two were a team again, they discovered that Big Deal no longer wanted anything to do with them. Not to be dissuaded, the Closers almost immediately became tag champs and found a new boss in Juan Francisco.
Due to Juan Francisco's recent loss against Mr. Touchdown, this is no longer the Golden Trio, but they just might come out the winners of the tournament.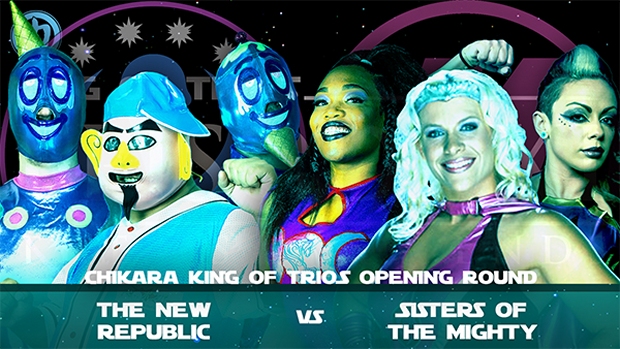 Ice Cream Jr. and El Hijo del Ice Cream, otherwise known as Los Ice Creams, have existed in CHIKARA for years and have taken part in many a King of Trios, but their win-loss record is…rather unfortunate. Usually, their success takes the form of scheming or luck (ie. their two tag title reigns), but they seem to be on a higher gear when fighting for Princess Kimber Lee. Under her leadership, the clownish duo won 2015's Challenge of the Immortals.
The three of them were going to compete in this year's Trios, but Kimber Lee had to bow out due to getting a spot in the STARDOM 5 Star Grand Prix in Japan. Luckily, she knew exactly who to use as a replacement as Kimber Lee and Los Ice Creams teamed up with Japanese weirdo Kikutaro in an eight-person tag match with Kikutaro getting the pin. He gladly took up the offer, but these guys probably aren't long for the tournament.
VERSUS
Solo Darling has been having a rough go lately in terms of teamwork. A year ago, she was a constant tag team contender with Travis Huckabee and fought as part of the Furies in order to protect CHIKARA from invaders and creeps. The Furies ended up being a big failure, Huckabee ended their tag team due to frustration and a little bit of envy, and even her friends like Fire Ant and Ophidian have treated her with disdain for their own reasons. On her own, she came close to reaching the top of the mountain, but failed to win the CHIKARA Grand Championship.
It's time for her to give teamwork another shot, this time with two newcomers to the CHIKARA ring. Aja Perera appears to be a potential kindred spirit to Solo, albeit more with a zest for pizza than sugary treats. Their team captain is Mighty Molly, otherwise known as Molly Holly, who competed in both the Miss WrestleMania Battle Royal and the first women's Royal Rumble in WWE, but before that hasn't wrestled a single match in a decade. Still, she just might be the hero that Solo Darling needs.
Pierre Carl Oullet has become a huge name in the indies as a middle-aged tank who can take a shotgun blast standing. Being that this is CHIKARA, there's more focus on that brief time in WWF where he was a straight-up pirate dressed in leather, playing up the exploits of one of his sea-sailing ancestors. Rey Bucanero, on the other hand, has been doing the pirate gimmick for nearly 30 years, so there's less of a stretch there. Rounding out the team is Katarina Leigh, otherwise known as Katie Lea Burchill, who…was the sister of a guy who once had a pirate gimmick and she also portrayed Alvida the Pirate on the obscure TV series Fantasy Women Battles.
Good enough!
VERSUS
Merlok, Hermit Crab, and Cajun Crawdad competed together in the 2017 tournament, but with a far different mentality. Back then, it was just Merlok as an unstoppable monster, offset by two bumbling idiots undermining him. Since then, Merlok's been defeated and tamed by Oceanea, a sadistic young woman enveloped by hatred for all the violent things Merlok did to her closest allies. Merlok has become her general and after the two defeated Hermit Crab and Cajun Crawdad in a tag match, the losing duo bowed down to their superiors and joined the Creatures of the Deep.
Oceanea has been absent lately, but her henchmen have been working well as a unit. Merlok now has direction and the Crab People are more competent than ever.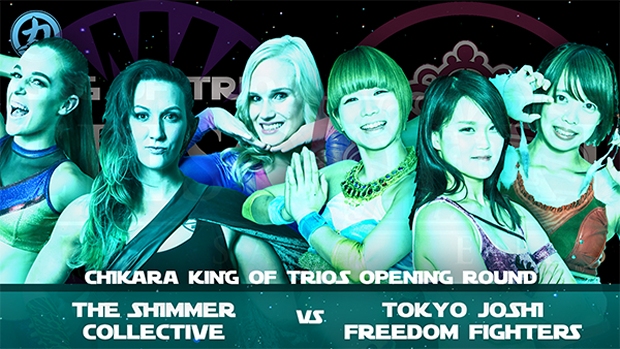 For the second time in King of Trios, there will be a team of three women representing Shimmer Women Athletes. It's a totally different trio this time around, though as I mentioned earlier, Madison Eagles was meant to be there back in 2016 until being sidelined by an injury. This time around, Eagles gets to shine alongside teammates Shazza McKenzie and Jessica Troy. Despite all being parts of the Shimmer roster, they're also connected by being fixtures in the Australian wrestling scene, making them female counterparts to the Ancient Order of the Nations.
VERSUS
These days, it isn't King of Trios without a team of three joshi women kicking people's faces into mush. This time around, it's three representatives of Tokyo Joshi Pro Wrestling, DDT's sister promotion. These three women have been there since the beginning, including current Princess of Princess Champion Miyu Yamashita. She's joined by the less serious duo of Yuka Sakazaki and Shoko Nakajima, who used to hold the company's tag titles. Yuka is a peppy magical girl while Shoko believes herself to be a giant monster despite her tiny size.
Man, too bad Hydra had to retire all those years ago. A showdown against Shoko would have destroyed Pennsylvania.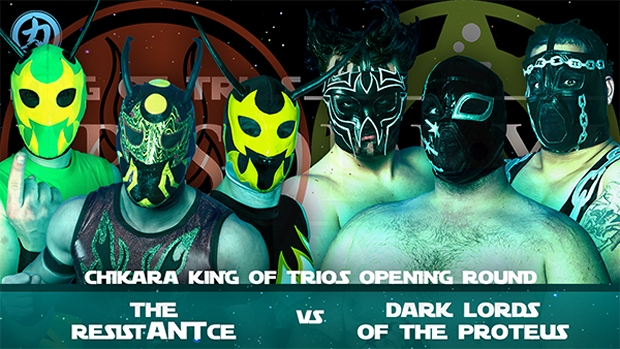 For over a decade, the Colony have been one of the biggest fixtures in CHIKARA. Founded by Fire Ant and Soldier Ant, the group had grown to include many members and two different spinoff teams. Thanks mostly to the actions of Frightmare, the Colony had been cut down to just Fire Ant. Fire Ant, who was so filled with hatred and anger over the loss of his teammates that even violent revenge against Frightmare couldn't calm him down. He started lashing out at his allies for various reasons.
Meanwhile, two rookies named Green Ant and Thief Ant started wrestling at shows, hoping to continue the name of the Colony. Fire Ant wasn't amused and regularly attacked the duo. On the other hand, semi-retired Worker Ant II saw potential in the two and acted as a mentor. Fire Ant ended up siding with longtime ally Icarus against the newcomers, but changed his mind when Icarus tried to horribly injure Worker Ant. Fire Ant still isn't so chummy with Green Ant and Thief Ant, but he's allowing them to fight by his side for now.
VERSUS
Years ago, when CHIKARA battled the Flood, the latter side's ranks included a masked goon known as Volgar. A representative of Titor Conglomerate, Volgar became aimless once the Flood was disbanded. That is, until finding his own identity as rockabilly brawler "Juke Joint" Lucas Calhoun. Over time, he crossed paths with the very similar Jeremy Leary in what appeared to be a feud over style and identity. In the end, Calhoun discovered the bizarre truth: he and Leary were in fact created in a lab as super soldiers under the mad genius of Professor Nicodemus. Confused and horrified, Calhoun left CHIKARA.
Nicodemus, no longer an employee of Titor Conglomerate but now doing his own thing as the leader of the Proteus Wheel, appeared in CHIKARA alongside his latest experiments: Callux the Castigator, Frantik, and a new Volgar. While the trio has been unstoppable, Nicodemus has been offering the same treatment to others on the roster who want to increase their mass and power. Calhoun returned to CHIKARA to join forces with his brother Leary and another obsolete experiment named Brian Michael David in order to go to war with the Proteus Wheel.
Calhoun and his team lost. Badly. Now the Proteus Wheel moves on to the next stage: King of Trios.
Super Thunderfrog, formerly known as the Estonian Thunderfrog, was one of CHIKARA's most valiant heroes. His time with the company led to great peaks and tragic valleys, to the point that he was murdered and – like all great superheroes – was resurrected months later. Using his Hammer of Peace to destroy the sinister Eye of Tyr, which had been plaguing the promotion for years, Thunderfrog's job was done and he flew off to wrestle in Minnesota.
Thunderfrog returns to CHIKARA and with him are his animal super friends Wildcat and Air Wolf. The latter of which competed in this year's Young Lions Cup, only to come up short. We'll see if this amazing zoo crew is powerful enough to see the tournament through to the end.
VERSUS
FIST (Friends In Similar Tights) spent years as the most dangerous trio in CHIKARA and one of the most accomplished King of Trios teams. Their most triumphant form came in Icarus as the unlikable leader alongside no-nonsense grappler Gran Akuma and dangerous goofball Chuck Taylor. Time passed and the team changed up and fell apart. Icarus came out of it a changed man, becoming the lead hero of CHIKARA and even its Grand Champion. Since then, he's been seen as one of the most respected veterans on the roster.
The respect wasn't reciprocal when it came to the rookies. Icarus grew to feel disgust for the younger crop of CHIKARA wrestlers and would openly mock them on commentary. He found most of them to be soft, but considered Travis Huckabee and Tony Deppen to be outliers. The Wing Ringed Warrior took them both under his wing and started a new chapter in FIST's story. While Gran Akuma is retired and Chuck Taylor has moved on, Icarus has the no-nonsense grappler Huckabee and dangerous goofball Deppen there to fill in the void.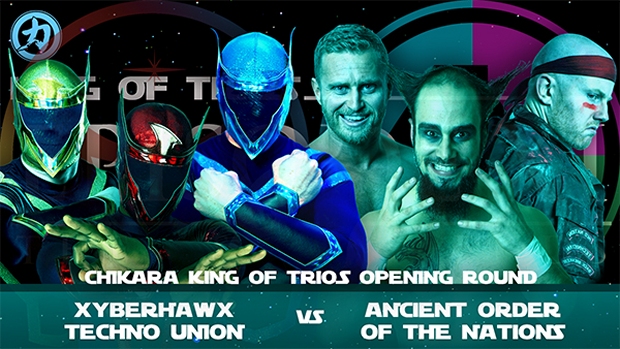 The Xyberhawx 2000 are a trio of Saturday morning action heroes who come all the way from the futuristic year of 2000! When they aren't updating their Geocities sites and looking forward to the Matrix sequels, Razerhawk, Nytehawk, and Danjerhawk train vigorously at the CHIKARA Wrestle Factory. While former member Sylverhawk has been put out to pasture, he was recently replaced with Danjerhawk, who made his debut by winning CHIKARA's Infinite Gauntlet battle royal and followed it up by winning the Young Lions Cup.
Razerhawk may be the team leader, but he represents far more than flippy space birds. The earnest and noble hero has become almost a figurehead of the CHIKARA rookies these days and takes the most offense when Icarus insults the young crew.
VERSUS
Representing the Four Nations is the trio of Jack Bonza (Red Nation), Adam Hoffman (Blue Nation), and Mick Moretti (Green Nation). Moretti stopped by CHIKARA fairly recently and exposed the world to his own brand of insanity, coming off like a cross between Mark Hamill Joker and Count Olaf. As he put it, this got him noticed, but now the second stage is for him to conquer. He has his Aussie buddies Bonza and Hoffman watching his back and they have years of working as a unit working in their favor.
Coincidentally, their big triple team finisher is exactly the same as the Colony's Ant Hill. Wonder if that will come into play…
Dasher Hatfield and his step-cousin-in-law "Mr. Touchdown" Mark Angelosetti have competed together as the Throwbacks since 2012. Their familial bond has not only brought them much in-ring success, but has also led to Mr. Touchdown becoming a better person. Formerly a cheater and a bully, Touchdown was tempered by Dasher's zest for honor and fair play. They have won various tag tournaments, became tag champs for a bit, and currently Mr. Touchdown is CHIKARA's Grand Champion.
Despite their success, their chances in King of Trios aren't exactly set in stone. Dasher's son Boomer Hatfield is as fresh as you can get on the roster and has been granted a spot on their team despite having less than a month of experience. The kid seems to be no pushover so far, but asking him to last four rounds in an international trios tournament might be a bridge too far.
VERSUS
In early 2018, Cam Zagami won CHIKARA's Young Lions Cup tournament to become the new champion. Being full of himself, he announced that he was not going to be defending this Young Lions Cup trophy in CHIKARA, but on his own turf in Beyond Wrestling. For a while, he did quite well in defending the title, thanks in part to his massive bodyguard Brian Milonas. He ended up losing in an impromptu match against Danjerhawk.
Zagami and Milonas will represent Beyond along with Chris Dickinson. Dickinson may not be normally affiliated with those two, but he is a tag team specialist and recently took down Dasher Hatfield at the CHIKARA vs. Beyond Wrestling event Clan Feuds.
Unlike most CHIKARA shows this year, King of Trios 2018 won't be streaming live on CHIKARAtopia. Luckily, it should be available to purchase as a VOD a day or so later. As for me? I'm gonna be there.
Gavin Jasper is Xyberhawx Techno Union all the way! Follow him on Twitter!
Read the latest Den of Geek Special Edition Magazine Here!