News
Giveaway: Win Mission Impossible: The Original TV Series on Blu-ray!
All 171 action-packed episodes of the original Mission Impossible are now out on Blu-ray. Three lucky readers will get to take the complete set home!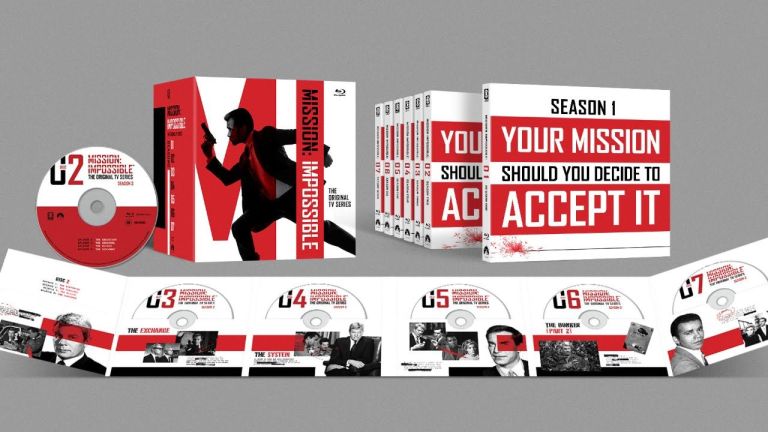 Welcome, readers. Your mission, should you choose to accept it, will require you to enter the following giveaway. The opportunity lies in winning the entire collection of the Mission Impossible Original TV Series on Blu-ray. Now that the set has been officially released (as of December 1), we're giving three lucky geeks the opportunity to win one of their own! A cool 143 hours of footage, this set provides the perfect escape into a world full of anonymity, deception and corruption…totally unlike our world…maybe.
Click here to enter via our official giveaway page!
Whether you grew up watching the series or want to go back in time to learn the espionage that inspired the global and super successful movie franchise, the I.M.F. team is ready to fulfill their mission. Follow Daniel Briggs (Steven Hill) and later, Jim Phelps (Peter Graves) as they lead their crew of experts around the world!
Popular during the Cold War, the group's missions centered on toppling evil dictators, shutting down corrupt organizations and exploiting crime lords. The I.M.F. crew includes disguise expert Rollin Hand (Martin Landau), charmer Cinnamon Carter (Barbara Bain), electronics technician Barney Collier (Greg Morris), strong man Willy Armitage (Peter Lupus) and, in later episodes, disguise-master Paris (Leonard Nimoy). Sam Elliot and Lesley Ann Warren also appear in the series. The set includes the entire 46-disc collection includes all seven seasons and 171 action-packed episodes of the iconic spy series on Blu-ray.
Click here to enter via our official giveaway page!
Entries will be accepted until December 15th. We know it might be difficult to wait, but remember this is Mission Impossible. Mission Difficult should be a walk in the park! Three (3) lucky winners will be chosen and then notified via email. The winner must reply to the email within 48 hours with shipping information in order to accept the prize, otherwise another winner will be chosen. Good luck! This page will self-destruct in five seconds.