News
Giveaway: Win The Walking Dead: World Beyond Blu-ray and a $100 Gift Card
In honor of The Walking Dead: World Beyond Blu-ray release, we're partnering with RLJE Films to give away a $100 Gift Card and 2 copies of World Beyond Season 1!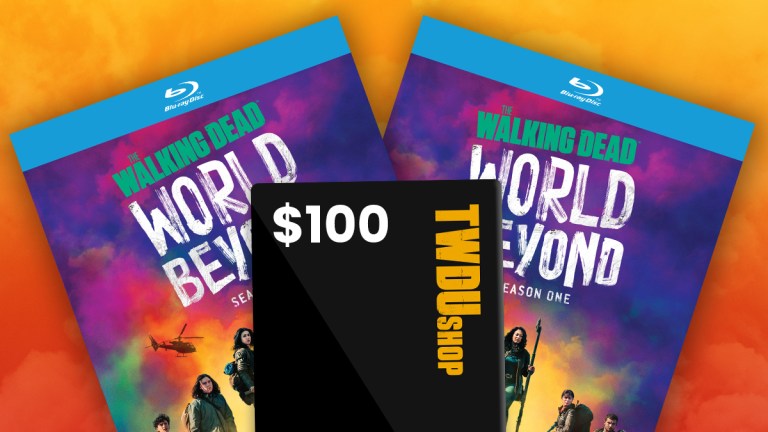 The Walking Dead TV universe has expanded quite a bit since the flagship series premiered in 2010. Since then, Fear the Walking Dead has taken us to the west coast, introducing a whole new family of survivors as they escape LA, make it into Mexico, and later settle in Texas. While they go through many of the same trials and tribulations as Rick Grimes and the rest of Alexandria, these spin-off characters handle things in their own unique ways.
The Walking Dead: World Beyond, the newest, sci-fi-tinged companion series, feels unique, too. After all, it follows a group of teenagers learning to survive in the real world after escaping their utopian settlement. Unlike the rough-around-the-edges characters of the other two series, Iris, Hope, Silas, and Elton were still doing homework, studying, and preparing for graduation when they're forced to leave their academics behind at the Campus Colony in order to find a missing member of their group.
What we get as our sheltered heroes face the dangers of the outside world for the first time is a younger perspective on the zombie apocalypse than we've ever seen before. It feels fresh — a bit of Stranger Things mixed with the young adult fiction of S.E. Hinton — while also revealing more about the ongoing Walking Dead saga, including where Rick might be since his disappearance in The Walking Dead season 9. Yes, World Beyond is required viewing for those fans who want a much more complete view of this universe as a whole.
Fortunately, if you missed the original airing of the new companion series' first season, or want to rewatch it ahead of season 2, RLJE Films, a business unit of AMC Networks, will release the hit drama series The Walking Dead: World Beyond Season 1 on DVD and Blu-ray on June 15.
To celebrate the release of the World Beyond Blu–ray, we've partnered up with RLJE Films for a special giveaway for a chance to win:
1 Grand Prize: $100 gift card to The Walking Dead Shop
2 Runner-Up Prizes: The Walking Dead: World Beyond Season 1 Blu-ray
Enter this giveaway using our official Gleam entry form below!
The Walking Dead: World Beyond – WIN A $100 GIFT CARD + More Prizes!
Entries will be accepted until midnight of June 17. Three (3) lucky winners will be chosen and then notified via email. The winner must reply to the email within 48 hours with shipping information in order to accept the prize, otherwise another winner will be chosen. Good luck!
The Walking Dead: World Beyond season 2 will premiere later this year.