Giveaway: Win the Ultimate Tom Cruise Movie Bundle!
Three lucky winners will each receive a trio of movies, consisting of Tom Cruise classics War of the Worlds, Days of Thunder and Top Gun.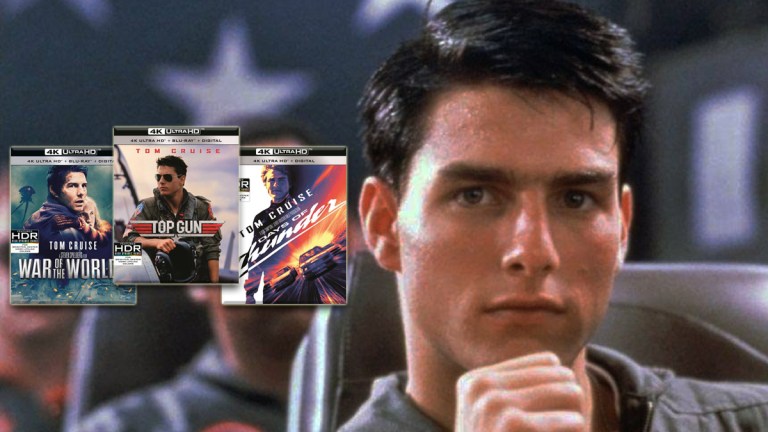 Did lightning just strike twice in the same place? Did someone just slam into you? Have you lost that loving feeling? Are we quoting movies that have anything in common? The answer is yes and the answer is also Tom Cruise. Our friends at Paramount Pictures have given us the opportunity to give away the Tom Cruise bundle you really need — consisting of Cruise-y classics War of the Worlds, Days of Thunder and Top Gun. All these movies are celebrating anniversaries AND they're all available to own on 4K Ultra HD Blu-ray as of May 19, so we wanted to share them with you so you could celebrate too. We have three bundles to give away, so your odds of winning one are pretty good!
There is literally nothing better than watching Tom Cruise face aliens, the racetrack, and the skies all in one action-packed bundle. Each film comes in glorious 4K Ultra HD Blu-ray editions so you can see every sweat bead during that volleyball scene. So sit back, relax and get your Tom Cruise fix in. Did we mention this is about Tom Cruise?
Click here to enter via our official giveaway page!
The new edition of Top Gun in this bundle also includes new features such as interviews with Tom Cruise himself, producer Jerry Bruckheimer and members of the cast of Top Gun: Maverick, including John Hamm, Miles Teller, Glen Powell, and more.
Additional bonus content on the disc includes commentary by producer Jerry Bruckheimer, director Tony Scott, co-screenwriter Jack Epps, Jr. and naval experts; Danger Zone: The Making of Top Gun; a look inside the real Top Gun; original theatrical promotional material; music videos, and more Tom Cruise content. It's time to get on the highway to the danger zone!
Click here to enter via our official giveaway page!
Entries will be accepted until Thursday, May 28. Three (3) winners will be drawn randomly, and notified via email. Each winner will have 48 hours to accept the prize, otherwise another winner will be drawn. Goodness gracious great balls of fire — good luck!