Giveaway: Win Some Tegridy With Season 23 of South Park on Blu-ray
We're giving away a copy of the complete South Park Season 23 on Blu-ray! Plus, we've got some EXCLUSIVE, behind-the-scenes concept art from the season's creation!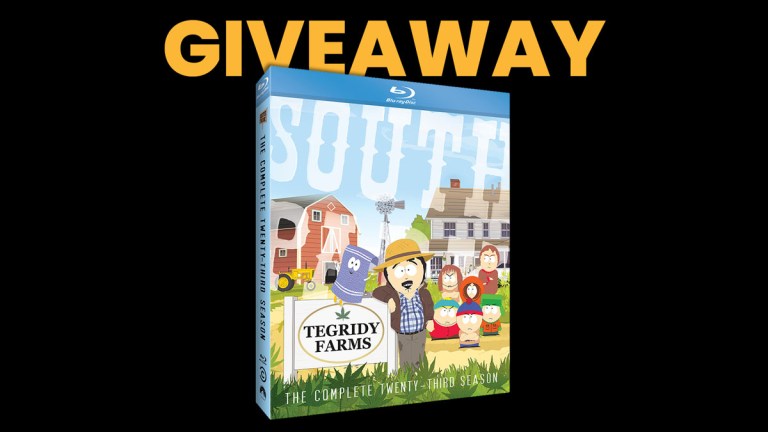 Finally, a giveaway with Tegridy. No, we're not giving out jars of Randy Marsh's local, small batch marijuana. We're giving away the next best thing: South Park Season 23 on Blu-ray, thanks to Paramount and Comedy Central.
South Park's 23rd season was a memorable one. It featured the show's landmark 300th episode. Nine episodes sported new theme songs for the show, with supporting characters like Randy Marsh, PC Babies, and Scott Malkinson taking the spotlight. Serialization made a comeback with the first six episodes centered on Randy's Tegridy Farms. Oh and the Chinese government banned South Park from their internet after episode 2, "Band in China," skewered the Chinese president and Hollywood's censoring of films and shows to meet the Chinese government's standards. It's honestly impressive they made it 22 seasons before getting banned in China.
South Park Season 23's Blu-ray release, slated for June 23, comes loaded with exclusive concept art, commentary from series creators Matt Stone and Trey Parker, trivia, and more. It will be available in a 2-disc DVD or 2-disc Blu-ray. Below, check out a first look of exclusive concept art from South Park Season 23:
If revisiting season 23 has you wondering what's up next for South Park, don't worry because the show is returning for its 24th season this fall. South Park is currently renewed through 2022, which would bring the long-running animated show through season 26.
To enter for a chance to win a copy of South Park's twenty-third season on Blu-ray, simply:
That's it! Entries will be accepted until July 1. One (1) lucky winner will be chosen and then notified via Instagram direct message. The winner must reply to the direct message within 48 hours with shipping information in order to accept the prize, otherwise another winner will be chosen. Good luck, and have some Tegridy.