Features
Free Zoom Alternatives for Video Conferencing
Need to host a video conference but don't know which app to use? Aside from Zoom, there are quite a few other free options at your disposal.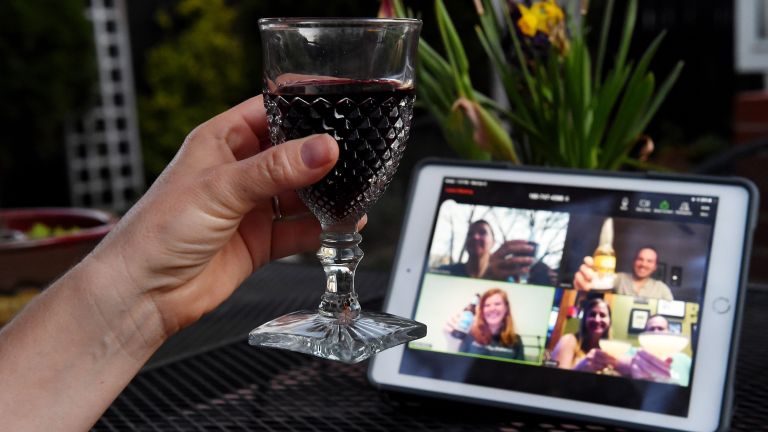 Social distancing and lockdowns amid the coronavirus emergency have forced us all to stay indoors, which means that video conferencing has become a more valuable tool than ever before when it comes to staying in touch with co-workers, friends, and family. You've probably heard quite a bit about Zoom, the video conferencing app that lets you connect with up to 100 friends from the comfort of your home. The app is easy to use, lets you share your screen for business meetings, and even offers a way to make video conferences more fun through its virtual backgrounds. It's also not a bad way to play party games online!
But Zoom also comes with some restrictions. For example, the free tier of the service only lets you chat in 40-minute intervals, meaning that every time you reach your time limit, your call will end and you'll need to start a new one. While it's not that big of a deal, this can get annoying when conferencing with a large group. A paid subscription starting at $14.99 for the Pro tier raises the duration limit to 24 hours.
The app has also become a new avenue for internet trolling, calling into question whether public Zoom calls are actually all that secure for its users. If you've been the victim of "Zoombombing," you know what we're talking about.
Fortunately, there are plenty of other conferencing options if Zoom isn't doing it for you. That's not to say that Zoom isn't still a great app, but it's also good to know all of the different — and free — chat apps at your disposal.
Google Hangouts
Hangouts is Google's complete chat solution for video, voice, and instant messaging. While there is a paid tier of the app, Hangouts Meet, the free tier is great for smaller officers or for chatting with friends and family. Hangouts lets you connect up to 25 people (only 10 visible on screen at once), which is only a fourth of the people you can chat with through Zoom's free tier, but one advantage is the ability to launch the app from your Chrome, Firefox, or Safari browser.
Since it's based on the Google platform, you can sync your chats between your PC, phone, and tablet and switch between devices seamlessly. That said, using the free version will require you to open a Google account.
Overall, this is an easy-to-use app and Den of Geek's own preferred communication solution during business hours. If you want to unlock additional features, such as the ability to record calls and host up to 250 people, the paid tier begins at $6 per month.
Google Duo
Unlike Google Hangouts, Duo is specifically tailored towards video conferencing. It strips away the more well-rounded features of Hangouts for a more simplistic approach. You can still host a conference call across all of your devices, including your preferred web browser and Google's own Nest Hub, but you can only connect up to 12 users, meaning that this app might be best for chatting with family members and friends. One interesting feature is the ability to send video messages.
While Zoom and Hangouts are decidedly better for work meetings, this app is perfect for catching up with your less tech savvy family members.
Skype
There was a time when Skype ruled the realm of video conferencing, but there are way more options these days, and like AOL Instant Messenger, Skype has fallen by the wayside a bit in recent years. That said, Skype is still an incredibly solid option for conferencing with work colleagues and loved ones.
Skype can host conference calls of up to 50 users, half of Zoom's participation limit, but it has a few other features that more than make up for it, including the ability to launch a video call without signing up for a Skype account or downloading an app or plug-in. You can simply start a meeting by visiting Skype's Meet Now browser page and sending a meeting link to your colleagues or friends. You can also record calls and save them for up to 30 days, which is a really nice feature for team meetings.
Facebook Messenger
Boasting no time limits and an all-new desktop app for Windows and Mac, as well as apps for iOS and Android, Facebook Messenger is a great chat solution…if you mostly spend time chatting with people through the social media platform. If you're into talking to old elementary school friends you haven't seen in years or your uncle with questionable opinions or colleague who loves to play "devil's advocate" outside of work hours, this might be the solution for you. Like Duo and the Google Nest Hub, this is also a simplified solution for people who prefer to communicate through Facebook's Portal smart display device.
There are a few limitations, though. For one, users need to have Facebook accounts to use this app. But the biggest con is the fact that video conferencing on Facebook Messenger only supports up to eight users, a measly number of participants when compared to Zoom or many of the other conferencing apps on this list.
Download Facebook Messenger Here
UberConference
UberConference, like Skype Meet Now, lets you start a video conference through your browser or on a mobile app with up to 50 participants and a 5-hour call duration limit (both for a limited time) with no download necessary if you're on your PC. Like Zoom, UberConference lets you share your screen with colleagues and record your calls.
This is a great option for work meetings, and the much longer call duration means that you can chat with family and friends without having to restart a conference every 40 minutes. The only downside is that the current participation and time limit are subject to change after two months, with the free tier reverting back to 10 participants and a 45-minute duration.
Sign Up for UberConference Here
Houseparty
When just talking won't do, there's Houseparty, a video conferencing app that also offers games, like Trivia, Quick Draw!, Chips and Guac, and Heads Up! This is an app centered around fun and offering the party experience when meeting in person isn't an option.
You can host up to eight people in a call without a time limit, which is perfect for hanging out with a more intimate group of friends or family members. Obviously, this app wasn't really designed with work in mind.
FaceTime
Like Facebook Messenger with its social media platform, FaceTime limits user accessibility by platform, meaning you can only use this video conferencing app on iOS, MacOS, or iPadOS. But if all of your loved ones have iPhones, MacBooks, or iPads, this is a great option for simple voice calling. Up to 32 users can jump on a conference call at once and users with the latest devices or operating system updates can even use Apple features like the silly Memoji option.
WhatsApp
WhatsApp is the perfect option if you want to communicate with loved ones overseas. Available in most countries, you can chat internationally and make long-distance calls over WiFi with this app as well as video conference with up to four users at once. This app also brings both iOS and Android users together under one roof in a sleek and easy-to-use chat room option. In fact, this is Den of Geek's chat app of choice after business hours.
You can download this app on iOS and Android as well as use WhatsApp Web on your browser of choice, but the web client must be tethered to your phone app. Yes, you have to register for the service and download the app on your mobile device and convince others to do the same in order to get a proper chat room going.
Discord
Discord is the preferred chat app of gamers everywhere. Whether you're using it to voice chat with your teammates while playing online, looking for someone to join your squad on a game-specific server, or simply instant messaging with a community of like-minded players, Discord is where you'll live once it's time to game. Discord even allows you to set up your own server and launch topic-specific channels for a forum-like chatroom or voice chat or video conferencing.
You could launch a server and create channels for World of Warcraft raiding and another for Destiny PvP and another for dungeon-crawling in Diablo — all under the same roof. Best of all, many games now support the service, so that you can easily integrate Discord into whatever you're playing. Many games even have their own official Discord communities where you can chat, get tips and tricks from other members of the community, or invite other players to hop into your party. Gamers need no other app.
You can get Discord on iOS, Android, Mac, and PC.
Bunch
Like Houseparty, Bunch is a conferencing app that wants you to have fun while you chat. But Bunch offers slightly more robust and attractive gaming options all-around than the more basic party app. Aside from its own lineup of games, which includes Pool, Mars Dash (a fun racing game), Draw Party, Trivia, and a multiplayer version of Flappy Bird called Flappy Lives, there's also the Bunch Overlay, which allows you continue video chatting while playing third-party games like Roblox, Call of Duty, Brawl Stars, Armajet, and Minecraft.
The only major con at the moment is that the Bunch Overlay feature is only available on Android devices, with iOS users are only able to voice chat while playing third-party games. Bunch is also only available on mobile devices at this time.