News
Aliens M41-A Nerf Blaster Lets You Become Ripley for a Steep Price
Nerf is about to unleash its take on the premier weapon for hunting Xenomorph, the M41-A Pulse Rifle, as famously utilized in Aliens.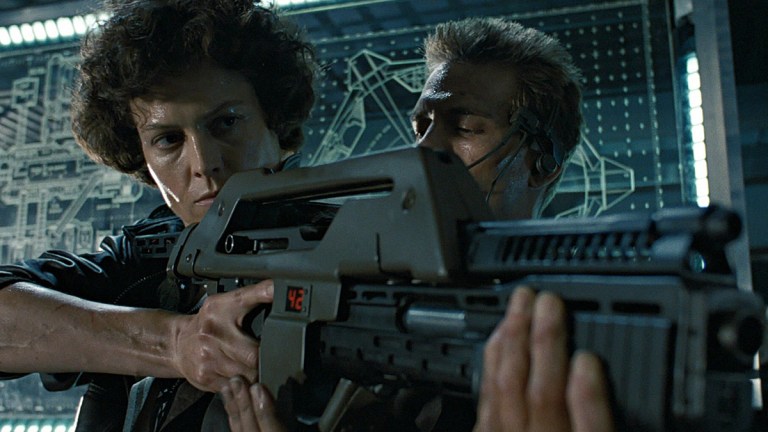 Aliens is obviously widely regarded as one of the greatest sequels in cinema history. Yet, despite only adding a subtle pluralization to the title of Ridley Scott's 1979 bellwether chiller, director James Cameron whisked Sigourney Weaver's embattled Ellen Ripley away from the spaceship-stuck shadowy insular horror of just one loose Xenomorph into a balls-to-the-wall surface scrap alongside the United States Colonial Marine Corps against a horrendous horde of the creatures. Thusly, one of the 1986 film's most recognized sounds is the deadly-but-elegant rattle of the M41-A Pulse Rifle, which is set to be immortalized via Nerf.
Nerf, by the very nature of the safe spongy substance that shares its name, may be intrinsically defined as a manufacturer of necessarily-affordable kids' toys, but its premium branding, Nerf LMTD, has been off in its own tangent conjuring collectible fodder for adult genre fans willing to shell out big bucks; a notion notably exemplified by The Mandalorian's famous forked Amban rifle. However, the fun won't be restricted to Star Wars fans, since the company has just unveiled its take on Aliens' M41-A Pulse Rifle, which spans 28 inches in length, loaded with an insane array of features. However, the cost of cavorting around firing Nerf's rendition of the rifle's 10-millimeter explosive tip caseless armor piercing rounds and grenade launcher won't be cheap, with pre-orders for the limited-run premium item now set for $94.99.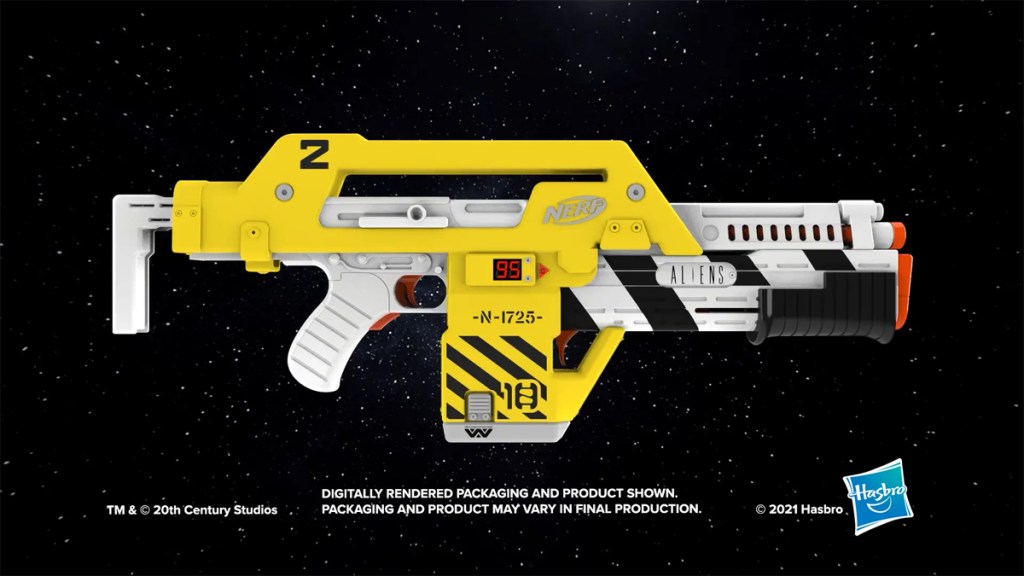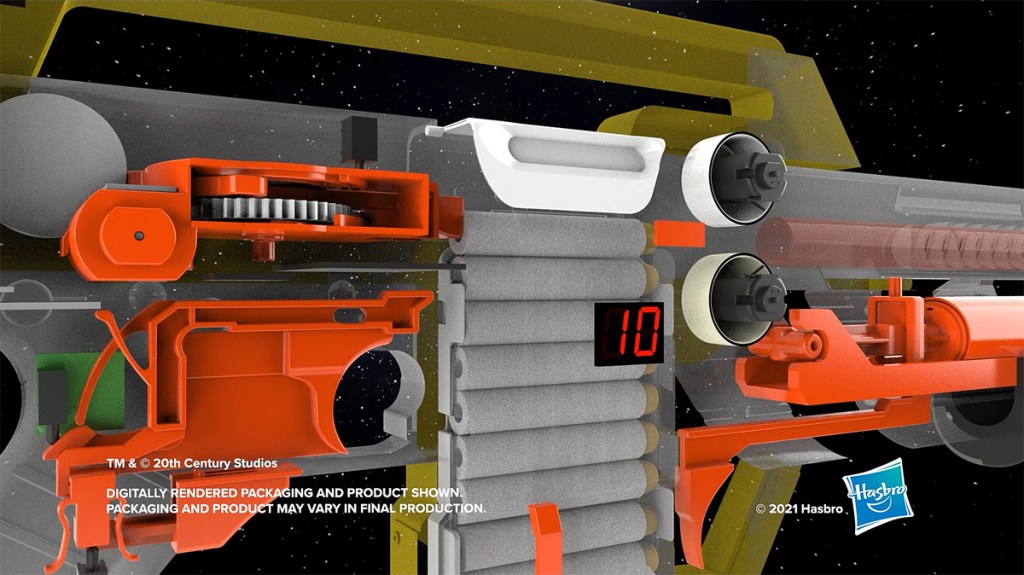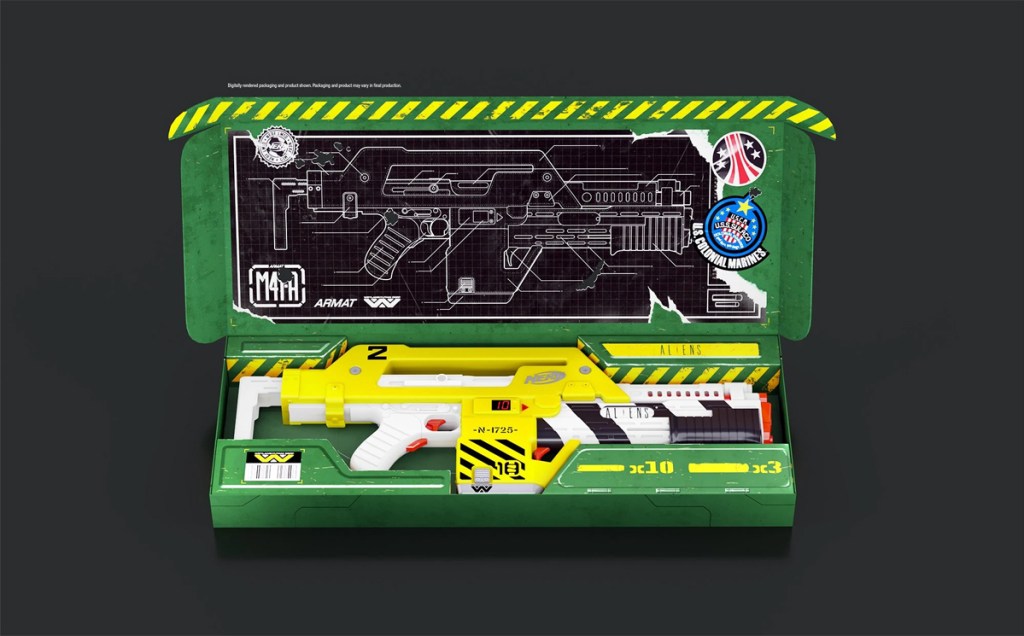 Sure, the bright, energetic toy-etic color tones—which artfully borrows its motif from the film's equally-famous Power Loader—might undermine the replica desires of discerning cosplayers, but Nerf's M41-A Blaster is nevertheless a sight to behold, one that should mollify most designs. The electronic-powered piece (run on four 1.5v C batteries,) loads magazines containing 10 darts, each of which will be tracked by a lit numerical display that matches both the look and function showcased on the weapon in the movie. It even has a pump-action loader for its big-bolt "grenade" launcher, with which you can imagine delivering an explosive end to swarms of Xenomorphs; a suspension of disbelief made easier by the rifle's sound effects, which are taken straight from the film—crucial element of its weight notwithstanding.
Indeed, the M41-A Pulse Rifle isn't just a visually recognizable prop that has been retroactively assigned a nerdy name by merchandise, magazines or other forms of ephemera. The item—a product of the always-dubious Weyland-Yutani Corporation—was named specifically in a memorable scene between Ripley and Corporal Hicks (Michael Biehn) after the group holed up in the remnants of colony Hadley's Hope at Xenomorph-overrun planet LV426. Quickly realizing that the consulting Ripley—who, by trade, was only a warrant officer of a commercial mining spaceship—will likely be placed in the position of having to physically defend herself, Hicks gives her a quick operational tutorial of the weapon itself, thereby revealing the extent of movie verisimilitude that Nerf has put into the item. Moreover, the rifle-centric scene cemented an important bond between Ripley and Hicks. While said bond, due to the sheer magnitude of the threat, would not yield a romance, it gave Ripley—isolated amongst her hardened cohort of soldiers—a much-needed ally amidst the landing party's leadership deficit.
The one arguable downside here is that, having put down nearly $100, discerning Aliens fans might be left to suffer from the unattainable desire to make the M41-A into Ripley's movie-climactic, life-hacked hive-incinerating triple-threat ultimate version of the weapon by attaching the rifle to a line-equivalent M240 Flame Thrower unit with some duct tape. Then again, should the M41-A sell well enough, then Nerf might just come back to the table with that natural accompaniment, much to the panicked, egg-sack-ripping chagrin of imaginary Alien Queens everywhere who don't take kindly to being called "you bitch."
Interestingly, Nerf's Aliens M41-A rifle arrives as the film franchise itself rests in a unique kind of limbo. While it's only been four years since its Scott-directed most recent offering, Alien: Covenant, the 2017 film—the sixth movie in the jumbled continuity overall, not counting the two Alien vs. Predator entries—will eventually be followed up by a mysterious television series set for FX under the purview of Fargo and Legion's Noah Hawley. The untitled television project will purportedly manifest as a more grounded take on the mythos, but Hawley recently clarified at last week's TCAs that the show "will feel like a part of the cinematic universe you're familiar with in terms of Alien." However, with a release window estimated for around 2023, that series is clearly too far off on the horizon to provide a tentpole for Nerf's exorbitant offering.
Nerf's Aliens M41-A rifle is currently scheduled to arrive on October 31, potentially in the nick of time for some Halloween endeavors.