News
Playmobil's Star Trek U.S.S. Enterprise Takes Retail Toys to a New Level
Star Trek's original U.S.S. Enterprise is getting an epic adaptation from Playmobil with a toy that's over 3 ft. long and costs $500.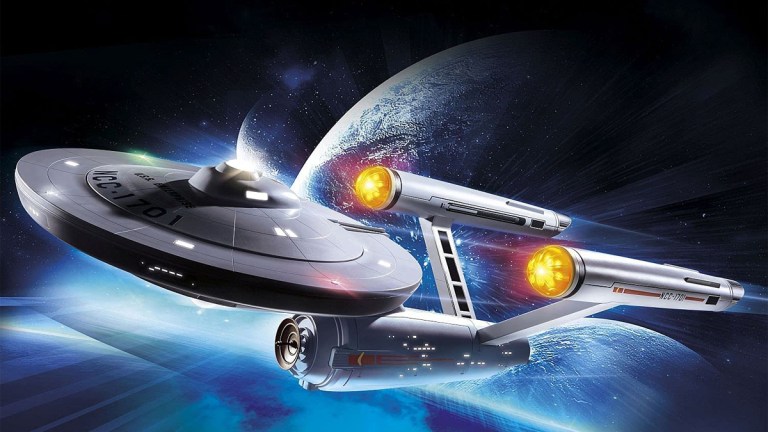 The word "iconic" gets thrown around with unjustified ease these days, but Star Trek's original U.S.S. Enterprise clearly lives up to that contemporary cliché, standing as one of the most revered sci-fi spaceships not just in the history of the genre, but global popular culture. Thusly, the ship's marketability remains evergreen over half a century after its introduction, as evidenced by the reveal of Playmobil's ambitious upcoming toy release, which spans over 3 ft. long, featuring loads of impressive features. So, if you happen to have $500 burning a hole in your proverbial pocket, then we have good news for you!
The commonly offered refrain that toys are primarily designed for children first and collectors a distant second was just blasted with a photon torpedo courtesy of German toy company Playmobil, which has unveiled its Star Trek U.S.S. Enterprise NCC-1701—or, as Scotty once specified, "no bloody A, B, C or D." The item celebrates the 55th anniversary of the bellwether television series and the multimedia franchise it subsequently spawned. Playmobil, known for stylized miniature-scaled replicas with sounds and lights, has designs to impress with this release. The upcoming 150-piece set, which measures 42 inches long x 18 inches wide, features an assortment of working lights and sounds, includes miniatures of the entire bridge crew, and can even be controlled by your smart phone. However, with the Enterprise, the company will boldly go where no retail-level toy has gone before—with a $499.99 price tag! Yes, despite the cutesy design of the miniatures of Kirk, Spock and the gang, this one is hardly a kid's toy.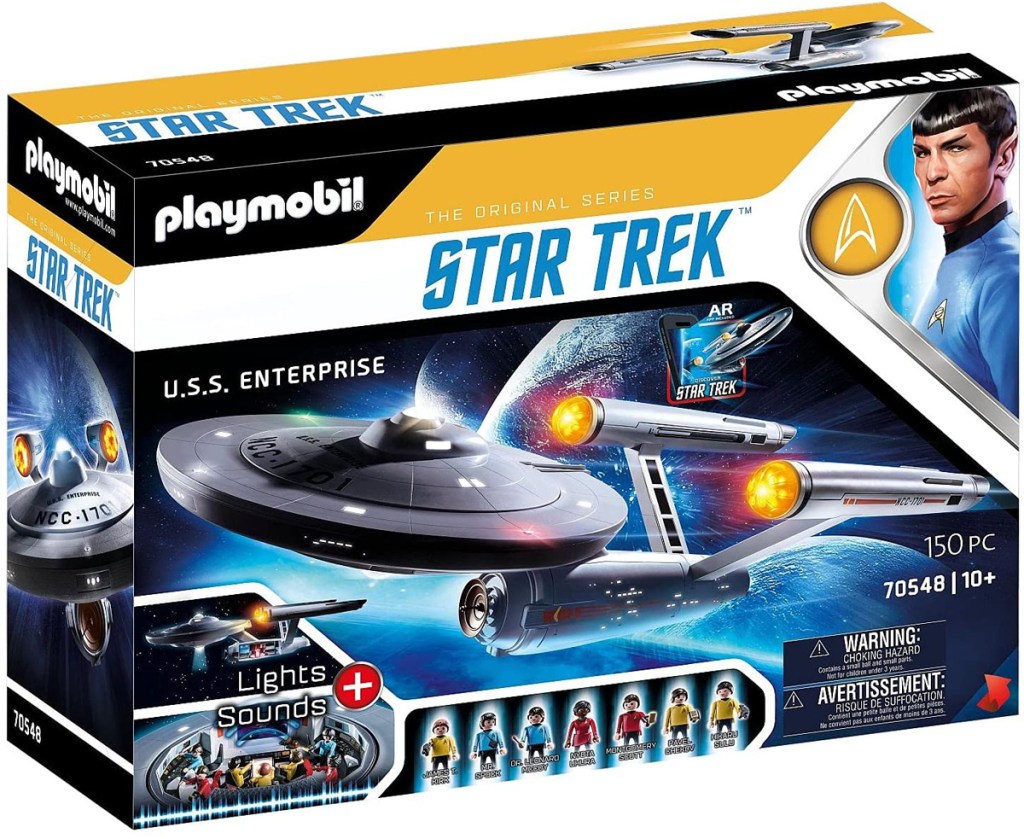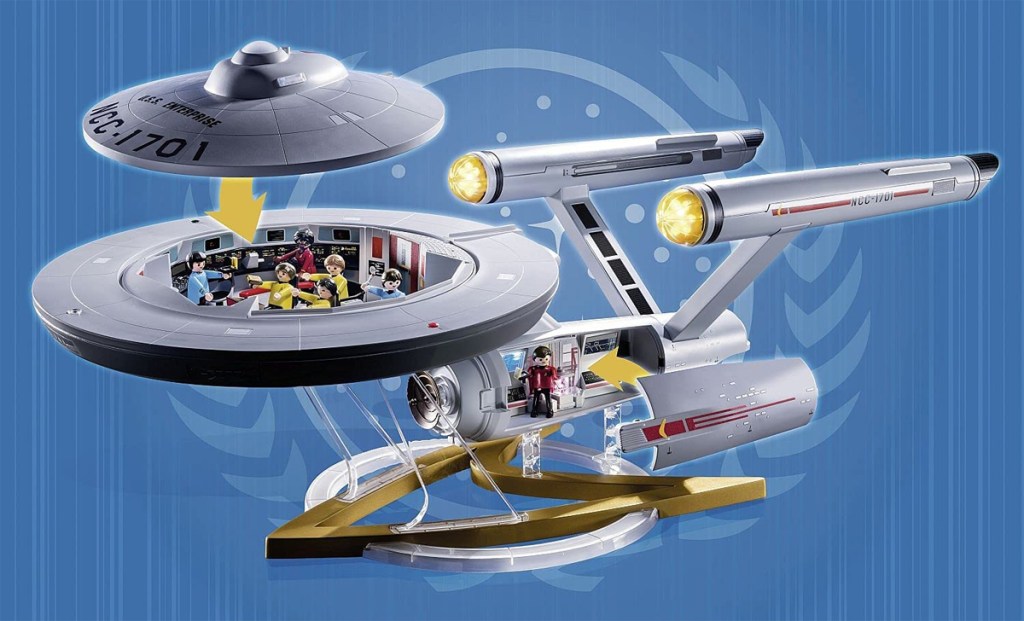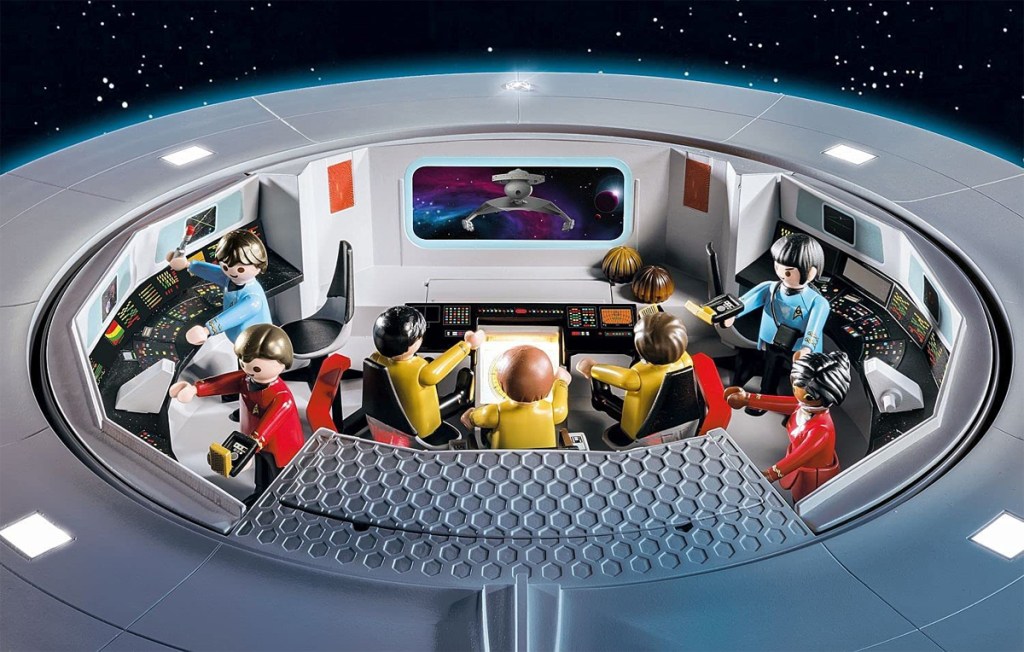 Playmobil has been quietly coveting licenses for classic properties of film and television. Indeed, strolls through toy aisles at, for example, Walmarts, over the past few years showcased the company's impressive renditions for franchises like Back to the Future's DeLorean and Ghostbusters' Ecto-1, complemented by an array of original, kid-friendly aspirational sets. However, with the Star Trek IP now in tow, Playmobil has outdone itself with the U.S.S. Enterprise, potentially setting a new, high-level template for the release of more gigantic ships.
Yet, what makes this reveal rather interesting is the fact that the set will arrive as a proper retail release, which makes it a modern anomaly for something of its enormous scale and lofty price range. Intriguingly, it's also a throwback of sorts to the glory days of giant vehicles and playsets. Notably, G.I. Joe fans of a certain generation know the feeling of admiring financially-unattainable playsets, as famously exemplified by Hasbro's release of the U.S.S. Flagg aircraft carrier, a 7.5-foot-long magnificent monstrosity that retailed in 1985 for $89.99 (or $227.23 in today's dollars). For most kids, it was only experienced via the enormous shelf space on which its gigantic box rested at your local Toys "R" Us, or via the lucky kid on the block who managed to finagle one. Naturally, some of those now-adults have chosen to use their earned disposable income to avenge those unforgettable instances of childhood deprivation. Thus, we find ourselves in an age in which a $500 toy—mind you, not a bespoke replica or high-end collectible—isn't entirely unheard of in the market.
Of course, the days of big boxes hogging the shelves of retail stores are long gone, notably for a typical carrier of them, Toys "R" Us, which recently went out of business, now only existing as a store branding outside of the States. However, the crowdfunding phenomenon has kept the floundering concept alive, allowing the otherwise-unfeasible production of collectible dream projects that would otherwise have no chance of finding precious shelf real estate at your local Walmarts or Targets. Hasbro's HasLab crowdfunding endeavor has been the dominant driving force behind this, notably for Star Wars, with room-dominating releases that accommodate the traditional 3 ¾" action figures such as 2019's Jabba's Sail Barge (The Khetanna) and 2020's yet-to-be-released rendition of The Mandalorian's Razor Crest—which, conspicuously enough, would be destroyed on the show shortly after the $350 item was fully backed by collectors.
Additionally, Hasbro recently reached its mark for the 6" scale Marvel Legends line to go into production of an astounding 26.3 inch tall X-Men Legends Sentinel figure for an initial $350; a price that, upon closing of the crowdfunding, was raised to an average of $550 by secondary sellers offering pre-orders for those who missed the boat. Moreover, a monstrous, world-devouring 32-inch tall Marvel Legends Galactus is currently closing in on its targeted goal of 14,000 backers, each of whom will pay $399.99! Additionally, the recently revived Masters of the Universe IP recently got in on the crowdfunding action with former licensee Super7's Snake Mountain playset, an awe-inspiring re-imagined rendition of Mattel's classic playset for Skeletor's dreaded domain, this one enlarged and upgraded for the now-defunct 7" scale Masters of the Universe Classics line. That set required an investment of $600, which didn't even include shipping!
Now, without the solicitation of cash-carrying crowd-funders, Playmobil has fired a phaser shot across the bow of the big-box toy market with its U.S.S. Enterprise. Yet, it will be interesting to see just how many (if any) of these monster boxes (revealed as 26.77 x 19.69 x 8.86 inches) will manage to show up at brick-and-mortar retailers. While most of the would-be buyers will order it from major online retailers such as Amazon, Entertainment Earth and Big Bad Toy Store, the project has come to life with the advantage of a large, retail-level production, though without the financial safety net that a typically crowd-funded project of its price point would enjoy. Yet, for true Trekkies, this Enterprise might be a must-get item; one that could facilitate every display your heart desires, be it hanging on the ceiling or resting majestically on its included stand. Space will indeed be the final frontier as you attempt to find somewhere to put this sublime manifestation of the inimitable Constitution class vessel.
Playmobil's Star Trek U.S.S. Enterprise set is currently scheduled to arrive on Sept. 15, and is currently available for pre-order by online retailers. In the meantime, Star Trek might just have some incoming news from Creation's annual mega-convention in Las Vegas, which will be held from Aug. 11-15. That's because the event—set this year as a celebration of the big 55-year anniversary—has been known to generate headlines, notably in 2018, when Patrick Stewart walked on stage to make an impromptu announcement that he was returning for the series that would come to be known as (the imminently returning) Star Trek: Picard. Consequently, new trailers and announcements could be on the immediate horizon.