News
Alien and Predator Join Marvel Universe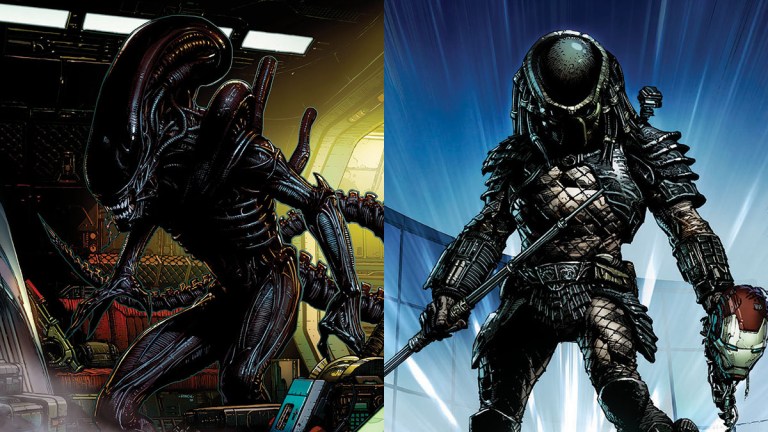 After decades published by Dark Horse Comics, the Aliens and Predator comic franchises are joining Marvel according to an announcement today. Creative teams haven't been announced, but the company did release promotional art of both the titular monsters by artist David Finch (Eisner winning artist of Batman). The new books are set to arrive in 2021.
"Alien and Predator are the two of the most identifiable, iconic characters of all time, and I love them for that," Finch told IGN. "But mostly, it's being fortunate enough to be a kid when they were new. I've seen every movie they've ever been in, and I cannot wait to see them wreaking havoc in the Marvel Universe. I drew my pictures of them with a massive smile on my face."
The two monster franchises had been published by Dark Horse Comics since 1988 for Alien and 1989 for Predator. The two have been crossing over with each other in comics since they started being published, with the first coming in 1989 and the most recent ending this year.
"The incredible legacies of both franchises offer some of the most compelling and exciting worldbuilding in all of science fiction," said Marvel Editor Jake Thomas. "It is a thrill and an honor to be able to add to that mythology and continuity with all-new stories set within those universes."
There's no guarantee that they will cross over into the main Marvel Universe, promotional art aside. However, there are two strands of comics history that argue strongly for their inclusion. First, Marvel couldn't wait to insert their last Dark Horse acquisition into continuity, putting Conan the Cimmerian into the Avengers with Savage Avengers almost immediately after they started publishing his books. And it's not unprecedented for the Xenomorphs to drive continuity – an encounter with the parasites was the inciting event behind the formation of the Authority, the Wildstorm superteam that ushered in the dawn of the Widescreen Era of comics, in the WildC.A.T.S./Aliens crossover in 1998.
This is the fourth franchise to leave Dark Horse for Marvel since Disney began absorbing all other media companies in 2015. Marvel picked up the Star Wars books almost immediately, and Conan, Aliens and Predator eventually followed, while BOOM! Studios took over the publishing rights for the Buffy the Vampire Slayer comics.