Features
That Time Ringo Starr Played Frank Zappa in 200 Motels
Frank Zappa recruited Ringo Starr, who brought along Keith Moon, for his surrealistic musical documentary 200 Motels.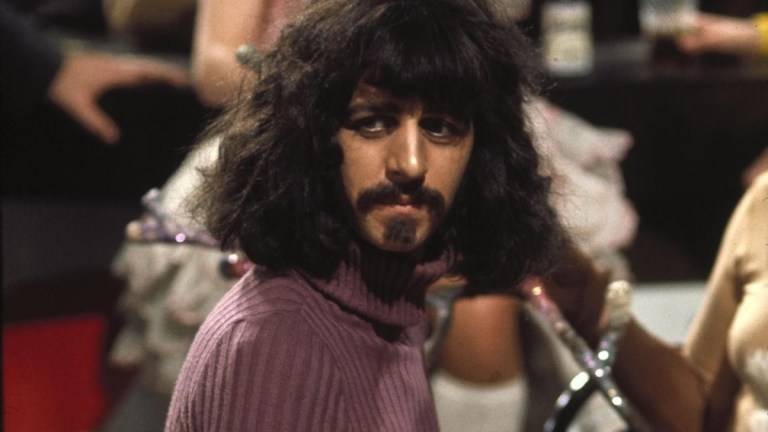 With Peter Jackson's re-cut of The Beatles: Get Back coming at the end of November, we are reminded the Beatles were cinematic stars as well as musical artists. Beyond the group's films, John Lennon played Private Gripweed in Richard Lester's How I Won the War, and Ringo Starr acted in quite a few films. His choices were far more in keeping with the underground and independent air of the time. Starr starred with Peter Sellars in the anti-capitalist satire The Magic Christian, as the villain in the Spaghetti Western Blindman, and the voyeuristic Mexican gardener Emmanuel in the sex farce Candy. But his most counterculture and independent nod was as Frank Zappa in the film 200 Motels (1971). A special edition of its soundtrack, Frank Zappa 200 Motels 50th Anniversary Edition, is coming out on Dec. 17.
Written by Zappa, who co-directed with Tony Palmer, 200 Motels is a musical film which sought to project the surrealistic reality of being a pop musician on the road in 1971. The film stands in history as the first full-length feature where the action was shot directly onto videotape and transferred onto 35mm film for cinema release. To do this, they used the old 3-strip Technicolor method of negative and print to isolate the three color signals – red, blue and green – and transfer them to 3-strip 35mm film. Shot in just 10 days at London's Pinewood Studios, with a budget of around $650,000 from distributor United Artists, Zappa showed what the new medium could do with spectacular state-of-the-art visual effects.
Zappa first started shooting homemade 8mm movies in 1958, and his interest in filmmaking led to cinematic innovations. His onramp to the intersection between music and film led him to unleash Bruce Bickford's clay-mation into the 1979 concert film Baby Snakes. Palmer directed the 1968 BBC music documentary series All My Loving, which featured Eric Clapton, Jimi Hendrix and Zappa.
"Touring makes you crazy," Zappa explains at the start of the musical motion picture. The band in the film and on the soundtrack consisted of Frank on guitar and occasional bass, the Turtles' Mark Volman and Howard Kaylan – who called themselves Flo and Eddie – on vocals, Ian Underwood on woodwinds and keyboards, drummers Aynsley Dunbar and Jimmy Carl Black (who also sings lead on "Lonesome Cowboy Burt"), George Duke on keyboards & trombone, Ruth Underwood on percussion, and ultimately, Ringo's chauffer Martin Lickert on bass.
Ringo plays Larry the Dwarf, who is actually a sinister trout mask replica of a renowned bandleader. "It was very strange actually," Ringo explains on a track from Frank Zappa 200 Motels 50th Anniversary Edition. "A call came from the Apple office that Frank Zappa had this idea, and he wanted to present it to me. I thought, oh great, cos I'd heard Frank's music. In a very musical way, it was very whacky actually. So, I invited Frank to my house. He laid this huge score out and said 'I've got an idea to make this movie, and here's the score.' I said, 'Why are you showing me the score? I can't read music. But because of that I will do the movie.'"
It wasn't just any part. "He told me he wanted me to play him, because he just wanted to be a musician in it," Ringo remembers on Frank Zappa 200 Motels 50th Anniversary Edition. The ex-Beatle wasn't just any acting musician. "You couldn't get a bigger pop star than me at the time," Ringo humbly admits on the CD. "Also, it was strange, the Ringo-playing-Frank. It was a nice premise and I got to hang out with musicians, which is always a good deal."
The veteran drummer was known for keeping time with other kit players. He would play The Concert for Bangladesh side-by-side with Jim Keltner, which by the look of the footage, was done so Ringo could joke around with someone between, and during, songs. For 200 Motels, Ringo brought along one of his best mates, Keith Moon, the pyrotechnically endowed beat-keeper for The Who. Moonie plays a Hot Nun. "[Zappa] wants me to fuck the girl with the harp," Ringo, as Larry, says in the film upon seeing the habit-clad basher banging his way through the orchestra pit. "The magic lamp, he wants me to stuff it up her and rub it."
Renowned rock groupie and author, Pamela Des Barres, who also sang in the all-girl band The GTOs (Girls Together Outrageously), makes her acting debut in 200 Motels. She would go on to play a recurring role on the soap opera Search for Tomorrow, as well as act in Sylvester Stallone's 1978 film Paradise Alley. But Des Barres' biggest contribution to cinema is inspiring Cameron Crowe to add the musical muse Penny Lane to the mix of his rocking movie memoir Almost Famous.
To lend the film cinematic credibility, Zappa also cast noted actors. Our Master of Ceremonies, Rance Muhammitz, was played by Austrian-American actor Theodore Bikel, who was also a folk singer and political activist. Bikel played Captain Von Trapp in the original Broadway production of The Sound of Music. He was nominated for the Academy Award for Best Supporting Actor for playing Sheriff Max Muller in The Defiant Ones (1958), and appeared in such films as The African Queen (1951), Moulin Rouge (1952), The Enemy Below (1957), My Fair Lady (1964), and The Russians Are Coming, the Russians Are Coming (1966). He also guest-starred on an episode of Rod Serling's The Twilight Zone.
200 Motels also features players from the serious world of music, like classical guitarist John Williams, the Monteverdi Choir, and the Royal Philharmonic, which is seen throughout the film in a prison camp called "The Centerville Recreational Facility," with the percussionists dressed as Nazi guards. The film was "at once a reportage of real events and an extrapolation of them," according to the press kit. "Granting the fact that [the Mothers] tend to operate somewhere on the outermost fringes of your real-life Rock & Roll Consciousness, the film is an extension and a projection of the group's specialized view of and participation in this intriguing area of contemporary human experience. Groupies, Life on the Road, Relationship to Audience, Group Personality-Chemistry, Macrobiotic Food & Tie-Die Shirts."
Zappa makes no attempt at a documentarian's cinema verité accuracy. The cities merge into one town called Centerville, "a real nice place to raise your kids up." Unless they grow up to be musicians who hang out at cowboy bars. The surrealistic documentary explores the kinds of things that happen to a band on the road, the hustle, boredom, burnout, and paranoia. Directly derived from Zappa's own experience, the story is told in short comic bits, interspersed with performances by the Mothers of Invention and the Royal Symphony Orchestra. The Mother of Invention band members' primary motivations are the search for groupies and the desire to get paid.
"I was the devil Frank, and I would tape the band, talking. Then Frank would write a song about it and force them to play it and sing it," Starr says in an audio clip on the Box set, before breaking into appreciative laughter.
One of these eavesdroppings would land in the space between art imitating life mimicking art. Frank's microphone caught Mothers of Invention bass player Jeff Simmons moaning about playing "Zappa's comedy music," and wanting to start his own group. Zappa wrote it into the script and cast Simmons as the character Jeff. But the bassist wound up forming that band and leaving the Mothers of Invention right before shooting was set to begin. This left Zappa without an actor or a bass player.
"From the point that Jeff Simmons quit the group we've had a bunch of adventures trying to find somebody to replace him, not only for the bass parts in the music, but to play the role that he was supposed to play in the film, which is a pretty large part," Zappa says in one of the clips from the CD.
"Our first candidate for the role was Wilfrid Brambell, who played the grandfather in A Hard Day's Night," Zappa says on the track "A Bunch of Adventures" from the album Playground Psychotics. "Wilfrid came over, tried out for the part, everything was set, he rehearsed with us for about a week, and then one day came to the studio here, and completely freaked out, and said that he couldn't handle it anymore. So, we went into the dressing room, sat around with the guys in the band, and tried to figure out what we were gonna do about replacing the replacement. And the first person that walked through the door was Martin Lickert, who happened to be Ringo's driver, and everybody just turned and looked at him and went, 'You.'"
The 22-year-old chauffeur read the script, sounded good to Frank, and because so much of music is a happy accident, it turned out Lickert was a musician. "I think he's good for the part, is quite professional on screen and, as a bass player he's not astonishing but, he can make the parts."
200 Motels marked the end of Lickert's stint as Ringo's driver. He gave his notice and joined The Mothers of Invention on bass for a tour of America.
In a clip from the CD Box set, Zappa doesn't guess whether Ringo had a good time on the film. "Well, it's hard to tell, I never bother to ask people whether they enjoy working for me," Zappa says. "But he still talks to me, so I guess it wasn't too bad."
"It was great, from day one," Ringo told Uncut magazine. "I did like Frank. I'd met him several times. He was a beautiful human being. As far as I was concerned, his music was crazy – but that's one man's opinion. He was a lot of fun."
200 Motels premiered at the Plaza Theatre, 627 Madison Avenue, New York City, on Oct. 29, 1971. Consisting of a series of episodes without an overall plot, critics blasted everything, from the story to the music, except the visual works, which combined frenetic cuts, animation and a virtual light show. The film employs all the special effects available: speed changes, false colors, double and triple exposures, and solarization. Many felt the film's multidimensional approach was overbearing, unrelenting, and incomprehensible. "If there is more that can be done with videotape, I do not want to be there when they do it," Roger Ebert wrote in his 1971 review.
Director Palmer later called 200 Motels "the worst film I've done." Though when he later met David Lean, the director of Lawrence of Arabia, "All he wanted to talk about was 200 Motels and how it had been done," Palmer wrote in Talkhouse.com.
200 Motels was mind-blowing in a way traditional rock docs like Don't Look Back, Mad Dogs and Englishmen, and the Woodstock and Monterey rock festival movies avoided. It is actually closer to the fantasy-comedy of The Beatles' films like A Hard Day's Night and Help!, and, like Magical Mystery Tour, 200 Motels set a new standard for experimental musical, independent films. It also influenced the art of music videos. It is a must-see for Zappa fans, as is the soundtrack, but also for lovers of innovative cinema.
The Frank Zappa 200 Motels 50th Anniversary Edition release date is Dec. 17.