Reviews
7Fates: Chakho Review — How Do the Webtoon & Web Novel Compare?
Jungkook's character, Zeha, takes center stage in the opening of 7Fates: Chakho, the fantasy-adventure webtoon and web novel done in collaboration with BTS.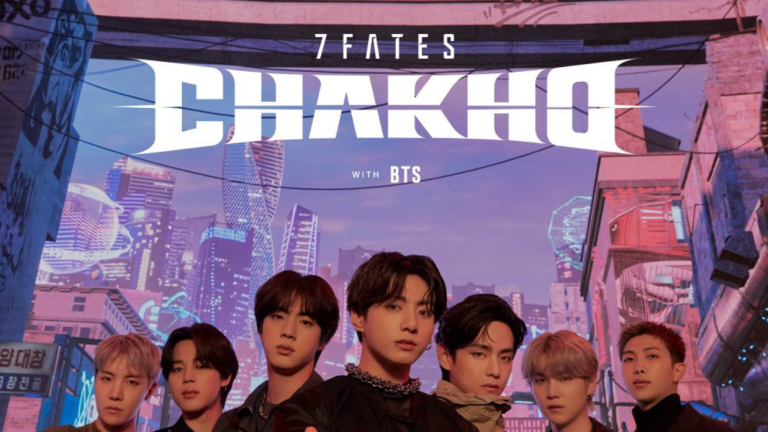 This review is based on the prologue and the first two episodes of the 7Fates: Chakho WEBTOON comic, and the first chapter of the Wattpad web novel.
While comics are often thought of as a print medium, they don't have to be. These days, some of the most popular comic stories in the world are entirely digital, created for and accessed via the web. WEBTOON, a Korea-based mobile platform for web-based comics, is the most-read comic book publisher in the world (it also happened to play host to Den of Geek's best comic of 2021). The success of the Naver-owned company is only poised to grow with the growth of its "Super Casting" project, a branded name for the partnership Naver's WEBTOON has struck with major entertainment companies like DC Comics and HYBE, the parent company of BTS' BigHit Entertainment. The DC partnership has already resulted in a successful slice-of-life Batman family adventure. Now, it's HYBE's chance to shine, with the release of 7Fates: Chakho, a Korean folklore-inspired fantasy webtoon about seven men (one for each member of BTS) fighting supernatural creatures known as "beom" (tiger, in Korean) in the near-future cyberpunk metropolis of Sin-si.
7Fates: Chakho Webtoon Review
In the weeks leading up to the launch of 7Fates: Chakho release, BTS fans got some insight into the fantasy world of this story, including introductions to its seven main characters. While this story will inevitably become an ensemble drama, these first few episodes belong to Zeha (the character inspired by Jungkook). He is our protagonist and audience surrogate, a young man (or is he?) living in Sin-si, learning about the existence of the beom.
Unlike the reader (hopefully), Zeha has a personal connection to the mystery of the beom, though one temporarily severed by a tragedy in his youth. Zeha grew up near Beom Rock, at the foot of Inwang Mountain, until his parents died and he was forced into a much harder life. When a mysterious man (or is he?) with glowing eyes approaches Zeha on the streets of Sin-si, knowing his name and claiming that Inwang Mountain holds the secret to his parents' deaths, Zeha initially refuses to take the bait. But the past can sink its claws into us, and the maybe-man with glowing eyes is convincing, so Zeha ventures to Inwang Mountain.
Our protagonist wakes up three days later in the hospital, the only survivor of a massacre that claimed 24 lives at Inwang Mountain, leaving only Zeha and mutilated bodies in its wake. Zeha can't remember any of it, even when suspiciously well-dressed detective Kim Soo-hoon asks, revealing that similar killings have popped up across the city in the days since. So Zeha returns to the mountain, looking for his own answers, only to meet the man that was once Beom Rock. His name is Haru (the character inspired by Jimin), and he is an ancient guardian of the gateway between the world of humans and the world of beom. Haru helps Zeha remember what happened at Inwang Mountain three days prior…
Zeha did journey to Inwang Mountain with Hupo, the mysterious man with glowing eyes who is revealed to have a haircut like David Bowie in Labyrinth. Hupo tells Zeha the story of his family, as promised: Zeha's father was a beom and his mother was a shaman, tasked with guarding the gateway between the beom world and the human world. (It's unclear if she took Haru's job or if they were co-workers.) Every year, on January 16th (also the day of the massacre), Zeha's mother would sing a song opening the gate for a short time. She fell in love with Zeha's dad and allowed him to stay. They had Zeha, and lived happily for a short while… until Hupo came along. Hupo is a beom. He murdered Zeha's parents and, years later, has returned to do the same to Zeha… but not without getting something from Zeha first. Zeha has shaman blood running through his veins, Hupo tells him, which means he can use the song he learned from his parents as a child to open the gate again.
Zeha sings the song, and unlocks the gate, also unlocking Hupo's powers, in the process. (They have been out of his reach for 4,000 years because of "a damned mutt like you," he tells Zeha.) Hupo uses his superhuman strength and claws to slash Zeha to the ground, leaving him for dead. He assembles with his beom friends—who, notably, are not all tiger-like, but resemble many different kinds of animals and creatures—ready to continue the war between beom and humans.
In the shadow of the mountain, days later, Haru attempts to give Zeha comfort. "Let's go, my dear child," Haru tells Zeha, still reeling from the recovery of his memories. "Let us hunt the beom."
I've only recently started reading webtoons, so struggles I have with this story could be issues with common story structures of the format, or general webtoon media illiteracy. I disliked the non-linear storytelling, which jumped back and forth between points in time because of Zeha's jumbled memory, but not in a way that worked for me in terms of either building suspense or character development. I would have liked to see more world-building done in these opening chapters. The promotion around 7Fates has teased how beom can blend into the human world, and there's brief mention of that here, but for the most part we stay so tight on Zeha, who spends most of his time in the hospital or in his memories in these opening chapters, that we don't get to explore Sin-si much yet. Hopefully, we'll have more opportunity in future episodes.
More positively, I continue to love the scroll-driven structure of webtoons, which fully immerse you in the world of the story without any edges. REDICE Studio, known for webtoons like Solo Leveling, produced the webtoon, with "co-planning" from HYBE and WEBTOON, and the artists use the format well, immediately playing with the distance between reader and character as Haru's hand moves towards the reader (e.g. becoming larger and larger) in some of the opening "frames." Rather than tapping us, however, the finger is revealed to be touching Zeha, both an introduction to the character and a blurring of the line between Zeha and reader, marking us as on this journey together. Narratively, I love the supernatural stakes of this world, and am excited to meet the other characters who can help Zeha, give him a found family, and continue to complicate our understand of what is monstrous in this world.
7Fates: Chakho Wattpad Review
In addition to WEBTOON, Naver also owns Wattpad, on online social reading platform originally known for fanfiction that has branched into other kinds of original fiction, as well as the production of original fiction into successful screen adaptations. Interestingly, 7Fates: Chakho has been released as both a web comic on WEBTOON and a web novel via Wattpad. The platforms tell the same story in two different formats, which is a fun study in the strengths and weaknesses of various mediums. Past that niche interest, it's not necessary to read both, though mileage may vary depending on expendable income.
Based solely on the first chapter of the web novel, the webtoon feels much more artfully constructed. One of the potential strengths of a novel is not only the ability to give insight into what a character is thinking or feeling, but the ability to create tension between what a character is thinking and feeling and what a character is saying and doing. Rather than expanding on the world of the web comic in any of the ways prose is well-positioned to do, the 7Fates: Chakho web novel mostly reads like a slightly more detailed summary of the webtoon plot. (Although, it should be noted that REDICE is known as a studio that adapts web novels into webtoons, rather than the other way around.) In the web comic, the reader gets information from the choices the artist makes in bringing the world and its characters to life. The web novel doesn't have that added layer of medium-specific depth, nor does it have the vibrancy of the webtoon's art, which will presumably become even more important as the story delves further into action. (It does, however, include photos of members at the end of each chapter! In Chapter 1, it is Jungkook.) Because of this, the web comic feels like the primary source of this story world. If you can only choose one format to read, I would go with the webtoon, though every reader should of course take into account their own preferences in medium.
What Role Did BTS Play in Creating 7Fates: Chakho?
Thus far, most of BTS' involvement in 7Fates has seemingly been in the promotion process. It's currently unclear what role the members played, if any, in shaping their characters, though their participation in the promotion process implies they had if not editorial input then approval. BTS often chronicles the process of their participation in projects outside of their main job of music-making and performing, such as the development of their BT21 characters. Hopefully, we will get more insight into any participation into the making of 7Fates: Chakho story, whether their role was substantial or a more minor one, and/or some insight into the authors and writers behind this project.
As for the outcome, there was an obvious effort to create seven characters based on the seven members, taking into account both their physical appearances and also some of their character traits. (Though the 7Fates' characters, like their Bangtan Universe cousins, have far more tragic backstories than the members.) While Zeha has some similarities to Jungkook (a love of singing, a penchant for hoodies), the artists truly captured something intrinsic to Jimin in their depiction of hanbok-wearing rock-man Haru. Sure, it's the dangly earrings, but, more than that, it's the playfulness and empathy that is immediately apparent in Haru's demeanor. "When Haru laid his cold hand on my shoulder," Zeha narrates in Episode 2, "the emotions I'd hidden deep down burst open." Classic Jimin influence, and the kind of characterization I hope to see bleed through in the depiction of 7Fates' other member-counterparts moving forward.
What did you think of the opening of 7Fates: Chakho? Have you read both the web comic and the web novel? Which did you prefer? Let us know in the comments below.