Features
Marvel Just Brought Back the Best Spider-Man Villain
Forget Green Goblin and Doctor Octopus. Hell, we don't even want to hear about Venom. The best Spider-Man villain of his generation is back, and Marvel isn't messing around.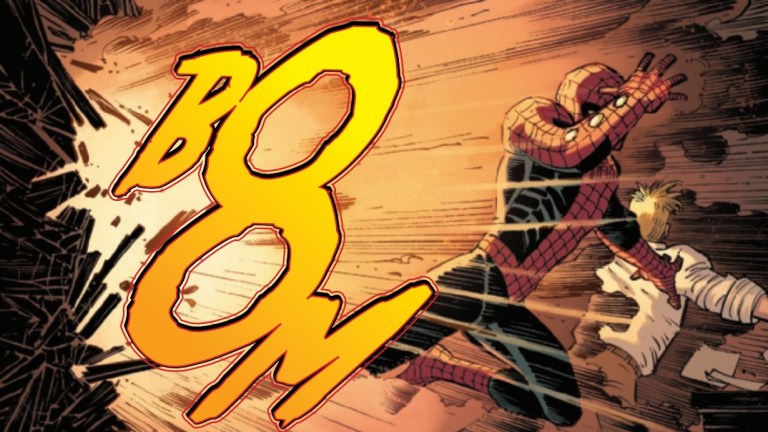 This article contains some spoilers for The Amazing Spider-Man #12.
To a certain generation of Spider-Man fans, one Goblin stands above all others. It's not Norman Osborn. It's not Harry Osborn. Hell, it's not even a Green Goblin at all. It's the Hobgoblin, the scene-stealer had captivated readers of The Amazing Spider-Man in the '80s and '90s with the mystery of his true identity, his unpredictable and violent nature (ah, but when talking about Goblins, aren't they all?) and his spooky costume design. His presence on '90s cartoon classic Spider-Man: The Animated Series helped cement him in the minds of fans as a timeless baddie on the level of Doctor Octopus or the wayward members of the Osborn family, and yet he hasn't been as front and center in recent years as you might expect.
Perhaps that's because once Sam Raimi's Spider-Man trilogy hit theaters, the original Green Goblin, and the legacy of the Osborn family, just became too big to sideline. And really, there's only so many variations on a Goblin you can have running around at any given time in the Marvel Universe, right? Although recent issues of The Amazing Spider-Man would appear to challenge that assumption, as it appears that multiple Hobgoblins are ready to make the scene and give Peter Parker a migraine.
"He's a little rowdy," Amazing Spider-Man writer Zeb Wells tells our Marvel Standom podcast of Hobgoblin's appeal as a villain. "He's a little a little less predictable. He's a little wild."
The Amazing Spider-Man #11 by Zeb Wells and John Romita, Jr. resurrected the Hobgoblin for a brand new story. Norman Osborn has been looking to make amends for his past, and part of that has been giving original/former Hobgoblin Roderick Kingsley restitution for everything he took from him.
"It's fun to see Norman interact with the Hobgoblin because he was the Green Goblin," Wells says. "Playing those two characters off each other was fun."
As an added point of fun, Wells is working with the co-creator of the original Hobgoblin in Romita. "I had forgotten, but Johnny…was the first one to draw [Hobgoblin]. He's been there from the beginning, so it's been really fun to watch him dig back into Hobgoblin territory."
But meanwhile, another former Hobgoblin, Ned Leeds (no, not the fun one from the MCU), has apparently been slipping back into his old costumed ways. All while there's a Hobgoblin making trouble around NYC. And then to make things even more "rowdy" BOTH Hobgoblins show up together at the conclusion of The Amazing Spider-Man #12. If this seems like a lot, well, it's all in keeping with the spirit of Hobgoblin's early tales.
"If you look at the [original] Hobgoblin story, it went on for so long that other writers and editors came in," Wells says. "It's sort of a very convoluted story. This gives us an opportunity to go back there, read all that stuff, absorb it, take it in, and see if we can get it all down into a tight three issue story [that will have] repercussions that go into the second year [of the book]. So it doesn't all wrap up. If people liked the mystery of the Hobgoblin, that will be played with and shown in the three issues, but it won't be a five year ordeal to find the answer."
The Amazing Spider-Man comes out twice a month from Marvel.