News
Berserk: Beloved Manga to Make Improbable Return
Kentaro Miura's all-time great fantasy Berserk will be posthumously completed by his colleagues.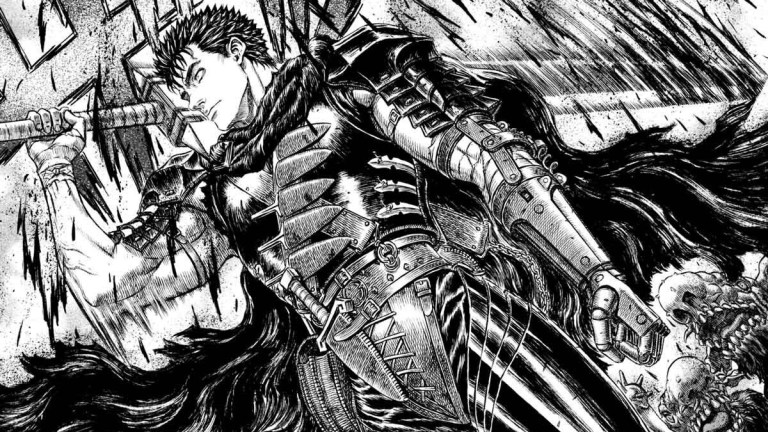 In a true "holy shit" moment, manga publisher Young Animal announced June 7 that Kentaro Miura's unfinished manga masterpiece Berserk is coming back with new chapters just over a year after the author's death. The series abruptly ended after 30-some years of entrancing artwork and tremendously complex storylines when Miura's apprentices at Studio Gaga put the finishing touches on his final in-progress chapter. But in the time since, Studio Gaga has been working closely with Miura's longtime friend and closest confidant, Kouji Mori, to bring Miura's unique vision to its intended conclusion.
This is welcome news for fans who invested decades into following Guts's quest for vengeance and Griffith's increasingly demonic exploits. Even before its sudden conclusion, fans were eager to see the story wrap up as the releases became fewer and farther between over the years and the story seemed to be veering further and further off-track. So it was especially tragic that Miura's final chapter ended with an explosive development that suggested an end in sight after so many years of staggering genius and spinning wheels.
There is no doubt that the new chapters will be very much in the spirit of Miura's life's work, but it's hard to know if they will feel like Berserk. Studio Gaga already illustrated a series Miura wrote on the side, so the art will be top-notch, but it's the quality of the storytelling that remains to be seen. Kouji very explicitly pledged to only produce moments that Miura described to him, vowing not to include any creative flourishes or half-remembered plot lines. Ultimately, we'll have a better idea once the story starts back up in the next issue of Young Animal and as the series (hopefully) moves toward its final destination.
You can read Young Animal and Mori's full statements here, but here's a few key excerpts from the editorial staff there:
"Before his passing, Kentaro Miura spoke to his close friend Kouji Mori about the stories and episodes he had in mind for Berserk. He also had similar talks with his studio staff and editor. He wondered, would everyone be surprised if I drew something like this? How about a character like this? Would this storyline be interesting? The talks were not meant as his last words, but were a part of his ordinary days as a manga artist…
Since he did not leave behind rough drafts, it is impossible for us to create a manuscript exactly in the way he would have intended. However, we will write the manga so as not to deviate from Mr. Miura's own words. We would like to take the "Kentaro Miura" that we knew so fondly through our conversations and work and convey this to all of you in a sincere manner.
We believe that this policy, although imperfect, is the best way to deliver the Berserk that Mr. Miura envisioned to everyone as faithfully as possible.
It's hard to understate how incredible this whole return to serialization is. Miura was a once-in-a-generation voice who showed us how to find grace and meaning in the face of unspeakable horrors. While his legacy already includes the super grim and mega-popular Dark Souls video game series, which drew heavily from his horrific visual aesthetic, and his unflinchingly violent tone has paved the way for more mature manga like Chainsaw Man and Attack on Titan to break through into the mainstream, no work has yet emerged that matches Berserk's hard-earned moniker as the world's strongest fantasy. And with Miura's closest allies and supporters at the helm of this unique continuation, there's a good chance that the world will see the horrific and splendid world that Miura wished to share.