News
Elden Ring Is Perfect For Gamers Who Thought Dark Souls Was "Too Difficult," Says Producer
Elden Ring may not be as difficult as previous FromSoftware titles, but producer Yasuhiro Kitao explains why that's a good thing.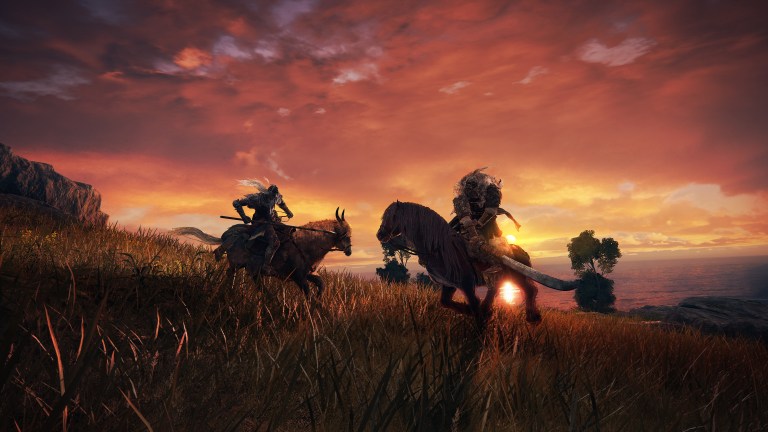 In a recent interview, Elden Ring producer Yasuhiro Kitao addressed the always controversial topic of the game's difficulty by suggesting that FromSoftware designed many elements of the open-world RPG to appeal to those who were intimidated by some of the studio's previous games.
"[Elden Ring] is the perfect title for those who have been interested in our games in the past but who have been put off by concerns about the games being too difficult," Kitao says in response to a question about FromSoftware's reputation.
While that may anger some FromSoftware fans who dread the day that the studio will "cave in" to demands to add an "Easy Mode" to their games, Kitao goes on to explain that Elden Ring's more welcoming nature has more to do with the various ways that you can approach the game rather than a decision to make the title strictly easier than previous FromSoftware titles.
"[Elden Ring] also features a robust character development system with online multiplayer," Kitao says. "You can always get help with the harder parts in order to make your way through the game."
Interestingly, Kitao later brings up the very specific concept of "stress" when expanding upon FromSoftware's approach to Elden Ring's difficulty as well as how they designed the title's open-world with that concept in mind.
"With the game's world being so large, that can produce real depth and breadth of enjoyment," Kitao says. "It can also lead to unnecessary stress for some players. The dev team has been very careful to avoid that where possible."
What's fascinating about that last statement is that it was made in reference to the relative difficulty of Elden Ring's exploration elements and open-world design. Kitao makes it clear that the team was well-aware of how frustrating it could be to simply navigate the game if everything in it is able to quickly kill you and you constantly need to backtrack just to reach the spot where you died. In fact, he also reveals that Elden Ring will allow you to respawn closer to your body in specific sections of the game that were designed to be especially difficult. Furthermore, you'll even be able to avoid certain challenges altogether (or at least temporarily) by simply taking a different path that allows you to effectively skip them.
That level of freedom extends to the game's combat. As we've previously discussed, Elden Ring's combat is designed to account for a variety of playstyles that really allow people to experiment with what works best for them. For instance, Elden Ring places a much greater emphasis on "stealth routes" for those players who want to see as much of the game and its world as possible without having to constantly deal with combat sequences.
Having said that, Kitao makes it very clear at several points during the interview that Elden Ring's combat will still be quite challenging despite the fact that the developers are offering you more ways to approach it (or just avoid combat entirely in certain circumstances). Again, the general idea seems to be to use Elden Ring's open-world as a way to experiment with people organically finding their own way through the game rather than always feeling like they're somehow doing things the "wrong way." It seems that Elden Ring will still feature some of those classic Soulsborne teaching moments, but there may be fewer overall brick wall sections where you need to use persistence and patience to overcome a roadblock rather than consider ways you can simply go around it.
It's an ambitious plan, but given what we've seen from this team in the past, I'm confident that they may be able to find a way to make that classic FromSoftware style of game design slightly more "accessible" without having to compromise some of the qualities that make those games so special or simply rely on traditional difficulty settings. We'll see if it works, but it's certainly interesting to hear the team talk about using an open-world game's size to make a title more accessible rather than just make it larger and possibly even more intimidating