Features
The 10 Best Anime Just Added to Crunchyroll
In light of Funimation's recent major acquisition of Crunchyroll, here are all the most exciting titles you can now find on the anime streamer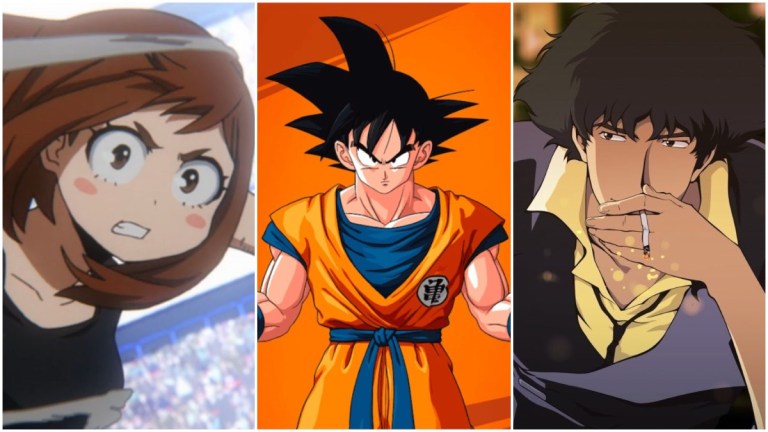 Crunchyroll just added the English-dubbed versions of about 170 classic and modern anime series to their service and there are some real goodies to check out! The titles come from Funimation's extensive library thanks to Funimation's recent $1.1 billion acquisition of Crunchyroll. While they paid over a thousand million dollars to bring the two libraries together, the cost to subscribe to Crunchyroll hasn't increased, so here's a quick look at ten of the best new arrivals! You can check the entire list of what's available over at Crunchyroll. 
Assassination Classroom
Subs and dubs are new to Crunchyroll
Everyone has that one teacher they can think of that changed their lives, for better or worse. For the academically challenged students of Kunugigaoka Junior High, their lives are forever changed when a literal monster starts teaching their class. Worse yet, the world will be destroyed if the students can't assassinate their teacher by the end of the school year. But despite the intense set up, Assassination Classroom is actually a light-hearted underdog story that is equal parts hilarious and thrilling. Each student in the classroom is a full-fledged character in their own right and the class's ever-escalating mission to kill their teacher is a joy to watch.
Also new to Crunchyroll: Dr. Stone
Black Clover
Dubs are new to Crunchyroll
Wizards fighting each other is pretty much everything there is to Black Clover and it's incredible. It taps into every cliche in the book, but it's well worth the watch with its gorgeously realized visuals, relatably chummy characters, and an endless supply of hype moments. The only big-big issue is how loud and grating the main character sounds in the original Japanese version. Thankfully the addition of over 150 dubbed episodes is the perfect remedy for fans unable to get past the nails-on-a-chalkboard aural assault of the original. 
Also new to Crunchyroll: Fairy Tail
Cowboy Bebop
Subs and dubs are new to Crunchyroll
When it comes to classic anime, you really cannot top Cowboy Bebop. It's a stylish neo-noir that follows two down-and-out bounty hunters bopping around a down-and-out solar system in search of their next big payday. Pretty much every aspect of the show, from its sound design to its color palette to its hard-boiled action, is undeniably cool and instantly recognizable. Fans in the US were introduced to the series when it premiered in English on Adult Swim 20-odd years ago and it still is regarded as one of the best anime dubs ever. And if Netflix's ill-fated live-action adaptation didn't quite do it for you, the original is here waiting for you.
Also new to Crunchyroll: Samurai Champloo
Dragon Ball Z
The dub is on Crunchyroll, but it's not subbed at the moment
Simply put, us Americans would not be into anime today if Toonami never ran Dragon Ball Z after school five days a week. The iconic English cast was appropriately silly and equally loud when it came time to scream and power up. Even the narrator had a classic part to play with his delightfully put-on recaps and dramatic previews for the next episode. For all its goofiness and the glacial pacing, it's the English cast that makes this a nostalgic powerhouse perfect for jumping back into.
Also new to Crunchyroll: Dragon Ball, Dragon Ball GT
Fruits Basket
Dubs are new to Crunchyroll
While DBZ, Pokémon, and Sailor Moon were busy dominating our airwaves, a shojo manga was quietly selling millions of volumes to fans across the US. Fruits Basket is a best-selling and beloved romantic comedy with a deeply emotional and mature core. It had its own popular anime in the early 2000s, but Crunchyroll just added the newer adaptation from 2019 that made Fruits Basket a smash hit all over again. If you're a new fan or you aren't feeling nostalgic, there's a lot to love across all three seasons. 
Also new to Crunchyroll: Horimiya
Gleipnir
Subs and dubs are new to Crunchyroll
You might have missed this recent cult-classic, but word to the wise, the bloody faceoffs in Gleipnir are a lot! It's all about a regular high schooler who can inexplicably become a kind of mascot-looking monster with a giant gun and a zipper down his back. The similarly super-powered people he meets along the way are sometimes less than friendly and other times more than forward. It's a crazy series with an unexpectedly engaging story that is well worth the quick watch. Unfortunately, there's no news on a second season yet, but you can always see where the story goes by reading the manga. 
Also new to Crunchyroll: Goblin Slayer
Kaguya-sama: Love is War
Season 1 is now dubbed and Season 2 has subs and dubs
Back in the 1850s, old Francis Edward Smedley could have never imagined that his famous "All is fair in love and war" saying would be twisted into one of the most popular rom-coms of the 21st century. This hilariously extra anime follows Kaguya and Miyuki's high-stakes competition to force the other to confess their true feelings. The two elitists are so convinced that if they were to confess to the other, they would lose standing to their new partner. What follows is a series of increasingly ludicrous plots, schemes, and underhanded tactics sure to delight.
Also new to Crunchyroll: The Quintessential Quintuplets
Kingdom
Kingdom is back on Crunchyroll with dubs and subs, including simulcast episodes from Season 4
The long-running historical epic Kingdom is back on Crunchyroll thanks to the pricey acquisition and merger. Fans have bought so many volumes of the source material that it's become one of the greatest-selling manga of all-time. However, American fans have been unable to buy any of the 60+ volumes in English. So until a publisher licenses the manga, this anime is undoubtedly the best way to legally enjoy Ri Shin's incredible pursuit of kingdom. 
Also new to Crunchyroll: Our Last Crusade or the Rise of a New World
My Hero Academia
Dubs are new to Crunchyroll
The inspiring global phenomenon about super-powered kids learning to become heroes is a must-watch, plain and simple. With stunning action brought to life by talented animators and an incredible cast of heroes, goofy heroes-to-be, and complex villains, My Hero Academia has it all. Even if you've already watched it in Japanese, now is a great time to go back from the beginning and check out the English cast's takes on your favorite quirky characters.
Also new to Crunchyroll: Fire Force
Yu Yu Hakusho
Subs and dubs are new to Crunchyroll
The all-time oldie-but-goodie on this list has such a strong dub that it's hard to imagine its cast of characters speaking anything but English. But Yu Yu Hakusho doesn't just hold up on the merit of its vocal performers, it's a non-stop romp with a little bit of everything. It's got crazy fights against demons, hilarious banter, and an insanely fashionable wardrobe that has recently surged back into style. It's also well-worth watching in its native Japanese, if only to experience it the way it originally aired.  
Also new to Crunchyroll: Hunter X Hunter
And since Crunchyroll's list of what's new is done season by season, here's a series-level look at their new arrivals: 
2.43: Seiin High School Boys Volleyball Team (Sub and Dub)
A Sister's All You Need (Dub)
Absolute Duo (Dub)
Adachi and Shimamura (Sub and Dub)
Aesthetica of a Rogue Hero (Sub and Dub)
Akashic Records of Bastard Magic Instructor (Dub)
Akudama Drive (Sub and Dub)
And You Thought There is Never a Girl Online? (Sub and Dub)
Angels of Death (Dub)
Arifureta: From Commonplace to World's Strongest (Sub and Dub)
Assassination Classroom
Attack on Titan -Chronicle- (Sub and Dub)
Attack on Titan: Junior High (Sub)
AZUR LANE (Sub and Dub)
BACK ARROW (Sub)
Black Clover Episodes 1-170 (Dub)
Blood Blockade Battlefront (Dub)
Blood Blockade Battlefront & Beyond (Dub)
Blue Exorcist: Kyoto Saga (Dub)
BOFURI: I Don't Want to Get Hurt, so I'll Max Out My Defense (Sub and Dub)
Boogiepop and Others (Dub)
Bottom-Tier Character Tomozaki (Sub and Dub)
Bungo and Alchemist -Gears of Judgement- (Sub and Dub)
By the Grace of the Gods (Sub and Dub)
Cautious Hero: The Hero is Overpowered but Overly Cautious (Sub and Dub)
Cells at Work!
citrus (Dub)
Charlotte (Dub)
Combatants Will Be Dispatched! (Sub and Dub)
Conception (Dub)
Cowboy Bebop (Sub and Dub)
Danganronpa: The Animation (Sub and Dub)
Danganronpa 3: The End of Hope's Peak High School (Sub and Dub)
DARLING in the FRANXX (Dub)
Date A Live I (Dub)
Date A Live II (Dub)
Date A Live III (Dub)
Death March to the Parallel World Rhapsody (Dub)
Demon Lord, Retry! (Sub and Dub)
Dr. STONE (Dub)
Dr. STONE
Dragon Ball (Sub and Dub)
Dragon Ball Z (Dub)
Dragon Ball GT (Sub and Dub)
Dragon Goes House-Hunting (Sub and Dub)
Fairy Tail (Dub)
Fate/Grand Order Absolute Demonic Front: Babylonia (Dub)
Fire Force (Dub)
Fire Force
Free! Eternal Summer (Dub)
Free! -Dive to the Future- (Dub)
Freezing (Dub)
Freezing Vibration (Dub)
Fruits Basket (Dub)
Fruits Basket
Fruits Basket The Final
Full Dive: This Ultimate Next-Gen Full Dive RPG Is Even Shittier than Real Life! (Sub and Dub)
Gamers! (Dub)
Gleipnir (Sub and Dub)
Goblin Slayer (Dub)
High School DxD (Dub)
High School DxD NEW (Dub)
High School DxD BorN (Dub)
High School DxD Hero (Dub)
Horimiya (Sub and Dub)
Hortensia SAGA (Sub and Dub)
How Heavy Are the Dumbbells You Lift? (Sub and Dub)
How Not to Summon a Demon Lord (Dub)
How Not to Summon a Demon Lord Omega (Dub)
Hunter x Hunter Episodes 1-74 (Dub)
Hyouka (Sub and Dub)
In Another World with my Smartphone (Dub)
Infinite Dendrogram (Sub and Sub)
JUNI TAISEN: ZODIAC WAR (Dub)
Kaguya-sama: Love is War
Kakushigoto (Sub and Dub)
Keijo!!!!!!!! (Dub)
Kemono Jihen (Sub and Dub)
Kingdom
Kiss Him, Not Me (Dub)
Knights and Magic (Dub)
Kuma Kuma Kuma Bear (Sub and Dub)
Life Lessons with Uramichi Oniisan (Sub and Dub)
Log Horizon (Sub and Dub)
Log Horizon 2 (Sub and Dub)
Log Horizon: Destruction of the Round Table (Sub and Dub)
Maken-Ki! (Dub)
Maken-Ki! Two (Dub)
MARS RED (Sub and Dub)
Megalobox (Dub)
Megalobox 2: Nomad (Sub and Dub)
Michiko & Hatchin (Sub and Dub)
Miss Caretaker of Sunohara-sou (Dub and Sub)
Miss Kobayashi's Dragon Maid (Dub)
Miss Kobayashi's Dragon Maid S (Dub)
Moriarty the Patriot (Sub and Dub)
Muhyo & Roji's Bureau of Supernatural Investigation
Muhyo & Roji's Bureau of Supernatural Investigation (Sub and Dub)
Mushoku Tensei: Jobless Reincarnation (Sub and Dub)
My First Girlfriend is a Gal (Dub)
My Hero Academia
My Roommate is a Cat (Dub)
Nichijou – My Ordinary Life (Sub and Dub)
Noragami (Sub and Dub)
Noragami Aragoto (Sub and Dub)
Obey Me (Sub)
Otherside Picnic (Sub and Dub)
Ouran High School Host Club (Sub and Dub)
Our Last Crusade or the Rise of a New World (Sub and Dub)
Overlord
Persona5 the Animation (Dub)
Plunderer (Sub and Dub)
Rosario + Vampire (Sub and Dub)
Samurai Champloo (Sub and Dub)
Scar on the Praeter (Sub and Dub)
Scarlet Nexus (Sub)
Seven Mortal Sins (Dub)
SHADOWS HOUSE (Sub and Dub)
SK8 the Infinity (Sub and Dub)
Sky Wizards Academy (Dub)
Sleepy Princess in the Demon Castle (Sub and Dub)
Sorcerous Stabber Orphen (Sub and Dub)
Sorcerous Stabber Orphen Battle of Kimluck (Sub and Dub)
SSSS.DYNAZENON (Sub and Dub)
Steins;Gate 0 (Dub)
SUPER HXEROS (Sub and Dub)
Suppose a Kid from the Last Dungeon Boonies moved to a starter town? (Sub and Dub)
Talentless Nana (Sub and Dub)
Tales of Zestiria the X (Sub and Dub)
That Time I Got Reincarnated as a Slime
That Time I Got Reincarnated as a Slime OADs (Dub)
The Day I Became a God (Sub and Dub)
The Detective Is Already Dead (Sub and Dub)
The Devil is a Part-Timer! (Sub and Dub)
The Duke of Death and His Maid (Sub and Dub)
The Dungeon of Black Company (Sub and Dub)
The Future Diary (Sub and Dub)
The Honor at Magic High School (Sub and Dub)
The Irregular at Magic High School: Visitor Arc (Sub and Dub)
The Master of Ragnarok & Blesser of Einherjar (Dub)
The Melancholy of Haruhi Suzumiya
The Millionaire Detective – Balance: UNLIMITED (Sub and Dub)
The Prince of Tennis Episodes 51-128 (Sub),
The Prince of Tennis Episodes 51-80 (Dub),
The Prince of Tennis II (Sub and Dub),
The Prince of Tennis II OVAs (Sub and Dub),
The Prince of Tennis II OVA VS GENIUS 10 (Sub and Dub)
The Promised Neverland
The Quintessential Quintuplets
The Saint's Magic Power is Omnipotent (Sub and Dub)
The World Ends with You The Animation (Sub and Dub)
Toilet-bound Hanako-kun (Sub and Dub)
Tokyo Ghoul (Dub)
Tokyo Ghoul OVA (Dub)
Tokyo Ghoul: Root A (Dub)
Tokyo Ghoul: re (Dub)
Ulysses: Jeanne d'Arc and the Alchemist Knight (Dub)
Uzaki-chan Wants to Hang Out! (Sub and Dub)
Vivy -Fluorite Eye's Song- (Sub and Dub)
Wandering Witch: The Journey of Elaina (Sub and Dub)
Wise Man's Grandchild (Dub)
WONDER EGG PRIORITY (Sub and Dub)
WorldEnd: What are you doing at the end of the world? Are you busy? Will you save us? (Dub)
Yu Yu Hakusho (Sub and Dub)
Yu Yu Hakusho OVAs (Sub)
Yuri!!! on ICE (Dub)
Zombie Land Saga (Dub)
Zombie Land Saga Revenge (Dub)