Features
Top New Science Fiction Books in December 2021
Sci-fi pseudonyms and collaborations abound in December 2021's most anticipated novels and novellas.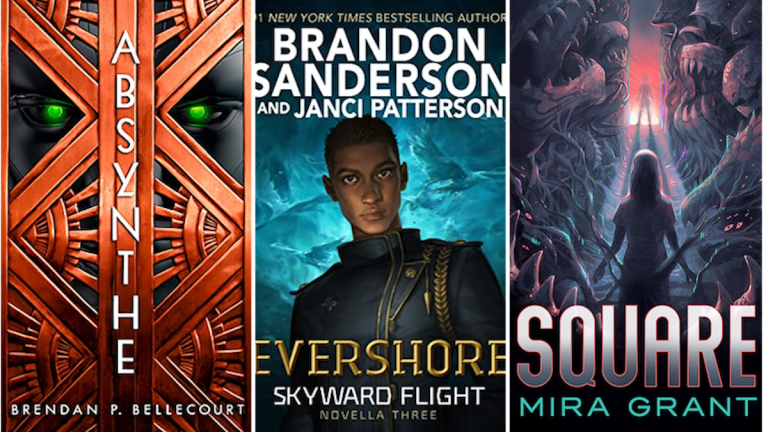 The year may be winding down, but there's plenty of sci-fi left to add to your holiday reading list. Here's what we're looking forward to in December 2021…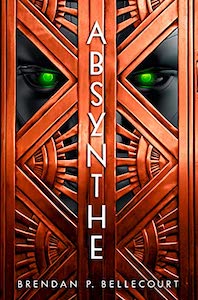 Absynthe by Brendan P. Bellecourt
Type: Novel
Publisher: DAW
Release date: Dec. 7
Den of Geek says: Epic fantasy author Bradley P. Beaulieu makes his foray into sci-fi with what he describes as a "cautionary, decopunk tale" perfect for the modern roaring 20s in which we find ourselves.
Publisher's summary: In his sci-fi debut, Bellecourt explores an alternate roaring 20s where a shell-shocked soldier must uncover latent telepathic abilities to save himself and the people around him.
Liam Mulcahey, a reclusive, shell-shocked veteran, remembers little of the Great War. Ten years later, when he is caught in a brutal attack on a Chicago speakeasy, Liam is saved by Grace, an alluring heiress who's able to cast illusions. Though the attack appears to have been committed by the hated Uprising, Grace believes it was orchestrated by Leland De Pere—Liam's former commander and the current President of the United States.

Meeting Grace unearths long-buried memories. Liam's former squad, the Devil's Henchmen, was given a serum to allow telepathic communication, transforming them into a unified killing machine. With Grace's help, Liam begins to regain his abilities, but when De Pere learns of it, he orders his militia to eliminate Liam at any cost.

But Liam's abilities are expanding quickly. When Liam turns the tables and digs deeper into De Pere's plans, he discovers a terrible secret. The same experiment that granted Liam's abilities was bent toward darker purposes. Liam must navigate both his enemies and supposed allies to stop the President's nefarious plans before they're unleashed on the world. And Grace is hiding secrets of her own, secrets that could prove every bit as dangerous as the President's.
Buy Absynthe by Brendan P. Bellcourt.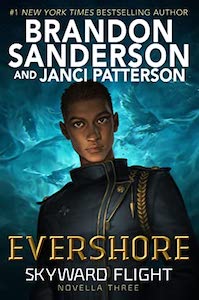 Evershore by Brandon Sanderson and Janci Patterson
Type: Novella
Publisher: Delacorte Press
Release date: Dec. 28
Den of Geek says: More Brandon Sanderson is always a treat for readers—check out this companion novella to last month's Skyward release Cytonic.
Publisher's summary: From #1 bestselling author Brandon Sanderson and Janci Patterson comes the final of three Skyward series novellas, each told from the perspective of a different member of the team back on Detritus. Listen to Jorgen's story along with Cytonic.
With the government of Detritus in disarray because of Superiority treachery, and with Spensa still away on her mission in the Nowhere, Jorgen must work together with the alien Alanik to pick up the pieces. They intercept a strange transmission from the planet Evershore and its Kitsen inhabitants, who say they have some of Jorgen's people and want to return them—but can the Kitsen be trusted? And can Jorgen learn to master his increasingly erratic cytonic powers before they spiral out of control and destroy all hope of forming an alliance against the Superiority?
Buy Evershore by Brandon Sanderson and Janci Patterson.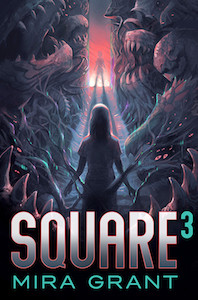 Square³ by Mira Grant
Type: Novella
Publisher: Subterranean Press
Release date: Dec. 31
Den of Geek says: Seanan McGuire (under her sci-fi pseudonym) writing about fraught sibling dynamics across time and physics? We can't think of a better way to ring in the new year.
Publisher's summary: We think we understand the laws of physics. We think reality is an immutable monolith, consistent from one end of the universe to the next. We think the square/cube law has actual relevance.
We think a lot of things. It was perhaps inevitable that some of them would turn out to be wrong.
When the great incursion occurred, no one was prepared. How could they have been? Of all the things physicists had predicted, "the fabric of reality might rip open and giant monsters could come pouring through" had not made the list. But somehow, on a fine morning in May, that was precisely what happened.
For sisters Susan and Katharine Black, the day of the incursion was the day they lost everything. Their home, their parents, their sense of normalcy… and each other, because when the rift opened, Susan was on one side and Katharine was on the other, and each sister was stranded in a separate form of reality. For Susan, it was science and study and the struggle to solve the mystery of the altered physics inside the zones transformed by the incursion. For Katharine, it was monsters and mayhem and the fight to stay alive in a world unlike the world of her birth.
The world has changed. The laws of physics have changed. The girls have changed. And the one universal truth of all states of changed matter is that nothing can be completely restored to what it was originally, no matter how much you might wish it could be.
Nothing goes back.