News
Zendaya Says Acting in Dune Was Like Being On Another World
Landing a crucial role in Dune was a "magical experience," says Zendaya.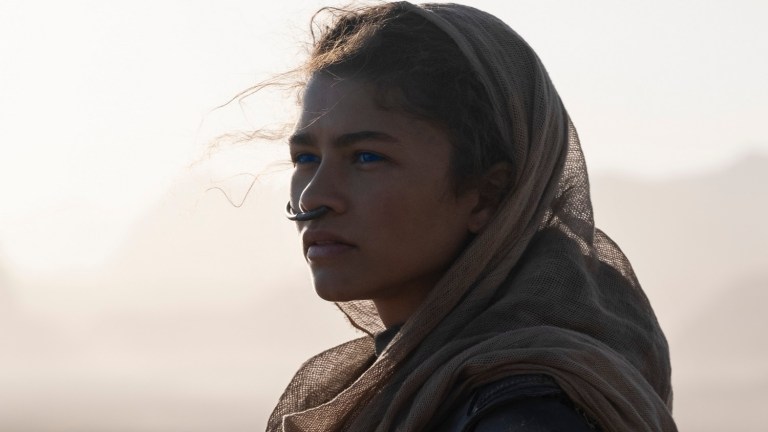 In the very first images that we see in the incredible new trailer for Dune, protagonist Paul Atreides (Timothée Chalamet) has a vision in which he sees a young woman and hears her calling his name.
That young woman is Chani, a member of the Fremen, the native people of the planet known as Arrakis. Although Paul doesn't know who she is in his visions, they meet after his family arrives on Arrakis and she becomes his protector, his guide and ultimately his lover and wife.
In Dune, Chani is played by Zendaya, the gifted young actress and singer known for playing MJ in Spider-Man: Homecoming and Spider-Man: Far from Home, as well as her lead role of Rue on the HBO series Euphoria.
Asked about playing Chani in director Denis Villeneuve's epic adaptation of Frank Herbert's classic sci-fi novel, Zendaya is enthusiastic about appearing in what is surely the biggest film yet of her career.
"This whole thing has been just a magical experience," she explained. "I mean, I've always kind of been a huge fan of sci-fi movies. I've always wanted to be a part of something that felt — I mean, this was massive, but also just like literally another world. And just being there was incredible. I was blown away by the entire space immediately, working with Denis and Timothée and everybody."
The evolving relationship between Paul and Chani — which has repercussions not just for both their lives, but for the planet Arrakis itself and possibly the entire galaxy — is a crucial element of the story, even if Chani is slow at first to warm to the Atreides heir.
"I think upon their first meeting, she doesn't…she's tough. She's a warrior. She's native to this planet. This is all she knows," Zendaya said. "So this kind of other kid coming in, she's not really feeling it. She obviously doesn't know about these visions and things. He knows her. She doesn't know him. But there are these moments that — I don't want to give anything away, but there are these moments where she sees something in him that is obviously an indicator of what is to come."
With Dune slated to be spread out over two movies, the dynamic between Paul and Chani will in theory have room to flower even more in a second film. But Zendaya added there is plenty there already in the movie that's coming out in December: "I got a little bit of time to be with her as a character and to exist in whatever their relationship will become, but it is very special."
In the 1984 film version of Dune directed by David Lynch, Chani was played by Sean Young, while the role was essayed in the 2000 Sci-Fi Channel miniseries by Barbora Kodetová. But with Villeneuve striving to make the definitive screen version of Dune, it's quite possible that Zendaya's version of Chani may be the one that reverberates the most with fans.
Dune is scheduled to open in theaters on December 18.