Features
Top New Science Fiction Books in April 2022
From solemn explorations of humanity to nerdy humor, this month's science fiction runs the gamut. See our picks for top new science fiction books in April 2022.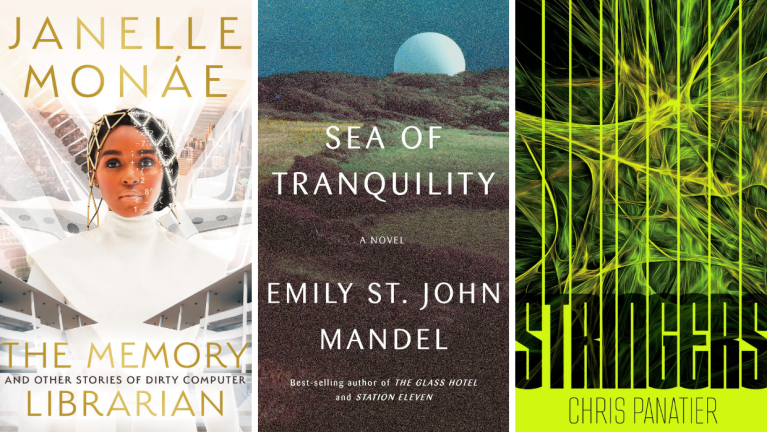 From solemn explorations of humanity to nerdy humor, this month's science fiction runs the gamut. See our picks for top new science fiction books in April 2022.
Sea of Tranquility by Emily St. John Mandel
Type: Novel
Publisher: Knopf
Release date: April 5
Den of Geek says: Emily St. John Mandel's Station Eleven introduced a beautiful new voice. Her novels intertwine with each other, but also work as poetic science fiction stand-alones.
Publisher's summary: Edwin St. Andrew is eighteen years old when he crosses the Atlantic by steamship, exiled from polite society following an ill-conceived diatribe at a dinner party. He enters the forest, spellbound by the beauty of the Canadian wilderness, and suddenly hears the notes of a violin echoing in an airship terminal—an experience that shocks him to his core. 
 
Two centuries later a famous writer named Olive Llewellyn is on a book tour. She's traveling all over Earth, but her home is the second moon colony, a place of white stone, spired towers, and artificial beauty. Within the text of Olive's best-selling pandemic novel lies a strange passage: a man plays his violin for change in the echoing corridor of an airship terminal as the trees of a forest rise around him. 
 
When Gaspery-Jacques Roberts, a detective in the black-skied Night City, is hired to investigate an anomaly in the North American wilderness, he uncovers a series of lives upended: The exiled son of an earl driven to madness, a writer trapped far from home as a pandemic ravages Earth, and a childhood friend from the Night City who, like Gaspery himself, has glimpsed the chance to do something extraordinary that will disrupt the timeline of the universe.
The Memory Librarian: And Other Stories of Dirty Computer by Janelle Monáe
Type: Anthology
Publisher: Harper Voyager
Release date: April 19
Den of Geek says: Monáe's Dirty Computer, the film matching the album of the same name, was a benchmark of science fiction. This anthology solidifies its place in the genre fiction world.

Publisher's summary: Whoever controls our memories controls the future.
Janelle Monáe and an incredible array of talented collaborating creators have written a collection of tales comprising the bold vision and powerful themes that have made Monáe such a compelling and celebrated storyteller. Dirty Computer introduced a world in which thoughts—as a means of self-conception—could be controlled or erased by a select few. And whether human, A.I., or other, your life and sentience was dictated by those who'd convinced themselves they had the right to decide your fate.
That was until Jane 57821 decided to remember and break free.
Expanding from that mythos, these stories fully explore what it's like to live in such a totalitarian existence…and what it takes to get out of it. Building off the traditions of speculative writers such as Octavia Butler, Ted Chiang, Becky Chambers, and Nnedi Okorafor—and filled with the artistic genius and powerful themes that have made Monáe a worldwide icon in the first place—The Memory Librarian serves readers tales grounded in the human trials of identity expression, technology, and love, but also reaching through to the worlds of memory and time within, and the stakes and power that exists there.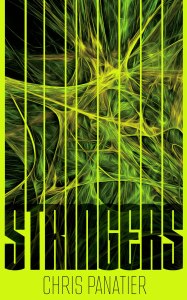 Stringers by Chris Panatier
Type: Novel
Publisher: Angry Robot
Release date: April 12
Den of Geek says: Weird science fiction meets absurd humor in this adventure reminiscent of The Hitchhikers Guide to the Galaxy.
Publisher's summary: Knowledge can get you killed. Especially if you have no idea what it means.
Ben is not a genius, but he can spout facts about animals and wristwatches with the best of experts. He just can't explain how he knows any of it.

He also knows about the Chime. What it is or why it's important he couldn't say. But this knowledge is about to get him in a whole heap of trouble.

After he and his best friend Patton are abducted by a trash-talking, flesh-construct alien bounty hunter, Ben finds out just how much he is worth… and how dangerous he can be. Hopefully Patton and a stubborn jar of pickles will be enough to help him through. Because being able to describe the mating habits of Brazilian bark lice isn't going to save them.