Features
Top New Science Fiction Books in January 2022
The top sci-fi books in January 2022 see the world transformed in myriad ways, from an Arctic plague to a UFO sighting to fleeing Earth for the stars.
The top sci-fi books in January 2022 see the world transformed in myriad ways, from an Arctic plague to a UFO sighting to fleeing Earth for the stars.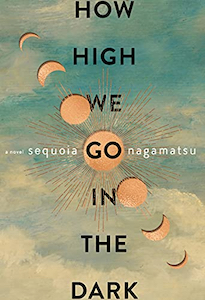 How High We Go in the Dark by Sequoia Nagamatsu
Type: Novel
Publisher: William Morrow
Release date: Jan. 18
Den of Geek says: Sequoia Nagamatsu's debut promises to be for 2022 what rereading Emily St. John Mandel's Station Eleven was for 2020: a speculative plague narrative that may hit too close to home, but that may also be just the catharsis we need as we continue to adjust our lives in a post-covid era.
Publisher's summary: For fans of Cloud Atlas and Station Eleven, a spellbinding and profoundly prescient debut that follows a cast of intricately linked characters over hundreds of years as humanity struggles to rebuild itself in the aftermath of a climate plague—a daring and deeply heartfelt work of mind-bending imagination from a singular new voice.
In 2030, a grieving archeologist arrives in the Arctic Circle to continue the work of his recently deceased daughter at the Batagaika Crater, where researchers are studying long-buried secrets now revealed in melting permafrost, including the perfectly preserved remains of a girl who appears to have died of an ancient virus.
Once unleashed, the Arctic plague will reshape life on Earth for generations to come, quickly traversing the globe, forcing humanity to devise a myriad of moving and inventive ways to embrace possibility in the face of tragedy. In a theme park designed for terminally ill children, a cynical employee falls in love with a mother desperate to hold on to her infected son. A heartbroken scientist searching for a cure finds a second chance at fatherhood when one of his test subjects—a pig—develops the capacity for human speech. A widowed painter and her teenaged granddaughter embark on a cosmic quest to locate a new home planet.
From funerary skyscrapers to hotels for the dead to interstellar starships, Sequoia Nagamatsu takes readers on a wildly original and compassionate journey, spanning continents, centuries, and even celestial bodies to tell a story about the resilience of the human spirit, our infinite capacity to dream, and the connective threads that tie us all together in the universe.
Buy How High We Go in the Dark by Sequoia Nagamatsu.
Goliath by Tochi Onyebuchi
Type: Novel
Publisher: Tordotcom Publishing
Release date: Jan. 25
Den of Geek says: Despite the near-future setting and Biblical retelling, Tochi Onyebuchi's depiction of the haves versus have-nots fleeing to space feels strikingly of the moment—just like in last year's incisive novella Riot Baby.
Publisher's summary: In his adult novel debut, Hugo, Nebula, Locus, and NAACP Image Award finalist and ALA Alex and New England Book Award winner Tochi Onyebuchi delivers a sweeping science fiction epic in the vein of Samuel R. Delany and Station Eleven.
In the 2050s, Earth has begun to empty. Those with the means and the privilege have departed the great cities of the United States for the more comfortable confines of space colonies. Those left behind salvage what they can from the collapsing infrastructure. As they eke out an existence, their neighborhoods are being cannibalized. Brick by brick, their houses are sent to the colonies, what was once a home now a quaint reminder for the colonists of the world that they wrecked.
A primal biblical epic flung into the future, Goliath weaves together disparate narratives—a space-dweller looking at New Haven, Connecticut as a chance to reconnect with his spiraling lover; a group of laborers attempting to renew the promises of Earth's crumbling cities; a journalist attempting to capture the violence of the streets; a marshal trying to solve a kidnapping—into a richly urgent mosaic about race, class, gentrification, and who is allowed to be the hero of any history.
Buy Goliath by Tochi Onyebuchi.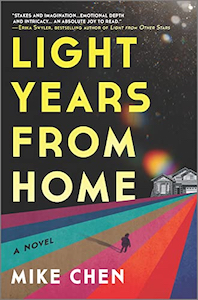 Light Years from Home by Mike Chen
Type: Novel
Publisher: MIRA Books
Release date: Jan. 25
Den of Geek says: Mike Chen has carved out a niche writing domestic dramas with speculative elements, from the father/daughter time travel adventure Here and Now and Then to this examination of how an alien abduction leaves a void within a family that alters two sisters' futures.
Publisher's summary: Every family has issues. Most can't blame them on extraterrestrials.
Evie Shao and her sister, Kass, aren't on speaking terms. Fifteen years ago on a family camping trip, their father and brother vanished. Their dad turned up days later, dehydrated and confused—and convinced he'd been abducted by aliens. Their brother, Jakob, remained missing. The women dealt with it very differently. Kass, suspecting her college-dropout twin simply ran off, became the rock of the family. Evie traded academics to pursue alien conspiracy theories, always looking for Jakob.
When Evie's UFO network uncovers a new event, she goes to investigate. And discovers Jakob is back. He's different—older, stranger, and talking of an intergalactic war—but the tensions between the siblings haven't changed at all. If the family is going to come together to help Jakob, then Kass and Evie are going to have to fix their issues, and fast. Because the FBI is after Jakob, and if their brother is telling the truth, possibly an entire space armada, too.
The perfect combination of action, imagination and heart, Light Years from Home is a touching drama about a challenge as difficult as saving the galaxy: making peace with your family… and yourself.