Features
Top New Horror Books In February 2022
The days are getting longer, but the dark January of the soul still might call out for some echoing horror. Take a look at our picks for best horror books in February 2022.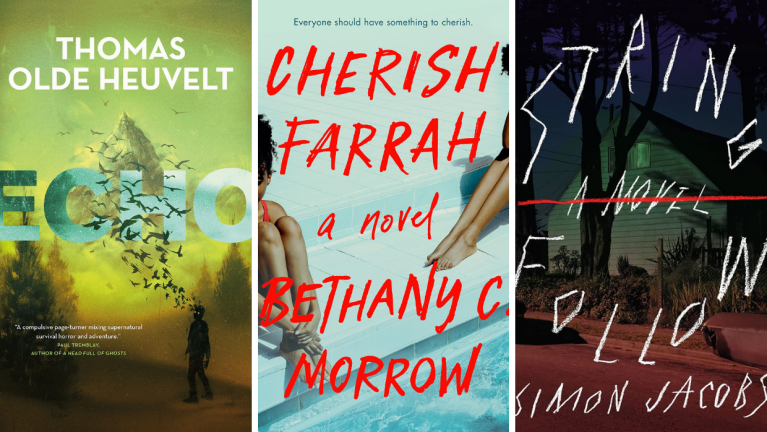 The days are getting longer, but the dark January of the soul still might call out for some echoing horror. Take a look at our picks for best horror books in February 2022.
Echo by Thomas Olde Heuvelt
Type: Novel
Publisher: Tor Nightfire
Release date: Feb. 8
Den of Geek says: A mysterious attack and a setting that seems made for the horror of isolation and the wilderness set this novel apart.
Publisher's summary: Travel journalist and mountaineer Nick Grevers awakes from a coma to find that his climbing buddy, Augustin, is missing and presumed dead. Nick's own injuries are as extensive as they are horrifying. His face wrapped in bandages and unable to speak, Nick claims amnesia―but he remembers everything.
He remembers how he and Augustin were mysteriously drawn to the Maudit, a remote and scarcely documented peak in the Swiss Alps.
He remembers how the slopes of Maudit were eerily quiet, and how, when they entered its valley, they got the ominous sense that they were not alone.
He remembers: something was waiting for them…
But it isn't just the memory of the accident that haunts Nick. Something has awakened inside of him, something that endangers the lives of everyone around him…
It's one thing to lose your life. It's another to lose your soul.
Buy Echo by Thomas Olde Heuvelt.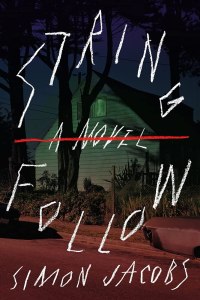 String Follow by Simon Jacobs
Type: Novel
Publisher: MCD x FSG Originals
Release date: Feb. 1

Den of Geek says: While the title evokes a dark labyrinth with the string as the only way to get out, this novel promises twisted humor along with the scares.
Publisher's summary: A darkly comic suburban Gothic about a malevolent force that targets a group of Ohio misfits, harnessing their angst for its sinister designs.
Something strange is happening to the teens in Adena, Ohio.
A mysterious force is seeking inroads: vulnerabilities to exploit, friendships to hijack, untapped rage to harness toward its own ends. Who will serve it best? Claire is abrasive and aimless, embarrassed by her privilege. Weak-willed David entertains fantasies of cultish orgies, while Tyler covertly takes up residence in his basement. Greg wages war on the voices in his head, while his sister Beth quietly, furiously unravels. And at the center is the empathetic, naive Sarah. The force wants her most of all. But will she be the key to its success or its destruction?
Eerie, hypnotic, and shot through with dark comedy, String Follow is a razor-sharp suburban gothic that exposes the sweating, bleeding truth of how kids become adults in twenty-first-century America. Simon Jacobs blends the startlingly original and the uncannily familiar, revealing the dark chaos that lurks beneath the surface of Midwestern suburbia.
Buy String Follow by Simon Jacobs
Cherish Farrah by Bethany C. Morrow
Type: Novel
Publisher: Dutton
Release date: Feb. 8
Den of Geek says: We learned about Morrow through her YA series starting with A Song Below Water, which mixed social commentary with a fun tale of magical creatures living in our world. Her bold characters and creative world-building seem like they'll translate nicely to this novel for adults.
Publisher's summary: Seventeen-year-old Farrah Turner is one of two Black girls in her country club community, and the only one with Black parents. Her best friend, Cherish Whitman, adopted by a white, wealthy family, is something Farrah likes to call WGS—White Girl Spoiled. With Brianne and Jerry Whitman as parents, Cherish is given the kind of adoration and coddling that even upper-class Black parents can't seem to afford—and it creates a dissonance in her best friend that Farrah can exploit. When her own family is unexpectedly confronted with foreclosure, the calculating Farrah is determined to reassert the control she's convinced she's always had over her life by staying with Cherish, the only person she loves—even when she hates her.
As troubled Farrah manipulates her way further into the Whitman family, the longer she stays, the more her own parents suggest that something is wrong in the Whitman house. She might trust them—if they didn't think something was wrong with Farrah, too. When strange things start happening at the Whitman household—debilitating illnesses, upsetting fever dreams, an inexplicable tension with Cherish's hotheaded boyfriend, and a mysterious journal that seems to keep track of what is happening to Farrah—it's nothing she can't handle. But soon everything begins to unravel when the Whitmans invite Farrah closer, and it's anyone's guess who is really in control.
Told in Farrah's chilling, unforgettable voice and weaving in searing commentary on race and class, this slow-burn social horror will keep you on the edge of your seat until the last page.