Features
Best New Horror Books in July 2022
Horror reveals what truly scares us, or provides an escapism as powerful in its own way as any work of portal fantasy. See our picks for best new horror books in July 2022.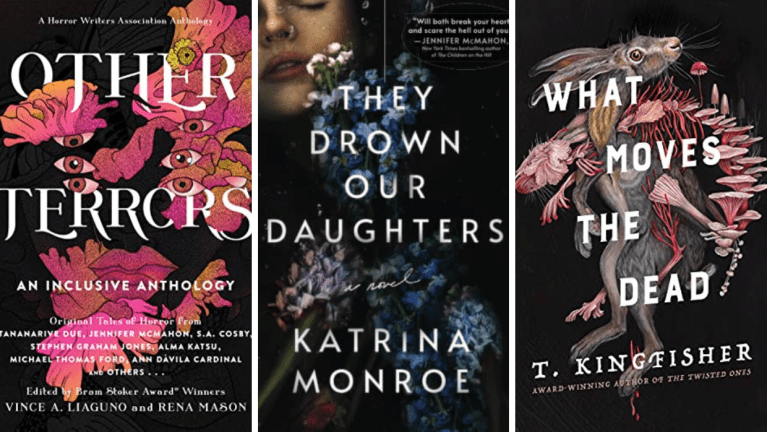 Horror reveals what truly scares us, or provides an escapism as powerful in its own way as any work of portal fantasy. See our picks for top new horror books in July 2022.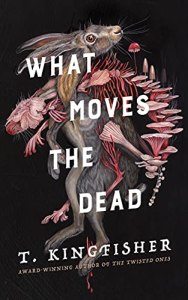 What Moves the Dead by T. Kingfisher
Type: Novella
Publisher: Tor Nightfire
Release date: July 12
Den of Geek says: T. Kingfisher is a master of many arts and genres, and this book's unsettling cover promises mystery and and terror.
Publisher's summary: When Alex Easton, a retired soldier, receives word that their childhood friend Madeline Usher is dying, they race to the ancestral home of the Ushers in the remote countryside of Ruritania.
What they find there is a nightmare of fungal growths and possessed wildlife, surrounding a dark, pulsing lake. Madeline sleepwalks and speaks in strange voices at night, and her brother Roderick is consumed with a mysterious malady of the nerves.
Aided by a redoubtable British mycologist and a baffled American doctor, Alex must unravel the secret of the House of Usher before it consumes them all.
Other Terrors: An Inclusive Anthology edited by Vince A. Liaguno and Rena Mason
Type: Anthology
Publisher: William Morrow Paperbacks
Release date: July 19

Den of Geek says: After enjoying Screams From the Dark so much last month, we're on the hunt for the next great horror anthology … and it might be this one. Stephen Graham Jones and Tananarive Due are among the varied list of authors.

Publisher's summary: Offering new stories from some of the biggest names in horror as well as some of the hottest up-and-coming talents, Other Terrors will provide the ultimate reading experience for horror fans who want to examine fear of "the other."
Be they of a different culture, a different background, a different sexual orientation or gender identity, a different belief system, or a different skin color, some people simply aren't part of the community's majority—and are perceived as scary. Humans are almost instinctively inclined to fear what's different, and there are a multitude of individuals who have spent far too long on the outside looking in. And the thing about the outside is . . . it's much larger than you think.
In Other Terrors, horror writers from a multitude of underrepresented backgrounds have created stories of everyday people, places, and things where something shifts, striking a deeper, much more primal, chord of fear. Are our eyes playing tricks on us, or is there something truly sinister lurking under the surface of what we thought we knew? And who among us is really the other, after all?
They Drown Our Daughters by Katrina Monroe
Type: Novel
Publisher: Poisoned Pen Press
Release date: July 12

Den of Geek says: That title promises something monstrous and spooky in this novella praised by Jennifer McMahon and Booklist as a women-centered Gothic treat.
Publisher's summary: They say Cape Disappointment is haunted. That's why tourists used to flock there in droves. They'd visit the rocky shoreline under the old lighthouse's watchful eye and fish shells from the water as they pretended to spot dark shapes in the surf. Now the tourists are long gone, and when Meredith Strand and her young daughter return to Meredith's childhood home after an acrimonious split from her wife, the Cape seems more haunted by regret than any malevolent force.
But her mother, suffering from early stages of Alzheimer's, is convinced the ghost stories are real. Not only is there something in the water, but it's watching them. Waiting for them. Reaching out to Meredith's daughter the way it has to every woman in their line for generations―and if Meredith isn't careful, all three women, bound by blood and heartbreak, will be lost one by one to the ocean's mournful call.
Part queer modern gothic, part ghost story, They Drown Our Daughters explores the depths of motherhood, identity, and the lengths a woman will go to hold on to both.