Features
Top Space Operas in 2020
From the page to the screen, here are all of the space operas, on screen and on the page, we're looking forward to in 2020.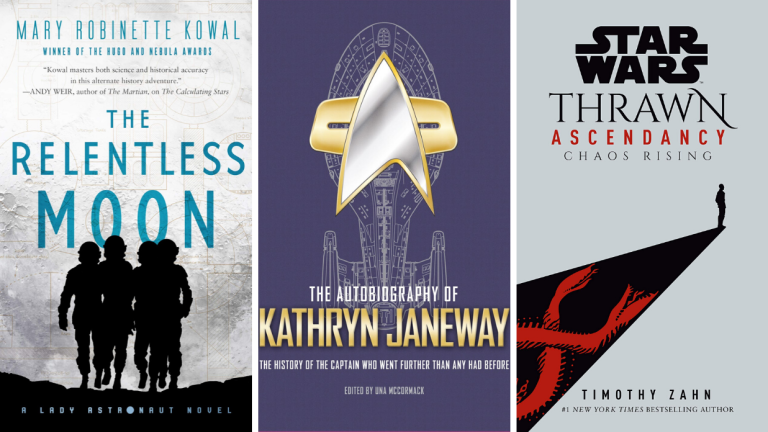 While one of the most famous space operas of modern times—the Skywalker Saga—concluded last year, 2020 still has a number of fantastic tales aboard starships to look forward to. Some are dystopian, some are hopeful, and some tie into our favorite franchises. With plenty of Star Wars and Star Trek novels and television seasons to look forward to, it's time to boldly take your reading (and watching!) where no reader has gone before…
January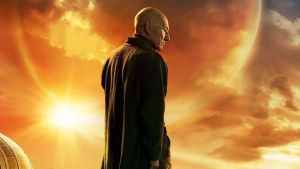 Star Trek: Picard on CBS All Access
There are only a few people who embody Star Trek as much as Sir Patrick Stewart's Jean-Luc Picard, and fans are rightly excited to have him back on the screen through CBS's All Access. It's also exciting to have celebrated spec fic novelist Michale Chabon on the writing team alongside Hanelle M. Culpepper (Star Trek: Discovery, The Flash), Kirsten Beyer (Star Trek: Discovery), and Akiva Goldman (Star Trek: Discovery, Titans). Given that the series was renewed for a second season before season one launched, CBS is expecting great things. Check out Den of Geek's ongoing coverage of the show for more details.
The Last Human by Zack Jordan
In a future where humanity was deemed too dangerous to exist, Sarya, the lone surviving human, must keep her identity hidden. On Watertower Station, there are plenty of aliens that allow her to blend in, but there aren't a lot of ways to find out the truth about her past—and her species. On a stolen ship with an oddball assortment of allies—maybe—Sarya discovers there's more going on across the universe than she realized, and that she might have a chance to save humanity after all. Jordan's debut has gotten praise from well known SFF celebs including Andy Weir (The Martian) and Clint McElroy (The Adventure Zone), and the action-packed, humorous novel has garnered comparisons to the works of Douglas Adams.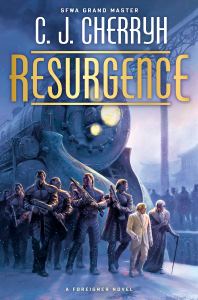 Resurgence by C. J. Cherryh
Fans of SFWA Grandmaster Cherryh's "Foreigner" series are in for a double helping in 2020; Resurgence, the 20th installment, released in January, and Divergence (#21) is set to release in September. Both continue to follow the adventures of diplomat Bren Cameron as he helps keep the atevi head of state, Tabini-aiji, secure, and the atevi government stable. In Resurgence, Cameron is working for the dowager, trying to solve an internal conflict among the atevi while also protecting the dowager from shadowy assassins.
Read Resurgence by C.J. Cherryh on Amazon.
February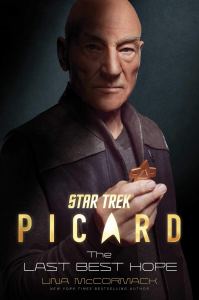 Star Trek: Picard: The Last Best Hope by Una McCormack
If you're a fan of the new Star Trek series, you may be curious to find out what transpired between when we last saw Picard and the character's current incarnation. McCormack bridges the gap, giving readers insight into why Picard left Starfleet—and how he arrived where he is when the new series begins.
Read Star Trek: Picard: The Last Best Hope by Una McCormack on Amazon.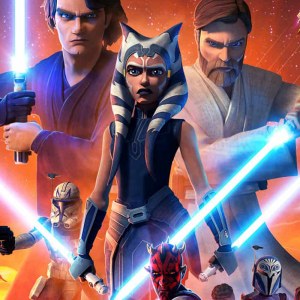 Clone Wars: The Final Season on Disney+
It's been a long wait, but the final season of Clone Wars has made it onto small screens everywhere. Using voice work and initial illustrations from the first run of the series, before the final season was cancelled, Clone Wars Season 7 is releasing twelve last episodes that bridge the time between Star Wars Episode II: Attack of the Clones and Star Wars Episode III: Revenge of the Sith.
March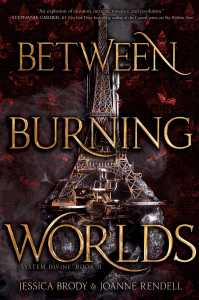 Burning Between Worlds by Jessica Brody and Joanne Rendell
Brody and Rendell continue the YA epic they began in Sky Without Stars, which mashes together themes from Les Miserables and The Lunar Chronicles. Focusing on three outlaws in the midst of a revolution, the unlikely team must risk everything to save their world from a dangerous new weapon.
Read Burning Between Worlds on Amazon.
Deep Space Zine, edited by Alison Wilgus
Love Star Trek, but miss the good old days of DS9? So did these comic writers and artists, who came together to create a 64 page collection of tales inspired by DS9. Readers may be familiar with names like editor Alison Wilgus, and contributors Hannah Krieger, SJ Miller, and Wem Forster, but even if they're not, this short collection, available for download, celebrates the love these creators have for the series.
Read Deep Space Zine, edited by Alison Wilgus.
The Rise of Skywalker: Expanded Edition by Rae Carson
Fans are torn about The Rise of Skywalker, with some complaining that the movie felt like it was leaving out important information that would have helped the piece feel more fully fleshed, and better wrapped up loose strings from the earlier films (instead of seemingly directly countering them). YA author Carson's (Girl of Fire and Thorns) novel may not satisfy all franchise fans, but it does address some of those left out moments, including why evil-Rey's lightsaber is so mechanically specific, the failed-clone identity of Rey's dad, and the General Leia arc sadly cut short by the death of Carrie Fisher.
April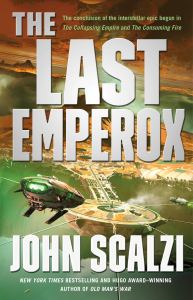 Hugo Award-winning author Scalzi continues his Interdependency Series in the third installment (following The Consuming Fire). With an interstellar pathway on brink of collapse, the nations of the Interdependency face an uncertain future. Emperox Grayland II is determined to save her people, wresting control of her empire from those who deny the pathway's destruction. But her enemies are only beaten, not destroyed, and they will stop at nothing to steal her power—and her world.
Read The Last Emperox by John Scalzi on Amazon.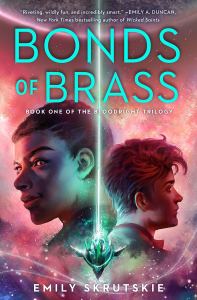 Bonds of Brass by Emily Skrutskie
There's a serious description of Skrutskie's (Hullmetal Girls) new series starter, but the pencil work she provided on her website, pointing out aspects on the cover, has so many hooks for why you should pick up the new novel, they're worth quoting. Skrutskie bills the book as including "Galactic-level bisexual disasters" with "weaponized rainbow umbrellas," "one hell of a pilot," a "secret prince," "sick stunts," and "big space battles." While the plot revolves around Ettian having to make the moral decision of whether to help the heir to the empire that invaded his world, we're here for the weaponized rainbow umbrellas.
Read Bonds of Brass by Emily Skrutskie on Amazon.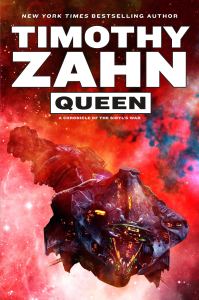 Queen by Timothy Zahn
The stories of Zahn's "Sibyl's War" have been leading to this moment. Sibyls are humans with the ability to communicate with strange alien ships. Nicole, a Sibyl, and her alien allies are caught in the middle of a tumultuous war. In order to find freedom, Nicole must unite aliens being forced to fight against each other—and win the trust of an AI at war with itself.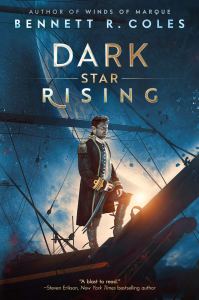 Dark Star Rising by Bennett R. Coles
In the tradition of Patrick O'Brian's sea epics, the novellas of the Blackwood & Virtue series follow the misfit crew of the HMSS Daring. This second novella features Subcommander Liam Blackwood and Quartermaster Amelia Virtue going undercover to dismantle a network of space pirates—and facing off against an old enemy.
Read Dark Star Rising by Bennett R. Coles
May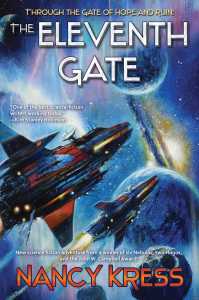 The Eleventh Gate by Nancy Kress
Fans of space opera are sure to be familiar with Nebula and Hugo-winner Kress's body of work. In The Eleventh Gate, the citizens of the Eight Worlds are doing their best to avoid war—but when it comes knocking, everyone vies to come out on top. When Tara Landry, the spoiled granddaughter of one of the dynasty heads battling for power, discovers a star-jump gate, she and physicist Philip Anderson find themselves at the center of events that will utterly change the Eight Worlds.
Read The Eleventh Gate by Nancy Kress on Amazon.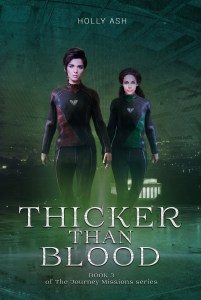 Thicker than Blood by Holly Ash
The third novel in Ash's underwater military SF series takes to the sky, bringing the Neophian crew and their human teammates to Earth to negotiate the continued vision of an officer exchange program. Although Lieutenant Commander Crystal Wolf's human teammates have become friends since the program started, once on Earth, she and the other Neophians face prejudice against their planet and their people.
With tensions so high, Crystal has to decide whether to follow orders—or whether the officer exchange program isn't worth continuing. Ash's world building is intriguing, and the plots keep thickening as the series progresses. (Disclosure: I contributed editing services on two books of this series, but gain no benefit from promoting the book.)
Read Thicker Than Blood by Holly Ash on Amazon.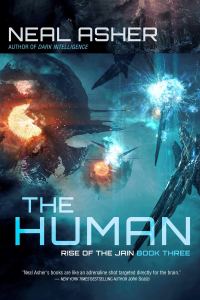 The Human by Neal Asher
Asher's epic Rise of the Jain trilogy comes to its conclusion as an ancient warships emerges with a vendetta: it will hunt down the alien Client and destroy anyone who gets in its way. When the Jain destroy Earth's fleet, humanity forms an uncertain alliance with the Prador—but not everyone is happy with the alliance, and the Client has motives of her own.
Read The Human by Neal Asher on Amazon.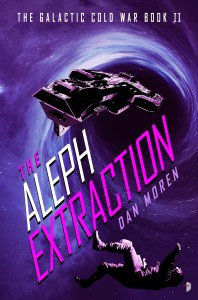 The Aleph Extraction by Dan Moren
Featuring misfit spies in a cold war—in space—Moren's second installment in his Galactic Cold War series follows Simon Kovalic's team of operatives as they try to steal a quasi-mythical alien artifact. Of course, Kovalic's Commonwealth team aren't the only ones after the object; not only does it belong to a notorious crime lord, the Commonwealth's enemies in the Illyrican Empire want it, too. This has all of the great makings of an espionage, space-set heist novel—an unusual combination that sounds like a heck of a lot of fun.
Read The Aleph Extraction by Dan Moren on Amazon.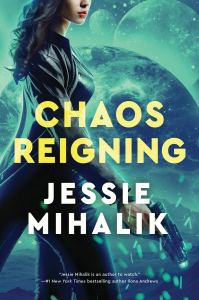 Chaos Reigning by Jessie Mihalik
Space opera needs a dash of romance now and then, and Mihalik's "Consortium Rebellion" trilogy scratches that itch in this concluding volume. Bubbly socialite Cat is really a spy for her High House. On a mission with a bodyguard, Alex, she doesn't want—and finds inconveniently attractive—she uncovers evidence of treason. With her family off-planet, she has to work together with Alex to expose the truth—before her enemies end all her chances.
Read Chaos Reigning by Jessie Mihalik on Amazon.
June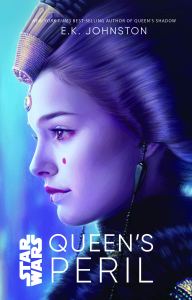 Star Wars: Queen's Peril by E. K. Johnston
YA author Johnston (The Afterward) returns to the Star Wars galaxy with a book about Queen Amidala's early days in her reign. Elected at only fourteen, Amidala has a lot on her plate, including creating a team of bodyguards who can be her eyes and ears in the galaxy. When the Trade Federation attacks, her team is tested—and she will discover if what she has created will last. This is Johnston's second Amidala book, but steps back earlier into the character's timeline to show how a girl became a queen—and a hero.
Read Star Wars: Queen's Peril by E.K. Johnston on Amazon.
Shadow Fall: Star Wars: Alphabet Squadron by Alexander Freed
The best fighter pilots in the New Republic are back in the second book in Freed's trilogy. Set after the events of The Return of the Jedi, the trilogy follows Yrica Quell on a search with fellow New Republic pilots, trying to search out Shadow Wing, the deadliest TIE fighters in the galaxy. Now, those TIE pilots are led by Yrica's former mentor, Soran Keize, the last of the Imperial aces. Star Wars: Rebels fans will be happy to see General Hera Syndulla as a recurring character.
Read Star Wars: Shadow Fall by Alexander Freed on Amazon.
July
The Vanished Seas by Catherine Asaro
Set in the world of Asaro's "Skolian Empire" books, this third spin-off novel is part military SF and part private investigator, with a healthy dose of political intrigue. Major Bhaajan is retired from Imperial Space Command, and she's become a hard-bitten investigator in the Undercity—an impoverished world in the shadows of the beautiful City of Cries. Through the events of the last two novels, she's become the investigator for royal House of Majda, and when the powerful elite of Cries begin disappearing, the royals turn to Bhaajan to figure out who's behind it.
Read The Vanished Seas by Catherine Asaro on Amazon.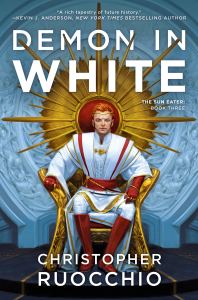 Demon in White by Christopher Ruocchio
Ruocchio's "Sun Eater" series, of which this is the third, combines epic fantasy and space opera, following the adventures of Hadrian Marlowe, commander of the Red Company. Hadrian's successes for the Empire against a dangerous alien incursion have made him a legend—and have caused his political adversaries to decide to eliminate him. Seeking safety, Hadrian travels to a distant world's library in an effort to discover the truth behind the Quiet—a now lifeless planet where humans originated—the first Emperor, and a long-dead, extraordinary race.
Read Demon in White by Christopher Ruocchio on Amazon.
The Autobiography of Kathryn Janeway by Una McCormack
McCormack jumps Star Trek series in this focus on Voyager Captain Janeway. Through Janeway's voice, McCormack explores Janeway's career in Starfleet, as well as the events and characters of the television series that made Janeway the farthest traveling of any of the Star Trek captains.
Read The Autobiography of Kathryn Janeway on Amazon.
Unconquerable Sun by Kate Elliott
With the tagline "gender-swapped Alexander the Great on an interstellar scale," Elliott's new series starter introduces Princess Sun, who came of age in the shadow of her legendary mother. Under her reign, all of Chaonia has been united, and all invaders have been banished. But not everyone loves Sun's mother—and not everyone thinks Sun should be the heir, putting Sun in a contest for survival, where she needs to not just win, but conquer.
Read Unconquerable Sun by Kate Elliott on Amazon.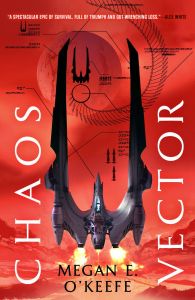 Chaos Vector by Megan E. O'Keefe
In Velocity Weapon, the first volume of "The Protectorate," Sandra and Tomas set free the most dangerous smartship in the universe. Now they're on the run and not sure who to trust. Sandra knows only that she has mysterious coordinates locked in her brain—and she has to figure them out before the powers of the galaxy make her into their pawn.
Read Chaos Vector by Megan E. O'Keefe on Amazon.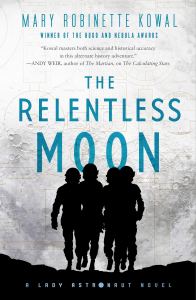 The Relentless Moon by Mary Robinette Kowal
The third in Kowal's fantastic "Lady Astronaut" series focuses on the mass-exodus of Earth, as climate disaster and a meteor strike spell doom for the planet. But politics are interfering with the IAC's efforts to save as many humans as possible. Astronaut Nicole Wargin is thrilled to be one of the settlers developing the moon colony—but is less excited that her husband, Governor of Kansas, is eyeing a run for president.
Read The Relentless Moon by Mary Robinette Kowal on Amazon.
August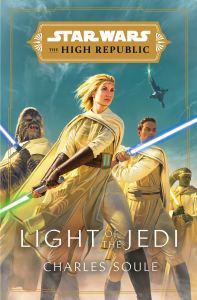 Star Wars: Light of the Jedi by Charles Soule
The new multi-format Star Wars initiative, also called Project Luminous, launches with this adult novel, the first in a new time period called the High Republic. Two hundred years before the events of The Phantom Menace, the Republic and the Jedi Knights are a source of order and peace in the galaxy. But something sinister threatens everything the Jedi have built—and even the Force itself. Two additional novels are included on this list, but as the comics don't yet have release dates, it's worth noting you should keep an eye out for Daniel José Older's IDW book Star Wars: The High Republic Adventures, and Marvel's Star Wars: The High Republic by Cavan Scott.
Read Star Wars: Light of the Jedi by Charles Soule on Amazon.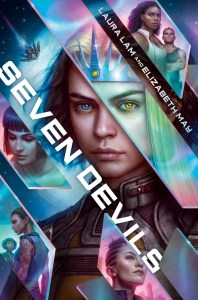 Seven Devils by Laura Lam and Elizabeth May
Eris was once the heir to the ruthless Tholosian Empire, but she faked her own death to avoid that fate. Now, recruited by the resistance to stop the Empire's expansion, she finds herself right back in the middle of the intrigue. Focusing on seven resistance fighters striving to free the galaxy from the Empire, this first in a feminist duology plays with the themes of an overwhelming evil fought against by determined outsiders, striving to save the galaxy before millions more die.
Read Seven Devils by Laura Lam and Elizabeth May on Amazon.
The Space Between Worlds by Micaiah Johnson
In this debut, multiverse travel is possible—but a person can only travel to a world if their counterpart is dead. Cara is alive on Earth, but dead on 372 other versions of Earth across the multiverse, making her a perfect candidate for traveling. Plucked from the wastes and given her own apartment in wealthy Wiley City, Cara is enjoying her life, until one of her remaining doubles across the multiverse dies mysteriously. Cara plunges into a new world, and learns secrets that might have been better left uncovered.
Read The Space Between Worlds by Micaiah Johnson on Amazon.
September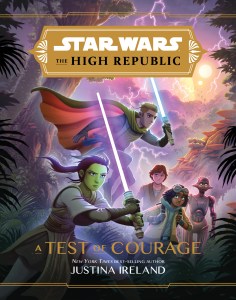 A Test of Courage: Star Wars: The High Republic by Justina Ireland
Because kids are Star Wars fans, too, this middle grade novel introduces the new High Republic setting to the 8-12 audience. Penned by Dread Nation author and Star Wars novel alumn (Lando's Luck: Flight of the Falcon) Ireland, the story centers on a teen Jedi, a young Padawan, a tech-genius, and the son of an ambassador all stranded together on a jungle moon. Given the hopeful setting, it's unlikely this will turn into the Star Wars version of Lord of the Flies, instead featuring some good old-fashioned lightsaber combat.
Read Star Wars: The High Republic: A Test of Courage on Amazon.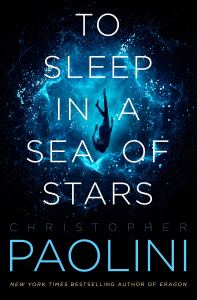 To Sleep in a Sea of Stars by Christopher Paolini
Best known for his Eragon series, Paolini is back on bookshelves with his newest, a space opera featuring epic space battles and the wonders (and fears) of first contact. The story centers on xenobiologist Kira Navarez, whose routine mission to a distant, unsettled planet goes awry when she discovers an alien artifact. Now, the future of humanity may be in her hands.
Read To Sleep in a Sea of Stars by Christopher Paolini on Amazon.
October
The Mandalorian on Disney+
After the first season of The Mandalorian exploded on the scene (and brought viewers flocking to Disney+'s new streaming service), viewers have been excited to see the future adventures of Mando and The Child/Baby Yoda. Filming of the second season wrapped in March 2020, and (pending any release delays), the newest episodes are set to stream in October. The popular series could even spin off future projects we'll have to keep our eyes out for.
Grab a FREE TRIAL of Disney+, on us, right here!
Machine by Elizabeth Bear
Bear's newest is set in the same universe as White Space, and features ships with minds of their own. Enter Dr. Jens, who jumps out of perfectly good spaceships to try to cure alien maladies. When she encounters a crew suffering from an unknown sickness, their shipmind trapped and memory damaged, she delves into the mystery, not knowing the terrible secrets she's about to uncover.
Read Machine by Elizabeth Bear on Amazon.
Into the Dark: A Star Wars High Republic Novel by Claudia Gray
Gray's Leia, Princess of Alderaan was a very popular installment in the new chronology, so it's no surprise the "Constellation Series" author is back for her fifth Star Wars novel. In this YA installment, Padawan Reath Silas would rather stay in cosmopolitan Coruscant than travel to the frontier. But when the galaxy-wide disaster launching the storytelling of the High Republic knocks Reath's ship out of hyperspace, and he and the other travelers take refuge in an abandoned space station, Reath realizes there are secrets at work that could spell tragedy for everyone in his group.
Read Into the Dark: A Star Wars High Republic Novel on Amazon.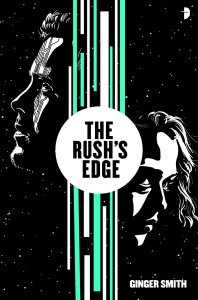 The Rush's Edge by Ginger Smith
Halvor Cullen, genetically engineered former soldier, can't help but crave an adrenaline rush: he was modified to need excitement. When his best friend and former CO gets him involved with ship salvaging as a safe way to chase the Rush, he starts to form a friendship—and hope for something more—with crewmate and hacker Vivi. But Hal's not about to lead a simple life: an alien intelligence invades their ship's computer, and Hal and his friends find themselves embroiled in a conflict to determine the fate of genetically engineered and naturally born humans throughout the galaxy.
Read The Rush's Edge by Ginger Smith on Amazon.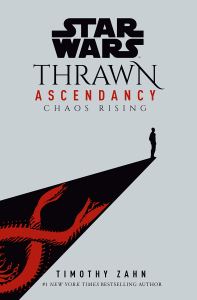 Thrawn: Ascendancy: Chaos Rising by Timothy Zahn
Zahn's reinvention of his popular villain from the original EU (now Star Wars: Legends) returns in a new series, depicting Thrawn's rise from a simple military recruit in the Ascendancy to the Imperial tactician we love to hate. This novel is the story of Thrawn's first command, and an inkling into his backstory in the current Star Wars continuity.
Read Thrawn: Ascendancy: Chaos Rising on Amazon.
November
Eternals, MCU
Although the coronavirus pandemic may have pushed back the release dates for the MCU's Phase 4, Marvel fans can still look forward to the release of Eternals, originally scheduled for November 2020. Based on a series created by the legendary Jack Kirby, the Eternals are a race of immortal aliens who don't know their own identities—until the events of Endgame set in motion their revelation. Now, the Eternals have to face down their ancient enemies, the Deviants, to save Earth. Combining superhero and space opera conceits, Eternals has a great comic history (including a 2006-07 run by Neil Gaiman) that readers can catch up on, regardless of when the film hits the big screen.